At the beginning of this month, I saw this recipe made by Anya and I thought "interesting". At the same time I was running out of chocolate in my pantry, but for that 100% cacao bar I used for the sourdough I posted a few months ago. And I surprisingly discovered myself enjoying this very much as an after-dinner treat! When I was in high-school I was an avid white chocolate eater, which is just cocoa butter, milk and sugar essentially…not really healthy! But I used to suffer from depression and eating disorders, binge eating before and anorexia later, and I wasn't even conscious if what turned up in my belly was good for me or not. Now that I'm more aware and I know food way better, I know that cacao is an amazing food, rich in antioxidants and minerals. So hand me that super dark chocolate – if it's unsweetened or sweetened with stevia or other healthy alternatives – and I'll be happy.
Going back to the original recipe, Anya uses a looot of "weird" ingredients for a chocolate bar and you know that I have a pretty strong weirdo alter ego, and mostly, I love trying new things, but I also know my limits. And since Lorenzo, who was right next to me while I was watching the video, said "ahn, savory chocolate, could be cool" – followed by a wtf-face of yours truly, since he doesn't even eat noodles if cooked with coconut oil – I knew 100% that adding seaweed to my chocolate bar would have ended up in a complete refusal. I, therefore, decided to adapt her recipe to my needs, as I usually do btw, and it turned out great!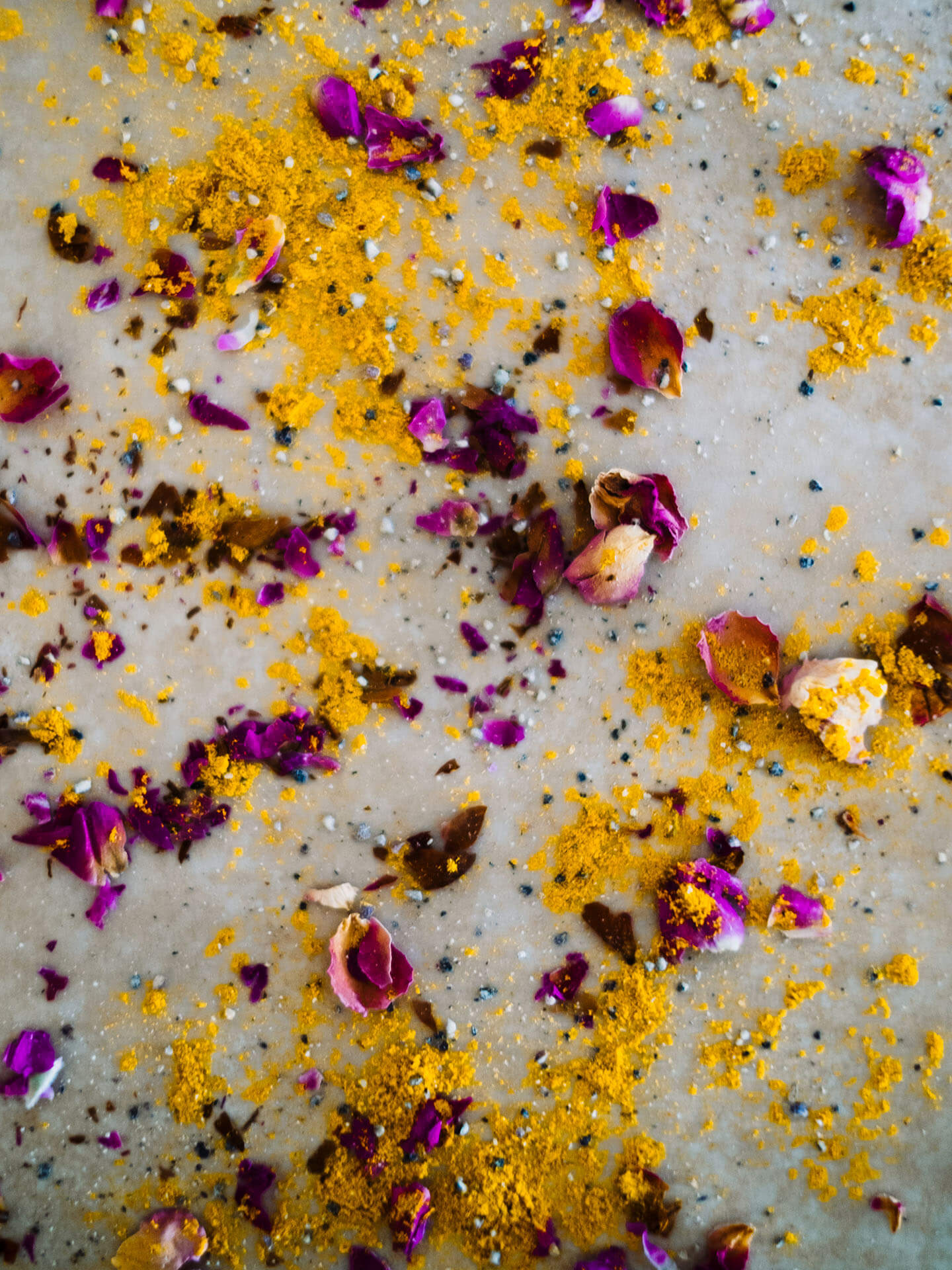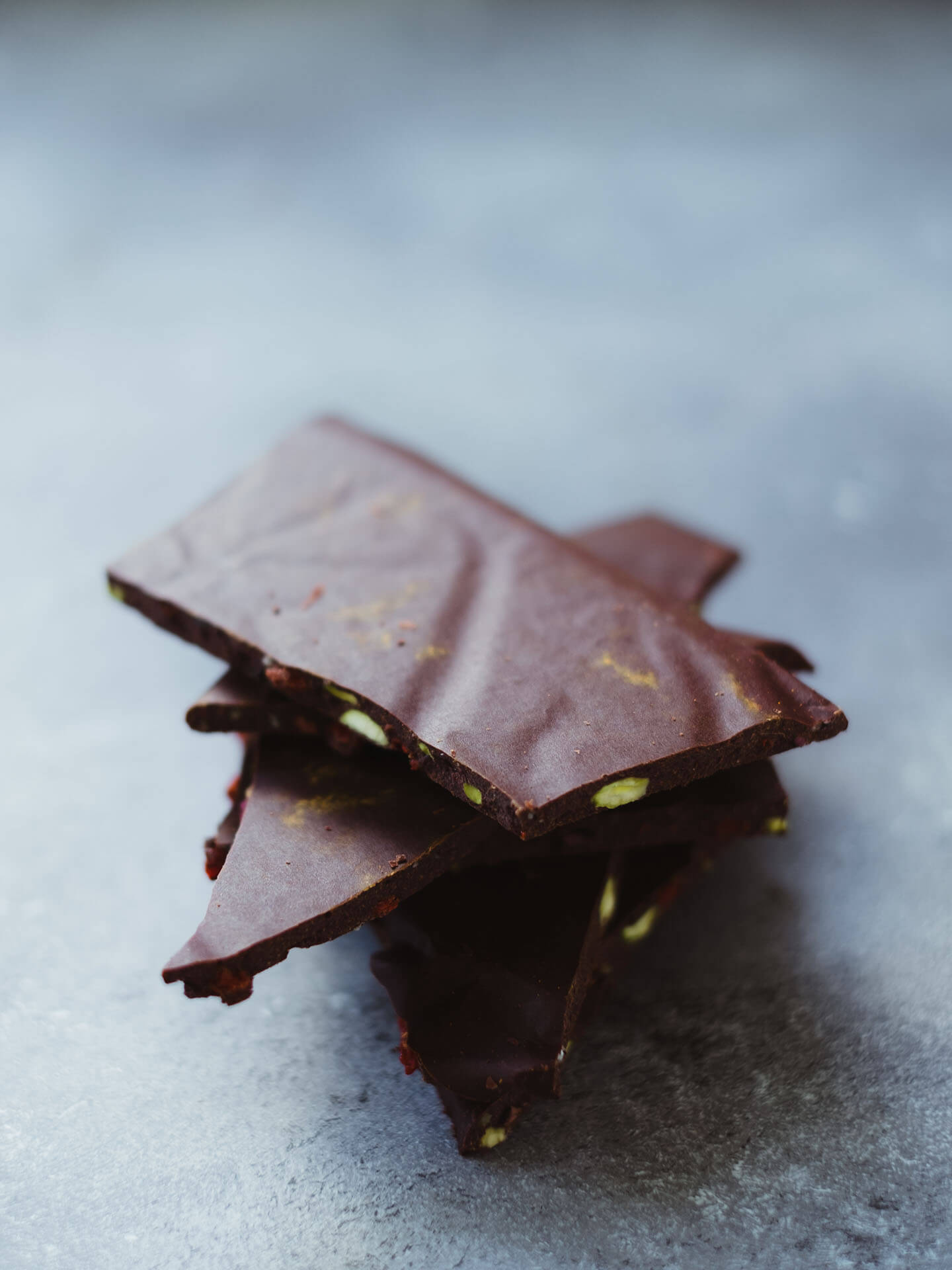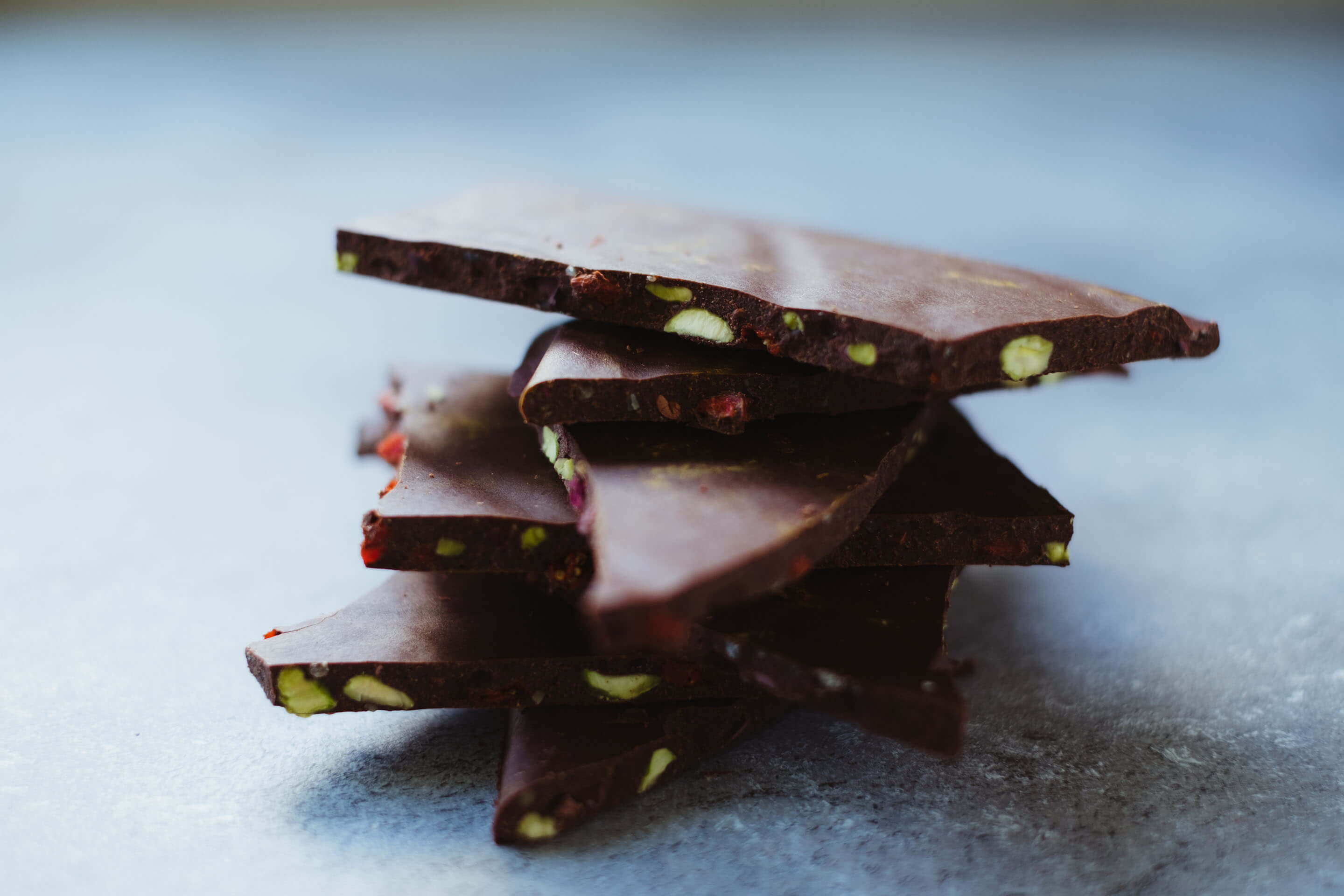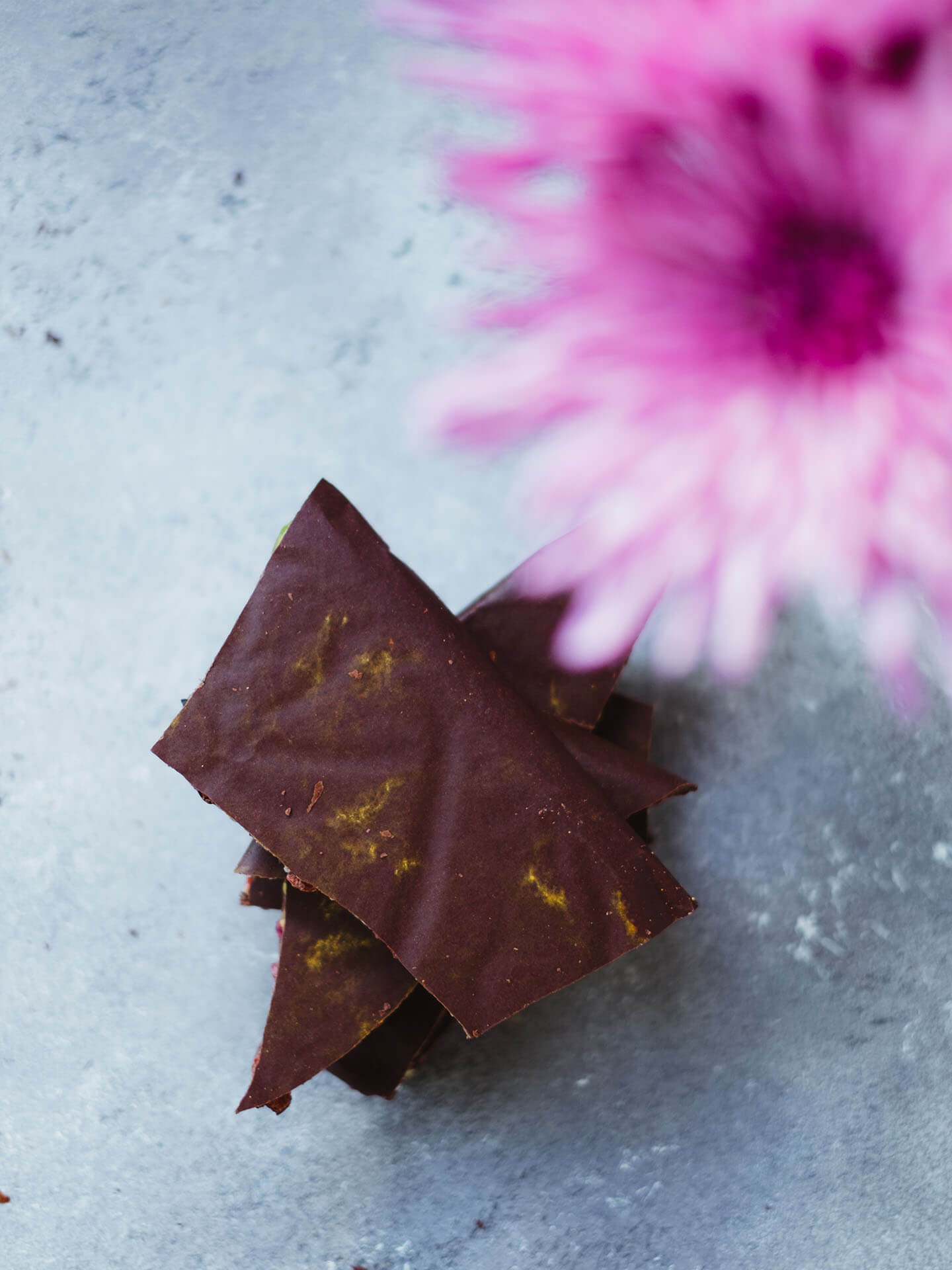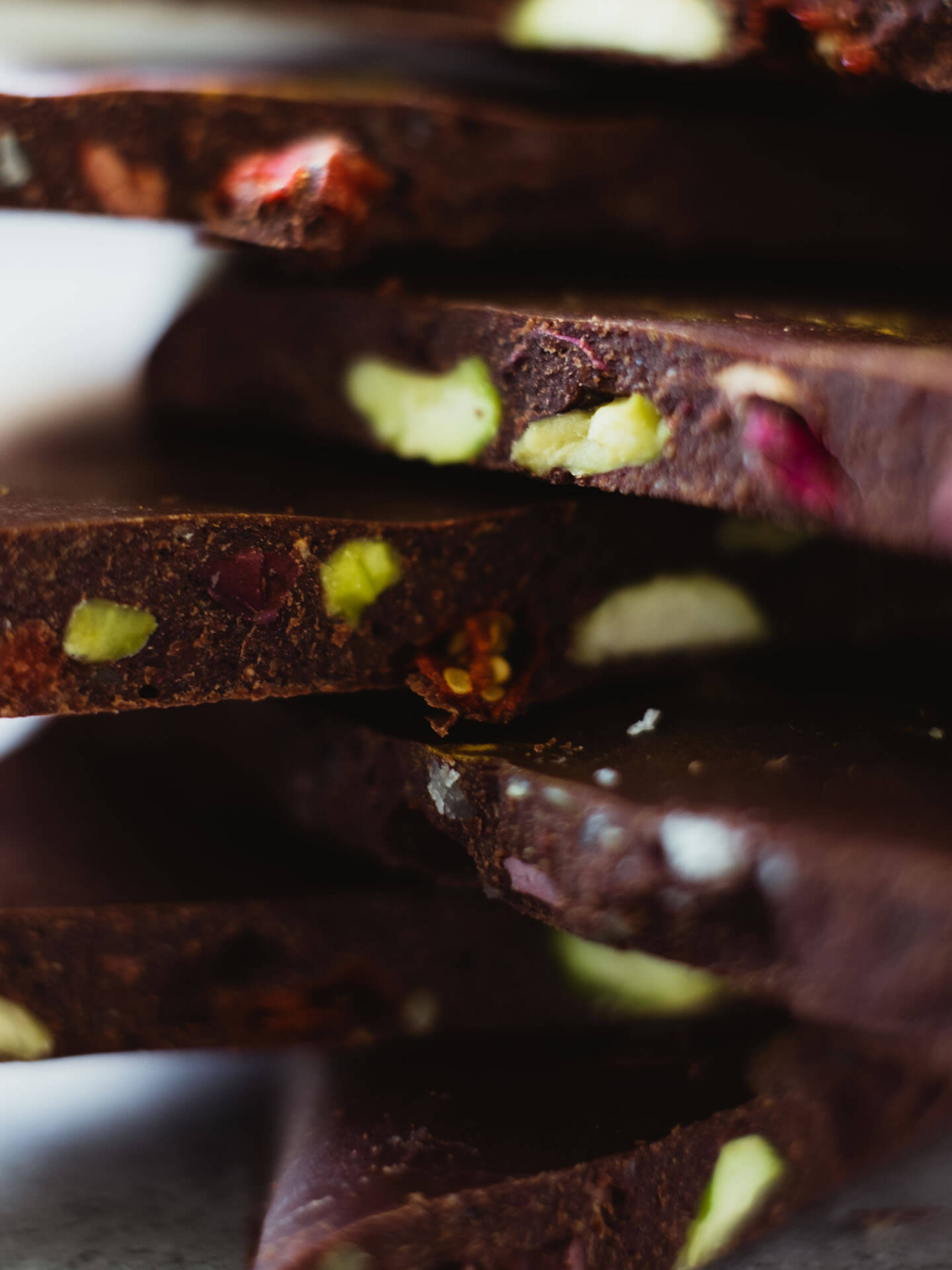 THE RECIPE
This chocolate melts pretty quickly, at least in the 80° F environment we're living in right now. I suggest to eat it straight from the fridge then.
Ps: did you know that cacao means that the product is raw and cocoa is the toasted version? So when I list anything "cacao" in my ingredients, well, it's the raw form.
[ yield a 250 g chocolate bar ]
100 g cacao butter (about 1 cup grated)
1 tbsp white miso
1/2 cup cacao powder (58 g)
2 tbsp maca powder (14 g)
2 tbsp mesquite powder (16 g)
1 tbsp açai powder (5 gr)
1 tbsp cinnamon (3.5 g)
2 tbsp cacao nibs (14 g)
2 tbsp raw pistachios (17 g)
2 tbsp goji berries (12 g)
some turmeric, black pepper, and dried rose petals
In a double boiler on low flame melt the cacao butter; switch off the flame, add the miso and stir to combine.
Sift the powders – cacao, maca, mesquite, açai, and cinnamon – directly in the melted cacao butter, and stir until smooth.
Add cacao nibs, pistachios, and goji and stir again.
In a chocolate bar mold or simply a cake pan covered with parchment paper, spread some dried rose petals and sprinkle some turmeric and possibly freshly ground black pepper here and there. Carefully pour the chocolate and let it cool in the fridge.
Cut it in pieces and reserve in an airtight container in your refrigerator – or even the freezer.