When you think about salad, does your mind shows you sad (restaurant) bowls of sad lettuce, tomatoes, and fake-looking shredded carrots? Well, it did to me for a long time. Make this one and you'll never see salads in the same way again. I promise.
Fruit in savory dishes can be tricky for me. I have never really liked apples in a salad for instance but I can appreciate berries in tiny amounts. Only one fruit never disappoint me and I start thinking it's my favorite among them all (probably together with apricots, but who does ever find them at the right ripening point?): peaches! I love them sliced on a galette, chopped in a bowl of yogurt, cooked in a compote, or chopped into big chunks and tossed into a salad, as in this recipe.
I wrote on Instagram about my feeling towards pumpkin seeds. Head over, read and tell me: does it ever happen to you? I have pretty much the same taste I had as a child – I only started loving dairy, especially goat cheese, in my 20s, while as a little girl I didn't like cheese, especially if smelly. Now the smell is a prerequisite of a cheese to end in my cart. And it's not just the pumpkin seeds! Tortilla chips, same thing. One month ago I couldn't almost stand the smell of them when Lorenzo was eating them, now, anytime I need to add some complex carbs to my meal, I open the door of our pantry, grab his taco chips bag, steal the little pieces he usually throw away because impossible to dig into the salsa and put in my bowl of food. Did you know that they taste amazing with almost anything?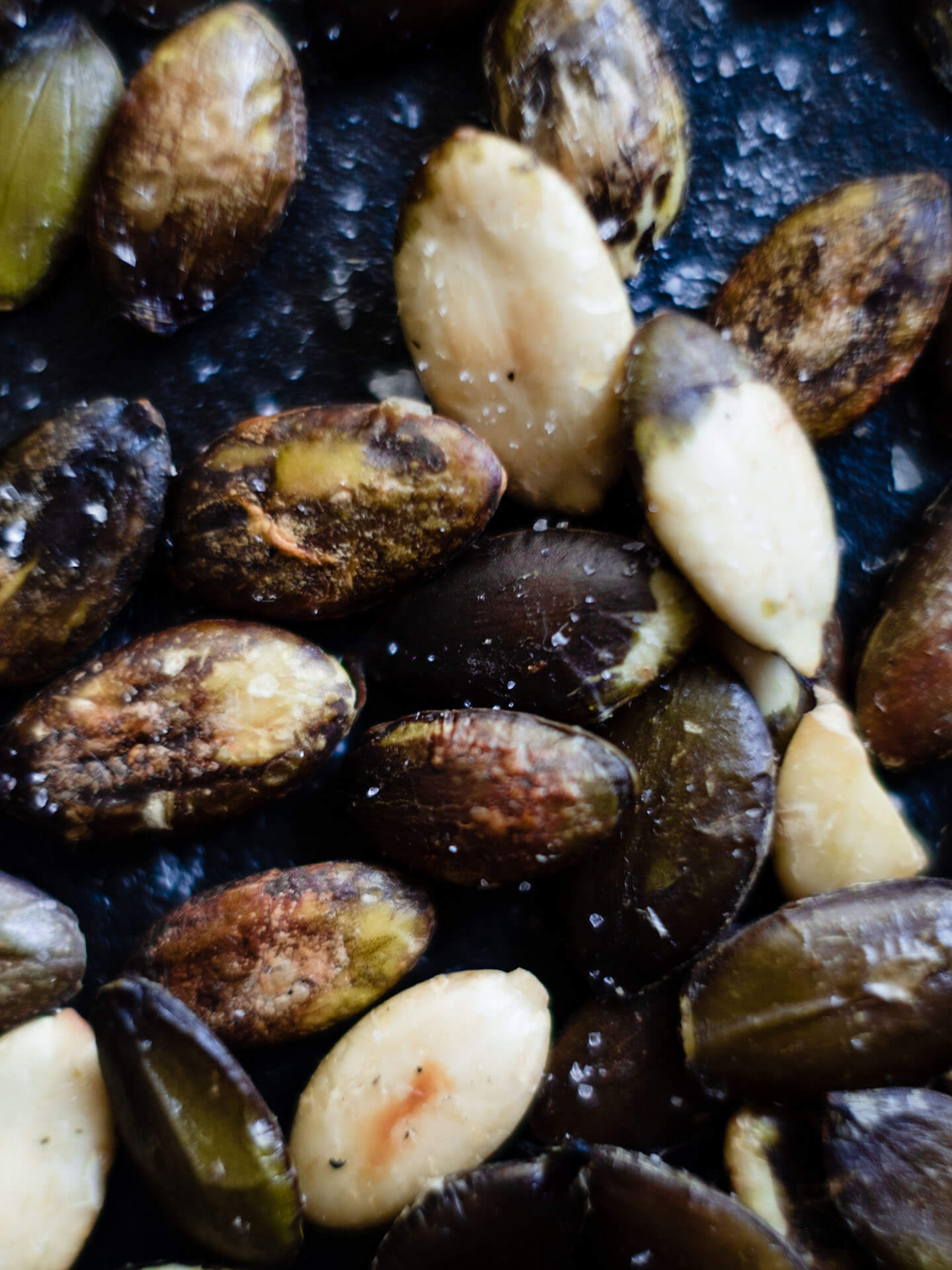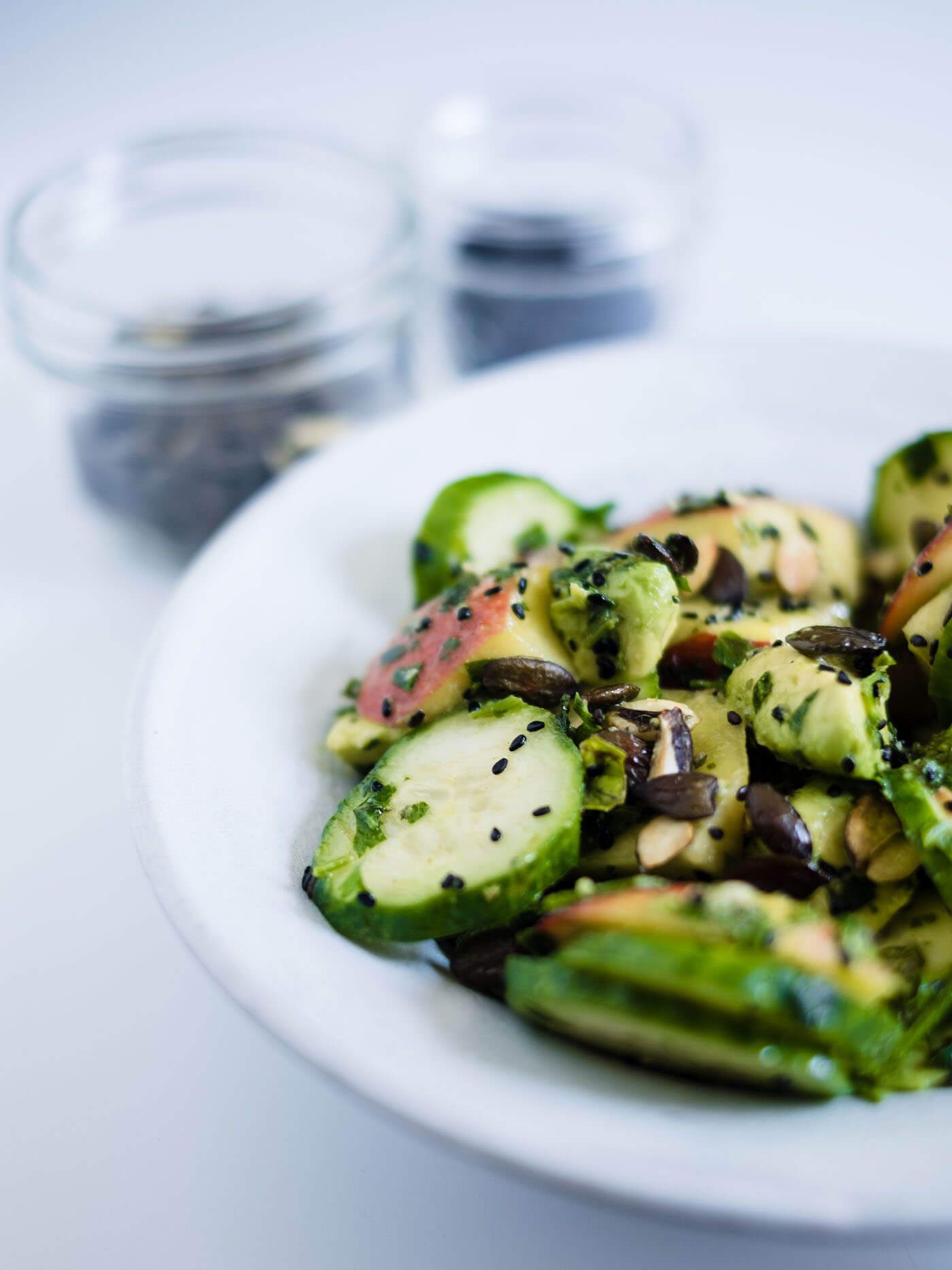 Anyway, this salad is perfect for this toasty weather. I don't know where you live, but here in the Bay Area it's not really so hot, but our little cottage becomes an oven around lunchtime, so a refreshing and hydrating salad is really a staple. I know, this salad also had quite a lot of fats – 30g – but the good kind of fats! And let me say this: you need good fats in your diet. I spent years eating fat-free ending up with a crappy reproductive system which took me a lot of time to (almost) fix. Not to mention that vitamins A, D, E, and K are all fat-soluble, which means they need to dissolve in fat before being carried through your bloodstream to perform their functions. And your skin will look better too, even if yours is oily. EAT THOSE FATS!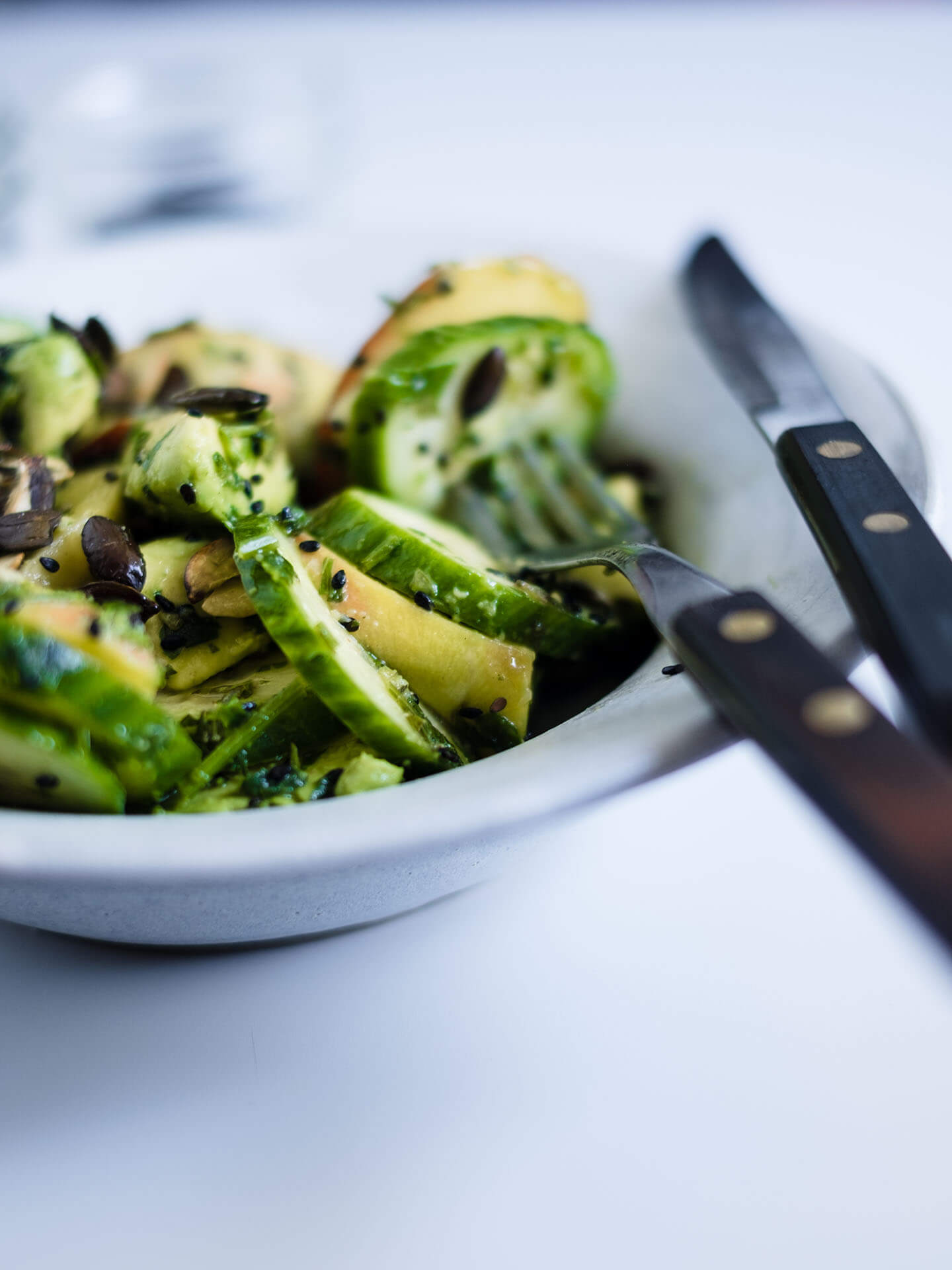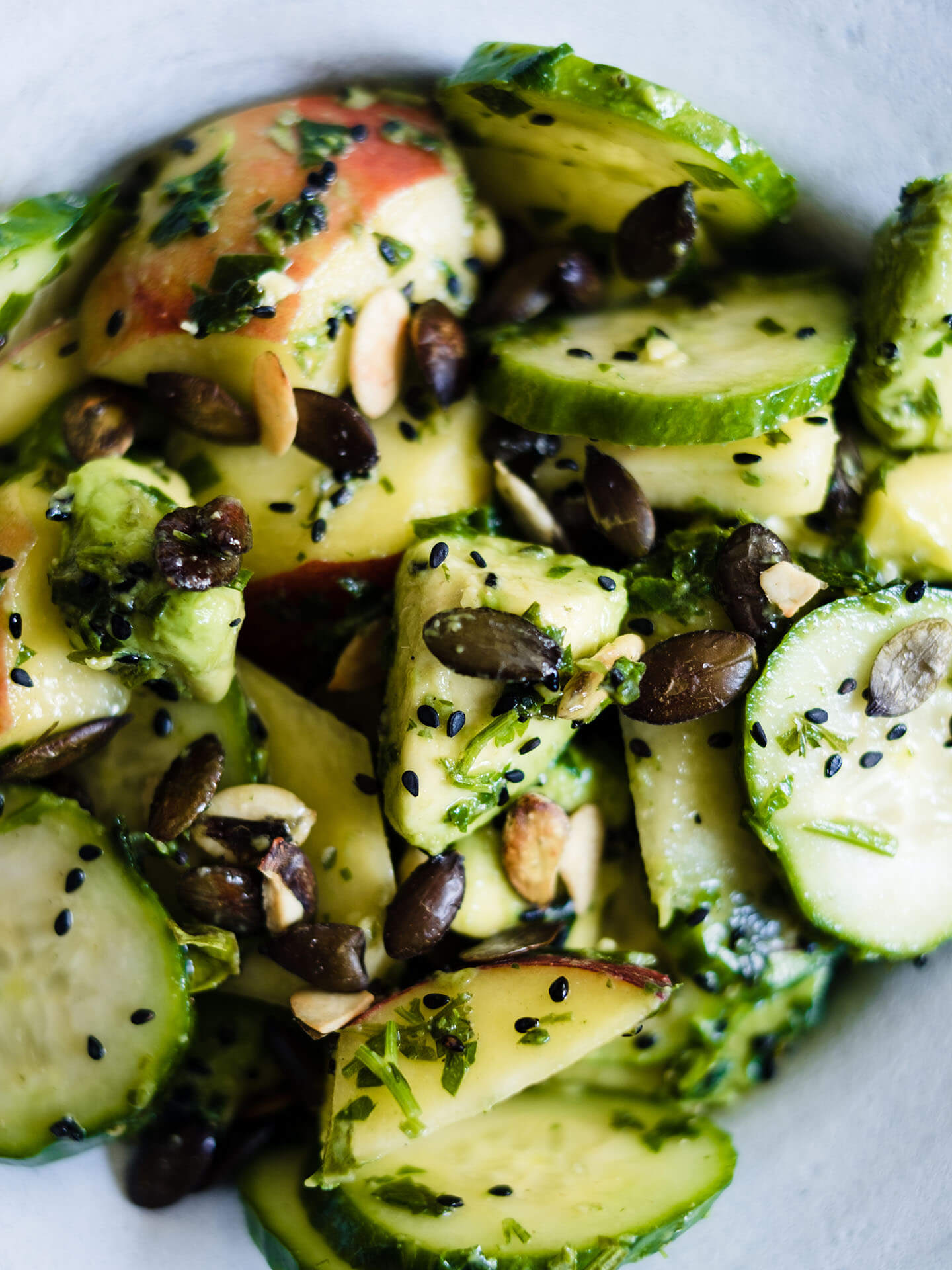 THE RECIPE
As herbs, I used mainly parsley with some cilantro, basil, and mint.
To make it raw, use raw sprouted seeds instead of roasting them.
If you choose to serve it as a side, the main part of the dish could be a simple fried (duck) egg or some baked tofu.
Inspired by this.
[ for 1 serving or 2 as side ]
2 tbsp raw pumpkin seeds
2 pinches salt, divided
1/8 tsp cardamom powder
1/2 tsp cumin powder
1 tiny garlic clove, grated
1/4 cup chopped herbs – see notes
scant 1 tbsp lemon juice
2 tsp extra virgin olive oil
about 1/3 English cucumber (125g)
1 peach (240g)
1/2 avocado (70g)
1 tsp (black) sesame seeds
Start by toasting pumpkin seeds in a little (cast iron) pan, stir them with 1 pinch of salt and set them aside. Combine cardamom, cumin, garlic, herbs, lemon juice, oil and the other pinch of salt in a mixing bowl. Diagonally slice the cucumber and add it to the bowl. Stir well. Let it rest for a few minutes.
In the meantime, chop peach and avocado and toast the sesame seeds. Add these last ingredients to the bowl, add half the pumpkin seeds and toss to combine. Serve on a plate and top with the remaining pumpkin seeds. Enjoy!