Another savory recipe, I'm so proud of myself! And yes, it's not a typo, you can prepare this sauté in 10 minutes and with almost zero effort.
I know that sometimes my recipes have a lot of steps or different preparations that need a little of free time and organization – and maybe a run to the grocery store. Not something you just decide to make at 6 pm for dinner, right? Well, this recipe is super duper simple and requires 10 minutes from start to finish! No vegetables to cut or ingredients to carefully weight on a scale. But before jumping to the recipe, let's talk a little bit – and you don't give a sh*t about my life, scroll until below the photos 😉
You may know that we recently bought a motorcycle. Well, Lorenzo bought it, but it's our only mode of transport and since I don't have a "my" bike, I want to consider it OUR bike, even if it's something like 5 times my weight and I can't even lift it from its kickstand, so no, I will never be able to ride it! Anyway, after spending 3 weekends going around the Bay Area – Sausalito, Mount Tamalpais and Stinson beach, Ocean beach, Oakland etc – something happened.
Lorenzo left the office after work, went to the parking spot and found a little note from a guy saying that he saw the motorcycle on the ground and picked it up but didn't see the culprit, unfortunately. We believe that a moron tried to park his/her car right before our bike and didn't notice that was driving into it. And then he/she simply left. So right now the bike, which is less than a month old, needs some repairing because the throttle was damaged in the fall and it's not the case to ride a bike with a throttle that gets stuck, right? Therefore, no bike for a few days. At least we spent a weekend at home and it was the perfect occasion to take a walk to a part of Berkeley we've never been before.
We went to a fabulous grocery store (less expensive organic produce and so many foodies gems) and a nursery I wanted to visit since we moved here. We brought home some herbs and 2 pots to plant them, and I swear, I'll try not to kill them this time! I have such a black thumb. They're so little right now that make me feel like I'd need the entire plant just to top a bowl of pasta, so I'll wait a few weeks before even picking one little leaf, giving them all the love and the care possible hoping that they're going to grow and thicken. Send them good energy – and any suggestion to improve their quality of life to yours truly, thanks!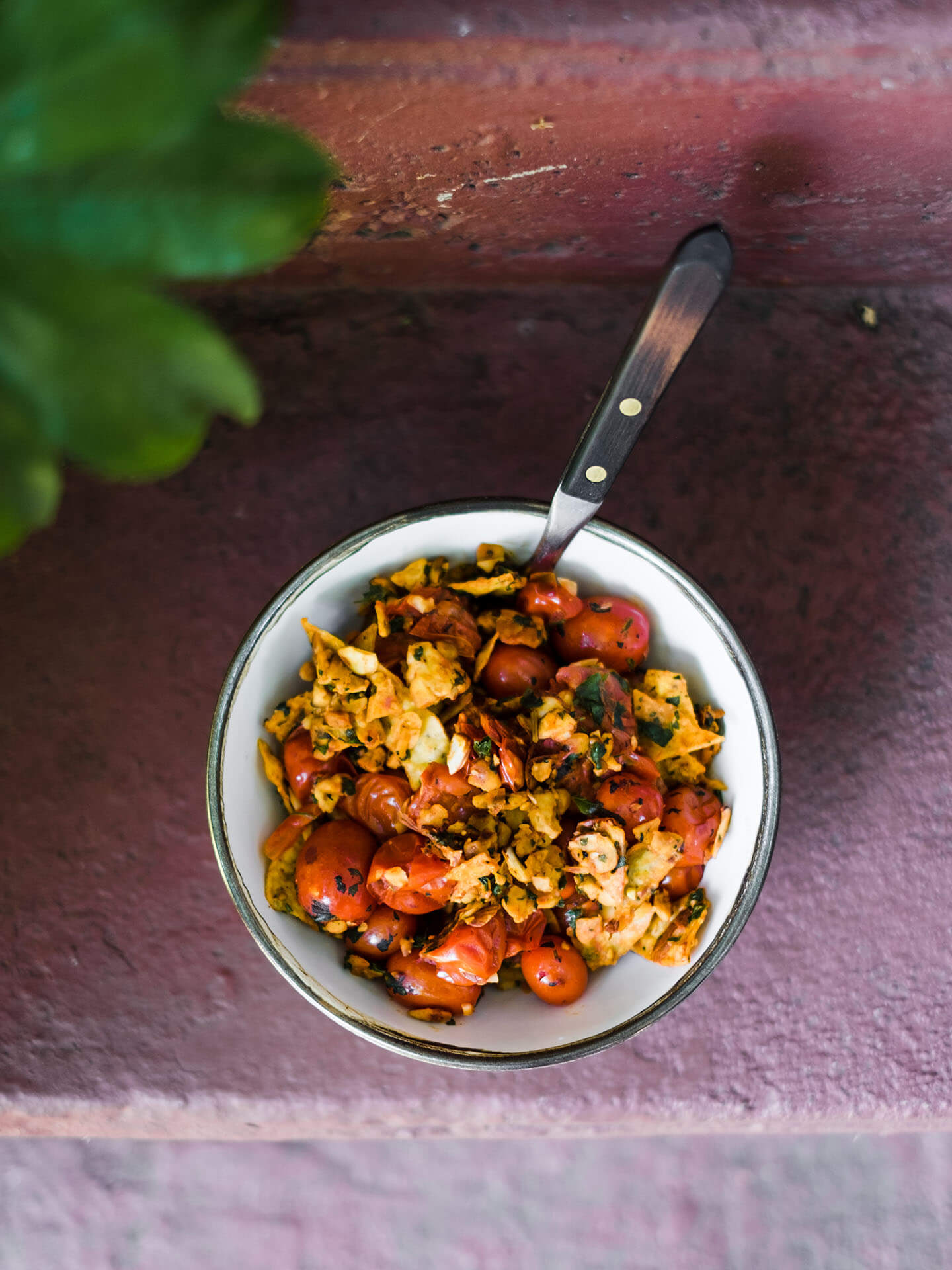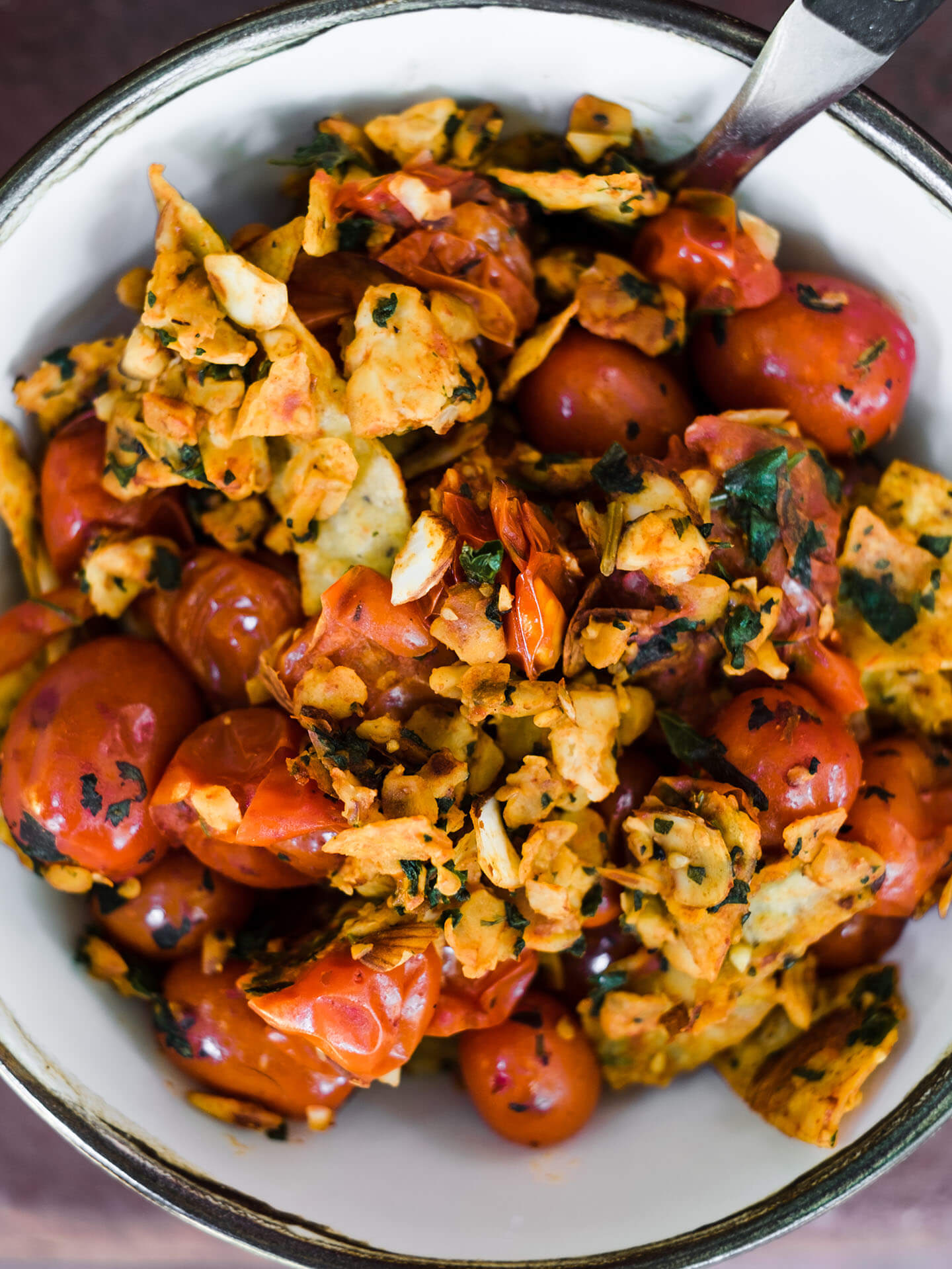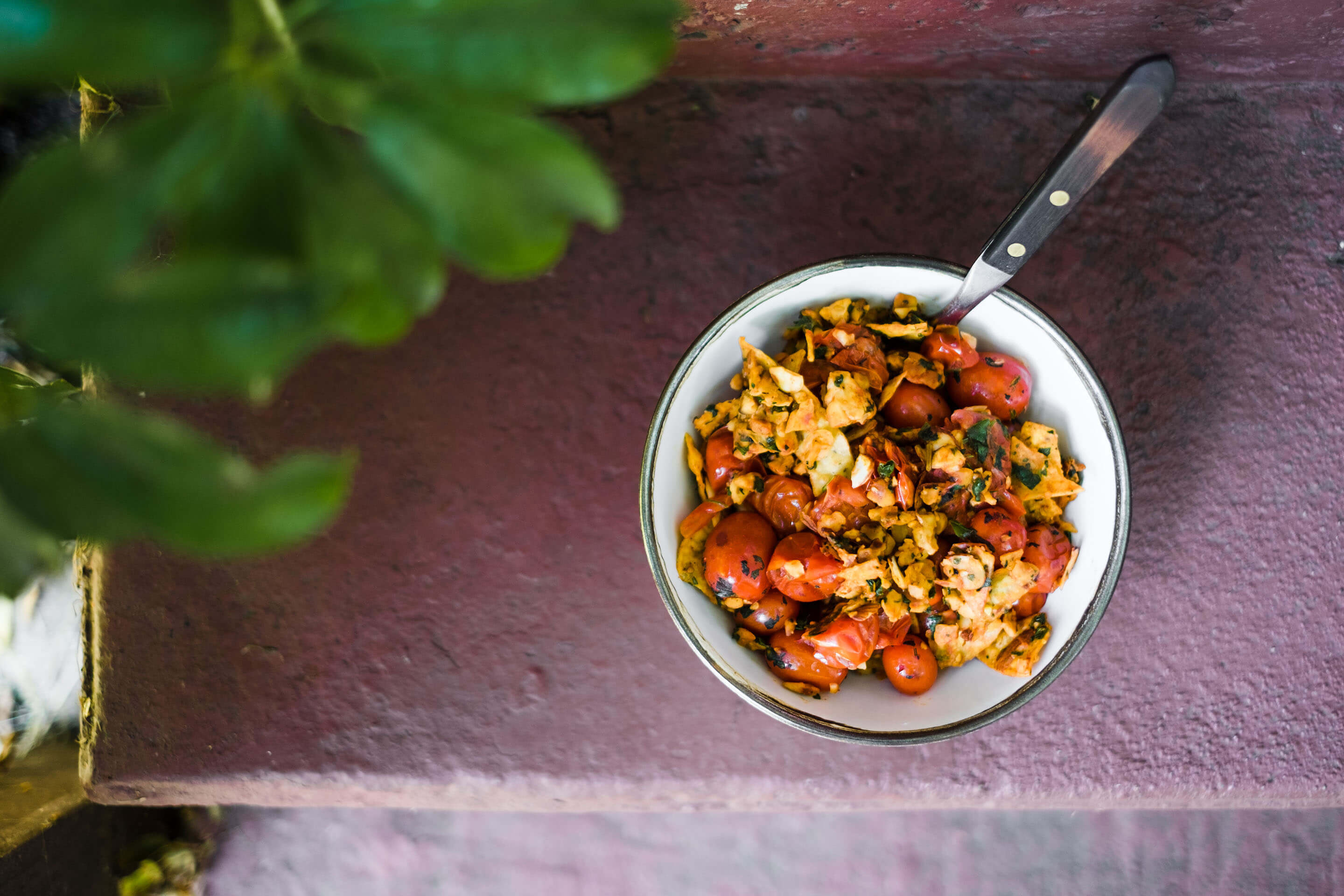 THE RECIPE
If you buy corn tortilla chips you know that you end up with a good amount of little pieces at the bottom of the bag. Lorenzo – who eats them dipped in salsa – used to throw them away but since I found this easy peasy and delicious way to enjoy them, he started reserving the almost-finished bag for me.
Every time I buy some cilantro or parsley, I chop the entire bunch and reserve it in a container in my freezer, so I always have some fresh – and already minced – herbs for my recipes.
For a nut-free version feel free to use sunflower seeds or, for a more Mexican taste, 1/2 avocado.
[ for 1 serving ]
1 tsp extra virgin olive oil
1 dry pint red grape tomatoes (350g)
1/3 8oz package tempeh (75g)
1 pinch salt
1 pinch freshly ground black pepper
1/2 tbsp smoked paprika
chopped cilantro, to taste – see notes
1/4 cup corn tortilla chips (22g) – see notes
2 tbsp slivered almonds (12g)
Heat the oil in a non-stick skillet – I used my beloved ceramic wok – and add the whole tomatoes and the tempeh, previously crumbled with your fingers. Add some salt and let cook for 5 minutes.
When the tomatoes start looking soft, crush them a little bit with the back of a wooden spoon or a spatula to release their juices. Add pepper, paprika, and cilantro and cook for other 2-3 minutes.
Turn off the flame, add both chips and almonds and stir to combine. Serve and enjoy!