I know, an Italian gal cooking Mac and Cheese? What the hell. But it's Lorenzo's fault, who came at home one day telling me that he wanted a healthier and vegan version of the amazing dish he often finds at the office for lunch.
I first tried this recipe with Delallo pasta which is the staple in our pantry, is way better than the 365 one being even so affordable. Once I realized that this dish was a winner, I decided to invest $6 and bring home 10oz of pipe rigate – for my Italian and European readers, it's more than 5€ for less than 300g of pasta – which had been calling me from the shelf for weeks. The packaging looks amazing, I love the name and the entire philosophy behind the brand…I needed to try it at least once and I believe that it's totally worth it for this recipe. And honestly, I love pipe rigate so much and this is the only whole-grain-one available at my local Whole Foods: thanks, Community Grains!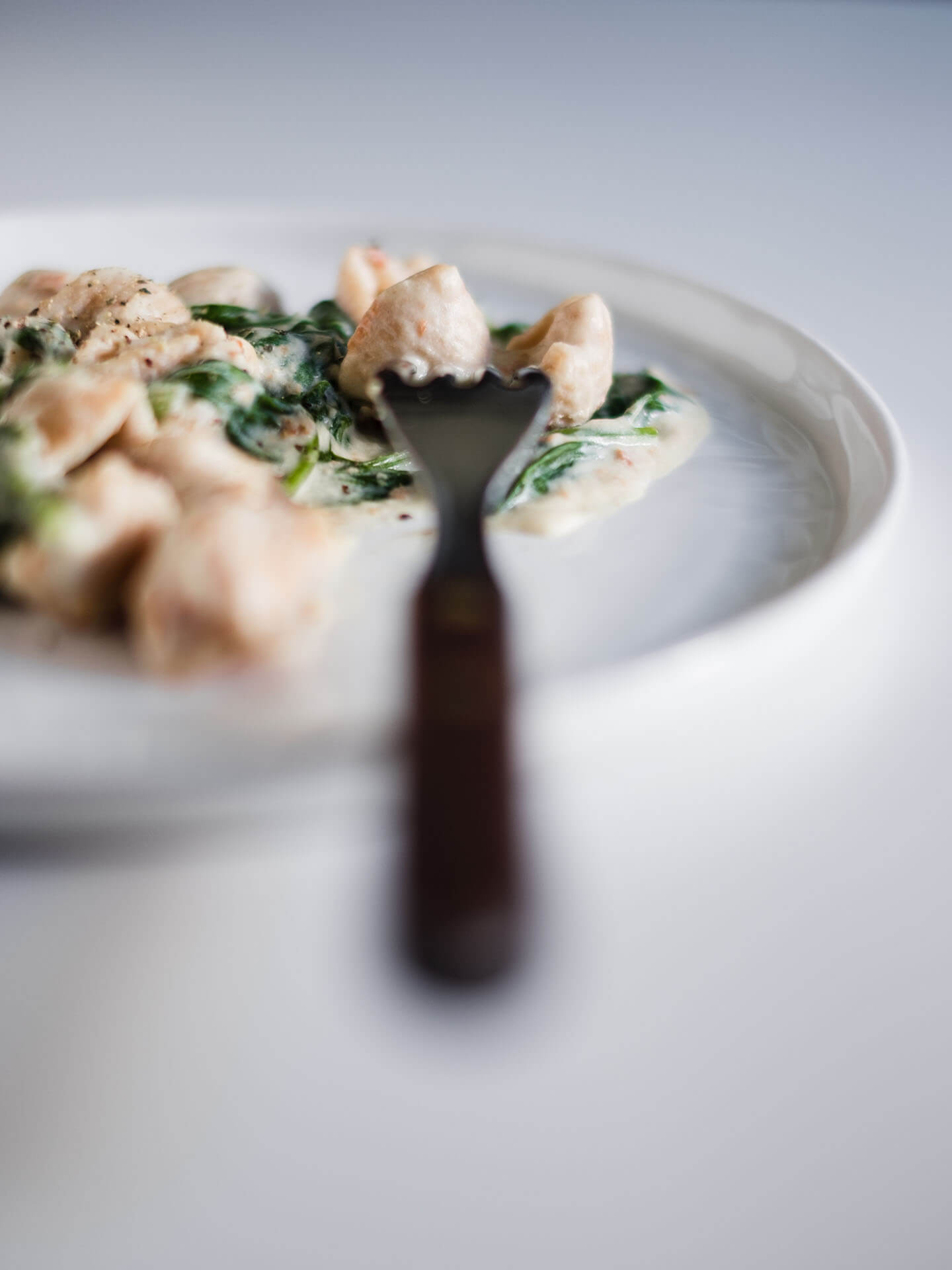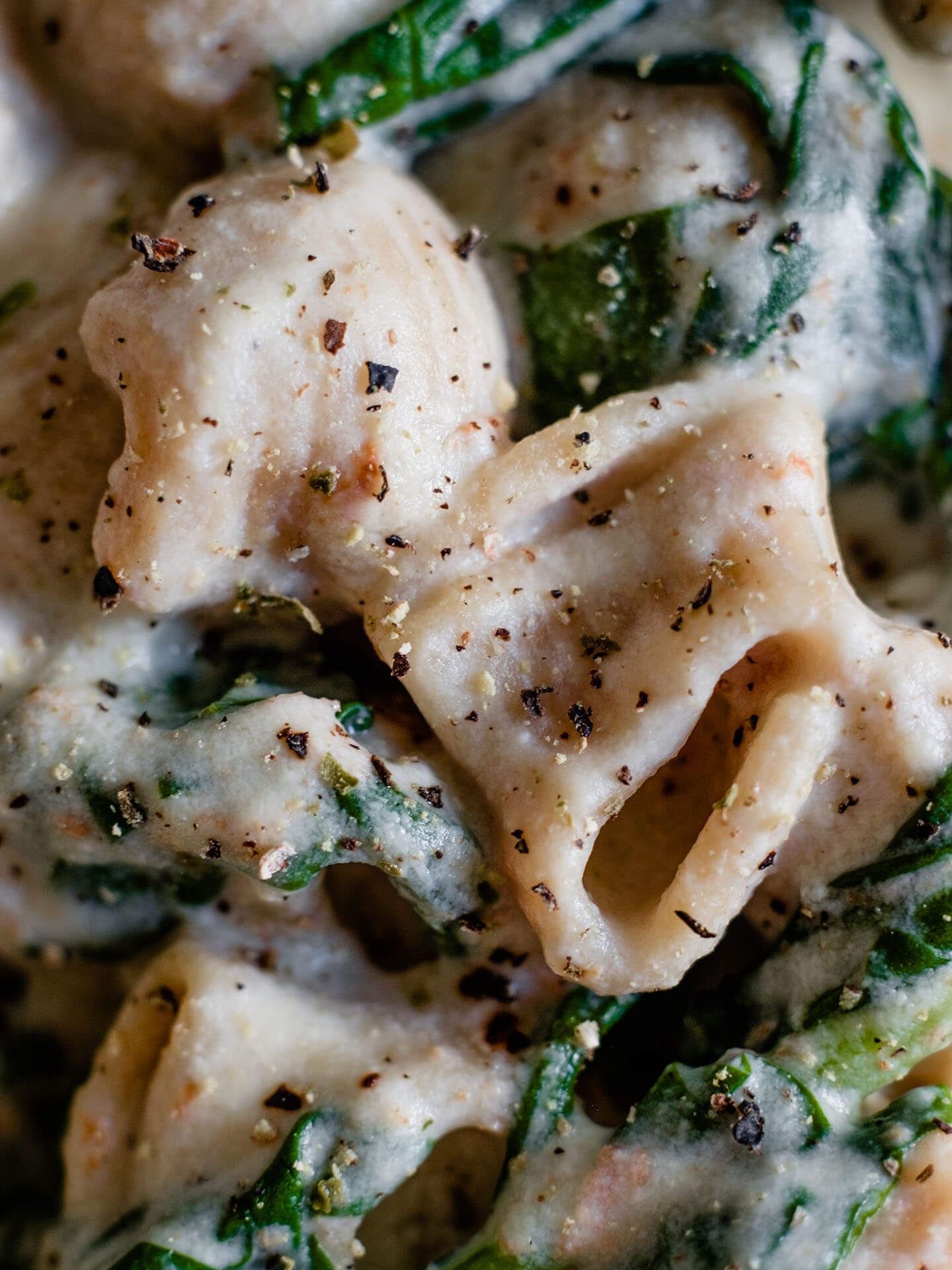 You're may be asking yourself "What the hell is an Instant Pot?". Well, it's an electric pressure cooker. I bought the 6qt Duo Plus 9-in-1 at the end of June and it took me less than a month to fall in love with it. What am I using the Instant Pot for? Not so many recipes right now, but the girl gotta learn.
I'm using it every week to make yogurt. I missed the soy one quite a lot since in Italy it was a staple in my fridge while here in the Usa I can only find one brand selling plain unsweetened soy yogurt and I really really despise it. The method is super simple and I'm now experimenting (quite unsuccessfully, honestly) with other types of milk. Whole grains are perfect for this appliance too. I love brown basmati and biryanis but I hate the long cooking time. I made an eggplant and tofu biryani the same week I got my IP and came our perfect, not mushy or too al dente, not too watery or stuck to the bottom. Pasta is still hit-and-miss but this one I'm sharing with you today. This is PERFECTION. You don't need an Instant Pot to make this recipe, you can simply use a stove top pot or pan – read the note below.
Do you have an Instant Pot in your kitchen? What are your favorite recipes to cook in it? Let me know!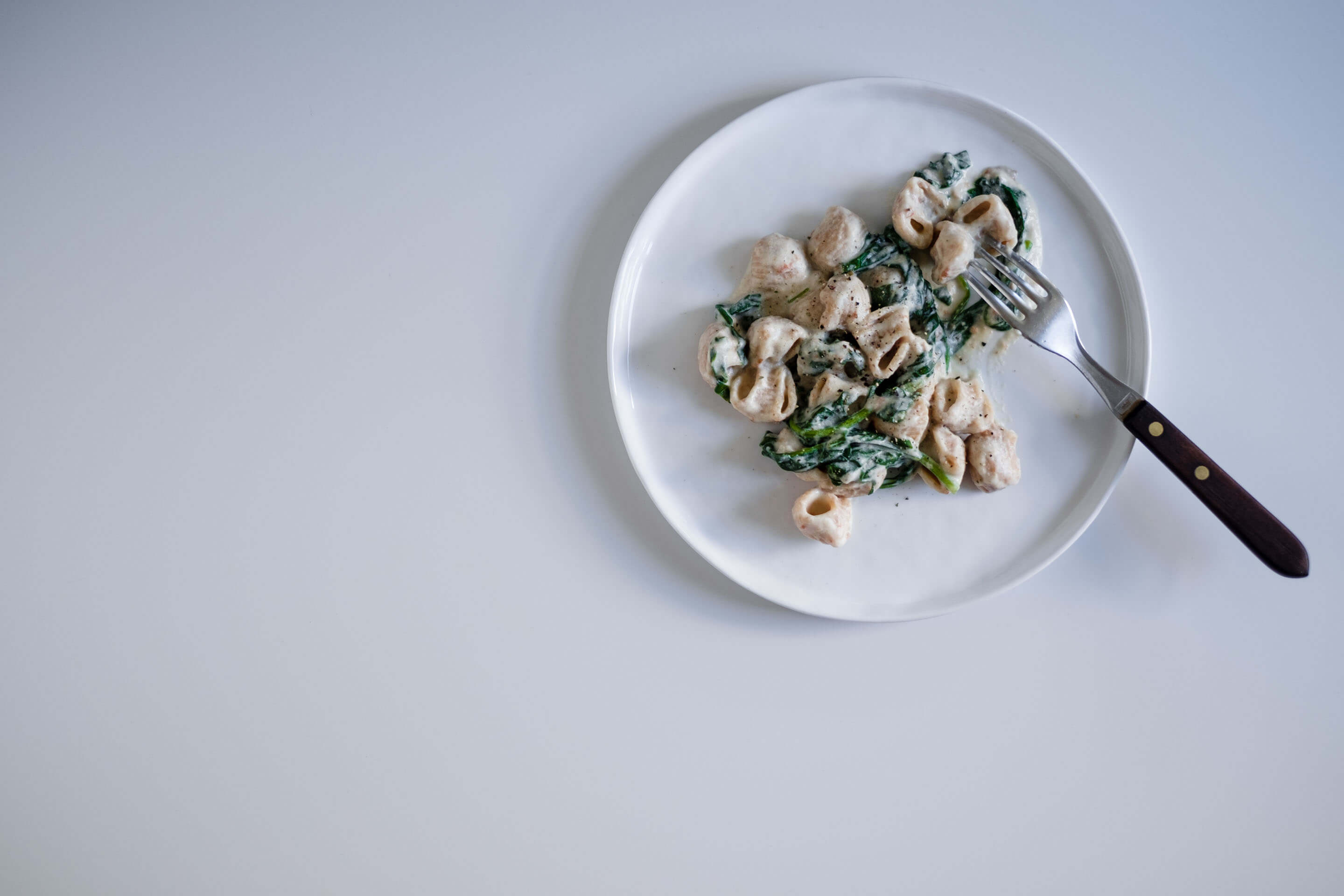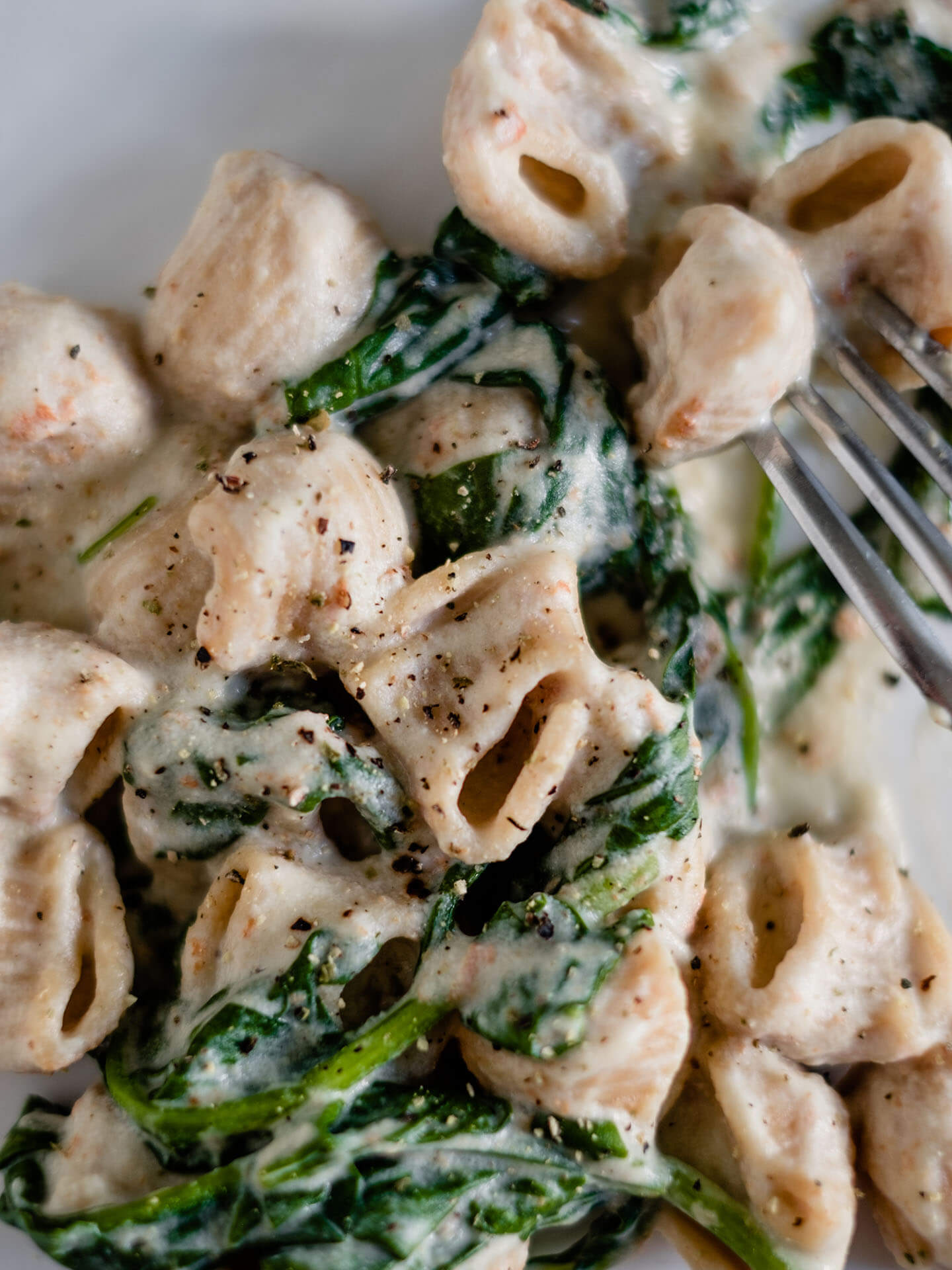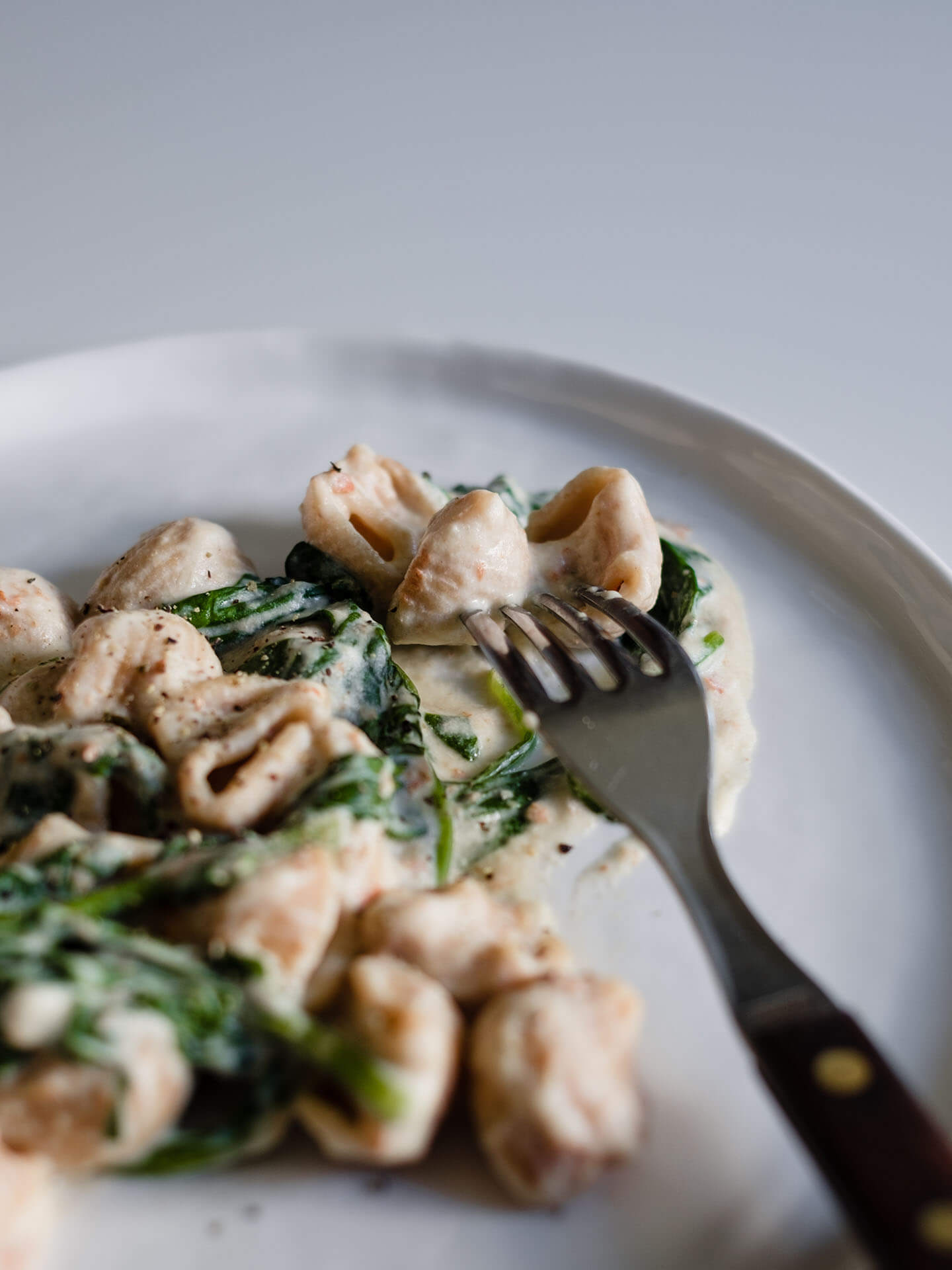 THE RECIPE
As pasta shape, I suggest using penne, rigatoni, fusilli, shells or pipe, as I did here. Farfalle don't cook very well in the Instant Pot.
If you want to make this in a normal pot, I recommend using a non-stick (possibly ceramic) deep pan, extend the cooking time for the length written on the package and adding some more hot water if needed, as if you were cooking a risotto.
I added some baby spinach to add some healthy greens, but feel free to skip them.
Inspired by Detoxinista.
[ for 2 servings ]
1/2 cup raw cashews (65g)
1/8 cup nutritional yeast (10g)
1 tsp fine sea salt
1 tsp apple cider vinegar
freshly ground nutmeg, to taste
2 cups + 1/3 cup hot water
6 ounces whole wheat pasta (170g) – see notes
2 cups baby spinach (70g)
freshly ground black pepper, to taste
Soak cashews for 6-8 hours.
When you're ready to start cooking, turn on your Instant Pot to sautè. This helps to shorten the time the IP needs to go into pressure. In the meantime, strain and combine the soaked cashews with nutritional yeast, salt, vinegar, nutmeg, and water in a high-speed blender and blend until smooth. Add the pasta to the pot, pour the blended sauce over it, stir well and be sure that your pasta is completely submerged. Close the lid, turn the valve to sealing, and pressure cook for about 1/2 the time written on the pasta box – in my case was 6-7 minutes, but pipe require a longer time usually, so I went for 4 minutes in the IP.
Let it rest for 10 minutes and then carefully release all the steam turning the valve to venting. Open the lid, add the baby spinach, the remaining hot water and stir until everything is well combined. If the sauce looks a little too thin for your taste, go on stirring for a couple of minutes.
Serve and sprinkle with some freshly ground black pepper.
If you're going to reserve one serving for another day, I suggest to reheat it by using a non-stick pan and adding a few tsp of water to make the cream…creamy again!