Another recipe for the Instant Pot, but super adaptable to a normal stove-top casserole or wok.
My Italian readers won't be probably in the mood for a stew since the temperatures over there have been crazy in the last few weeks, but here in the SF Bay Area, August is a gloomy and fresh month, so a warm and comforting stew is more than appreciated! Honestly, the weather here is never too hot but maybe a couple of weeks in March and then in September, so warm food, especially for me, is a constant. And since I bought the IP (Instant Pot) I can't help myself cooking comforting, creamy and warm meals.
How is this appliance changing my diet? Well, first thing first, I discovered the power of freezing food! I used to cook one meal at a time and that means the often I simply grabbed a huge quantity of veggies and fruit and some canned beans and call it a dinner. Not too bad, but quite boring and not so rich in nutrients, while now I have a bunch of hearty dishes waiting for me in my freezer. It's also helping me saving some money and eating less fiber – because sometimes it can be an issue. I'm really trying to focus on my health, which has never been at its top, and I think that my gut is really the center of all this. Surely years of diets, binge eating, and anorexia left some traces. Of course, I could have started cooking better meals in multiple servings even before the IP, but it's the only thing that obliged me to since cooking small amounts of food is not recommended in such a big pot. I also make yogurt at home because it also works as yogurt maker and I'm going to try the slow cook option for something I'll talk you soon about.
Anyway, this stew is rich in protein and carbs, while being almost fat-free – I wrote its nutritional values below the recipe if you need them. It's super creamy thanks to the sweet potato that melts down a little and tempeh lose its strong flavor that can be an issue for some people.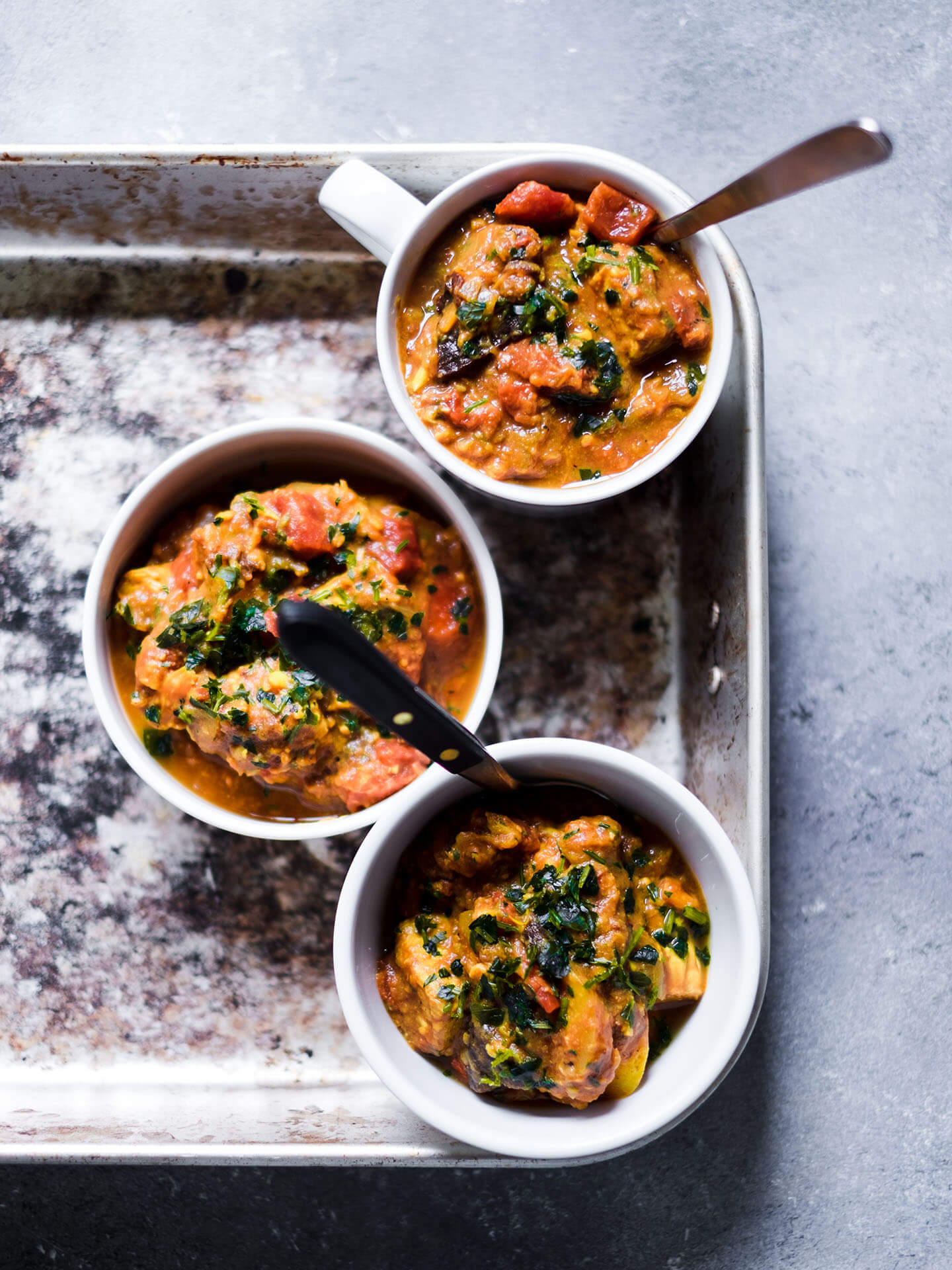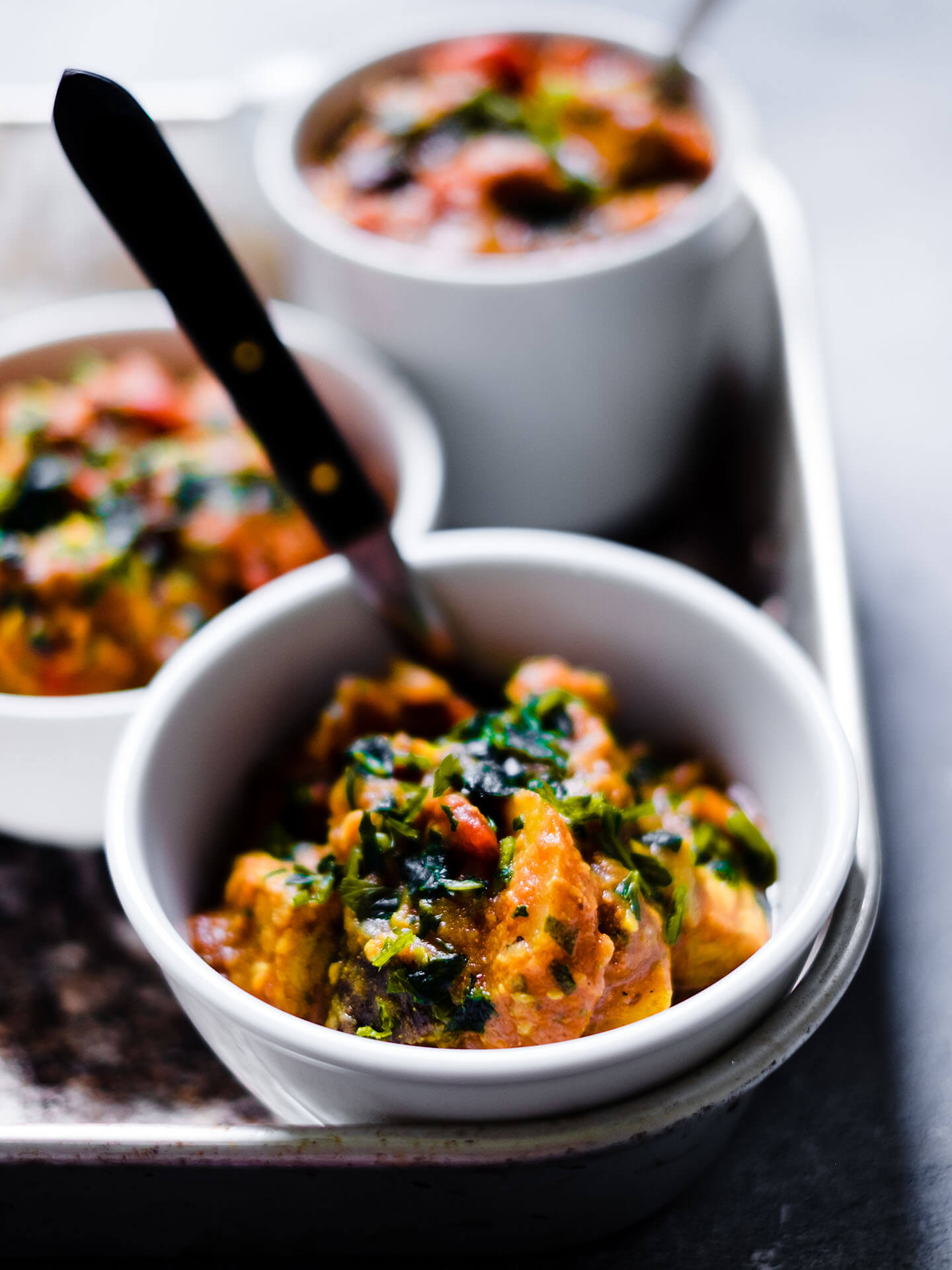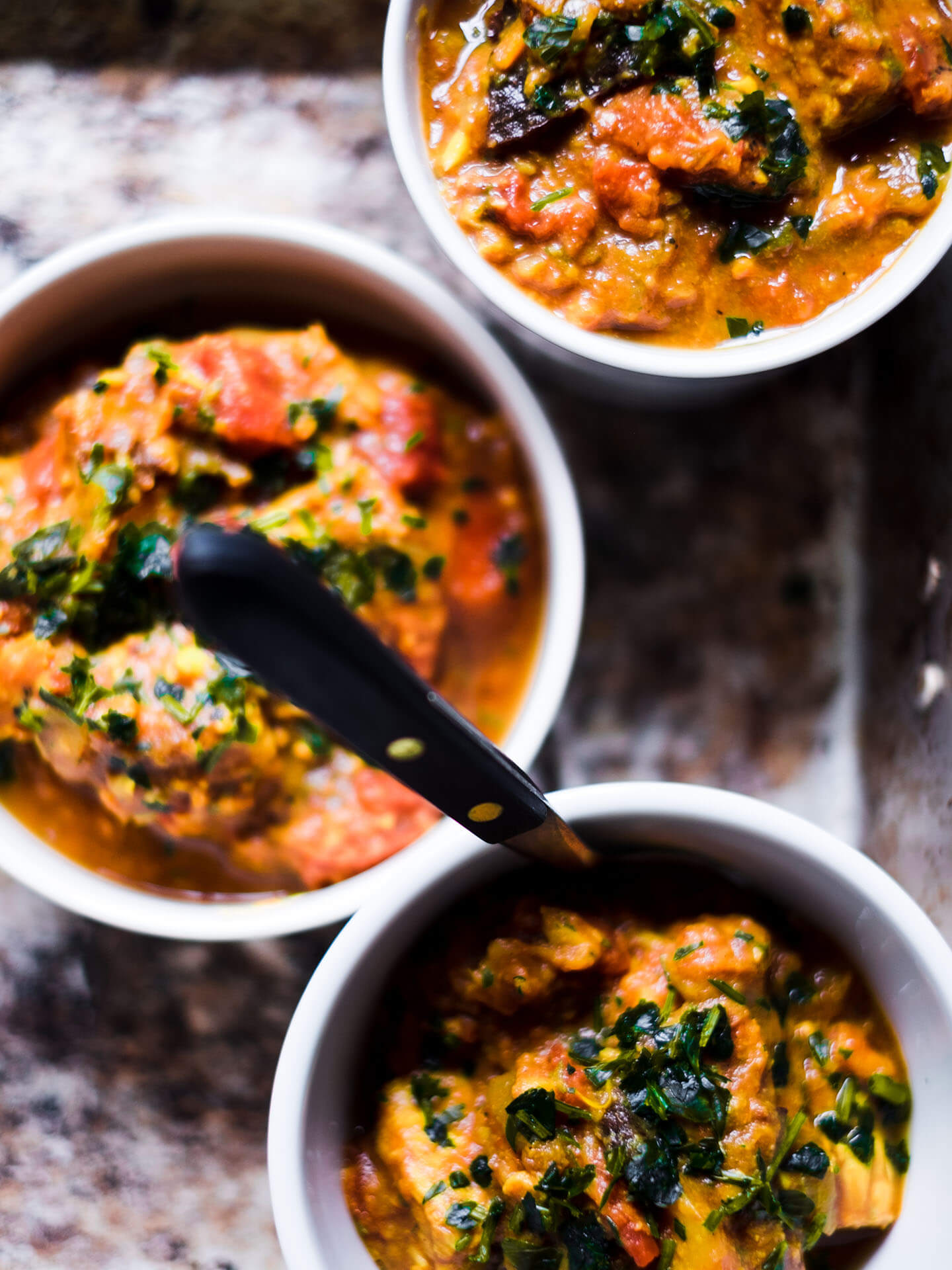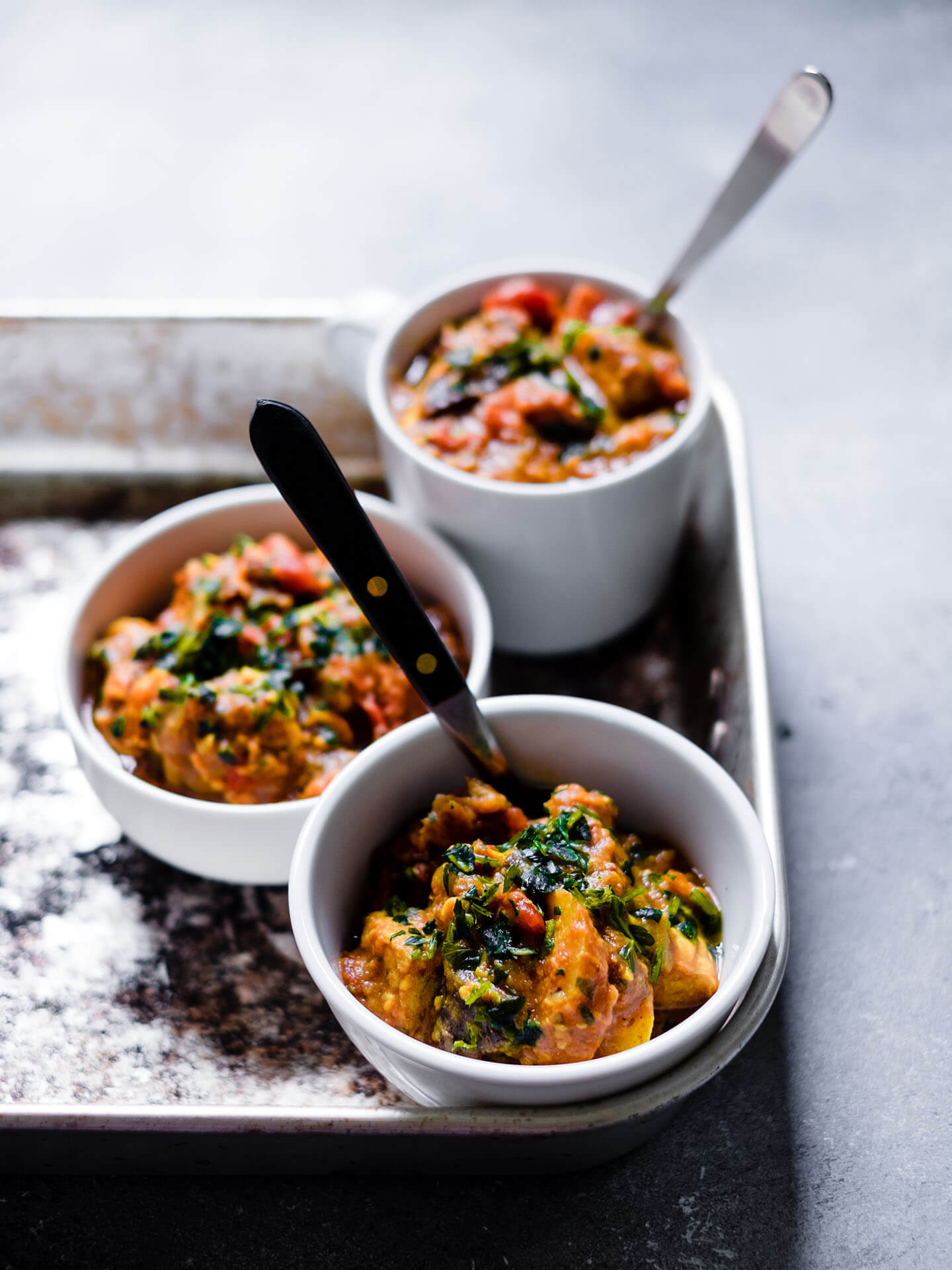 THE RECIPE
Even if this recipe is intended to be prepared with the Instant Pot, you can make it in a ceramic wok or a casserole. You'll need to increase the cooking time until the carrots are tender.
As the ginger, I minced a little piece of young root I keep in the freezer and usually add to my smoothies.
Adapted from Vegan Under Pressure .
[ for 4-6 servings ]
for the spice mix
1 + 1/2 tbsp ground cumin
1 tsp ground cinnamon
2 tsp ground turmeric
1 tsp ground ginger
1/4 tsp ground black pepper
1 tsp salt
Mix the spices in a little bowl.
for the marinade
1 cup vegetable stock
2 tsp gf  tamari
4 garlic cloves, minced
1/4 thumb fresh ginger – see notes
16 oz tempeh (2 packs), cubed
Add 2 tsp of the spice mix to a container large enough to hold the tempeh. Add stock, tamari, garlic, and ginger and stir. Add the tempeh and toss to coat. Let marinate for at least 30 minutes.
for the tajine
1 large onion (230 g), chopped
2 big carrots (220 g), chopped
1 sweet potato (260 g), chopped
1/2 cup chopped pitted prunes (78 g)
1/2 cup chopped dried apricots (77 g)
2 cups vegetable stock (480 ml)
1 (15 oz) can diced roasted tomatoes
1/2 lemon, juiced
chopped parsley and/or cilantro
After the marination, heat the IP on sauté. Add the onion and dry sauté for 5-10 minutes, until a bit translucent. Add the tempeh with the whole marinade and cook for another 3-5 minutes. Add the remaining spice mix and cook for 1 minute more. Add carrots, sweet potato, prunes, apricots, and stock, close the lid and bring to high pressure for 3 minutes.
Quick release, add the tomatoes, lock the lid and let sit for 3 minutes.
Remove the lid, stir and add the lemon juice. Transfer to a serving bowl and top with the herbs. Serve with some brown (basmati) rice, tandoori roti, quinoa, or another whole grain.
Nutritional values for 1 (of 4) serving
calories 463
fat 2.6 g
carbs 65.8 g (fiber 14.9 g, sugars 31.2 g)
protein 26.6 g
vit A 392% (!!!)
calcium 19%
iron 22.2%