I've never made a true cheesecake but I'm pretty sure that I already made a tofu one a few years ago. After that, I prepared some raw cashew-based ones a bunch of times and, honestly, I haven't seen a baked tofu cheesecake on the web for a while, do you?
Probably is because nowadays people try to avoid soy but I honestly find that it's not a big health issue unless you have specific diseases or disorders. Eating a "normal" amount of unprocessed soy – like soy milk and yogurt, tofu, tempeh, miso, and edamame – could even be protective and prevent some types of cancer. You can read a lot of different articles about this subject simply by typing "soy cancer" on Google and restricting the research to the last year, so you're sure to read the most updated information.
Why I prefer this cheesecake 100 times more than a raw cashew-based one? From a nutritional point of view, for the same amount of calories you can enjoy a slice that's twice the size of the competitor – I know that this means a lot for other girls too – and contains a lot fewer fats and way more protein (just for reference, my 1/6 slice contains 270 calories, 13g of fats, 26g of carbs, and 12g of protein) . Not bad right? And the result is so creamy that I almost couldn't believe it!
For the shooting, I was thinking about adding some fresh fruit or a compote, but then I thought to stay "basics" even in the photos. Minimalism is honestly my favorite style, that's why Sasha is one of my favorite food photographers and I consider Simple Fare the most stunning cookbook ever. And by the way, the cheesecake was perfect without any topping for my taste.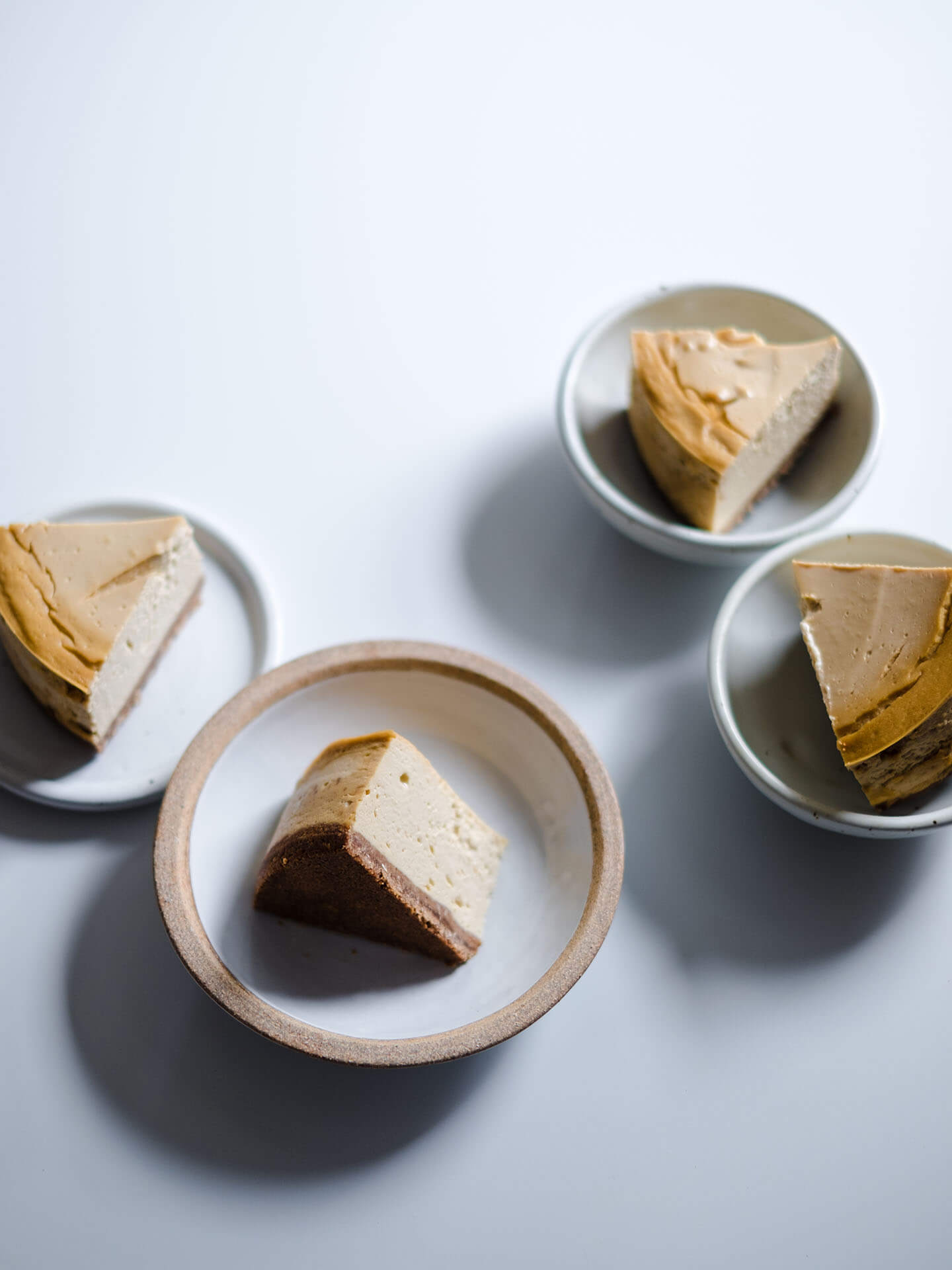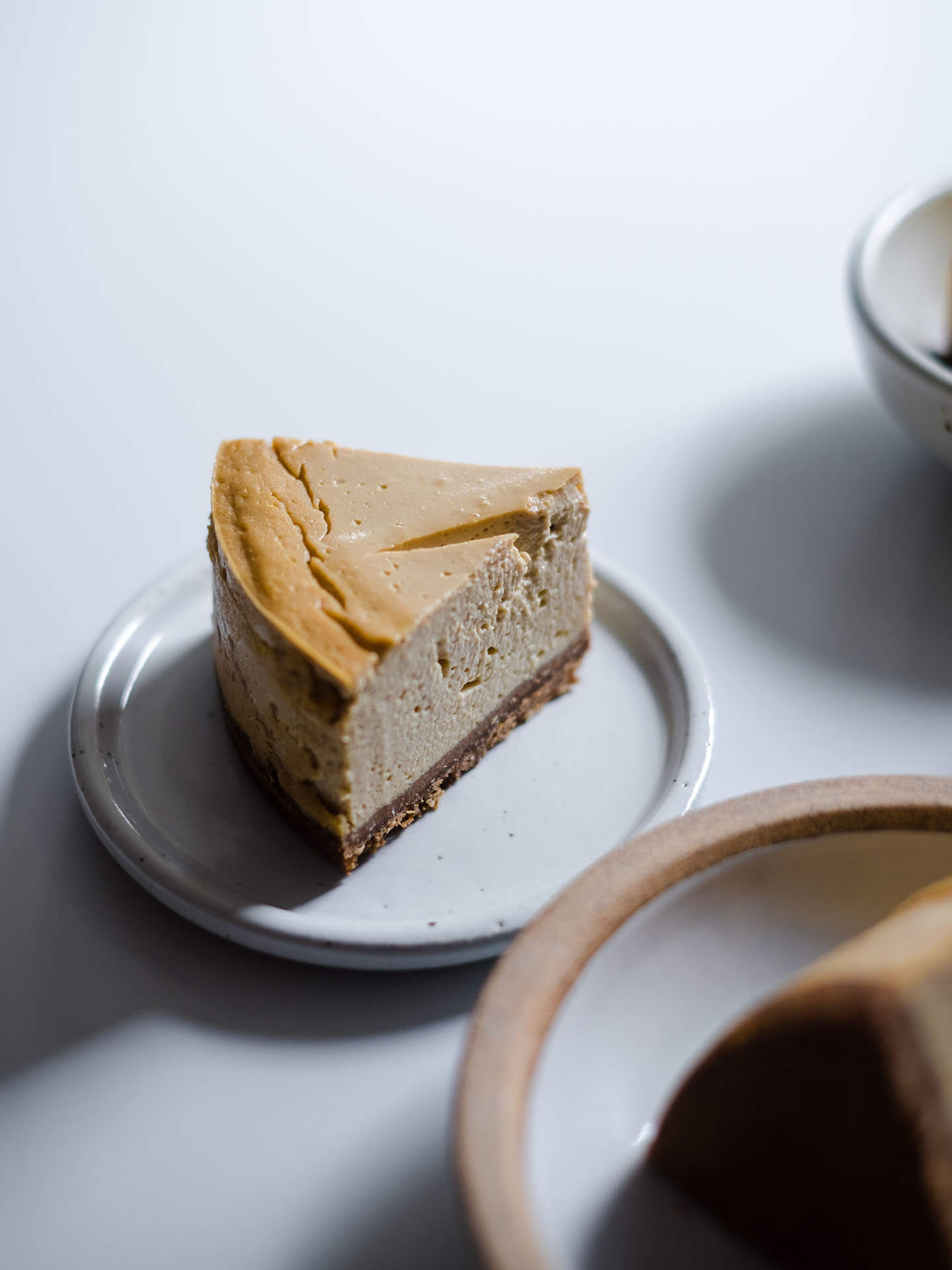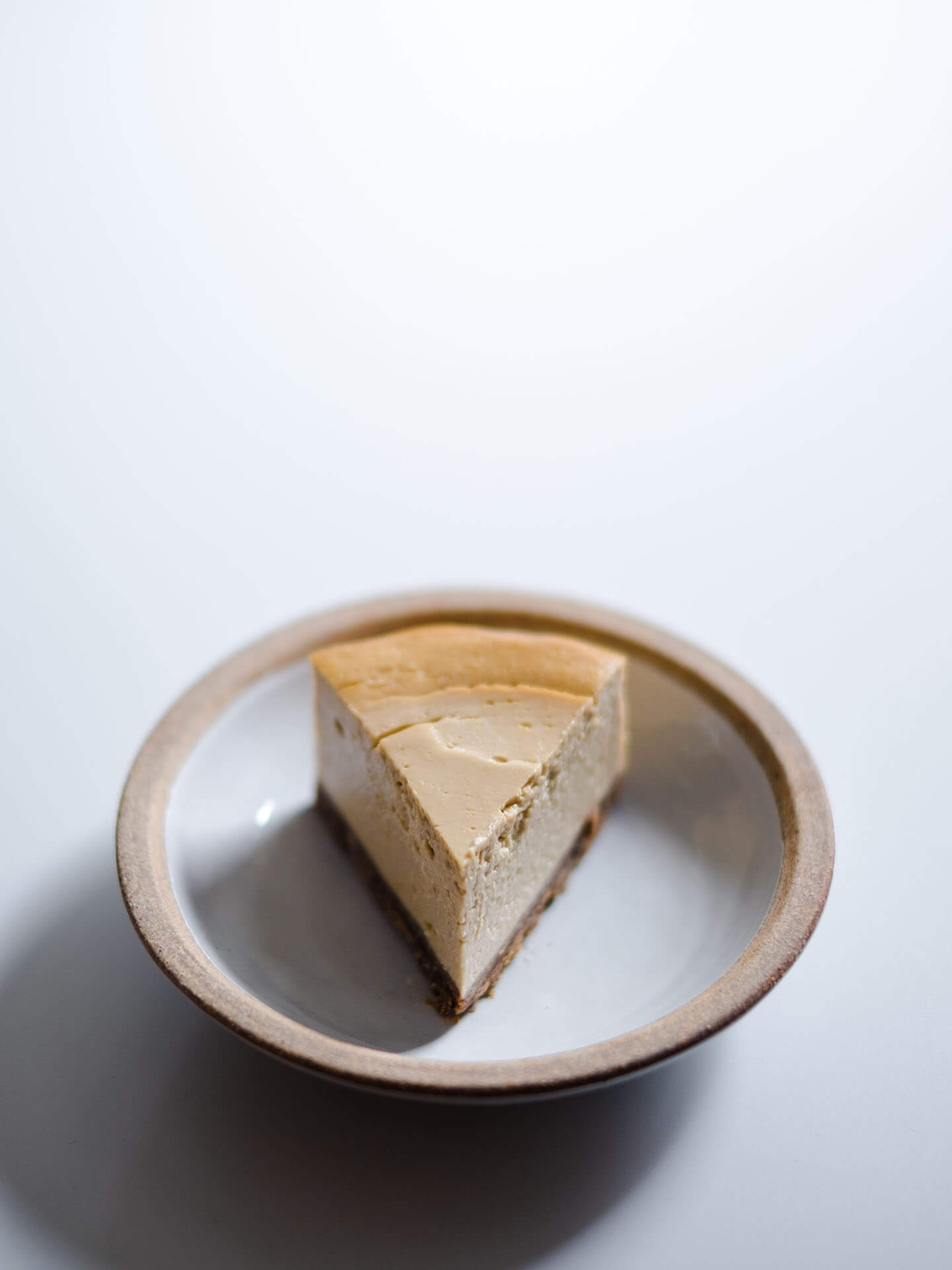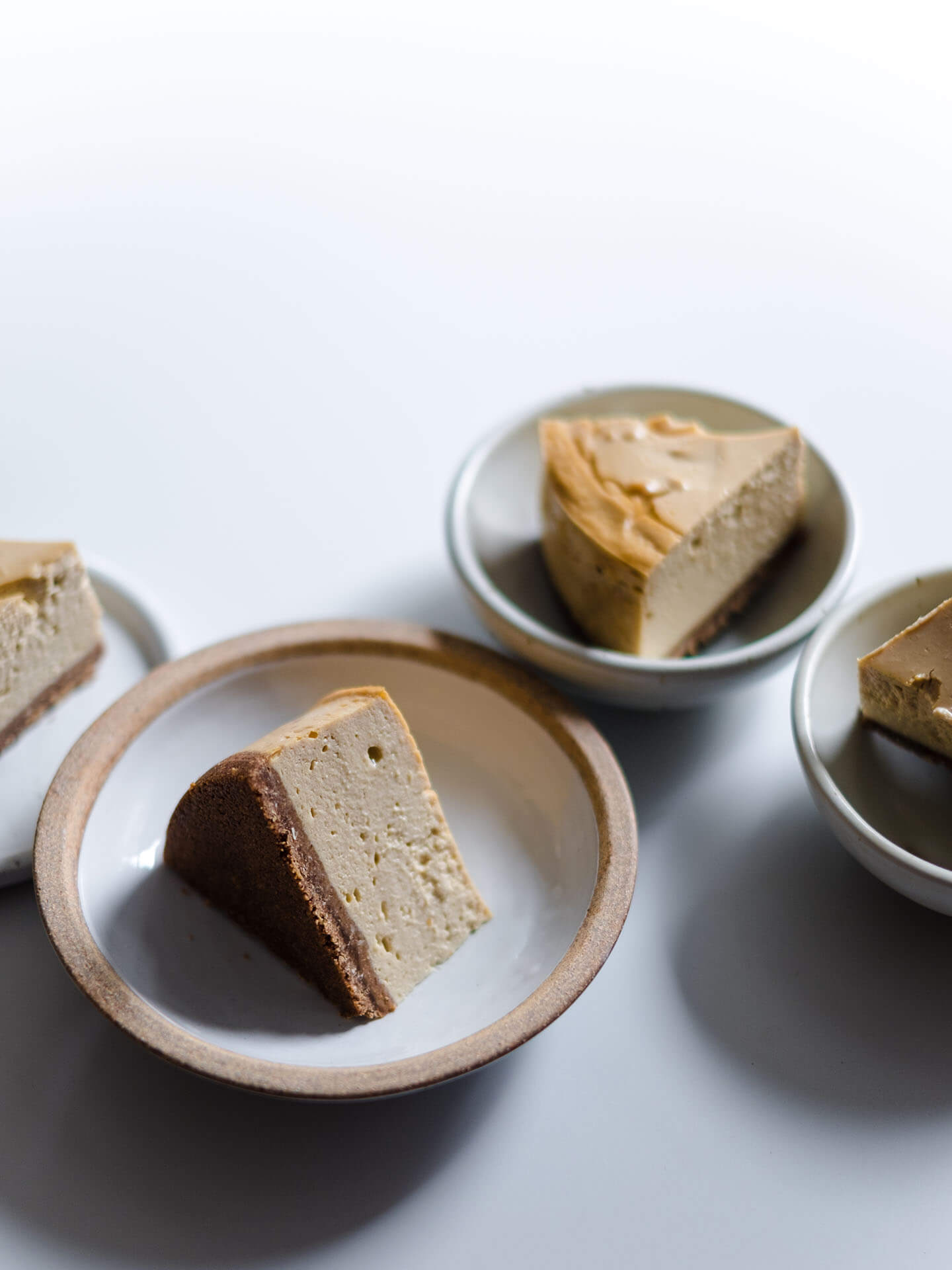 THE RECIPE
I used some biscuits that didn't come as I wanted, so I put them in the fridge after a few days, destined for this cheesecake.
Sub ghee with coconut oil for a vegan version and use gluten-free biscuits/cookies for a gluten-free one.
You can double the ingredients for the base if you prefer a thicker crust, but I love a deep layer of creamy stuff and just a little crunch at the bottom.
[ for 6 servings, a 6" cake ]
for the base
4.6oz stale biscuits (130g) – see notes
1 tbsp ghee (11g), melted
1 tbsp water (15ml)
Preheat the oven to 350°F and grease a cake pan – I sprayed some avocado oil.
Put the biscuits in a food processor and pulse until completely crumbled. Add ghee and water and pulse again until you obtain a mixture that stays together if pressed between two fingers.
Press it at the bottom of the cake pan and bake for 10 minutes. Remove from the oven and turn it down to 325°F.
for the filling
1lb silk tofu (450g), drained
10oz super firm tofu (280g)
1/3 cup coconut sugar (50g)
1/2 juicy lemon, juiced
1 tsp vanilla extract
1 pinch salt
2 tbsp potato starch (18g)
Blend both types of tofu, sugar, lemon juice, vanilla, and salt until smooth. Slowly add the potato starch whit the blender running.
Pour the mixture over the base and bake for 40 minutes. Let it cool inside the slightly open oven and transfer it to the fridge to set. It's best eaten starting from one day later.