A new recipe on the blog, get ready with your umbrellas because a snow storm is coming – and with the return of GOT after a whole year, it could really be the case… #winteriscoming
I went to my admin page, I clicked on "add new post" and I was like "how the hell am I supposed to lay out the recipe?". I had to open an old post to recall it! That's what happens when I'm MIA from my virtual space for a – long, too long – while. I'm not saying that I'm back for good and I'm going to post twice a week, not at all. I'll be here when I feel like. This blog is not a job for me. I don't get paid from brands to use their products or write for online magazines. I just do this for personal satisfaction. Actually, I write here when I spend money, whether in food or beauty products!
I'm also going through a phase where I feel demotivated and I'm questioning my own work here, especially concerning my shots. I spend a lot of time editing my images trying to find the perfect preset for my liking, but it never seems to be right. But I'm also changing taste in both eating – hi tortilla chips – and cooking – homier and less unusual or peculiar. Maybe I'm simply getting older and start craving adult and simple food. Oh yes, in exactly 1 month I turn 29. F*#k.
This galette is the result of a happy coincidence: a little bag of teff flour discovered during my kitchen decluttering and this IG post. Marta is amazing, I strongly believe that she's one of the best out there, especially being only 19 years old, therefore, I had no doubt when my publisher asked if I had someone to suggest as author for a new cookbook of the series. And her "Naturalmente Buono" is coming in a couple of months! Btw, this is my (not so) adapted version. Check the IG post mentioned above to read the original recipe.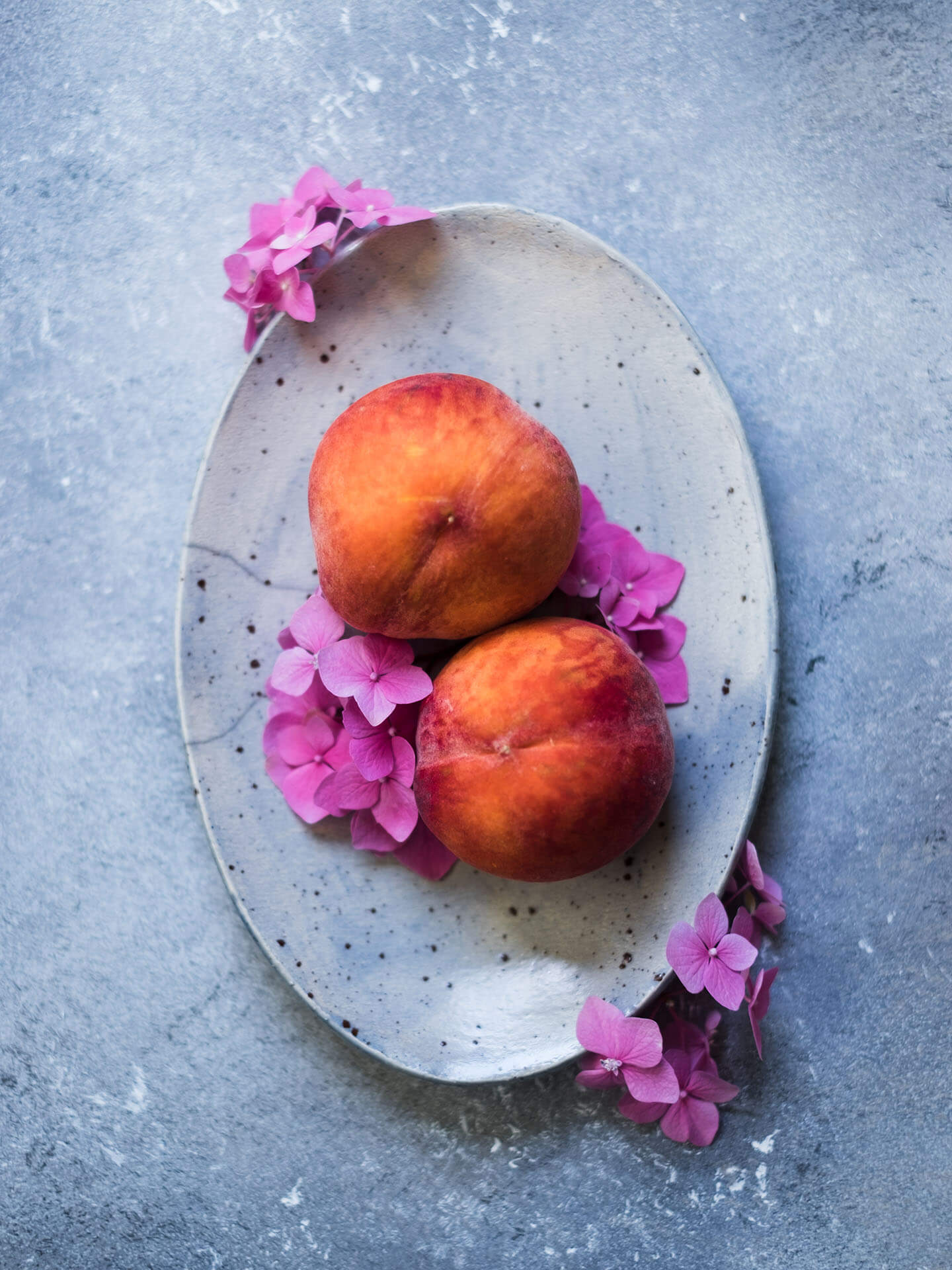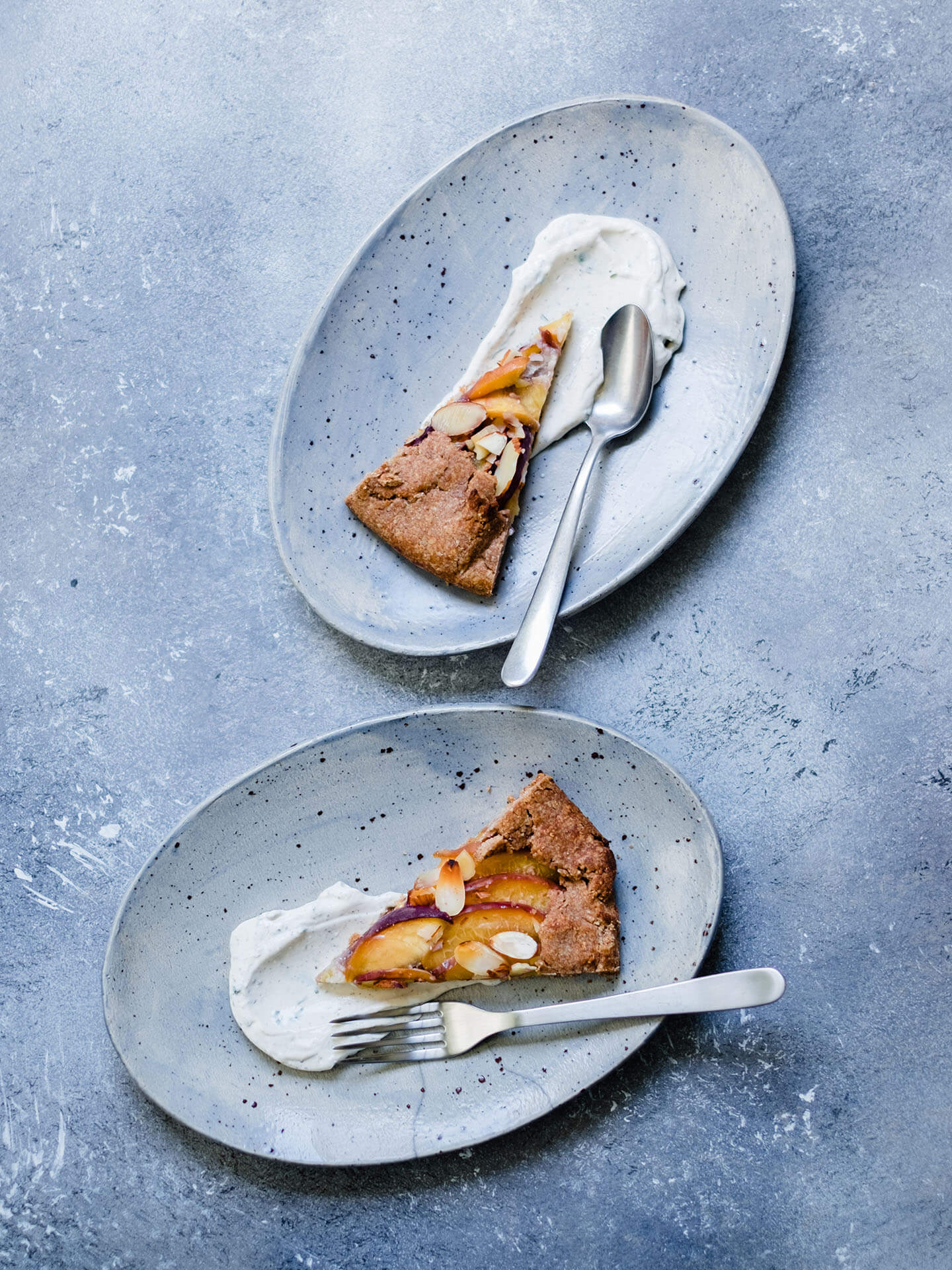 THE RECIPE
To make this galette vegan, simply use coconut oil instead of ghee.
In the original recipe, some lemon juice was used for the filling but I had none at home. Instead, I used some whey obtained by straining my homemade soy yogurt since it's somewhat similar in taste. You can, of course, use lemon juice here!
[ for a 9inch galette, 6-8 servings ]
for the crust

1/2 cup + 1 tbsp teff flour (135ml / 90g)
2/3 cup almond flour (180ml / 60g)
1/4 cup arrowroot starch (60ml / 30g)

1/4 cup – 1 tsp salted ghee (55ml / 55g)

1 tbsp + 1 tsp maple syrup (20ml / 25g)

2 tbsp + 1 tsp chilled water (35ml / 35g)


Sift teff, almond, and arrowroot flours in a mixing bowl, then add ghee and combine using a fork until you get a crumbly mixture.
Add maple syrup and water and mix until a dough is obtained. Let it rest in the fridge for at least 15 minutes.
for the filling
1 big peach (220g)
1 tbsp + 1 tsp maple syrup (20ml / 25g)
2 tsp arrowroot starch (10ml / 5g)
1 tsp whey (5 ml, see notes)

2 tbsp almond flour (30ml / 10g)
1 tbsp sliced almonds (6g)
While the dough is resting in the fridge, thinly slice your peach(es) and mix these slices in a bowl with maple syrup, arrowroot, and whey.
Remove the dough from the fridge and roll it out between two sheets of parchment paper into a 12inch circle. Sprinkle the surface with almond flour, leaving a 1inch border. Lay the nectarine slices over the area covered by almond flour saving the leftover fruit syrup, top with the sliced almonds, and fold over the sides.
Transfer the galette to the fridge for 15 more minutes and preheat the oven to 375°F (190°C). Brush with leftover fruit syrup and bake for 25-30 minutes. Let it cool for at least 15 minutes before serving. Reserve in the fridge.
To serve, I used some thick homemade soy yogurt – but I believe is going to be way more delicious with some almond or sheep yogurt – whipped with pure vanilla powder and minced basil.