I know I'm late but my Glossier haul took a while to take the right shape. So today I'm talking about what I put in my order and comparing my picks with other brands, so you may find easier to choose the right products for you.
Of course I haven't found a comparing product for each one I picked and my purpose is not to tell you which one is better, but mostly to help you pick the right shade – you can't find Glossier concealer at Sephora but you can find the one I compare it with so you can try it and hopefully imagine how you're gonna like the Glossier one – and understand if it can work with your skin type. For side-by-side comparison shots, check my Instagram stories!
Milky Jelly Cleanser vs CeraVe Hydrating Cleanser
I haven't found a difference between the two, honestly: they both leave my face nourished, they don't foam – and they work better with a Foreo than a Clarisonic in my opinion. However, the price tag is way different. The Glossier comes at $18 for 6oz of product meaning $3/oz, while the CeraVe comes at $1.17 0r $1.09/oz, depending on the size. It's up to you then, if you don't mind paying more for a more good looking and "trendy" product, go for the Milky Jelly of course, but if you're on a budget and you accept quite drab items in your bathroom, save some money and grab a CeraVe at your closest Walgreens.
UPDATE : the more I use it, the more I love it. I can't stop grabbing it from my cabinet, it's a pleasure to massage into the skin and wash away. I 100% prefer to avoid cleansing devices with this one and, honestly, I think it's really helping my skin!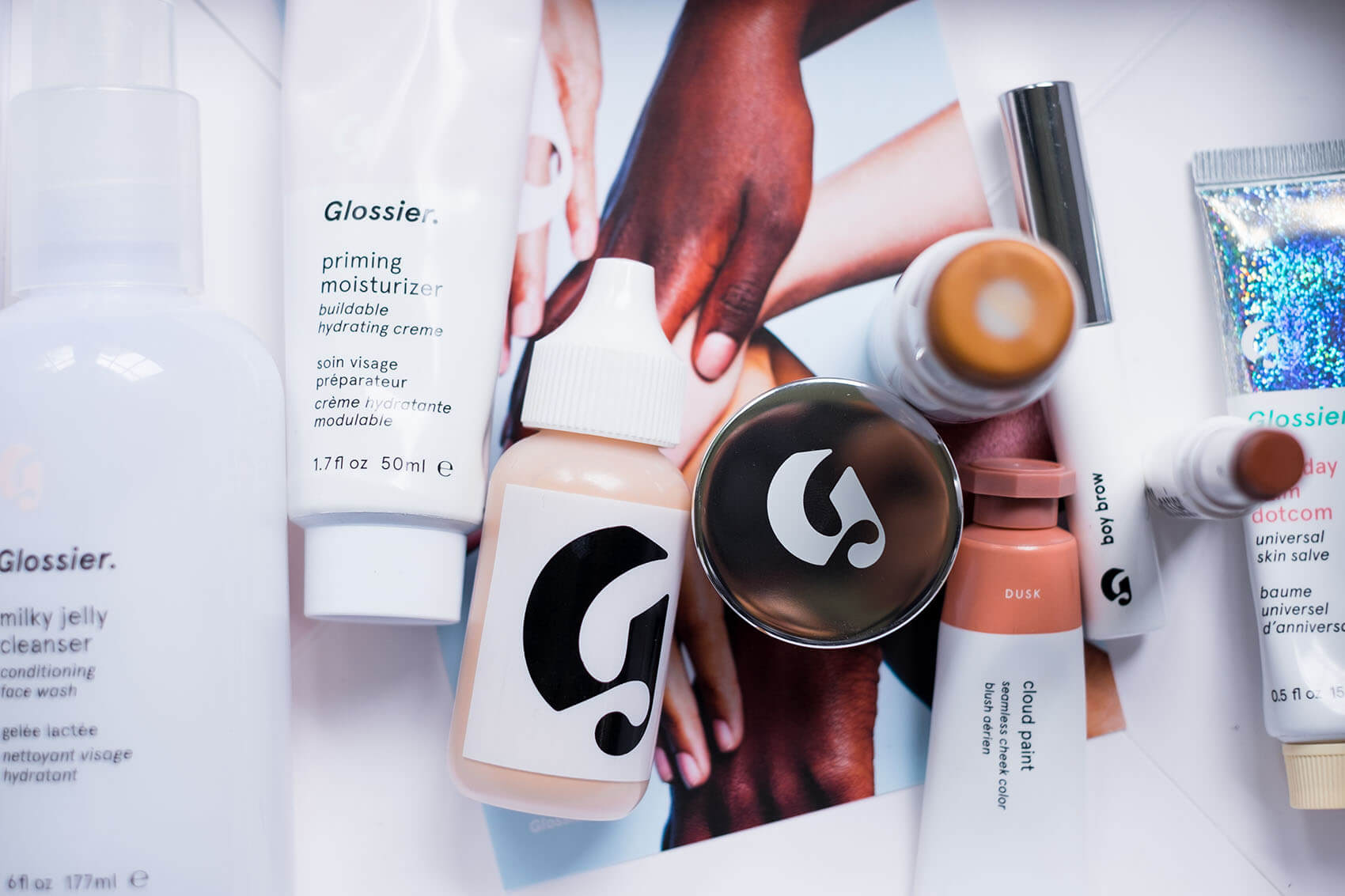 Perfecting Skin Tint vs Stellar Limitless Foundation
I know, they're two completely different products, but I want to compare them – the Skin Tint in light and the Stellar Foundation in S01 – anyway so, if you already have one of the two, you can pick the other one knowing their differences. As for consistency, they're similar being both really liquidy but the second is, of course, way more pigmented and presents a higher coverage. One characteristic I was expecting from the Glossier's tint was its dewiness. Well, the Stellar is way dewier! In fact, I could decide not to set the skin tint with powder, while I really need to do that with the foundation. As shade, the Glossier is again a little cooler, but it's very forgiving due to its sheerness. Right now I'm using the Glossier Skin Tint for my everyday makeup, even on weekends, when I'd like to be more polished but wearing a full-face helmet all the time, I can't really wear a lot of makeup. #sad
Stretch Concealer vs Tarte Maracuja Creaseless Concealer
These two are really different. The first one has a more gel consistency, it's almost translucent, therefore not so pigmented. I find it perfect to cover some discoloration and the redness around my nose, but not covering enough to erase blemishes, while gives my dark circles a little coverage with a natural effect. It's not drying at all, but not too nourishing. The Tarte Maracuja is even too nourishing that I think it works fine only on super dry skin as mine; it's super pigmented that you need a little drop to cover all your pimples, dark circles and discoloration. Also, the Stretch Concealer comes in fewer shades so it may be more difficult to find a perfect match: I use light sand in both the Tarte Maracuja and Tarte Shape Tape, and the Glossier in Light has a cooler tone. There's to be said that being not so pigmented, it's not going to look bad on your face even if you have a warm skin tone.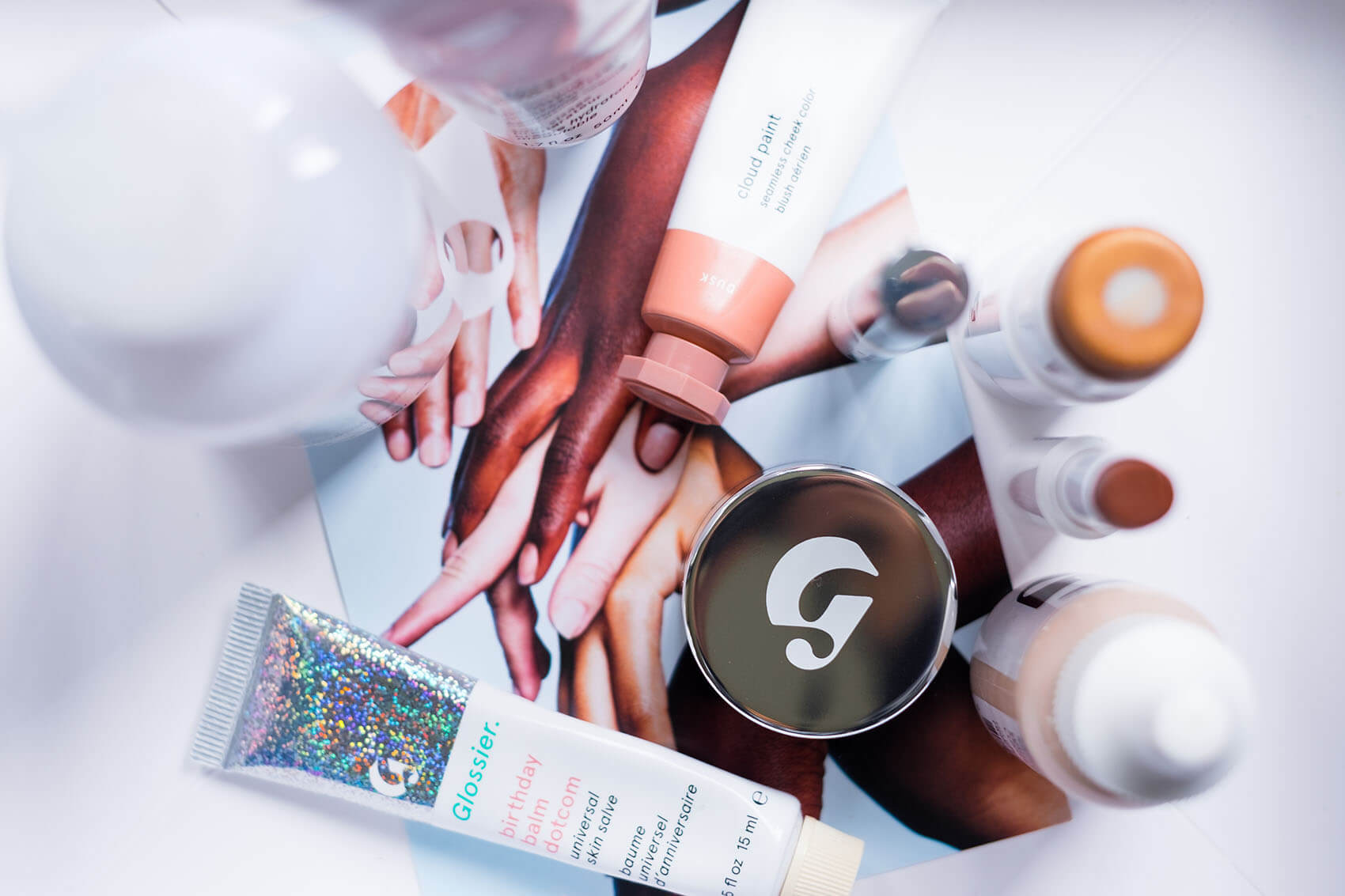 Haloscope vs Nudies All Over Face Color Glow
I bought Illumi-naughty by Nudestix a few months ago and I love it. With the coming of summer, I felt the need of something warmer by the way, so I was almost ready to buy Hey Honey. But then I decided to put an order on Glossier's website and I thought to switch to Haloscope to see the difference between the two. The price point is not so different – Haloscope comes at $4 per gram, Nudestix's comes at $3.75 per gram – and yes, Haloscope is smaller, only 5.5g instead of 8g, but do you really get to the end of a highlighter? I mean, to me, 5 grams are enough!
Texture and pigmentation are really really similar. I swatched, touched and compared them under different lights, and I'm not really able to tell a difference. They seem the same product! Therefore, it's just a preference of shades and of course reachability: you can grab a Nudestix at Sephora while you need to put an order on Glossier's website or visit their showroom in New York.
Boy Brow vs Nudestix Eyebrow Stylus Pencil & Gel
Ok, here I have a strong preference towards one of the two. Of course, the Nudestix Eyebrow "thing" comes with both a pencil and a gel and I think that if the tip was thinner, I'd like it more, while the Boy Brow is only a gel, BUT: the Glossier's is creamier, making your brows less stiff, and more pigmented, while the Nudestix's has a more hairspray effect. Between the two, I'd pick the Boy Brow: for a natural makeup I can totally avoid using a pencil since it covers those little hair-missing spots in my brow by itself. I have both of them in brown and the shade is really similar, maybe the Nudestix's gel is a little warmer, but being too sheer, it's hard to tell.
Balm Dotcom vs Nuxe Rêve de Miel Ultra-Nourishing Lip Balm
I picked the new birthday flavor and OMG. The only con is that I crave cake when I wear it, but that's fine! Main differences: the Glossier Balm Dotcom comes in a tube – more hygienic – while the Nuxe Lip Balm comes is a pot; the first one is more hydrating, while the second one is only moisturizing, meaning that yes you can feel your lips protected by the environmental stressors but, if they're dry af, they remain like that – at least that's my experience after using almost 2 pots. That said, I'd pick the Glossier. By the way, apparently the Nuxe's one is no more available anywhere, so there's no much choice!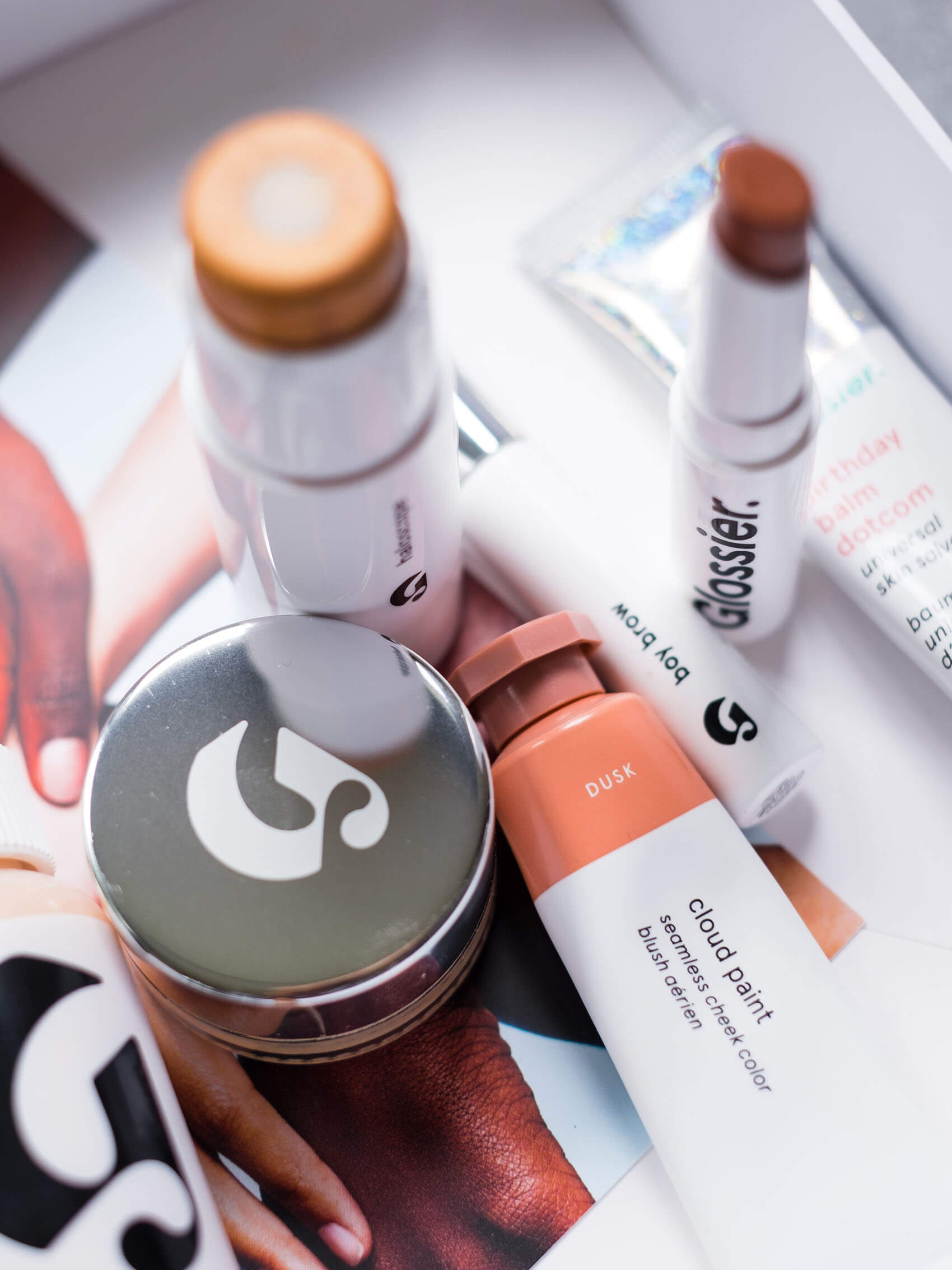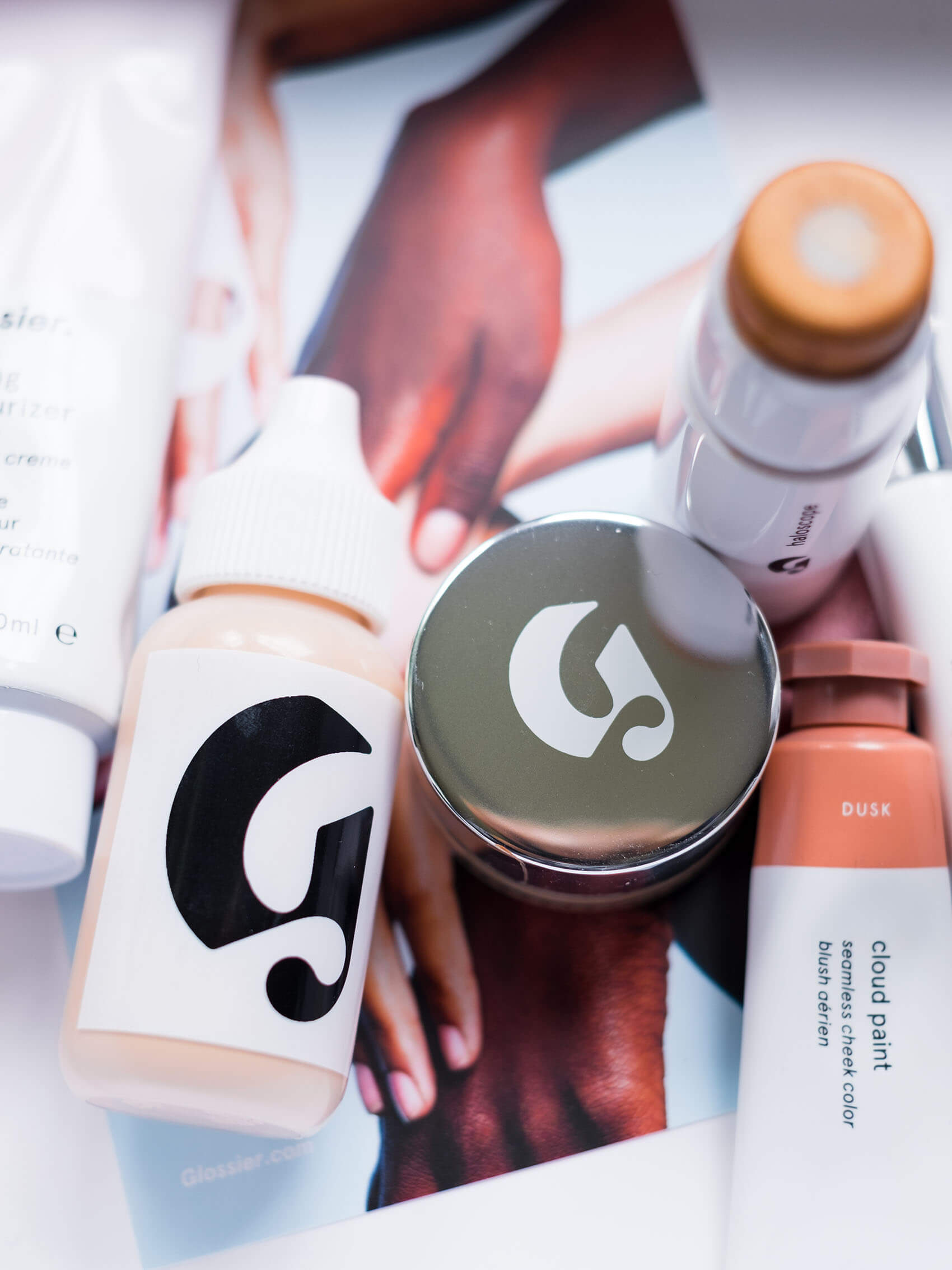 Priming Moisturizer
I don't know how I feel about it yet. I tried to use it as a day moisturizer but it's not hydrating enough, while it seems working better if I use it after my SPF before wearing makeup – for instance, if I do my routine at 8 am but I only apply makeup two hours later, I use it then and it works good enough – but I may have to adjust my routine for it a little better, so I'll update my review about the Priming Moisturizer when I'll have a longer experience with it. Only one thing scares me a little bit: I don't have sensitive eyes but when I apply this, even if I avoid completely the eye area, they sting so badly! Luckily the sensation lasts only for a few minutes, but it's not pleasant anyway. I have never heard anyone complaining about that by the way. UPDATE : a couple of days ago I received an email from Glossier asking to fill in a survey about my order. So I wrote my thoughts about this moisturizer – stinging my eyes like crazy, which is a problem a few others girls have with it. Less than 24 hours later the Glossier Team contacted me and send me a refund, with no need from my part to send back the product. I mean, wow. Best customer service ever!
Generation G
I picked Leo and I love it. It's not too much and not too little pigmented, nourishing and feels very soft on the lips. I feel even comfortable having lunch while I wear it since it's not slick as a lip balm and not thick as a lipstick. Who wants Generation G in all shades now? Me.
Cloud Paint
I love blush, probably because my cheeks are the only areas of my skin with almost no issues. And this one is just incredible: it's incredibly pigmented that I think 1 little tube is gonna last you a lifetime. I picked Dusk, but it's possible that I'm gonna order Haze and Beam too sooner or later. The effect is so natural, it really looks like your skin! And as I said about the balm dotcom being in a tube, Cloud Paint is too really hygienic – just be sure to wash your hands before applying it on your face.
What I'd buy again? Surely Cloud Paint, Generation G, Balm Dotcom and Boy Brow.
I hope you found this post helpful! Let me know in the comments which products you tried or you're going to buy 🙂 And if you live in the Usa…Happy July 4th! I wish you a wonderful day, xoxo