As you (may) know, I spent a week in Provence at the beginning of July. The purpose was to be tattooed by this amazing artist I discovered last year when my boyfriend and I booked a 10-days vacation in a little village called Saint-Cannat, which lies near Aix-en-Provence, in a wonderful position to visit the whole region. I googled something like "meilleurs tattooers en Provence" [best tattoo artist in Provence] and I luckily found her. So we drove to Forcalquier, this little and so nice village in the middle of nothing – it's a perfect place if you're interested in star photography because it's an almost zero light pollution area! – and I got my first tattoo from her. And here started the addiction. A few months ago I contacted her asking if it was practicable to make a little "tattoo marathon" since I had at least 5 projects in my mind. She said yes, so I booked her time for few days. I told everything to my mom and after few days she wrote me "can I come with you? I would like to have 1-2 tattoos from her too". So on June, the 29th we left home and drove to Forcalquier, where we spent 1 week in her amazing apartment and under her needle for the first 3 days.
Even if we had this beautiful and cozy kitchen where I've been able to cook some meals, we had some dinners in the few restaurants of the village. One preparation that was always there, in almost any dish, was tapenade. If you don't know, it's a paste, usually used as a spread on bread or as a condiment, made with black olives and few other ingredients. Sometimes they also add anchovies, so remember to ask the waiter if this is the case. Before leaving Provence my mom asked me to go to a little grocery to buy few local spreads to bring home, and there I found a jar of tapenade aux figues, a classic tapenade but with dried figs in about the same amount of the olives. I think I've never mentioned that, but I LOVE figs, in any shape. So I decided to try it at home since my baggage for California was already packed – about 48 lb on 50! – and I love preparing my own stuff at home.
To make this recipe a bit lighter and fresher and healthy, I used tapenade as a seasoning for a simple messy salad.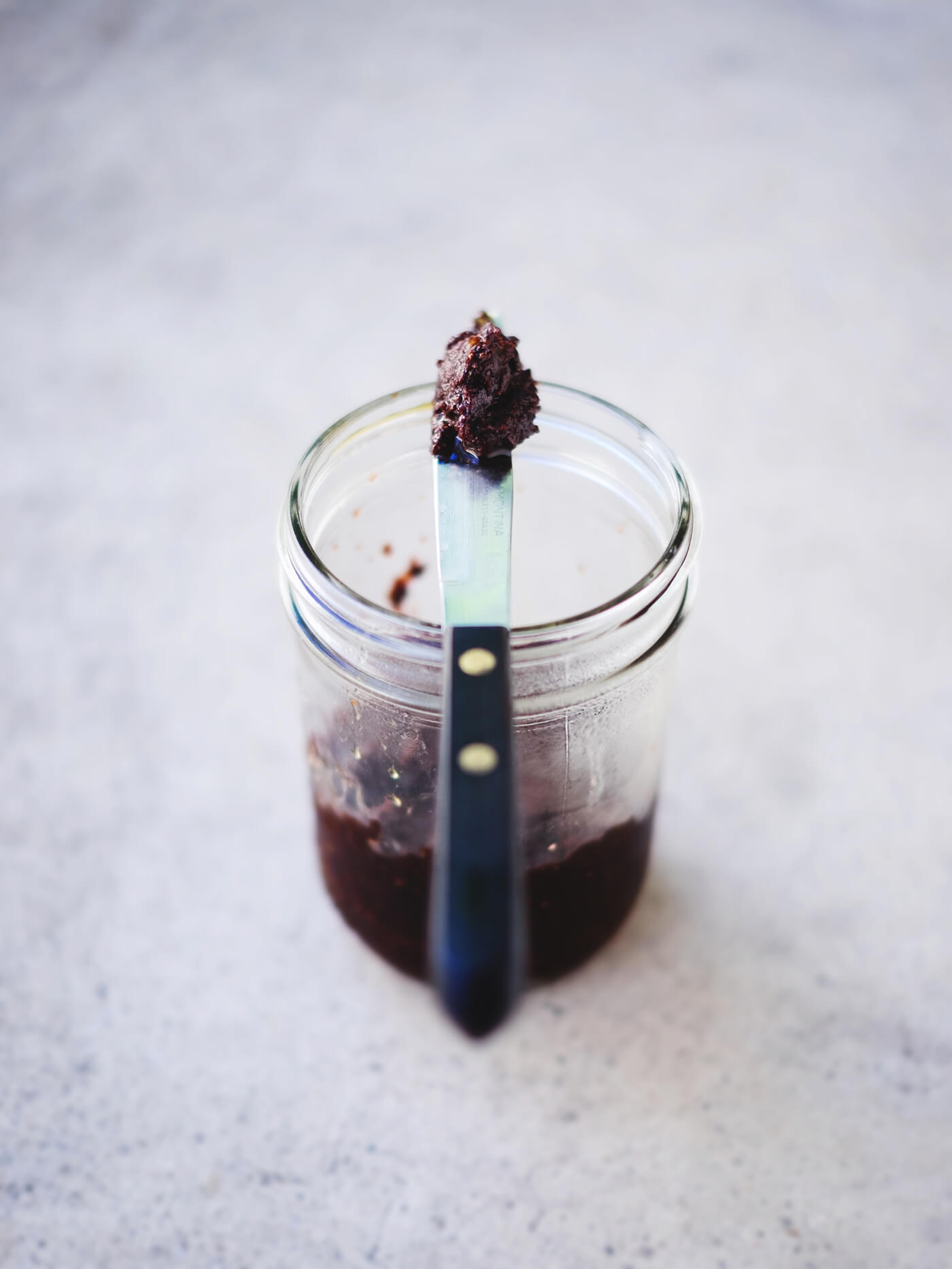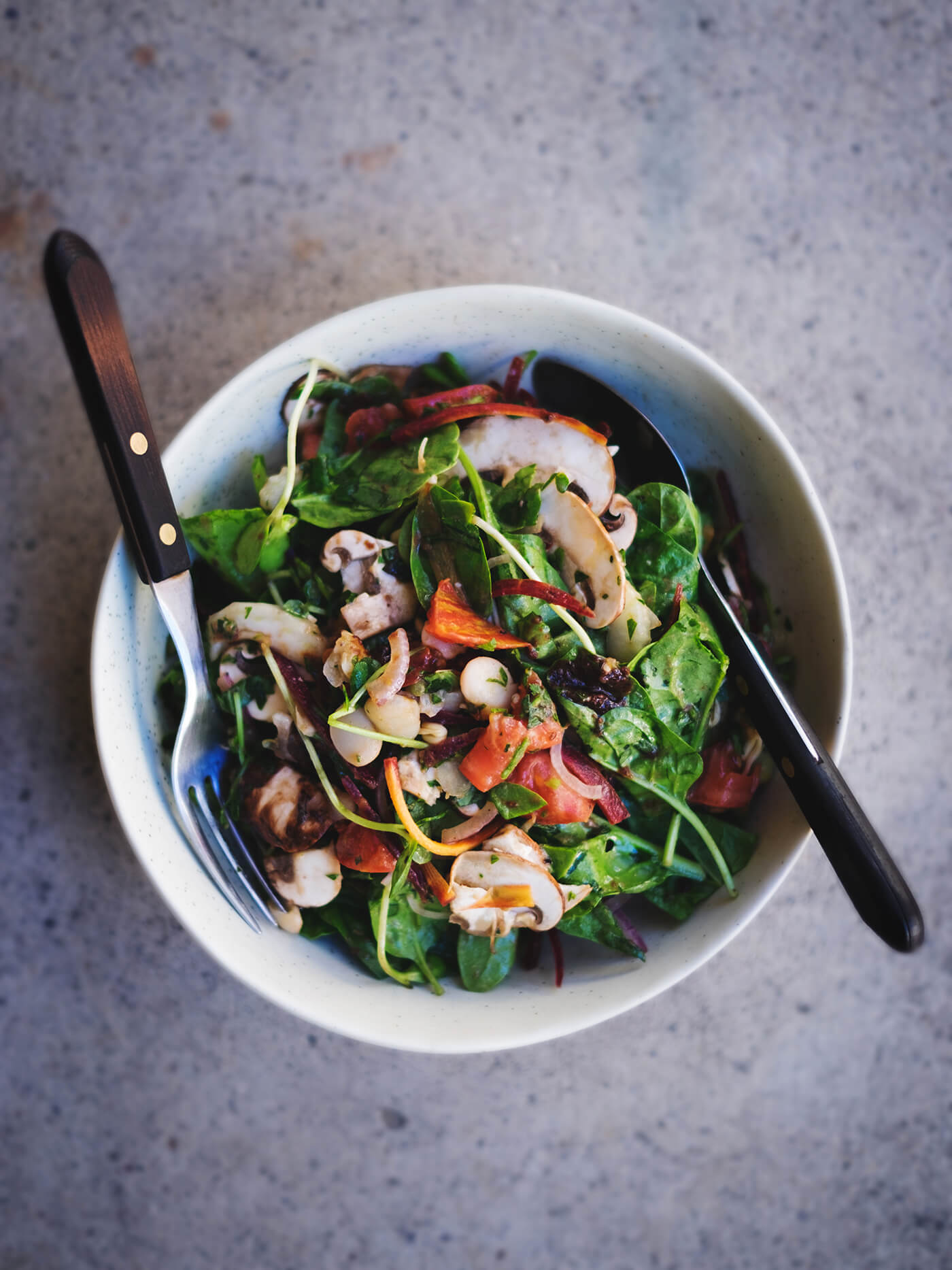 THE RECIPE
I used mission figs, so the tapenade became really black, but you can totally use another type, like calimyrna; I used cured black olives, but you can totally use kalamata or other olives, even green ones – the taste will change but it'll be fabulous anyway!
[tapenade yields a bit more than a 8oz jar  ; salad for 2-4]
for the tapenade
1/2 cup dried figs (75 g)
1/2 cup pitted black olives (70 g)
1 garlic clove
1 tbsp balsamic vinegar
1 tbsp (meyer) lemon juice
1 pinch salt
1 pinch black pepper
1/4 cup extra virgin olive oil (60 ml)
Soak figs for 30 minutes.
In a food processor or a blender – I used as always my Vitamix – add the drained figs with all other ingredients and process until a thick paste is obtained.
Reserve the tapenade in the fridge.
for the salad
5 oz baby spinach (about 150 g)
1 carrot (75 g) – I used violet varieties
1 stalk celery (60 g)
4 cremini mushrooms (about 100 g)
1 big heirloom tomato (275 g)
1/4 red onion (50 g)
1 little handful basil
1 little handful parsley
1 handful mixed greens (75 g) – I used a mix of sunflower and pea shots and lentil, adzuki and mung sprouts
1 scant can butter beans (200 g)
1 fat pinch of salt
2-4 tbsp tapenade – depending on your taste
2-4 tbsp extra vergin olive oil – depending on how much dressed you like your salad to be
Wash and drain all your vegetables and herbs. Cut into thin matchsticks the carrot, slice the celery, slice the mushrooms, dice the tomato, finely slice the onion and mince basil and parsley, gradually adding all these ingredients in a big bowl ; add microgreens, sprouts, and beans, add a pinch of salt and combine everything.
In a little bowl dissolve the tapenade in the oil, pour this dressing over the salad and stir very well.
Serve immediately or reserve in the fridge for few hours to let the flavors develop.