Attention: this post does contain a long and boring complaint.
Before writing about this recipe, I'd like to talk about "the American dream". Have you ever heard about? I'm sure you have. I've noticed that a lot of Americans and most Europeans don't really know how the things really are. In the USA you can realize your dreams, isn't it? Not really.
As you maybe know, I'm currently living in California because my boyfriend got a job here. You can't simply move to the USA and look for a job there. You have to arrive with a valid working Visa. To obtain the kind of Visa L. has, he had to apply in March, in April he was pulled out from the lottery – there are 80,000 H1B available every year, last year there were about 240,000 applications – and he finally got the confirmation in August, after a really long and exhausting check – "how many hours did you work for that client in a week?". His Visa started from October, so he moved here and I joined him after 3 weeks with a B2, a long touristic Visa which lasts for 10 years and lets me stay in the USA for 6 months a time. So, how much time has to pass between a visit and the consecutive is written nowhere, but the last time the Customs Officer told me that the next time I have to stay in Italy for at least 6 months. So if you want to spend the whole period with your boyfriend, you can't. You have to be married – or otherwise, you can apply for a wonderful but freaking expensive College Degree. But as a married couple, it's not so great anyway. As an H4 – a dependent of an H1B holder – you can't work. You can't have an income. You can't even work as a waiter at McDonald's. The only thing you can pray for, it's that your husband's employer decides to invest money for his green card.
You can't find an employer, but do you want to realize your dream in the USA? You have two possibilities: start a business – you need money at least for an immigration attorney for the Visa application – or marry an American citizen. I strongly believe that the second option is easier! So next time, before saying "You're so lucky, you'll be able to do everything in the USA!", think twice.
Something good about being work-free is that I can work on my blog every day! I have to thank Sneh for this post: coffee in a granola? Why not! I took advantage of her idea to develop my own recipe – I use ground coffee beans while she uses espresso. I've always enjoyed granola every now and then, but I think the real love started some months ago while I was working on my cookbook. I developed three different kinds of granola for that project: a Carrot granola, a Lentil granola, and a Raw granola, and I enjoyed them all so much. And this one is as amazing as those.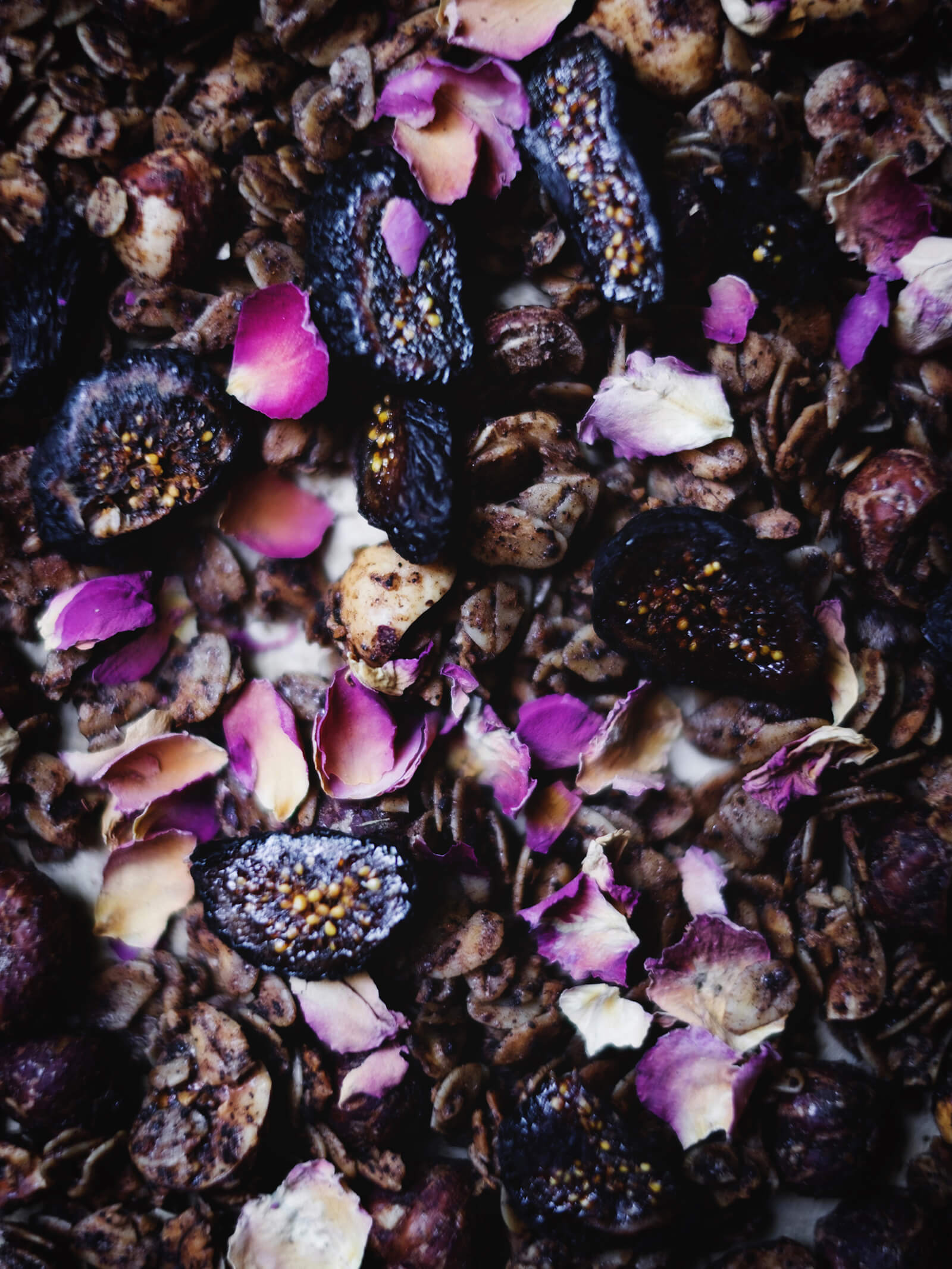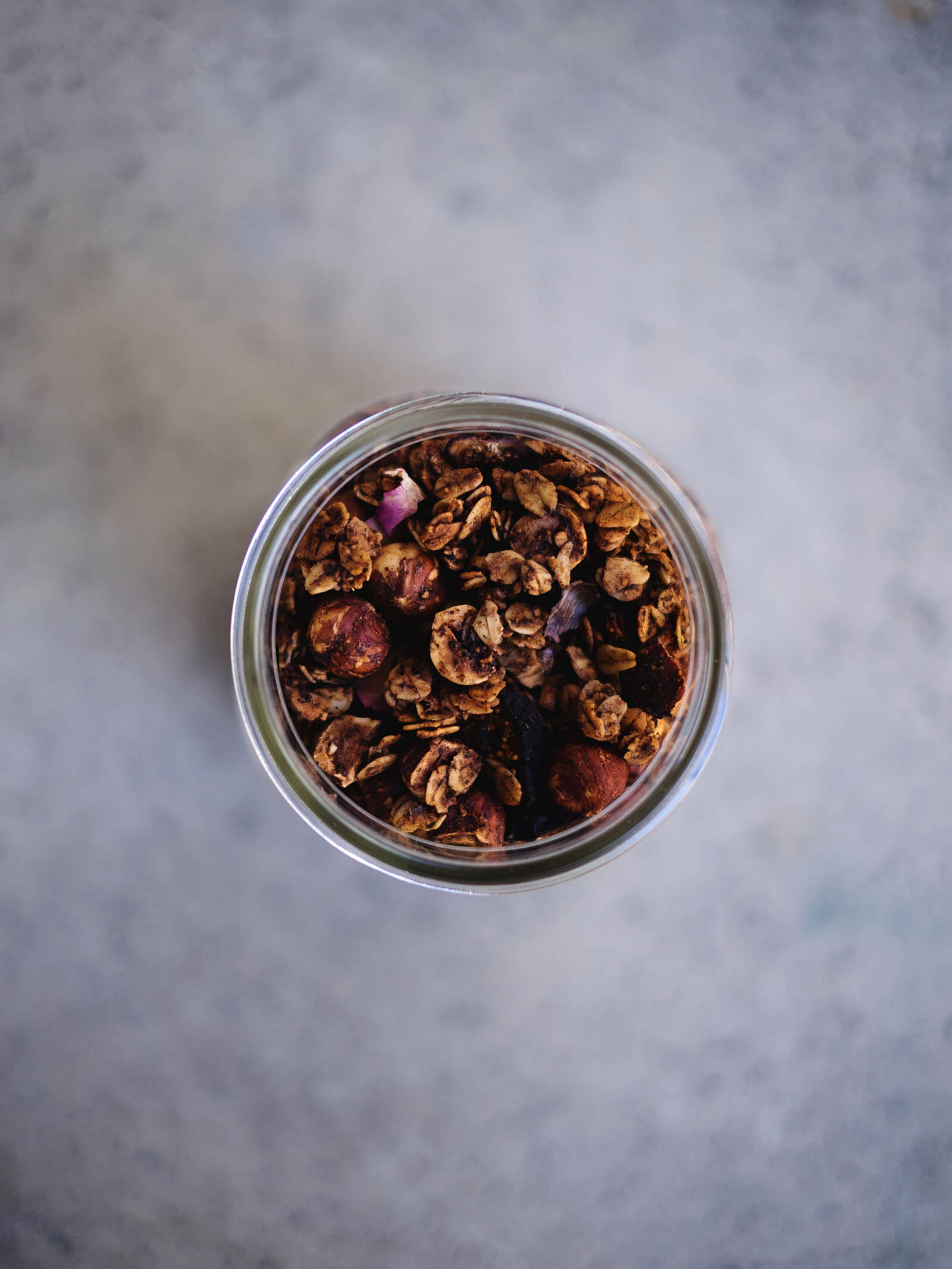 THE RECIPE
If you use coffee beans and you have a grinder at home, grind them to the finest possible. Use gluten-free rolled oats if needed and soak figs for 30 minutes in warm water if really dry.
I served the granola with some low-fat goat yogurt and fresh blueberries.
[ for a 32oz jar / 430 g ]
1 1/2 cup rolled oats (160 g)
1 cup hazelnuts (140 g)
1/4 cup melted cacao butter (60 ml)
1/4 cup maple syrup (60 ml)
2 tbsp coffee – see notes
1 tsp cardamom powder
1 tsp vanilla powder
1/2 tsp cinnamon powder
1 pinch himalayan salt
1/2 cup dried figs (70 g)
some dried roses
Preheat oven to 300°F / 150°C and cover a baking sheet with parchment paper.
In a mixing bowl, add rolled oats and halved hazelnuts.
Stir maple syrup, coffee powder, cardamom, vanilla, cinnamon and salt in the melted cacao butter. Pour this mixture over the oats and hazelnuts and stir until everything is well covered. Spread the content of the bowl on the baking sheet and bake for 40-45 minutes. If you like clusters as I do, slightly press the granola on the sheet and NEVER stir while baking!
Drain, squeeze and slice the figs, adding them to the last 5-10 minutes of the baking time. Take the granola out of the oven, let it cool 5 minutes, then "sprinkle" with dry rose petals. When fully cooled, reserve in a hermetic jar in a cool and dry place.