Lorenzo took the Milan-San Francisco flight last October, 26th. It's more than 10 months ago. It's obvious that his family decided to come and visit him – and the Bay Area isn't an awful place to explore, isn't it? So August, the 16th, his mom and uncle arrived at the airport, and while his uncle reserved a room at a hotel in town, his mom, preferring to enjoy the company of his kid – you know, Italian moms with their boys… – decided to stay at home with us. One day, since the group wanted to take some photos of the Apple's Headquarters, both the old and the new one, we decided to have lunch at home. So that's what I prepared.
A few days before I received an envelope in my mailbox : Rawspicebar sent me an example of their quarterly spice set to try. A huge spice lover as I am can only be excited by them! When I saw that it was Provence month, I was a bit sad initially (I've been in Provence twice in a year, I lived in France for 5 months years ago, I know pretty well french spices, therefore I was hoping in discovering something new), but then I realized that these mixes are awesome, perfectly balanced and flavorful, and they also inspired me to cook something different than usual! It contained three little 0.4 oz bags :
Quatre épices (four spices), that I added in the bread to make it really peculiar;
Herbes de Provence, that I used to make roasted beets more flavorful;
Vanilla lavender sugar, a wonderful addition to a simple no-churn blueberry ice-cream.
The whole menu came out so balanced and harmonious. Another cool fact of this service is that you can also personalize your boxes when you subscribe – i.g. if you answer that you don't eat fish, you'll never receive a Japanese furikake containing bonito flakes! I'm seriously thinking about subscribing, even if my spice pantry is already stocked up.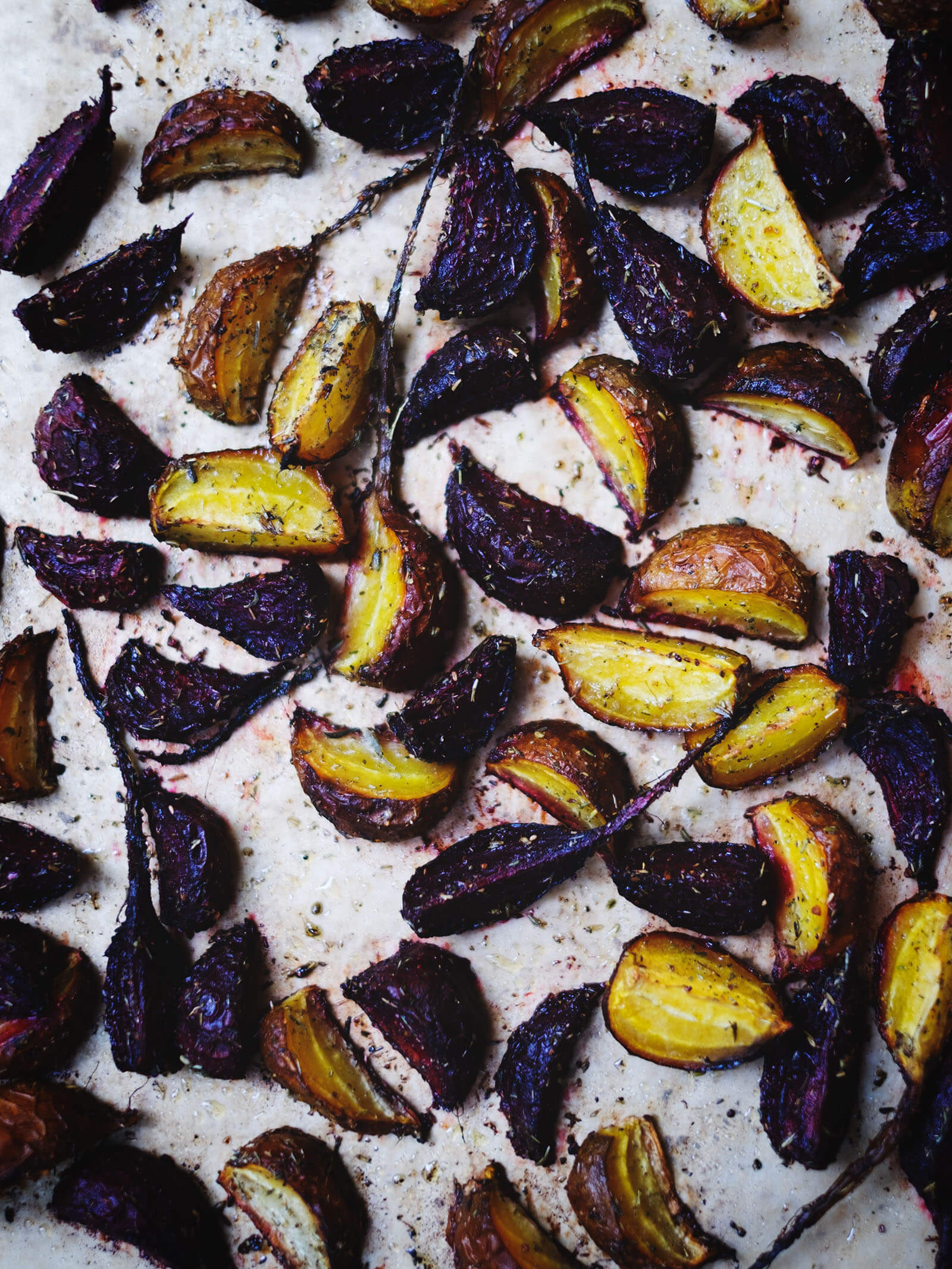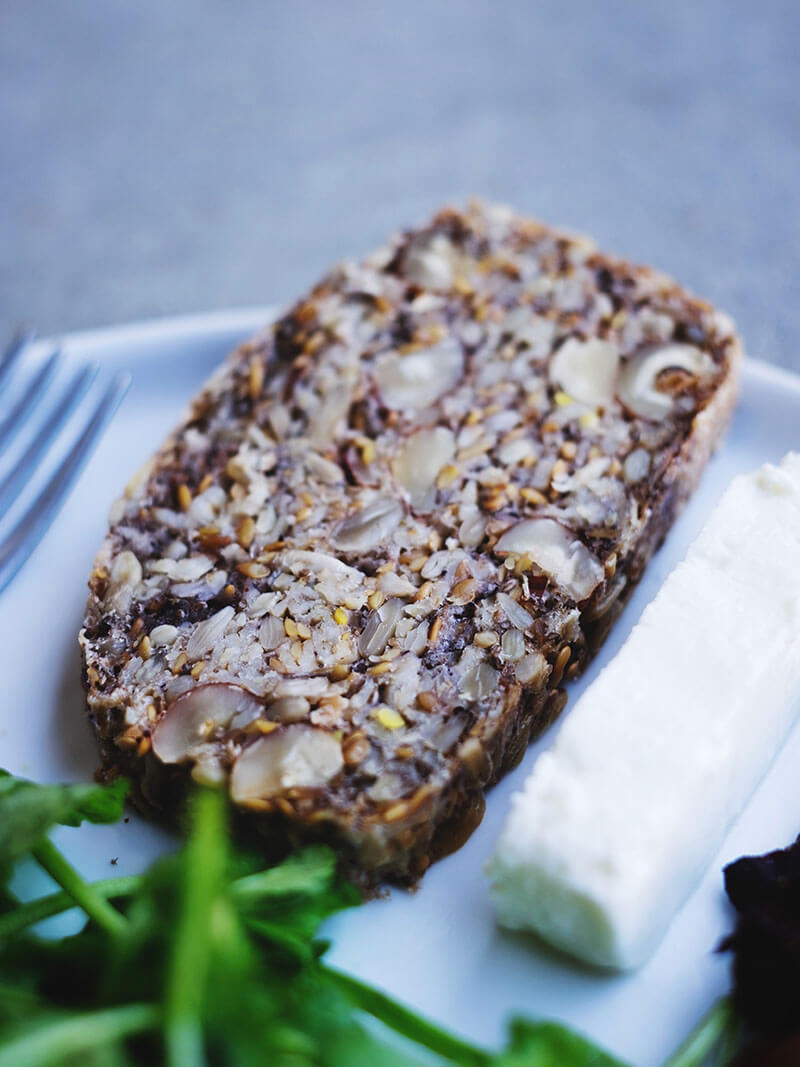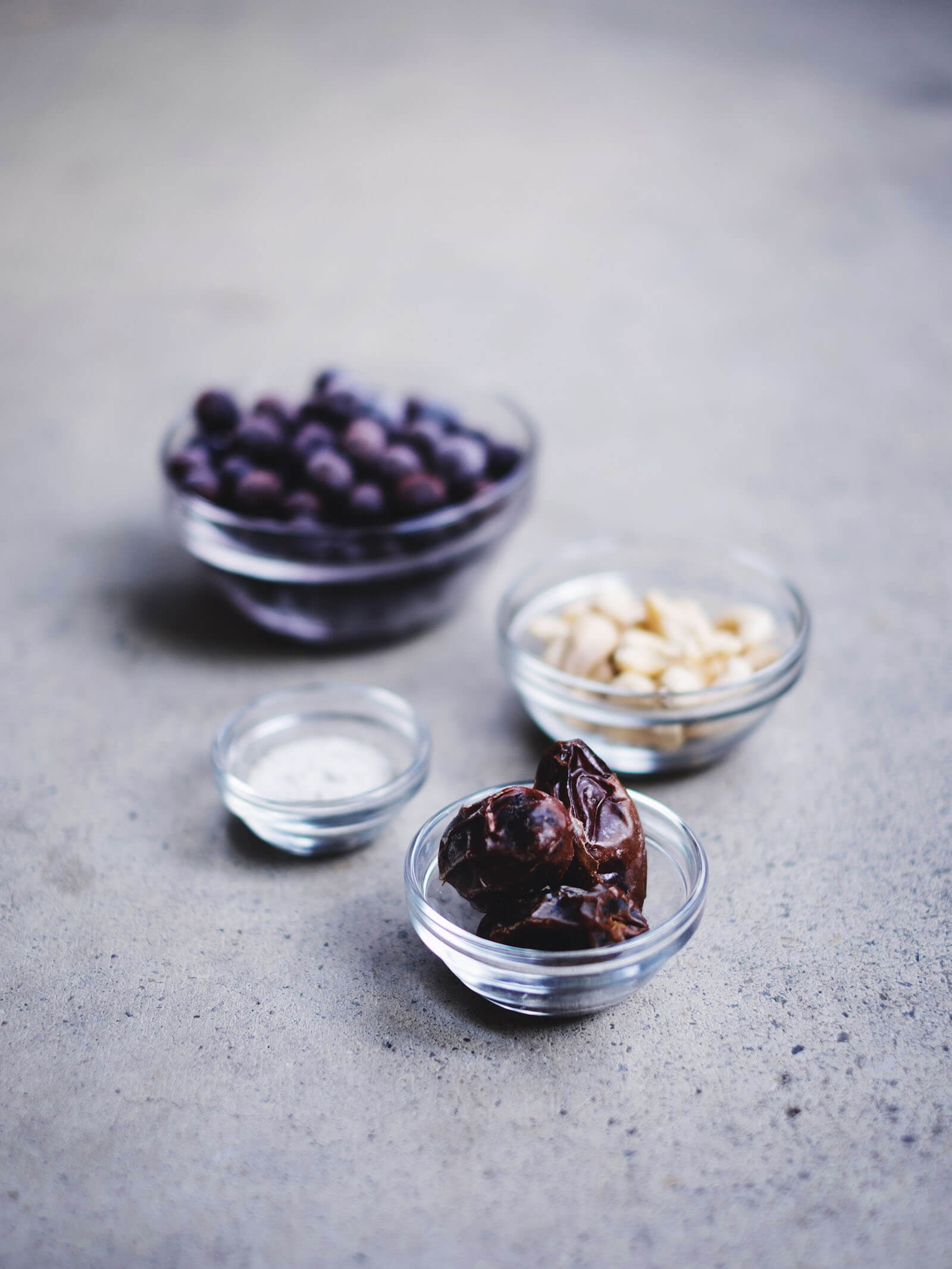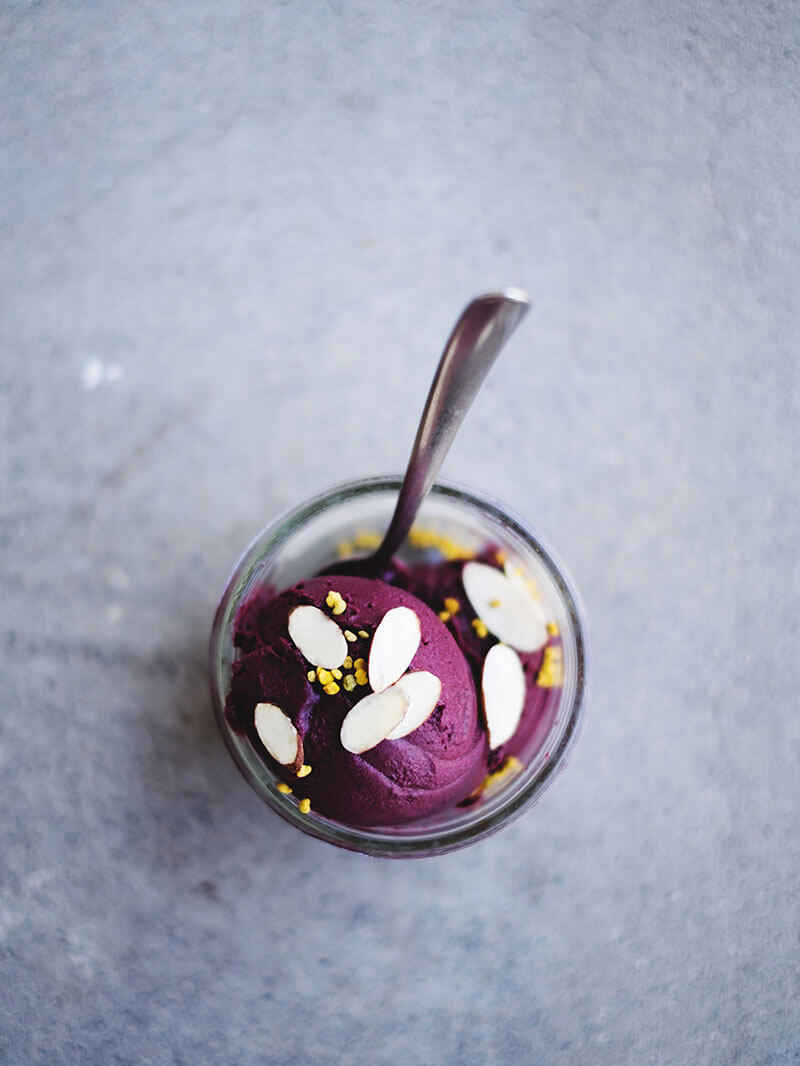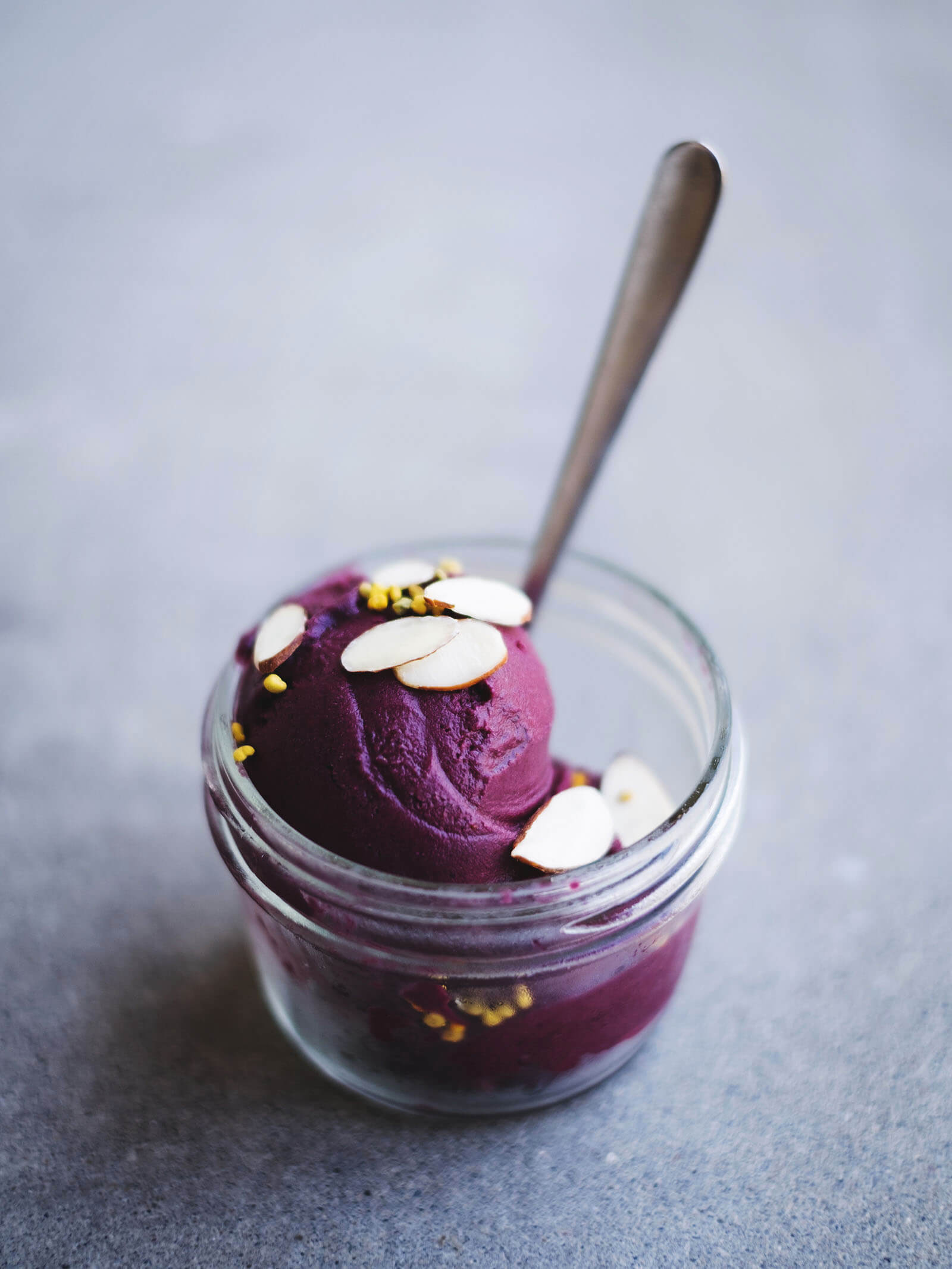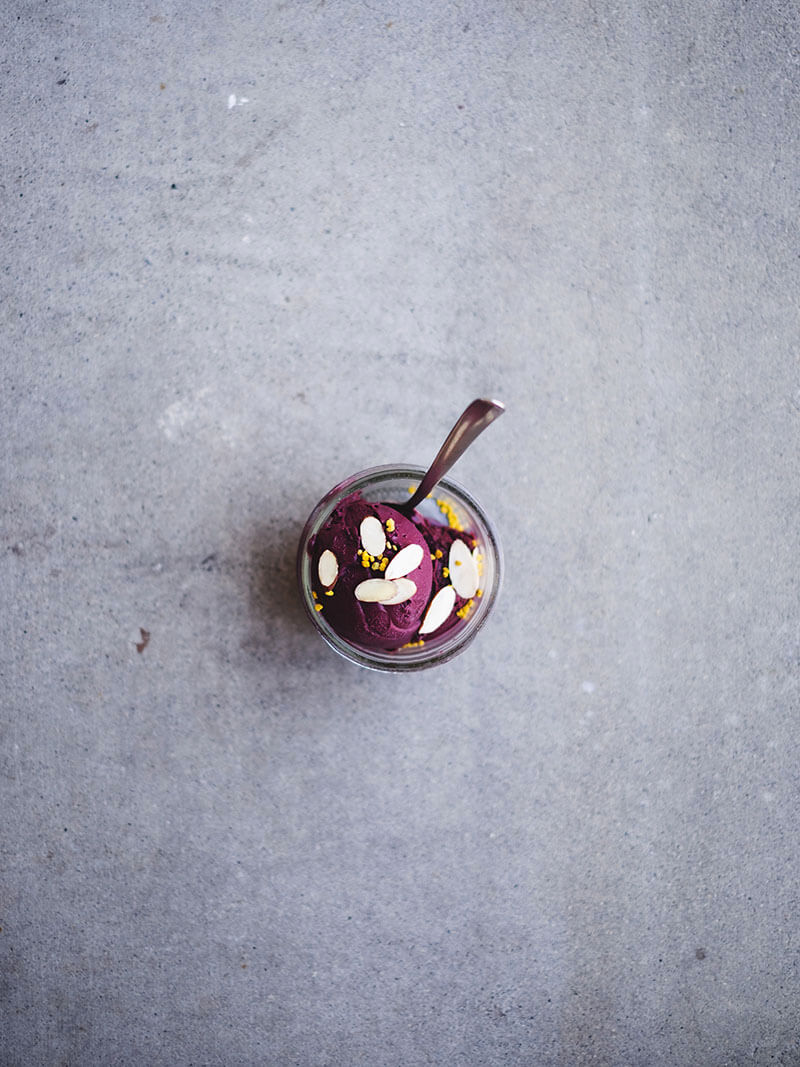 THE RECIPE
The bread is the renowned Sarah's life-changing loaf of bread, so popular here than Josey Baker sells a very similar version – as some others here in the Bay.
[ for 4 servings ]
for the bread
1 1/2 cup rolled oats (145 g)
1 cup sunflower seeds (130 g)
1/2 cup flax seeds (80 g)
1/2 cup hazelnuts (70 g)
2 tbsp chia seeds (19 g)
4 tbsp psyllium husk (18 g)
1 tsp himalayan salt
1 tsp Rawspicebar Quatre epices
3 tbsp ghee (25.80 g)
1 1/2 cup water (375 ml)
Mix together all the dry ingredients in a bowl ; melt the ghee and stir it into the water. Pour the liquid into the bowl and stir until everything looks completely soaked. Put the dough in a loaf pan (8×4") covered with parchment paper and let it sit on your kitchen counter at least 2 hours.
Preheat oven to 350°F / 175°C. Bake the bread for 20 minutes, then carefully remove it from the pan and let it go on baking directly on the rack for another 30-40 minutes. Gently knock the bottom : if it sounds hollow, the bread is ready! Let it cool completely before slicing.
for the salad
1.65 lb / 750 g beets
1 tbsp Rawspicebar herbs de Provence 
1 tbsp olive oil + as needed as dressing 
3 pinch of himalayan salt
1/2 cup beluga lentils (100 g)
a few handfuls of arugula
75-100 g goat feta 
1 pinch of black pepper
Preheat oven to 450°F / 225°C. Chop the beets, mix them with 1 tbsp of oil, herbs and 1 pinch of salt and bake for 30 minutes, then lower to 350°F / 175°C for 20 minutes. Let them cool.
In the meantime bring to boil a little pot of water, add a pinch of salt, drop the lentils and cook them for 25 minutes. Drain and let cool.
In a bowl, add the beets, the lentils, the arugula, crumble the feta with your fingers and season everything with some olive oil, salt, and black pepper – or you can otherwise serve the beets and the feta aside the lentil-arugula salad.
for the sorbet
1/4 cup raw cashews (35 g)
3 medjoul dates, pitted (50 g)
1 Rawspicebar Vanilla lavender sugar bag
2 cups blueberries (250 g) – I used frozen
1 cup water (250 ml)
Soak cashews for at least 3-4 hours in warm water.
Strain cashews and blend them with all other ingredients, pour the cream into a wide container and move it to the freezer to set. Cube the frozen block and blend it in your Vitamix or similar and serve immediately. Otherwise, if you have an ice-cream maker, use it!
Optional : I topped the ice-cream with some bee pollen and sliced almonds.