Even if I'm Italian, I think I've never eaten caponata, or maybe I tried it during a vacation in Sicily 11 years ago – sob. I don't know if you are aware of it: Italy has a great traditional cuisine, but it changes so much region by region. For instance :
stuffed pasta – as ravioli, tortelloni, tortellini – is made with eggs + common wheat flour dough, the same dough used for tagliatelle and lasagne, and it's typical of Emilia-Romagna, a region in northern Italy ;
in the south of the country, pasta is made with durum wheat and no eggs – some shapes are cavatelli, scialatielli, orecchiette… ;
polenta is eaten only in the north ;
some recipes are strongly regional, as ribollita in Tuscany, canederli in Trentino-Alto-Adige, taralli in Apulia, corzetti in Liguria and so on.
Therefore there's nothing weird in a Sicilian guy who's never tried an apple strudel or a Piedmontese who's never eaten pasta con le sarde [pasta with sardines]. I'm trying to find a justification for me not eating caponata! When I browsed for the 10th time Green Kitchen Travels, I saw this wonderful photo of this delicious and summery dish which made me salivate. It reminded me something I ate in Provence, a sort of ratatouille with green olives and capers: it was sooo delicious. I had to try this recipe. So here it is!
You can find the original recipe on they're amazing book Green Kitchen Travels – page 86 – or here.
If you don't own their book yet, I totally suggest to purchase it immediately! Their photos are amazing – as usual – and the recipes are all pretty easy, without weird ingredients; I also love the intro "Travelling with kids", even if I haven't any yet.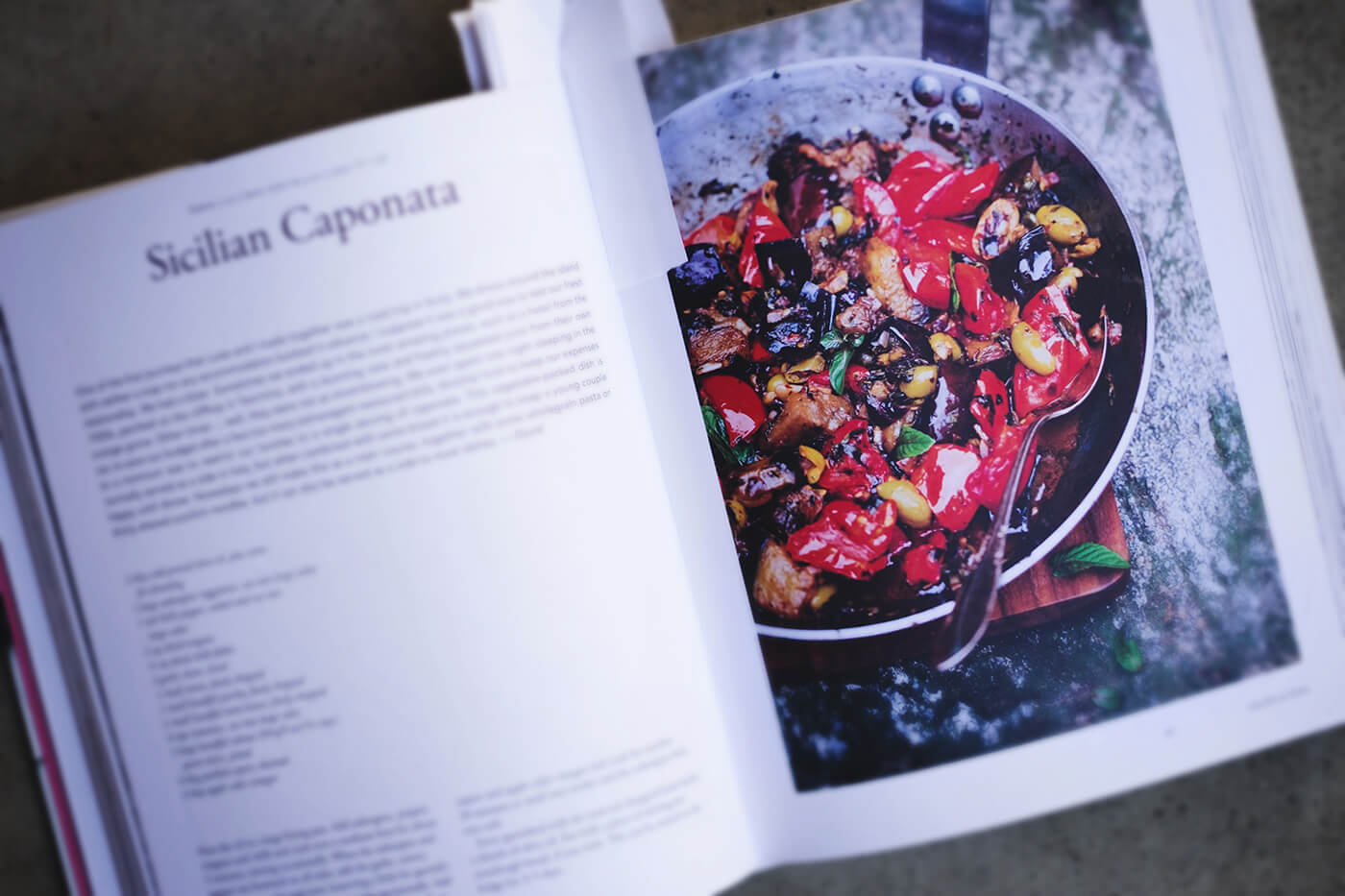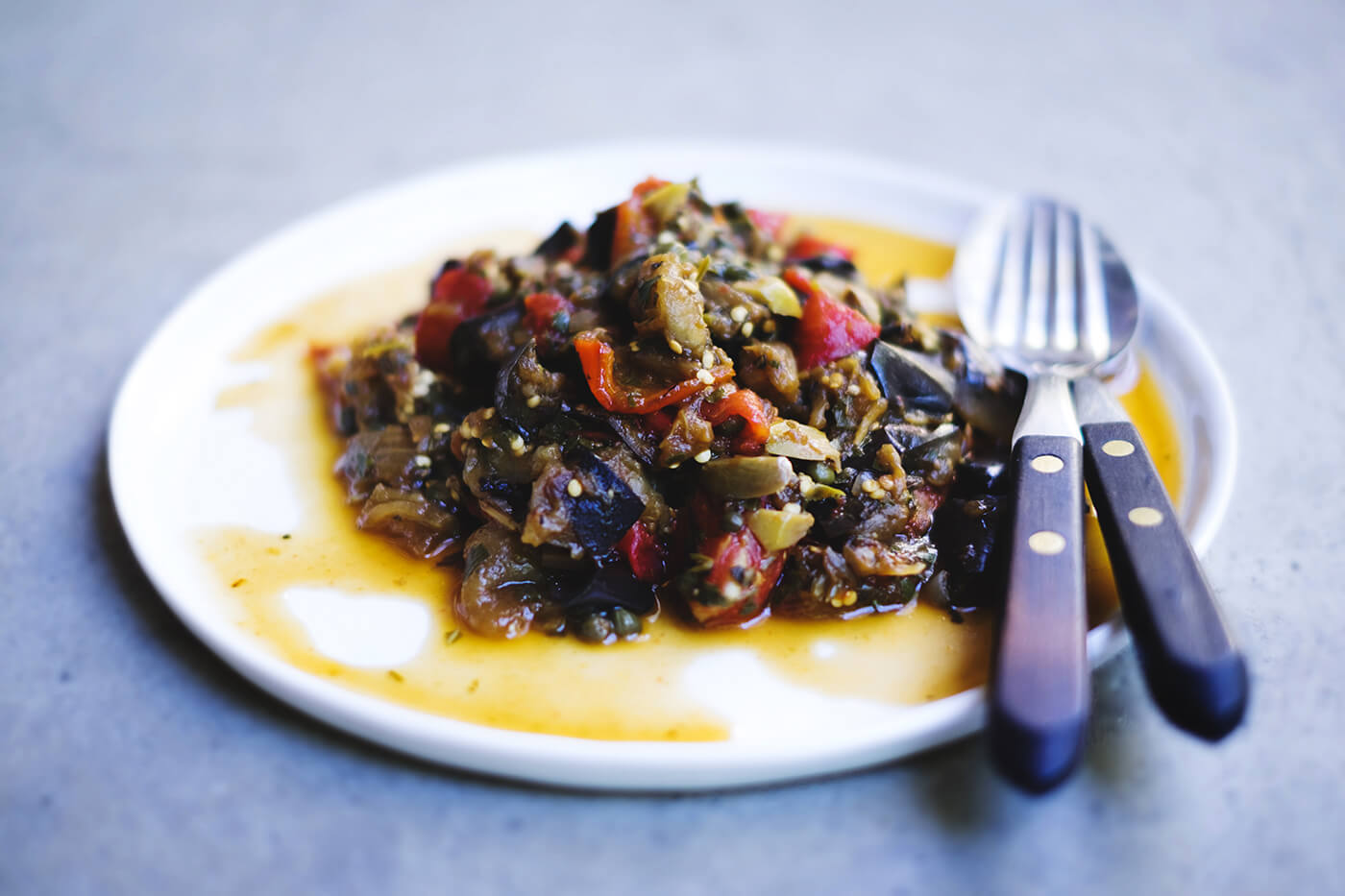 THE RECIPE
I suggest cutting the veggies in a rough way to obtain irregular big chunks. Instead of an Italian basil, I used a bunch of lemon basil I found at my local farmers' market.
[4-8 servings]
2 tbsp extra virgin olive oil
1-2 eggplants (880 g), cubed
1-2 red bell peppers (170 g), seeded and cubed
2 tsp dried oregano
1 fat pinch of himalayan salt
1 pinch of black pepper
2 garlic cloves, grated
1 shallot, finely chopped
1 small bunch of Italian parsley, finely chopped
1 small bunch of basil, finely chopped – see notes
2-4 ripe tomatoes (600 g), cubed
1 handful pitted green olives (70 g), chopped
4 tbsp capers (30 g)
1 tbsp aged balsamic vinegar
Heat the oil in a large fry pan – I used a cast iron deep skillet. Add eggplant, bell pepper, oregano, salt and black pepper and cook over a medium heat for about 5 minutes, stirring occasionally. When eggplant and pepper are both browned on all sides, add garlic, shallot, parsley, and basil (reserving a little for garnish) and cook for another 3 minutes. Add tomatoes, olives, capers and balsamic vinegar and cook until the eggplants look soft and the peppers are tender.
Serve with some slices of whole grain sourdough or gluten-free bread; if you end up with a little serving, use it as pasta salsa!