Hi guys, long time no see. But you know, life happens. My mind has been blown away by worries, a little bit of skepticism about my whole experience here in the Usa, but also I found myself dived in a few books about nutrition I bought during the Nutritional Therapy program I graduated in before moving here and I haven't read yet – ahem. I also spent a couple of days looking for a similar program here and I found one that would be perfect – their classroom is here in Berkeley too – but it's really pricey for non-American people like us. Rough days when you can't afford to study and you aren't even allowed to work. Anyway, Imperfect produce helped me leaving this numb status.
I got these amazing rhubarb stalks in my last box. I wanted to buy some at Whole Foods in the last few weeks, but it always was a little ugly – not good-looking enough for shooting – and so fu**ing expensive! When I saw that rhubarb was available for my next order, I was so freaking happy. And does it even look imperfect to you? It looked perfect and so intensely colored. I decided to take care of it immediately that same day I received the box.
Since, as you may don't know if you just started reading my blog, my better half is really picky – not only with food – I stopped cooking cakes or big amounts of food generally. Even my latest cake, half of it is in my freezer but it's surely going to go into the trash soon – what a bummer, but I can't eat an entire cake by myself in 3 days, right? So rhubarb cake, muffins, pies, and tarts were not an option. I decided to follow the simplest route : baked rhubarb. And some labneh to be enjoyed with. I honestly strained only 1 little 6oz pot of yogurt used for these photos and I'm eating the leftover rhubarb with non-fat goat yogurt for breakfast. I'm sure that it would be great on a whole grain sourdough toast spread with some almond/macadamia ricotta too, something I've been dreaming since I saw this. The crackers were an almost last-minute addition.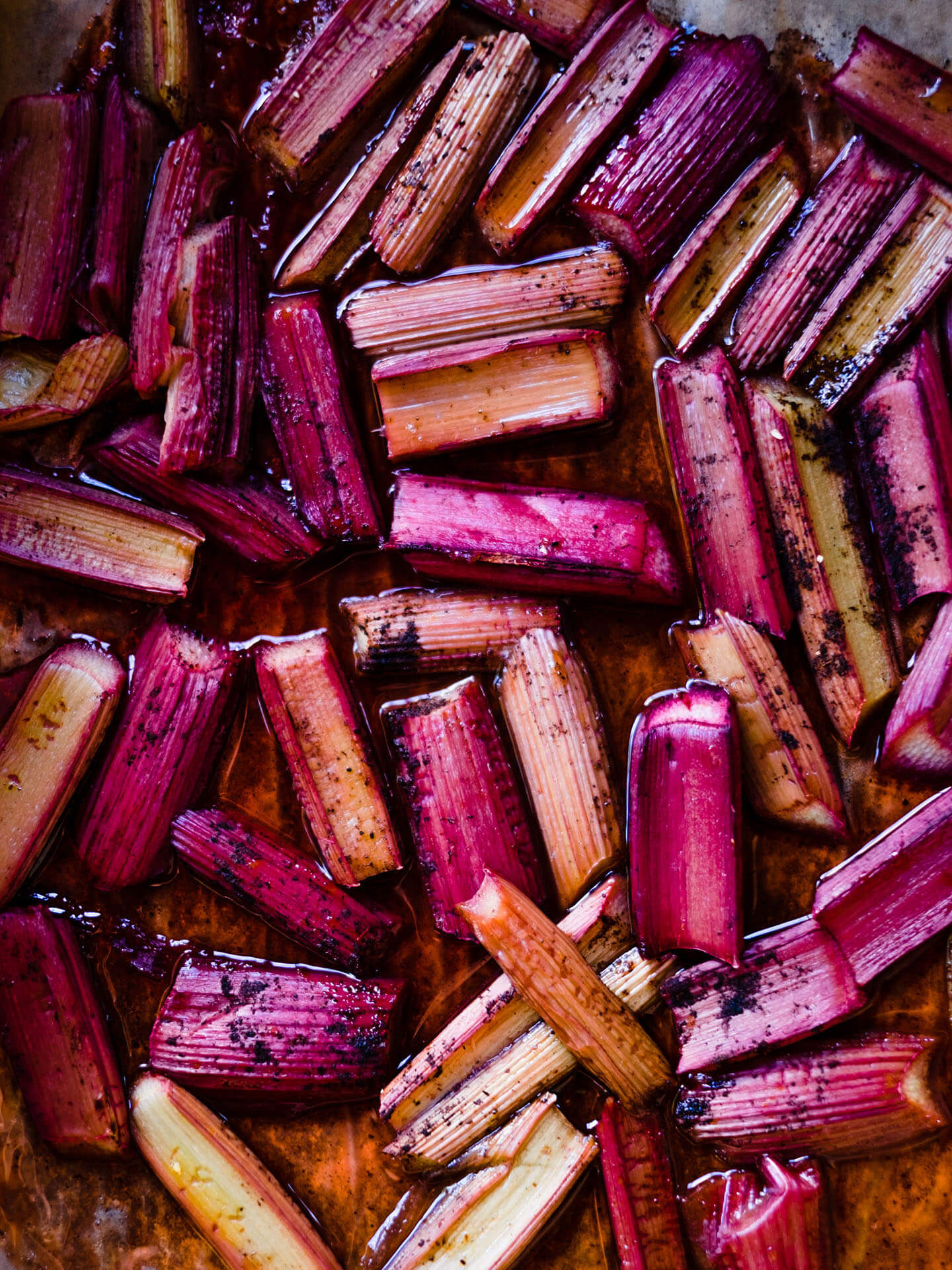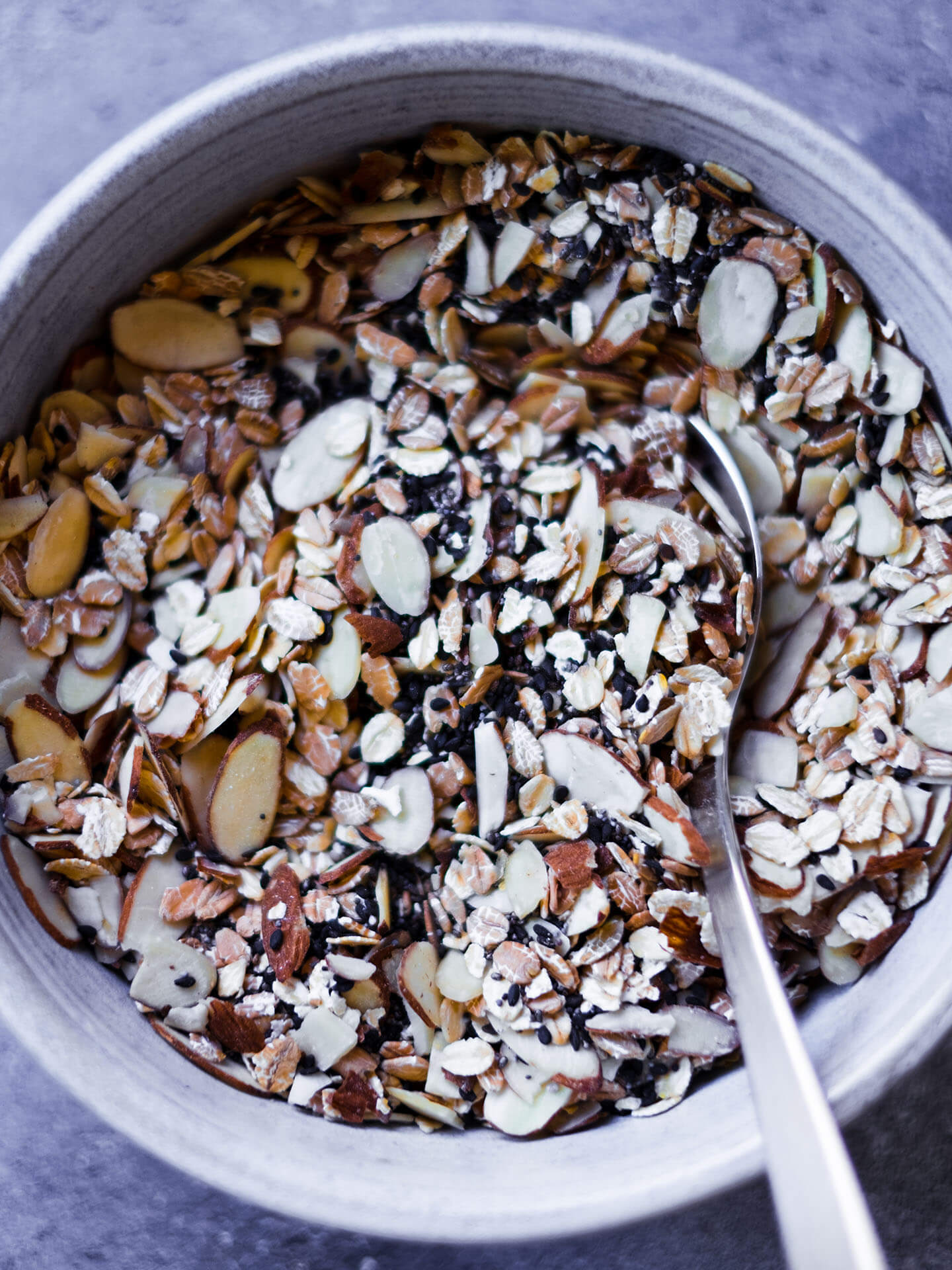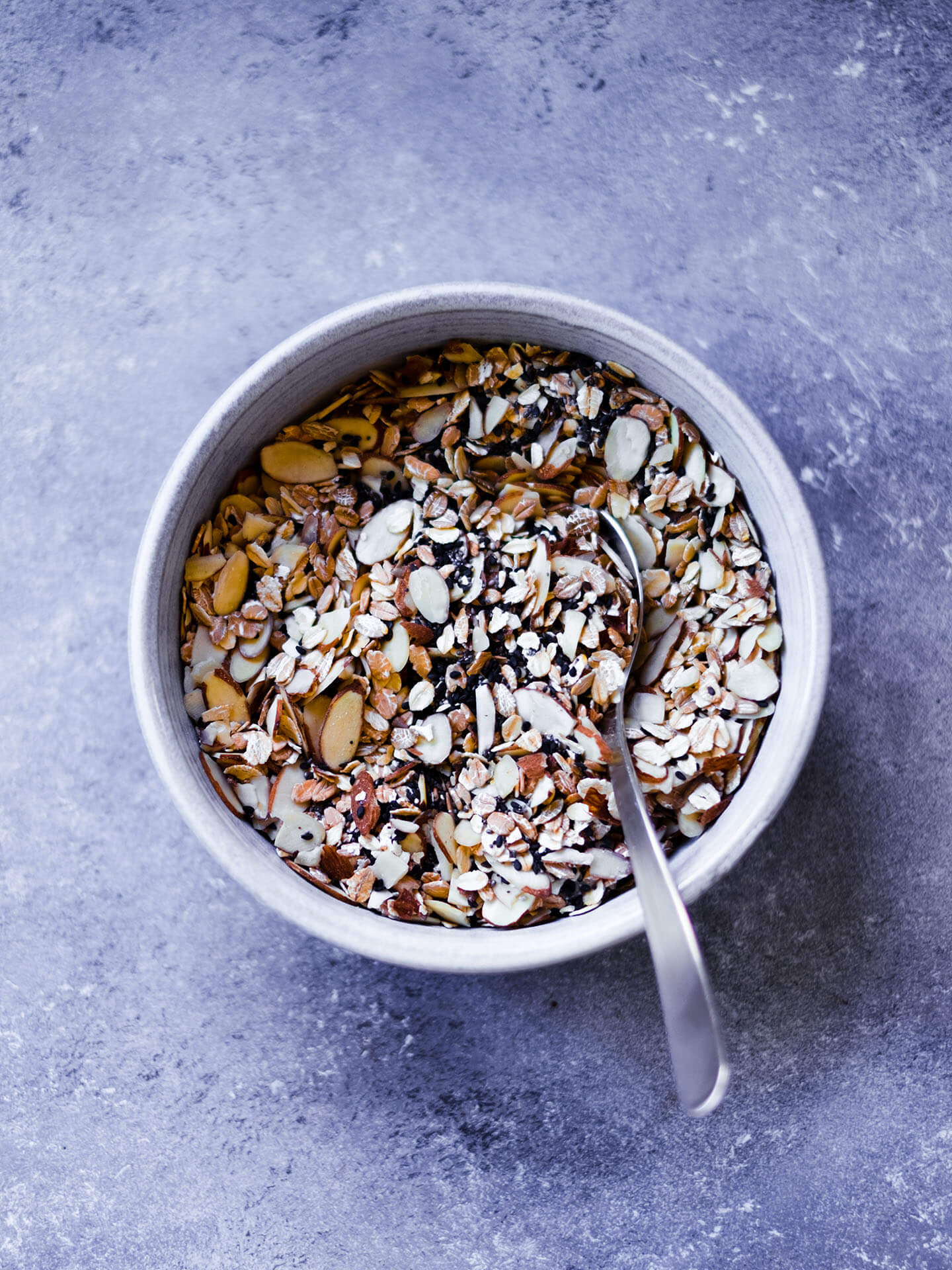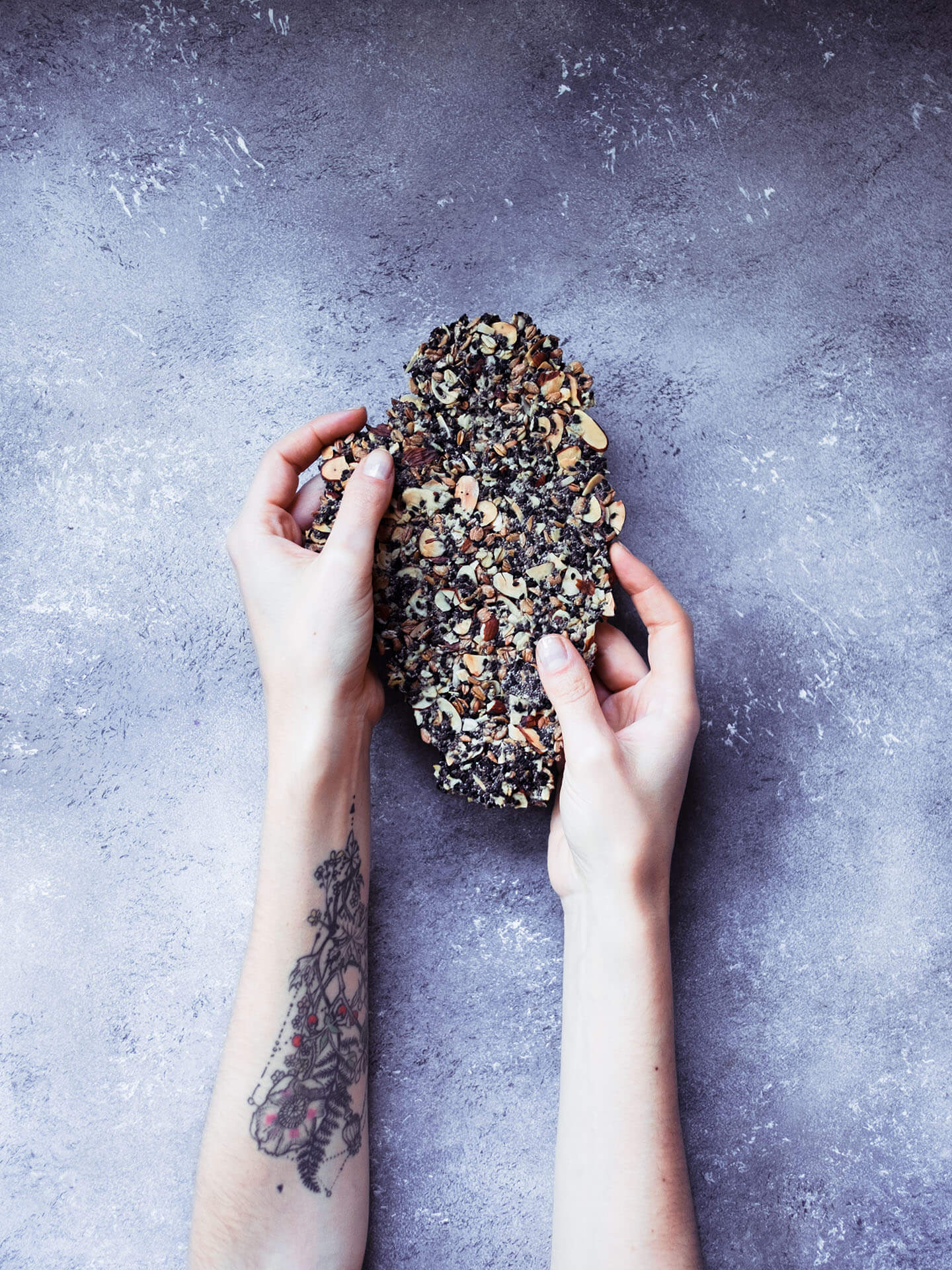 Are you wondering about that "capsule cooking" in the title? Well, you may have heard about capsule wardrobe, that philosophy for which you're supposed to have a few clothing items that can be matched one to the other with no issues. So basically, you can wear that blazer over a LBD, or over jeans and a white tee, or bouttoned up by itself with only a lace bralette underneath (you can learn more about it here). I love this theory and I recently realized that I love cooking in the same way.
My 2 favorite food posts, the ones I really enjoyed cooking and shooting, were the Provençal lunch and the Coffee veggies with horseradish cream and mustard crumbles, but I wasn't able to understand the reason. Now I am : it's the fact that you have different elements, different preparations, that you can enjoy in different ways. That bread was perfect as an accompaniment for a salad or as a toast to enjoy at breakfast with almond butter and jam ; those mustard crumbles were the perfect crunchy addition to any savory dish, as a stew or a salad ; that horseradish cream was a great dip for raw veggies or a spread for a sandwich. Can you see it now?
Here it's almost the same thing : you can eat the roasted rhubarb on oatmeal, as a topping for a sweet toast or with yogurt, you could even mash it with a fork to create a compote to spread over a slice of sourdough ; you can crumble these crackers on a soup – as Marta did – or in a salad, or eat them as a snack ; and for this labneh, do you really need ideas? I rambled enough, let's go to the recipe.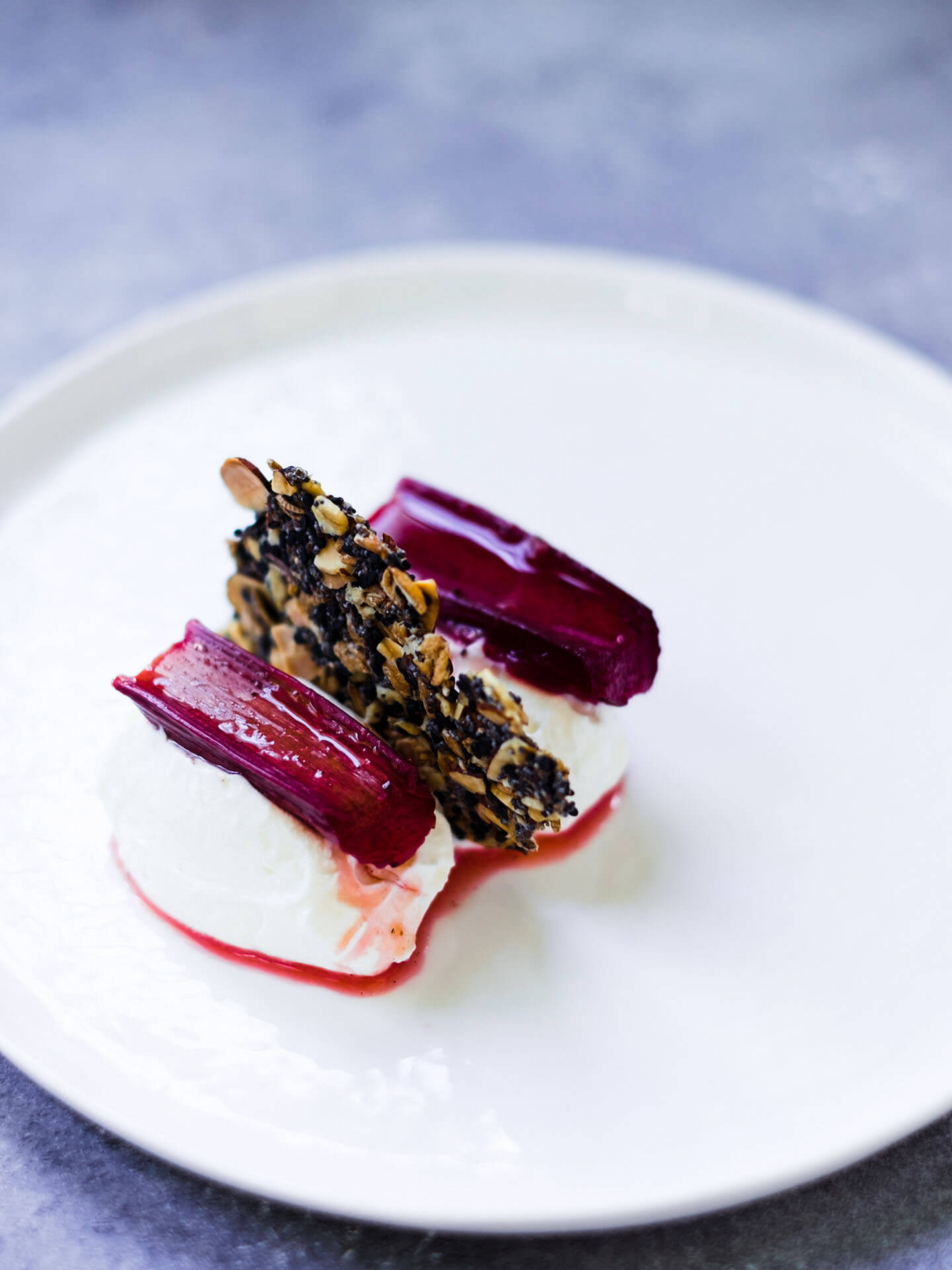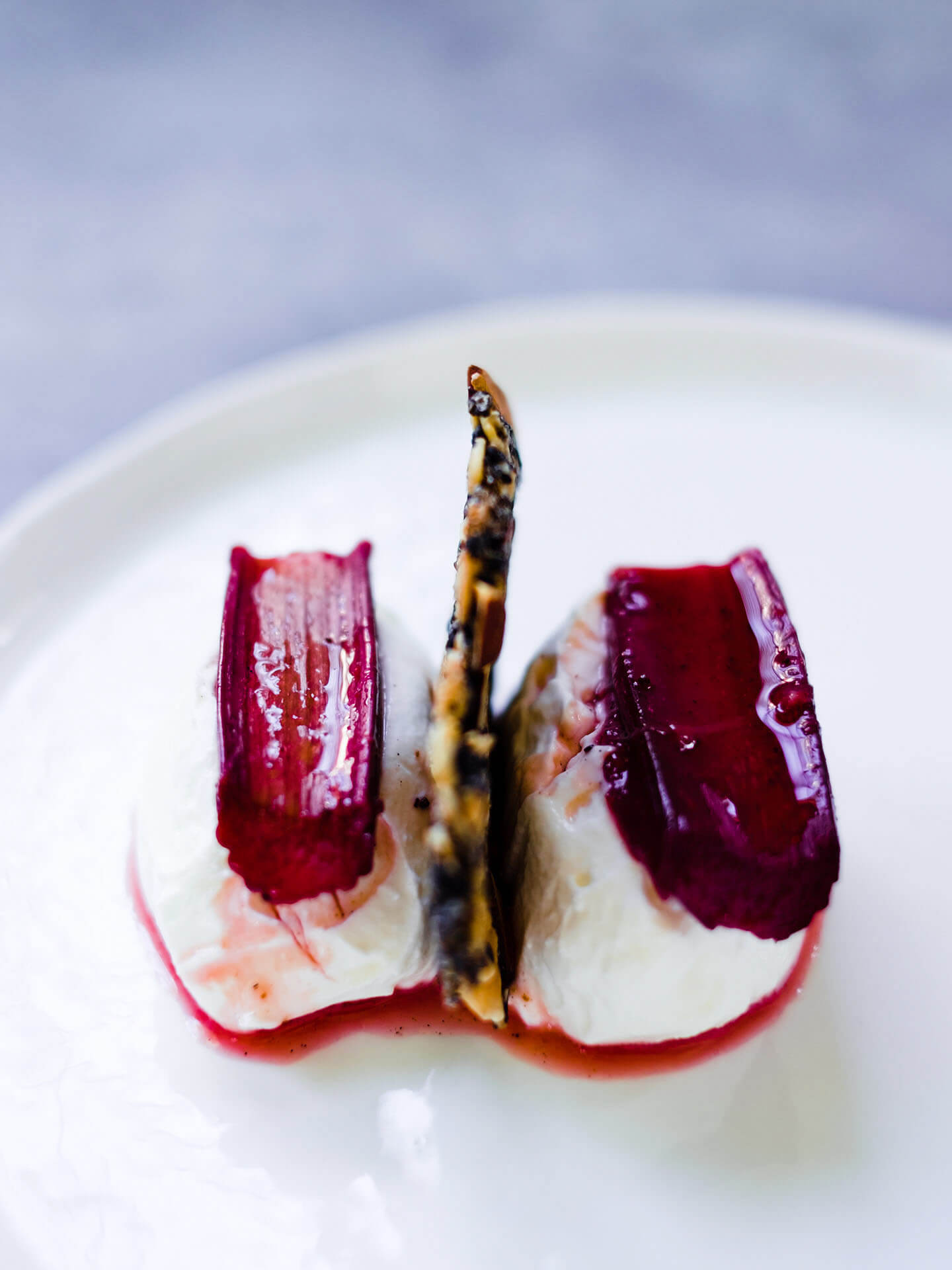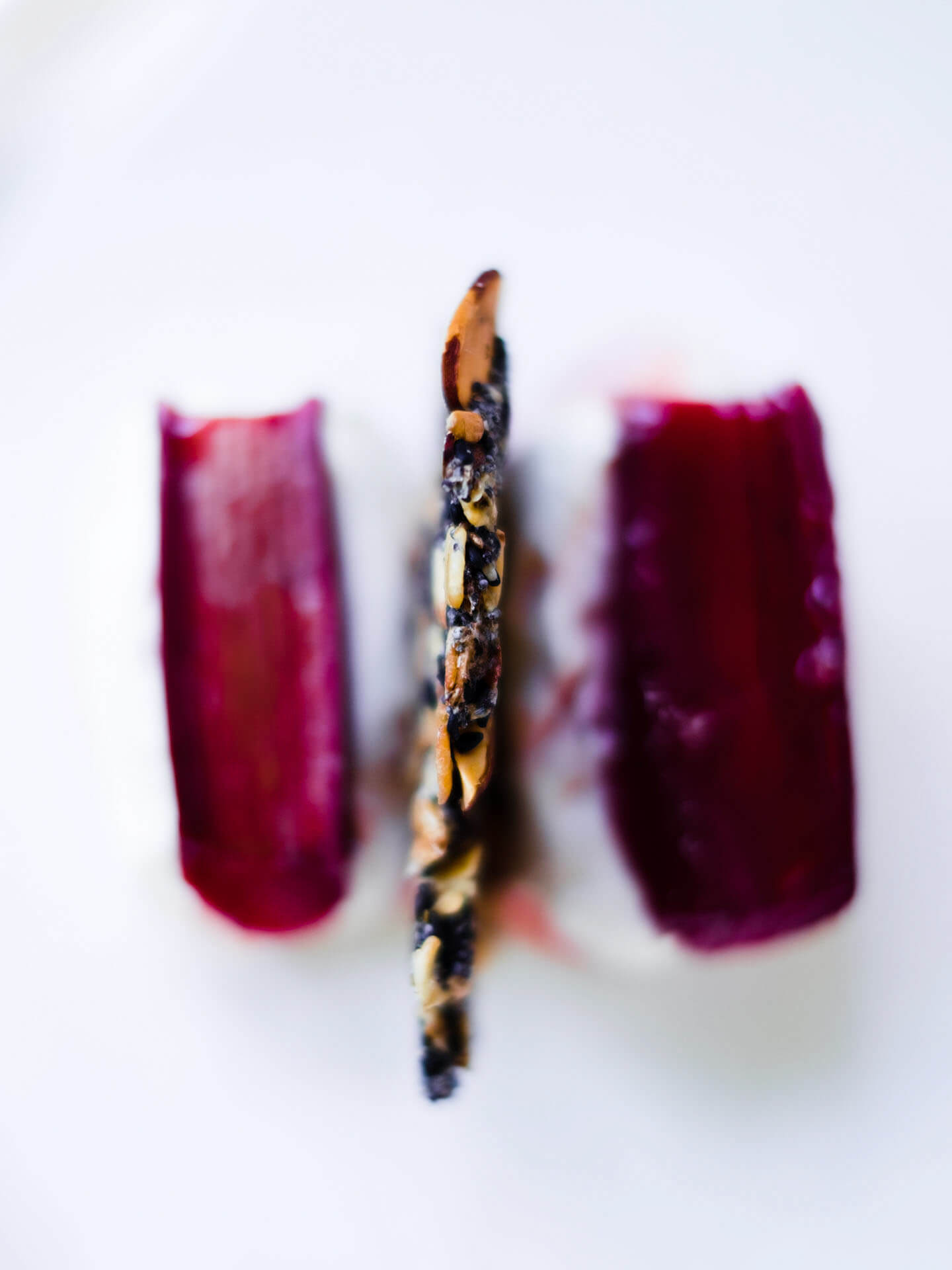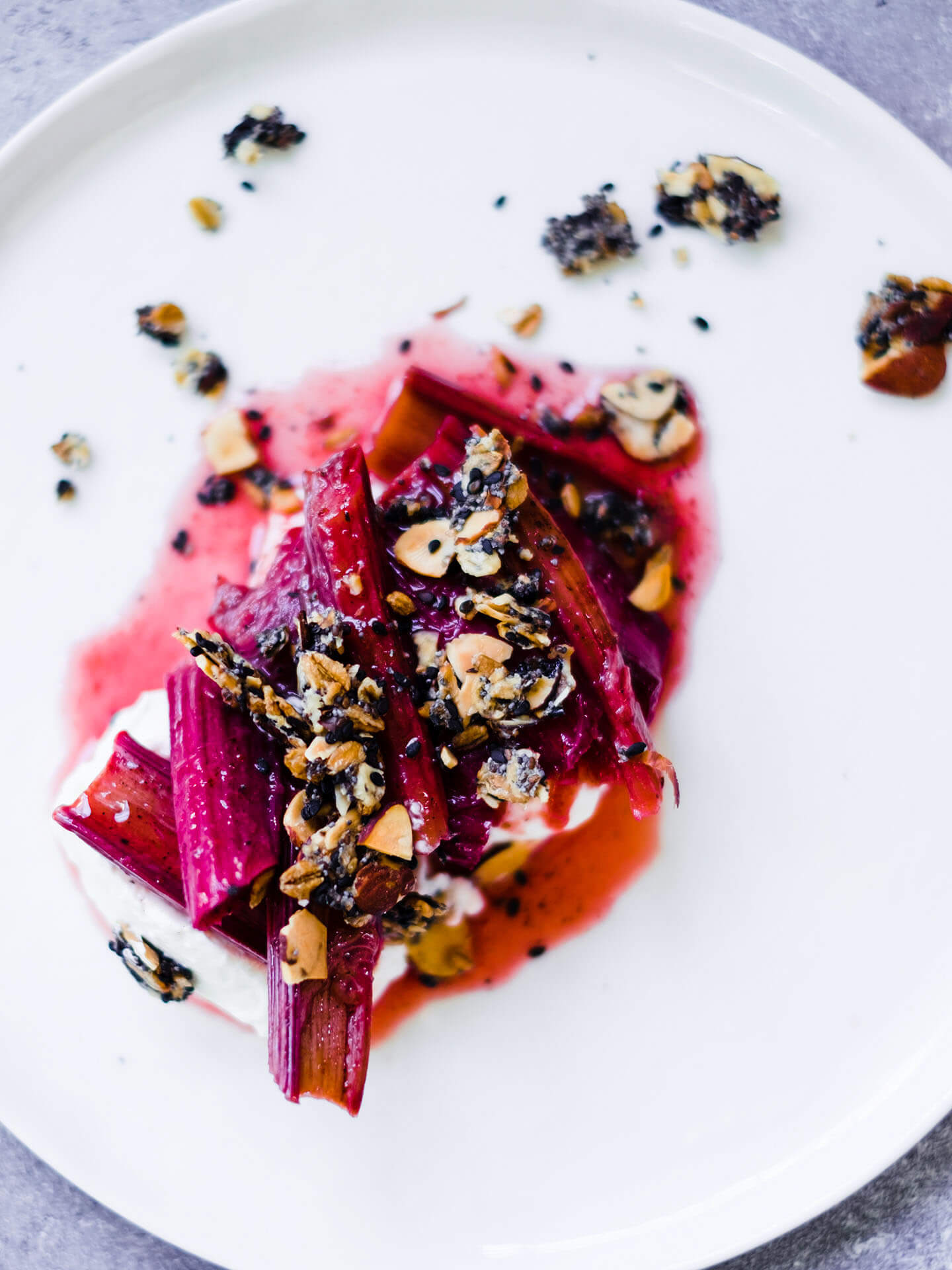 THE RECIPE
For a dairy-free dessert, use a vegan yogurt to make labneh. If you prefer to use a more stable oil, use coconut or avocado oil for the crackers.
Crackers' recipe inspired by my sweet colleague Marta : I can't wait to see your debut cookbook!
[ for 6 serving ]
for the rhubarb
1.3 lb (580 g) rhubarb – about 9 stalks
1/3 cup raw white honey (120 g)
1 little orange, juiced
vanilla powder to taste
Preheat the oven to 400° F (200° C).
Wash, dry, and slice rhubarb into 2 inch long pieces. Mix them with all the other ingredients in a bowl, then spread everything on a baking sheet covered with parchment paper.
Bake for 20 minutes, then let cool into the oven. When completely cooled, rhubarb should be tender and juice should be syrupy and thick. Reserve into the fridge.
for the crackers
1 cup (110 g) rolled grains
1 cup (80 g) slivered almonds
3 tbsp (30 g) chia seeds
3 tbsp (20 g) poppy seeds
1/3 cup (40 g) black sesame seeds
1/2 tsp ginger powder
1 pinch himalayan salt
3/4 cup (180 ml) water
2 tbsp extra virgin olive oil
Preheat the oven to 375° F (190° C).
Put rolled grains, almonds, chia, poppy, and sesame seeds, ginger powder, and salt into a mixing bowl and stir. Pour water, add oil, and stir to combine.
Let it rest for 10 minutes, then spread the mixture over a piece of parchment paper, cover with another piece, and flatten to about 1/10 inch (2.5 mm) using a rolling pin. Remove the top layer of parchment paper, move the other one with the dough on a baking sheet, and bake for 30 minutes. Remove from the oven, turn the big cracker upside-down over another piece of parchment paper, put it on the baking sheet and bake for 10 minutes more. Let it cool in the turned off and slightly open oven, then break it into pieces, and reserve in an airtight container.
Put yogurt into a clean white towel to strain for at least 24 hours.
You can serve it in two ways : more informal, with some yogurt as base, some rhubarb, and some crumbled crackers as topping, or more upmarket-restaurant-style, with two quenelles of labneh, two pieces of rhubarb on top of each, and a piece of cracker in the middle (as you can see figured above).