My mum married my father when she was 22 and had me when she was 25. Growing up my dream was to have a child at the age of 25 too. Well, I turned 26 – one month ago by now –  and I'm far enough to have a baby! And I still live with my mother – and her partner. The economic crisis has extended the I-live-with-my-parents-because-I-can't-pay-a-flat-for-me period for the majority of Italians. In our company of friends we are from 26 – I'm the younger, yeah – to 31, and all of us live with our own parents.
For me, it's not just the crisis, but a sequence of facts during my life. After my high-school diploma I moved to Florence for a professional dance/ballet course, following year I started teaching ballet, after two years I began university, one year after I left my job as teacher, two years after I graduated and now I'm studying nutrition and I'm dedicating a lot of time to this blog, hoping it will bring some opportunities into my life. A lot of things in these years but not a salary at the moment.
Now I'm 26 and in a year I passed through some important steps: an internship for an important organic enterprise, the graduation, the first anniversary with my boyfriend – at last! And now I'm going on with a little but really annoying health problem – it's five months now. But I'm happy! I'm an optimist and I think optimism is the key to living better. And I'm sure that our psychological state has the power to change our health, for better or worse. Ups, I'm really drawing out! Then, do you want to know something about this cake??
Last year I made a little lunch-party with few friends based on Indian food – I made samosas, besan dokhla, chutneys, vegetable curry, rice, dahl, mango ice-cream, coconut ladoo, chai tea with almond milk, all homemade, three days cooking. This year I've decided to make no-party and just enjoy my birthday at home with my boyfriend and my "flatmates". But the birthday cake is the birthday cake and I can't give up making a delicious and fresh and myself-dedicated cake! I see many raw cheesecakes every day on the web but I've never tried them before because of their high content of fat and calories – and the cost of ingredients too. But it's my birthday now, I'm legitimated!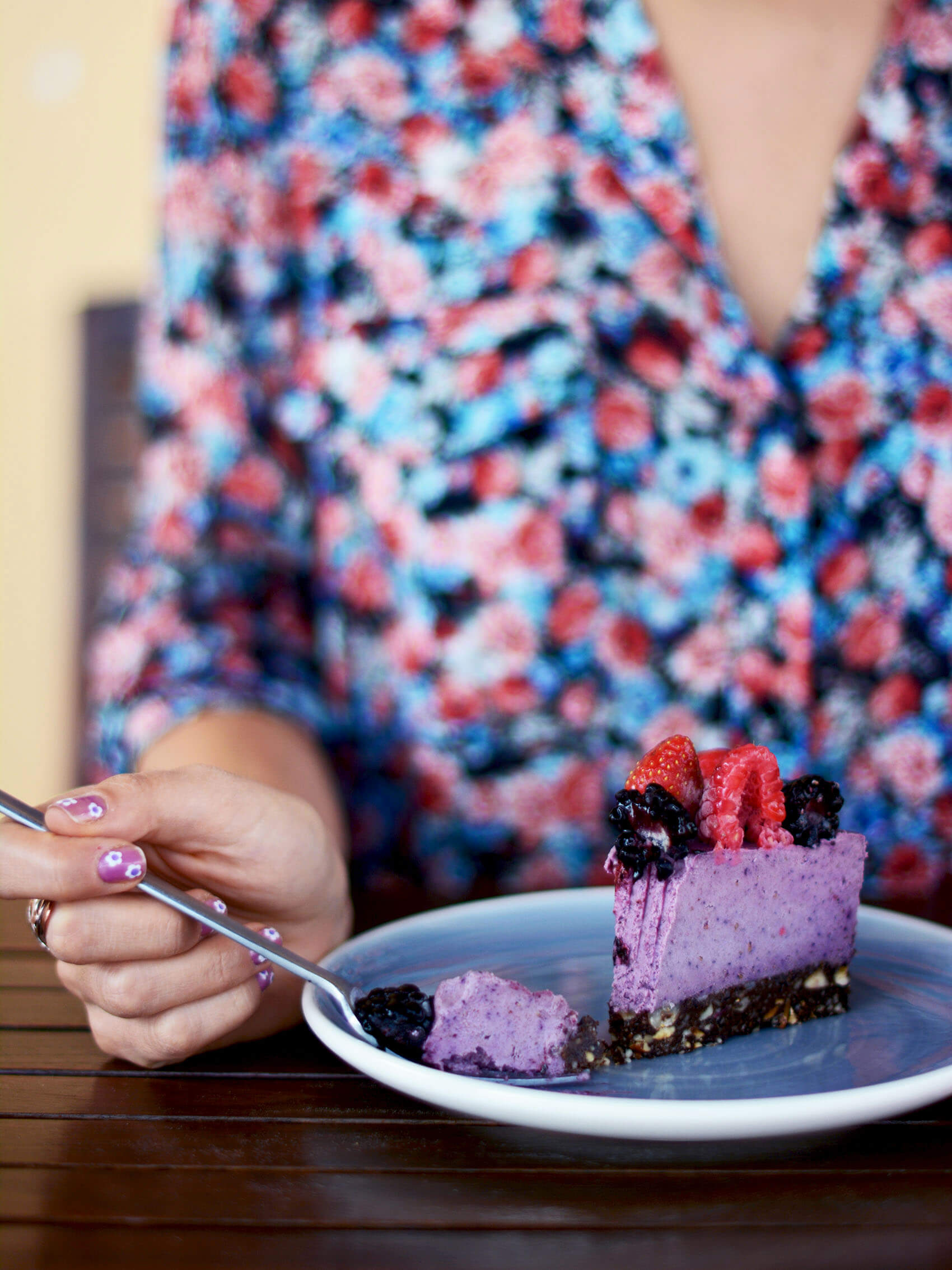 THE RECIPE
I made this cake on Tuesday for Sunday, keeping it in the freezer until that morning.
Inspired by the amazing Elenore .
[for 12 servings]
for the brownie base
1 cup / 120 g sunflower seeds
1/2 cup / 50 g black mulberries – yes, you can use white!
1 cup / 140 g raisins
6 tbsp / 40 g raw cacao powder
a pinch of himalayan salt
1 cup / 135 almonds – don't roast them to keep the recipe raw
In a cast iron pan roast almonds until lightly browned. Chop them roughly and set aside in a big bowl. In a food processor add sunflower seeds and mulberries and blend until flour-like. Add raisins, cacao, and salt and mix until a dough is formed. Add it to the bowl and knead until almonds are well spread in the dough. Press the base in a 7″/ 18 cm springform pan and set aside.
for the cheese layer
2 cups / 270 g cashews – soaked overnight or at least 5 hours
1 + 1/3 cup / 240 g medjoul dates
1 cup / 135 g strawberries + 50 g for topping
1 cup / 130 g raspberries + 70 g for topping
1 cup / 145 g blueberries + 70 g for topping
1/2 cup / 65 g blackberries + 70 g for topping
1/2 lemon, juiced
5 + 1/3 tbsp cacao butter, melted – about 75 g (I'm sorry, I forgot to weight it!)
2 vanilla pods, scraped
Blend all ingredients – better in a high-speed blender – until a wonderful colorful cream is reached. Pour it over the brownie base and freeze for at least 3 hours. One hour before serving – or less if you prefer an ice-cream texture – take the cake out of the freezer and garnish with fresh berries and some mint leaves.