So, I had in my fridge some date caramel to use – yes, I could eat it as a dip for fruit or just plain with a spoon. Given that it is a raw product, I opt for some raw crumble bars using also some raw pecans I bought some time ago and never tried before – in Italy, they aren't really known, not usually sold in supermarkets nor organic stores. Usually, in raw dessert dates are used mixed with nuts to make the base, but I had finished my dates in the caramel. So I just opened my pantry and let my hands pick what they wanted.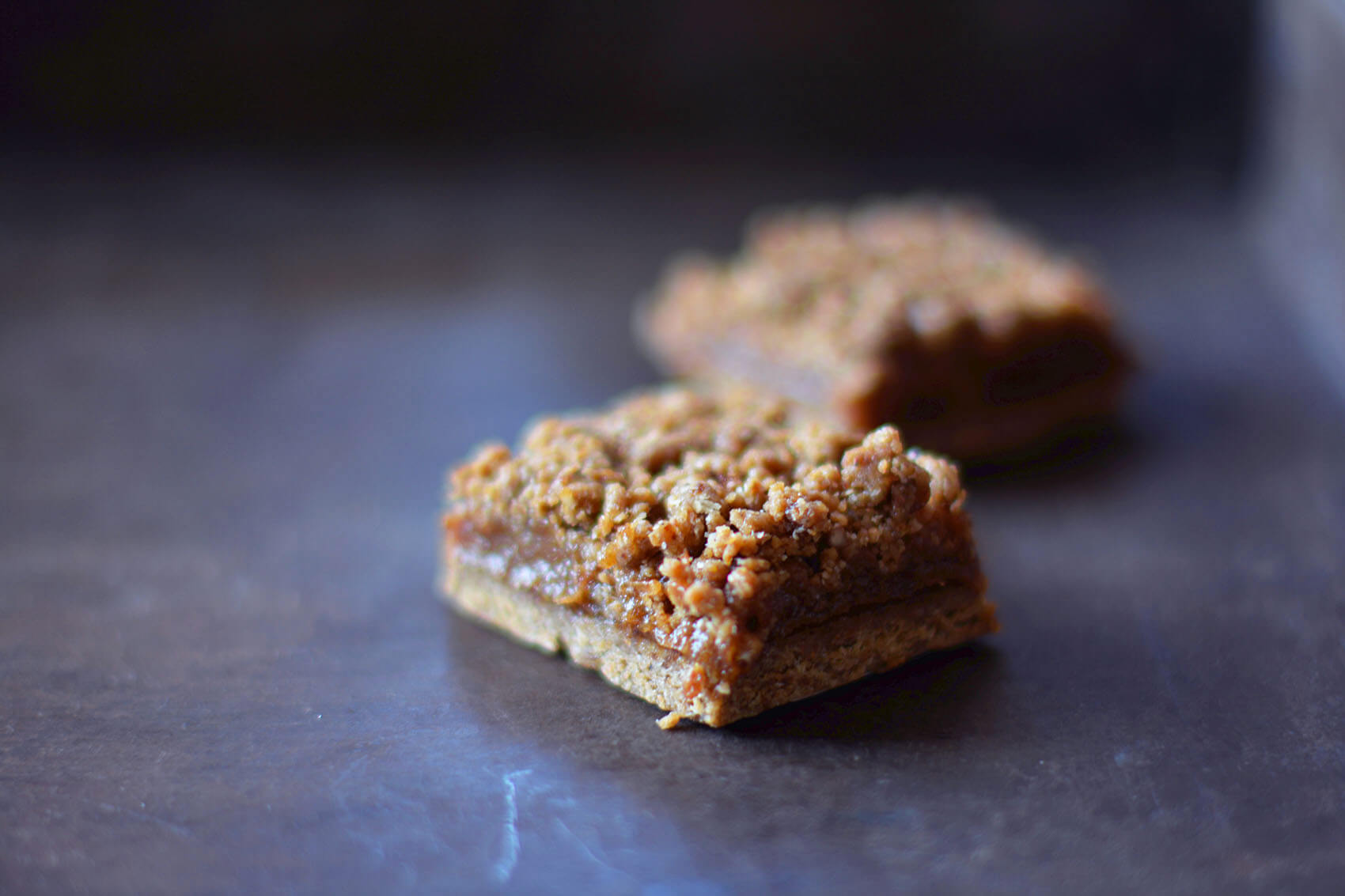 THE RECIPE
I used a 5×9 inches / 13×23 cm oven pan. Can be made gluten-free if you use certificated gluten-free oats
[for 12 servings]
for the caramel
2 cups / 300 g pitted medjoul dates
1/2 tbsp lemon juice
1/4 tsp salt
water, a sip – as needed
Blend all ingredients to obtain a really thick but smooth cream.
Reserve in the fridge.
for the bars
1 cup / 110 g raw old fashioned oatmeal
1/2 cup / 85 g raw buckwheat
1/2 cup / 55 g pecans
1 + 1/4 cup / 175 g raisins
1 tbsp / 10 g maca powder*
1 tbsp / 6 g mesquite powder*
1/2 tbsp / 5 g lucuma powder*
a pinch of salt
a fat pinch of vanilla powder, if you like it
*you can just use maca or mesquite or other superfood powders you love, or simply cacao or carob powder.
In a high-speed blender grind the first three ingredients to obtain a thin flour. Add salt, vanilla, and your superfoods and blend for few seconds. Now add raisins and blend until the dough starts to hold together.
With your hand mix everything in a bowl.
Press about the 3/4 of the dough in a prepared square or loaf pan until firm and flat. With a spoon spread the caramel over the base and crumble the last part of the dough on top.
Reserve in fridge to firm up before cutting in squares.