Few weeks ago I spent 14 days in Apulia with my bf. I had never been in this region before but I immediately fell in love with her. The land is arid but full of olive trees, some cactus, figs, and oleanders. The sun was shining, the weather wonderful and our apartment adorable. People living here traditionally based their diet on vegetables, grains – bread, pasta and focaccia -, some cheese and fish. Because of that, find something satisfying and healthy to eat wasn't difficult at all. And damn, veggies and fruit were incredibly flavorful!
A typical staple that is easily found in every little – or not – store in Apulia is frise – or friselle. It is a crisp bread that can be preserved for weeks without a refrigerator or other modern – for modern I mean the last century – appliances. During our stay there I decided not to buy them, but I only searched for the recipe to make my own frise at home. Traditionally they are made with wheat, whole wheat or barley flour, but you can use flours you have in your pantry and mix them to create your own unique frise. Yes, I will also show you how to eat them at the end of this post!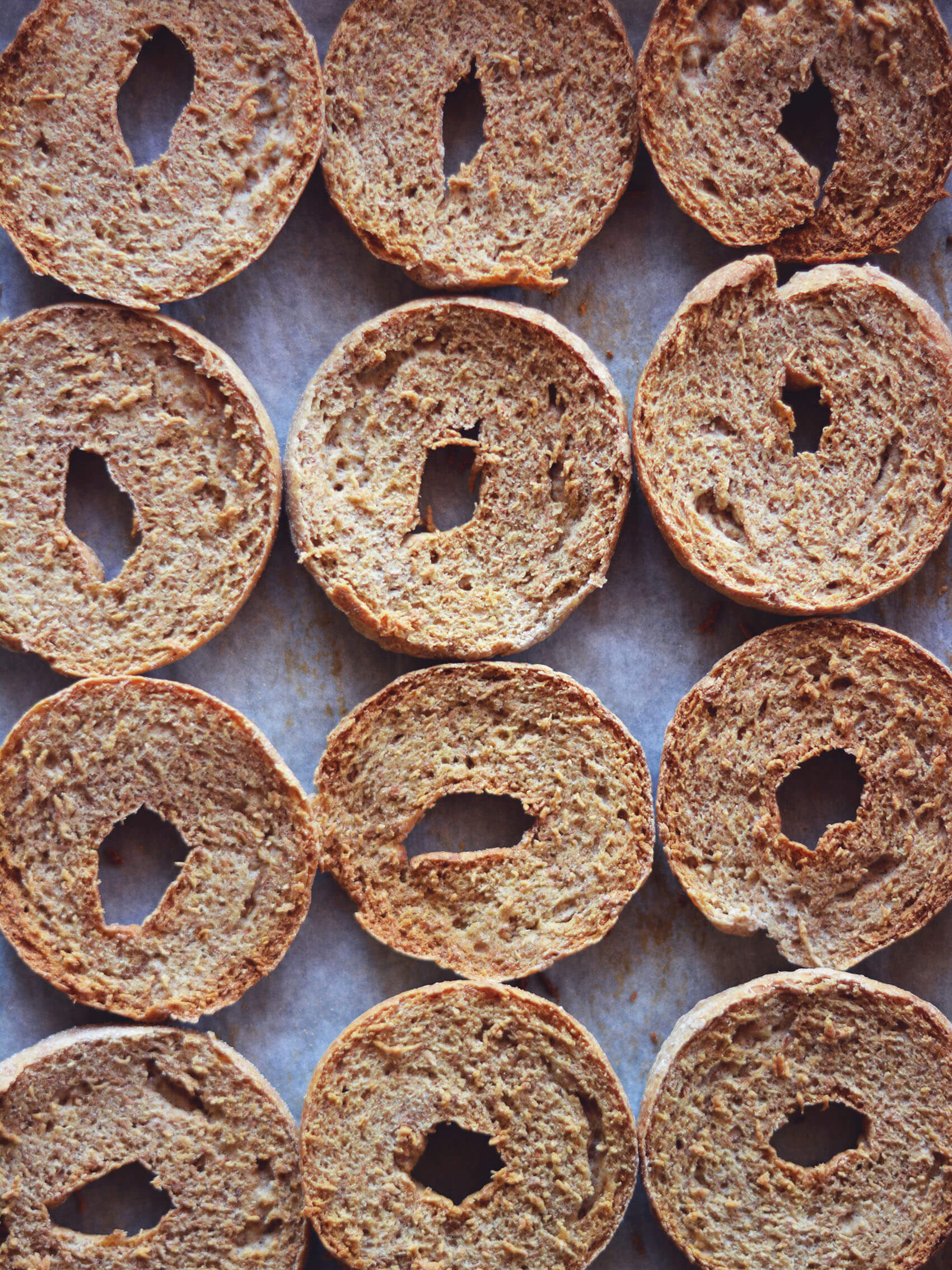 THE RECIPE
To serve, soak for one minute in fresh water – or more or less depending on how much soft or crisp you want to feel the bread under your teeth. In a bowl mix some diced tomatoes, some salt and pepper, some chopped basil and oregano leaves – and mint if you like it – and a good sip of extra virgin olive oil. Drain well the frise, put them on a plate and cover with dressed tomatoes. They can be served ad appetizer or as main adding some beans or organic goat or sheep cheese.
[for 16 frise]
350 g whole wheat flour
150 g durum wheat flour – semola di grano duro
1/2 tsp unrefined sugar
1 tsp dry active yeast
lukewarm water
(himalayan) salt to taste
Dissolve yeast and sugar in some lukewarm water and set aside.
In a big bowl mix flours and salt and pour the yeasty water and start kneading with a fork. Add water and carry on kneading – now with your hands – until the dough is soft but not damp. Let it rise covered with a cloth until doubled.
Cut the dough in 8 section, roll and shape in a ring each part. Preheat oven at 390° F / 200° C and let your "doughnuts" rise a bit more. Bake for 10-15 minutes and let them cool until you can handle them.
Cut them lengthwise and reduce the oven at 320° F / 160° C. Bake your frise – with the cut side up – for about 30 minutes. They have to be golden, toasted and hard under the pressure of your fingers. Let cool in the slightly open oven. When completely cool, they can be stored in a paper bag in a cool and dry spot.