Life has been quite busy in the last weeks months – but I could say years too. Just a little run-through : on May 8, I flew to Italy, and I received my cookbook copies after a while ; on June 9, my book hit the bookstores and amazon ; from June 8 to June 22 the promotional tour ; from June 29 to July 6 I was in Provence with my mum to get tattooed (both of us) ; on July 8, I flew back to California ; in August we had a couple of friends visiting us for 5 days, Lorenzo got a new job, we had his mum visiting for 2 weeks, she left, we moved from Mountain View to Berkeley, we had his dad visiting with his partner for 10 days ; in October we got engaged, we had our wedding license; on October 25 he left for Tel Aviv for work; on November 10 he came back and on November 14 we eloped. Ok, now breathe with me.
Ultimately, Thanksgiving – I share my contribution to the potluck we had in this and the next post. And now, after picking up our marriage certificate and sending the whole bundle of documents for the application to change the status of my visa – which is gonna let me stay here with my husband until his visa expires – we can finally relax.
So now I'm totally free to explore any hidden corner of my mind, discovering interest I've never thought to have – say hi to my new 46 different shades of lipsticks – and rediscovering old passions I had – I ordered 5 books, not cookbooks, to start reading again after years. I also have new ideas for my space on the web, resolutions for 2017 to finally try and follow my dream to become a photographer. And starting from January-February I'll start a free English class for non-English speakers, yaaaay! But before comes Christmas and if you need a vegan main course, I totally suggest preparing this pasta bake.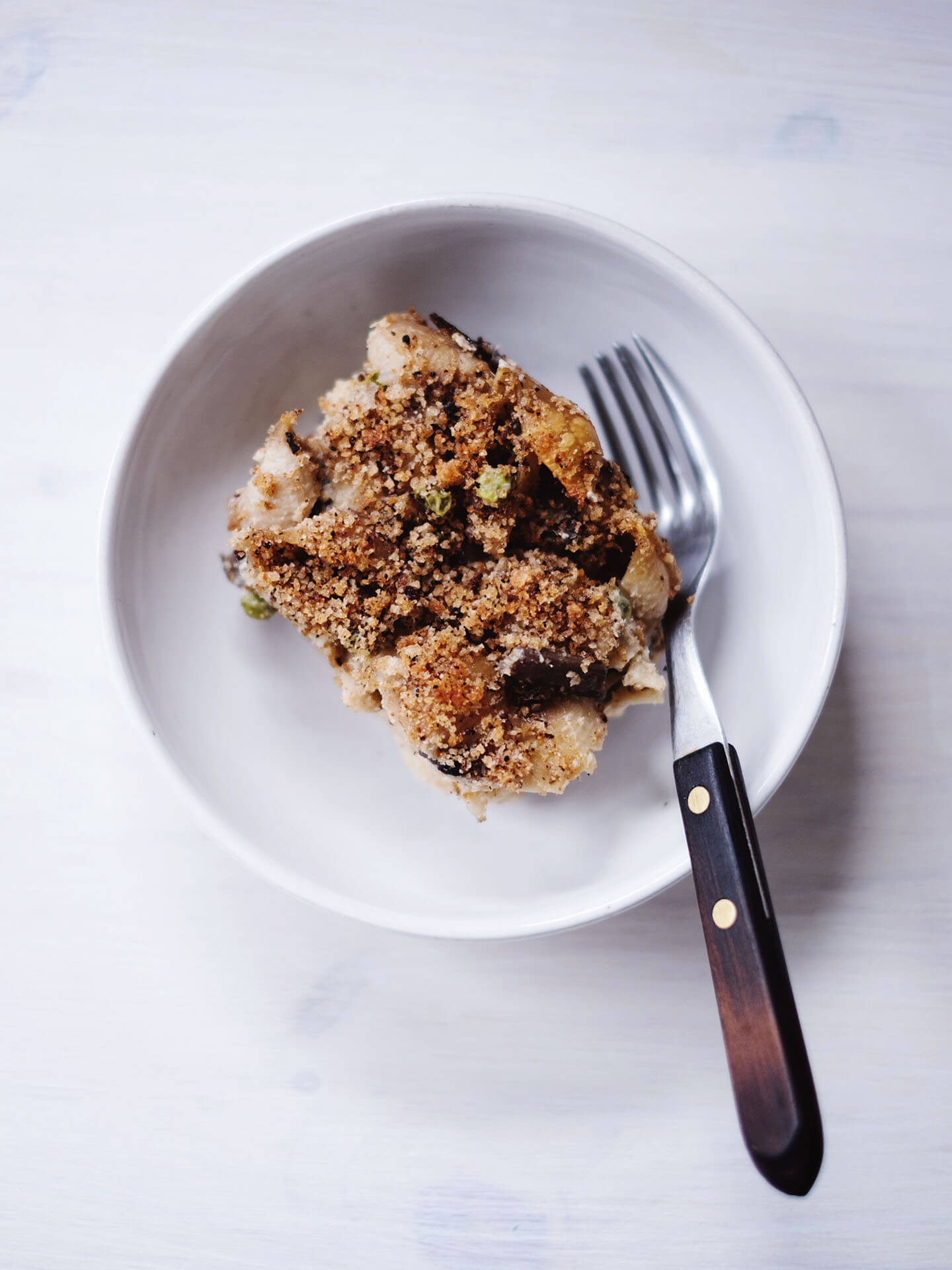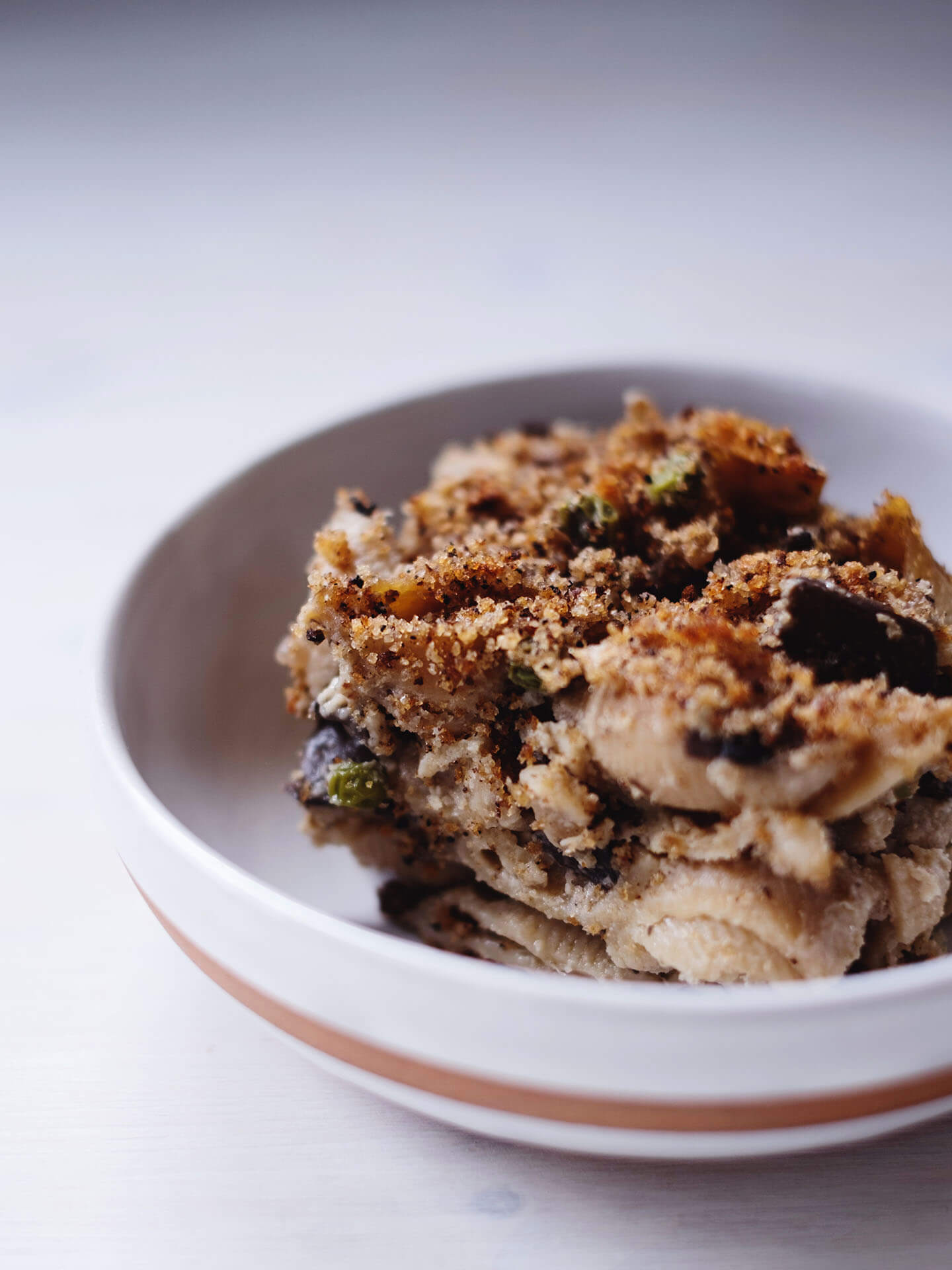 THE RECIPE
I used this pasta, but other shapes I suggest using as well are penne or rigatoni.
Be aware that the standard recipe for the bechamel is 50 gr of oil, 50 g of flour, and 500 ml of milk, but I decided to use a different ratio to obtain a less fat and more fluid sauce, ending up in this way with a less dry final result.
Inspired by this recipe by Valentina Solfrini.
[ for 6-8 servings ]
for the béchamel
2 tbsp (30 ml) extra virgin olive oil
1/4 + 1/8 cup (54 g) whole wheat pastry flour
3 cups (750 ml) unsweetened almond milk – at room temp
1 fat pinch of nutmeg
1 pinch of white pepper
1/2 tsp himalayan salt
Heat the oil in a saucepan on medium flame. Add the flour and stir vigorously with a whisk to prevent any lump. Going on whisking, cook until it darkens a bit and starts smelling toasted. Now pour slowly the milk always whisking. Add nutmeg, pepper, and salt and let the sauce cook until it becomes dense and creamy. Set aside.
for the bake
1 small yellow onion (150 g)
2 garlic cloves
2 tbsp extra virgin olive oil
1 tbsp truffle infused olive oil
1/2 cup (120 ml) white wine – I used a cheap pinot grigio
570 g frozen mixed mushrooms – I used 2 of these
1 1/2 cup (175 g) frozen peas
salt + black pepper to taste
400 g whole wheat shell pasta – see notes
4 tbsp whole grains breadcrumbs + 1 tsp truffle infused olive oil
Mince the onion and grate the garlic ; pour them with the two oils into a pot and cook them on low flame until the onion becomes translucent. Pour the wine, switch the flame to medium-high until you can no more smell the alcohol coming from the pot and the liquid is almost more evaporated. Add mushroom, peas, salt, and pepper and let the veggies cook. Set aside.
Preheat the oven to 400°F / 200°C.
Bring to boil a pot of water. Add a fat pinch of salt, add the pasta and drain it 2 minutes before the time written on the package instructions. Mix the pasta with the veggies and the béchamel in a big cast iron pan or a baking pan, mix the breadcrumbs with the truffle oil and use this mixture as topping. Bake for 30 minutes and serve immediately. If you end up with leftovers you can totally keep them in your fridge for a couple of days or in the freezer for weeks, and reheat the serving you need in the oven until hot.