DISCLAIMER: this is going to be a really really long chitchat – for my standards at least.
So we did it finally. Last Monday, we eloped. We're now husband and wife. I have been dreaming of this day since I was 10 – seriously, I used to draw my wedding dress in a notebook imagining all its details. Of course, being 28, a lot has changed in the meantime. Even last year, at a friends' wedding, I thought "This is exactly what I want!". They married in a vineyard, at the end of August, when the grapes were almost ready for the harvest, in the late afternoon, and then we had dinner on a long table at the sunset. She was wearing a classic bridal gown, white, with a fluffy tulle skirt – I maybe would have preferred ivory lace for myself, but everything else was perfect. But lately, I discovered elopements.
Thinking about marrying my soulmate, the two of us alone, in the middle of a forest, became my dream. But it's not so easy to realize, especially when you have to organize your wedding in 1 month – and with a limited budget. It's not that we have no money – ahem, yes, I have no money, he has – but I understood that it was stupid to spend a lot of money for 1 day, when we're trying to put aside a nest egg for when we'll fly back to Europe/Italy to start a new life there. To be honest, at the beginning, I still was looking for an ivory lace dress, but they were all really too expensive. After some days I started visualizing the details of the day, and everything started to change. If my first idea was a romantic dress, a braided updo, and some bright earrings, my second and final one, was completely different.
I don't think you know that, but I was a little tornado as a child: I was hyper-friendly, chatty, a little monkey, but with the middle school everything changed. It started for me a long period of depression, little eating disorders – which worsened lately -, introversion, that lasted until a few years ago. During that period I used to figuring myself as a different person. I wanted to be romantic, neat, kind, sweet, the image of a ballerina. But Lorenzo made me discover that my real myself was much better than the shell. And it was so much easier being myself with him, but since I hadn't been myself for more than 10 years, I didn't really know who I was, and I'm still learning new things about me now. How am I compared to my former self? I'm wilder. I'm more social. I'm more luscious. I side-shaved my head last year, I got 5 tattoos in 3 days last summer and I dyed my hair (not-as-pastel-as-I-wanted) pink. I am more badass. But I'm still trying to figure out what the hell I want to do as a grown-grown-up.
The wedding. Yes.
Getting married in San Francisco is something pretty easy to do and it's often suggested on the web because "our" City Hall is kind of stunning. You can take the appointment for both the license and the celebration and pay the relative fees on their web portal, go to the first appointment with your Ids or passports, fill a form and that's it. They give you a license and you're ready to become husband and wife!
The day of the celebration you have to go in the same office – so when you are in line for your license, you're surrounded by women with their giant white dresses and bouquets – sign some paper and then they give you appointment for the hour xy in the Rotunda, on the second floor at the top of the grand staircase. It's not my type of location, but I assure you that it's moving being in a place so beautiful and majestic. Fortunately, the officiant brought us in a quiet nook, where we've been able to live our celebration in an intimate and sweet way. Going back, when I saw all those brides in line for the wedding in front of the office, I looked at L. and I said "It's so sad. I don't want to look like them. I won't look like a bride!". So that's how I started to imagine myself. (For further details on my look, you'll have to wait)
I already told you about her, Lilly. She's an Italian girl married with an American of Indian origins, and they're both wedding photographers. And she's my bestie. Cool, right? When I asked her if she was available for a short shooting our wedding day – because the prices here are incredibly high – she told me that it was her intention to shoot our day as a wedding gift and that she wanted to do something really cool.
We agreed on the "no photos at the City Hall" rule and on a following trip to Sutro Baths where we could be "at home", in an environment where we feel really comfortable. And she helped me so much organizing everything – choosing my dress, the flowers, etc – and every time she was freaking out because she was so in love with my choices. So, it was almost a styled shooting for her! She probably also knew that we wouldn't have been a pain in the neck and that she could scold us if needed without the risk of a bad customer review! And she was amazing. She shot for hours, putting us completely at ease, and we felt perfectly in syntony – L: "I'm thinking about that fern…." Me, excited: "A Kinfolk-style shot?". I'm so thankful sweetie.
My first thought was to go out for dinner, but to be honest L. doesn't appreciate expensive food – he would never spend 300$ for a dinner for 2 – and he doesn't care if the food is served as in a Michelin restaurant or in a middle-eastern fast food, for him is just the same. Then I thought that trying for the first time a fancy restaurant to celebrate our wedding was too risky: I know myself, if I wasn't happy with the service or the food itself, I'd be sooo pissed off. Best option? A comforting dinner at home and great homemade cake! So here it is, our little 3-layer elopement cake. I know it's not perfect: I should have baked it for a longer time, I shouldn't have blended the yogurt for the filling, but it tastes so good, it also looks pretty, and it's my wedding cake by the way!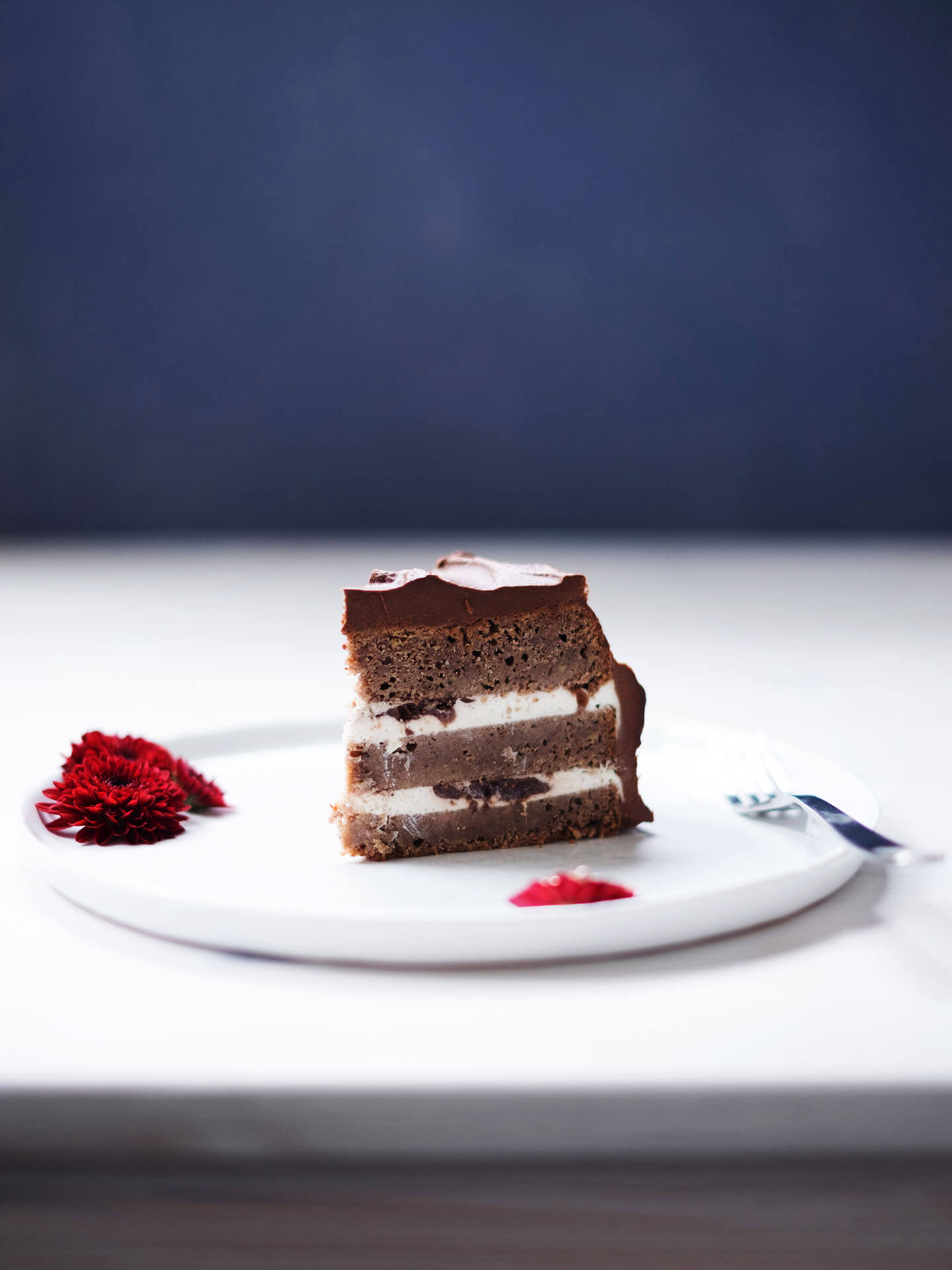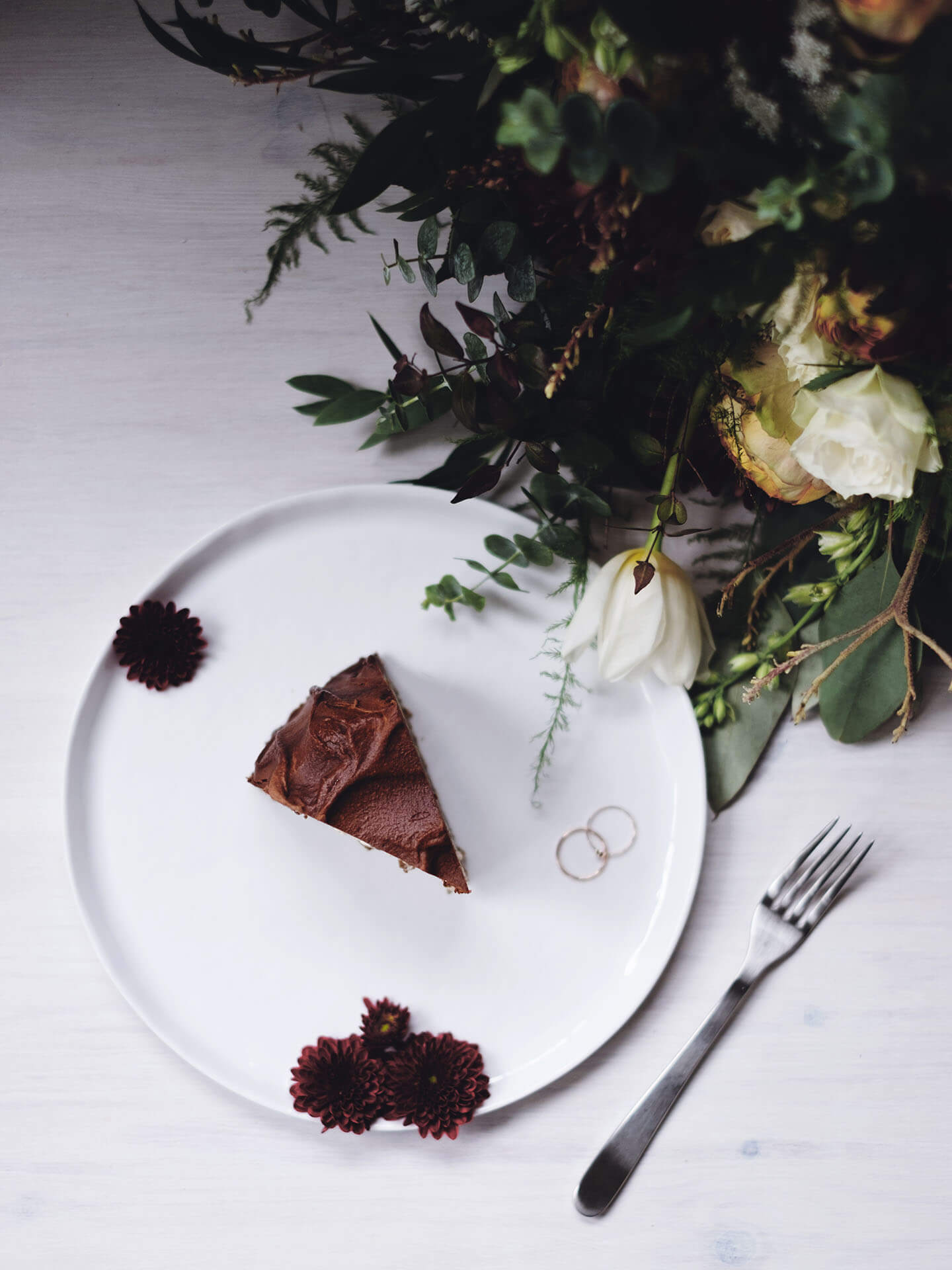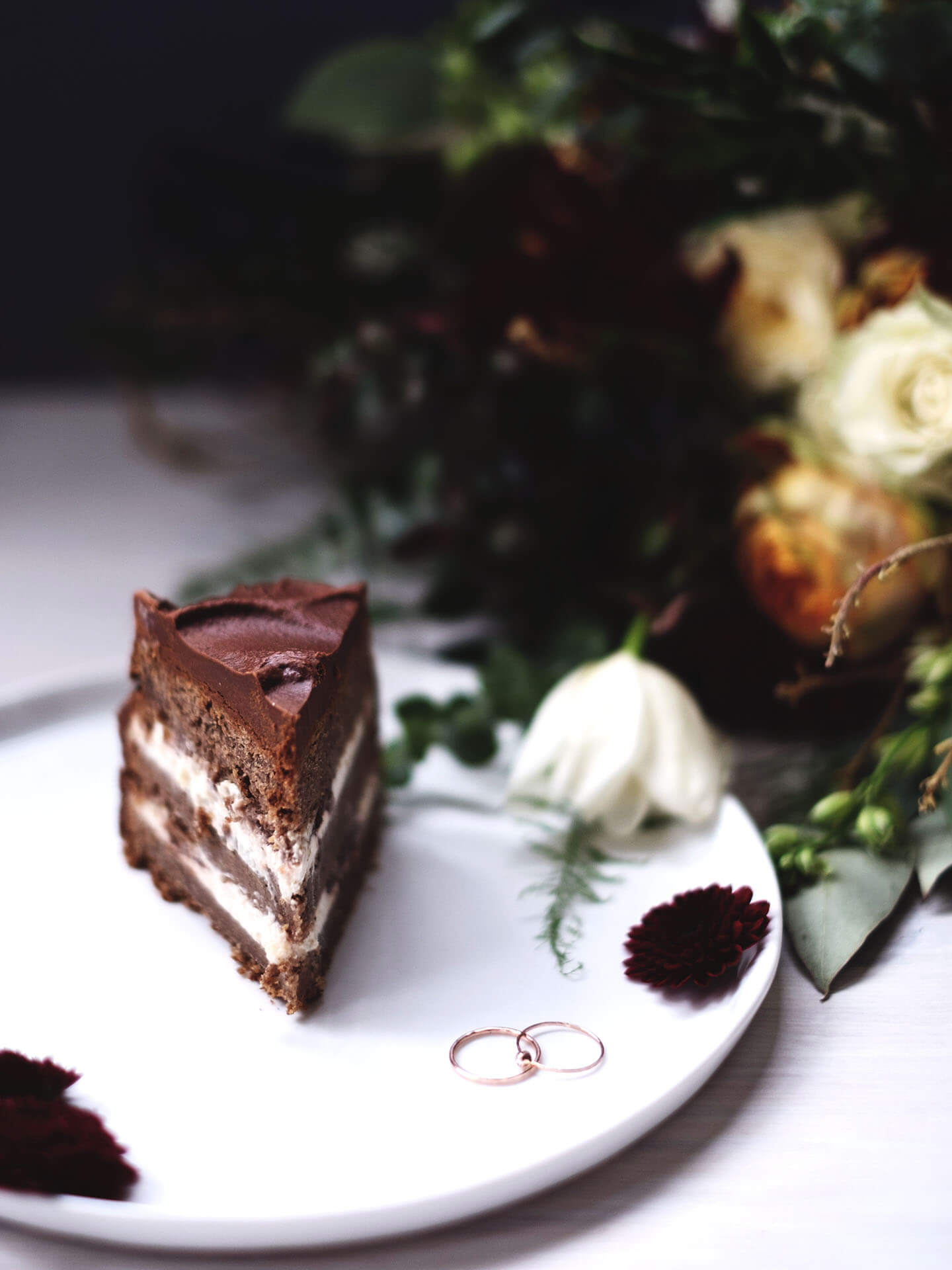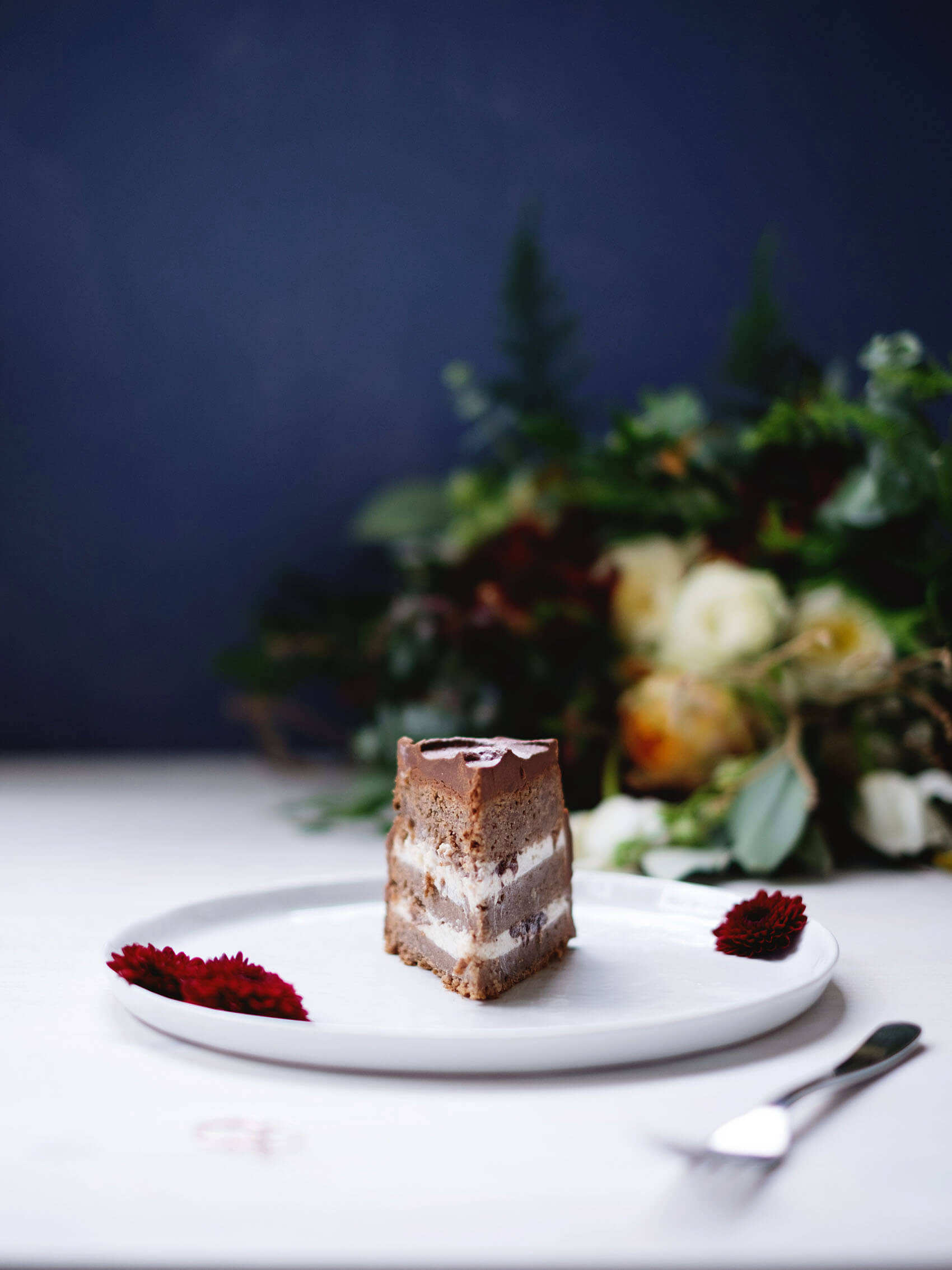 THE RECIPE
To make it vegan simply use coconut syrup instead of honey and a non-dairy yogurt for the filling.
Cake inspired by Nirvana Cakery and frosting from Food52
[ for a 6″ / 15 cm diameter cake ]
for the base
3/4 cup (95 g) teff flour
1/2 cup (70 g) buckwheat flour
1/2 cup (62 g) hazelnut flour
1/2 cup (75 g) coconut sugar
2 tsp baking soda
1 tsp cinnamon
1 pinch of salt
1/3 cup (80 ml) coconut oil – melted
1/2 cup (120 ml) almond milk – room temperature
2 tsp apple cider vinegar
2 medium ripe bananas
Preheat the oven to 375°F (190°C) and grease your baking pan.
In a large bowl sift together teff, buckwheat, and hazelnut flours, coconut sugar, baking soda, cinnamon, and salt. Set aside.
In a small bowl whisk together coconut oil, almond milk, and apple cider vinegar. Mash the bananas and pour the wet mixture over them. Add the wet mixture to the dry one and mix until well combined.
Pour the batter into the cake pan and bake for about 45 minutes, then lower the oven to 350°F and bake for other 30 minutes or until a stick comes out clean. Remove from the oven once ready and let cool for 30 minutes before carefully moving onto a wire rack. When fully cool, move it into the fridge or slice it already in 3 layers.
for the filling
1 1/2 cup (325 g) non-fat goat yogurt
1/2 cup (70 g) raw macadamia nuts
3/4 cup (110 g) dried figs – chopped
2 tbsp (30 g) honey
Line a fine strainer with a few layers of cheesecloth and set over a bowl. Spoon yogurt into the cheesecloth-lined strainer and fold layers of cheesecloth over the yogurt to cover completely. Transfer yogurt (and strainer and bowl) to the refrigerator for 24-36 hours.
Soak macadamia nuts for at least 8 hours. Strain and add them to a high-speed blender and blend until smooth; pour it into a bowl and mix it with the yogurt.
During the soaking time put figs in a saucepan with honey and about 1 cup of water. Bring to boil and let simmer until the figs are really soft. Blend everything to obtain a thick paste.
Put the first cake layer on a plate, top with 1/2 cream and spread it, add some teaspoons compote and swirl to create a marble effect. Cover with a second layer of cake and repeat using cream and compote leftovers. Add the third cake layer.
for the frosting
1/2 can (212 g) sweet potato puree
142 g vegan chocolate
Bring the sweet potato puree to a simmer in a large saucepan over medium heat, stirring frequently. Remove from the heat and add the chocolate. Stir until smooth. Stir until smooth. Let cool for 10 minutes, then spread the frosting all over the cake – top and side – and let cool everything in the fridge for at least 2 hours.