First thing first, I realized how cool blog loving is, so I suggest to follow my blog there. Thanks so much!
This is my second tiramisu, The first one was delicious but not perfect, so I knew that I'd love to try a new and updated version soon. But I'm not the kind of person who tries 5 times to find the perfect recipe, I just like cooking something new every time. That's the reason why I needed 1 year and a half to make tiramisu again – sorry guys. I made it for our Thanksgiving potluck – it's a totally festive dessert, so pin it for your vegan Christmas or New Year's Eve celebration. Yes, because the dessert is entirely vegan, and also quite healthy: no processed ingredients, whole grains, and coconut based sweeteners. Yes, since it contains coconut milk and cashews, it's not a light or fat-free dessert, but if you don't eat half of it in 15 minutes your shape won't be wrecked.
It's the perfect dessert: it's so creamy and soft, that your tongue will start a dance in your mouth savoring each different taste – the slight flavor of coconut, the coffee aroma, the bitter of the light coat of cacao powder. Even L., who doesn't have a sweet tooth, got seduced by it. A less long chit-chat today, let's go to the most delicious part!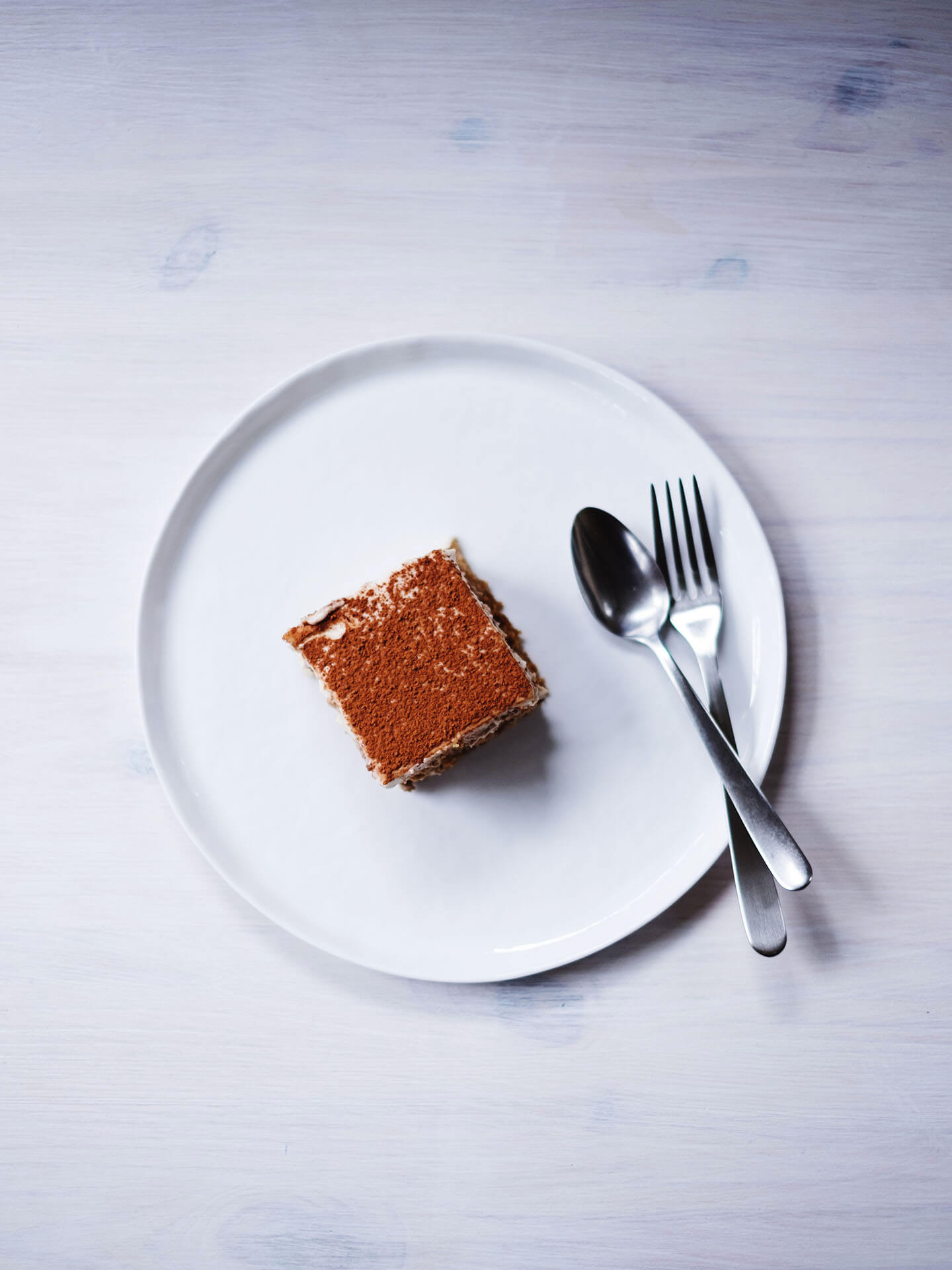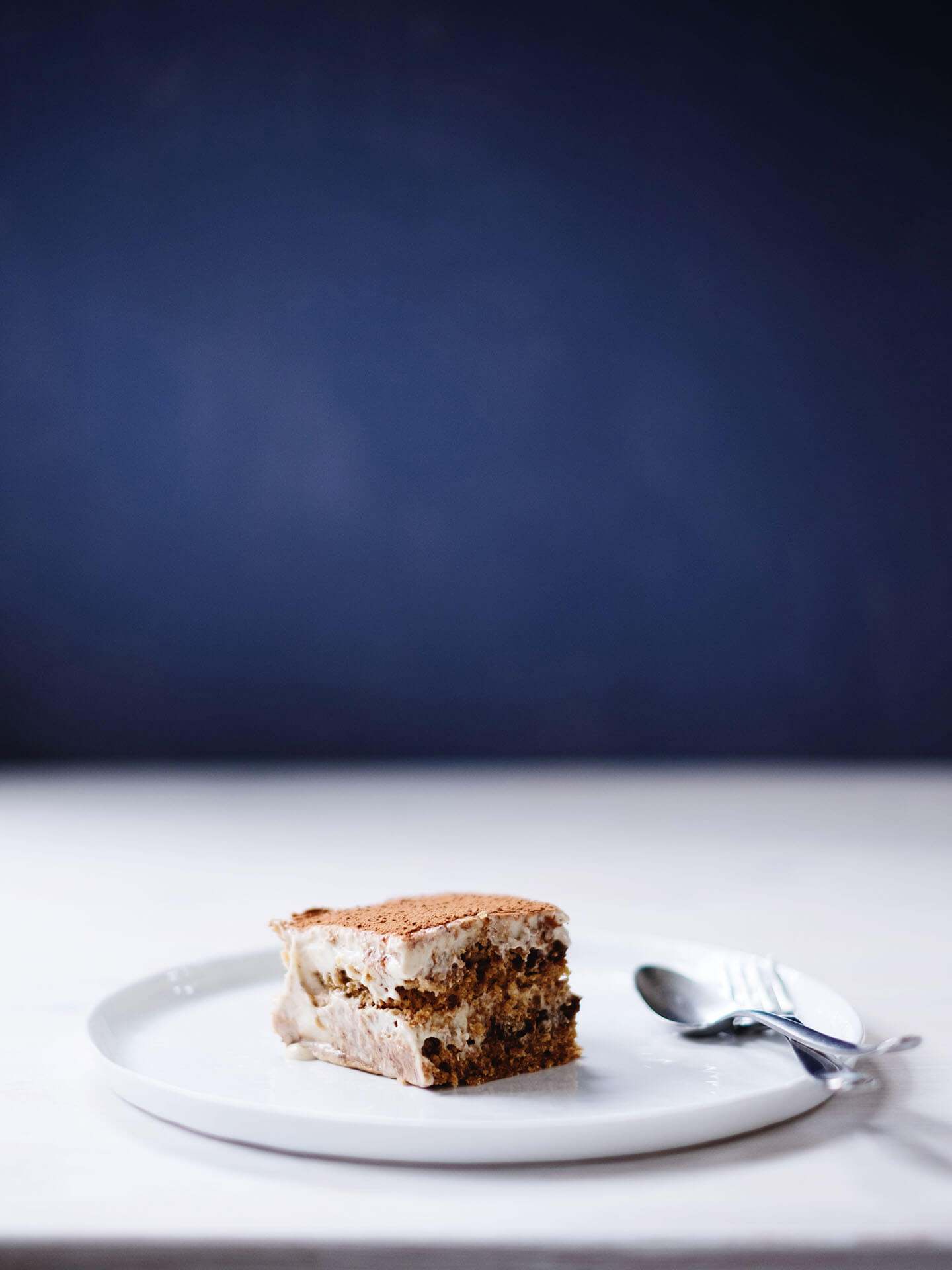 THE RECIPE
I used 1 can of full-fat and one of light coconut milk.
As coffee, I used a 3-serving-moka espresso, but you can use whatever coffee you have at home, even herbal coffee – especially if you're going to serve it to kids.
[ for a 8"/ 20cm square cake pan ]
for the cream
80 g arrowroot flour
2 can of coconut milk – see notes
1/2 cup (120 ml) coconut nectar
2 cups (250 g) raw cashews
1 little lemon, squeezed + water to reach 1/2 cup
In a saucepan mix arrowroot flour and milk and bring to boil whipping to prevent lumps. When the sauce thickens, remove from the flame, add coconut nectar and stir to incorporate. Put the sauce into a bowl, cover, let it cool and reserve in fridge.
Soak cashews overnight.
Next morning strain cashews, blend with lemon juice + water until smooth. Add into the blender the coconut milk cream from the fridge and blend again. You may need to divide the cream in half to blend it until smooth – my Vitamix started to smell weird!
for the sponge
3 tbsp (18 g) chickpea flour
1/2 + 1/8 cup (150 ml) hot water
3/4 cup (100 g) coconut sugar
2 tbsp (30 ml) avocado oil
3/4 cup (120 g) whole wheat pastry flour
2 tsp baking powder
1/4 + 1/8 cup (50 g) arrowroot flour
Preheat oven to 375°F / 190°C.
In a bowl, whisk together chickpea flour and hot water, add sugar and oil and beat constantly. Add flour, baking powder, and arrowroot. Transfer to pan and bake for 15-18 minutes. Let it cool completely on a rack before slicing it in 2 layers.
to assemble
1 cup coffee – see notes
1/2 tbsp cacao powder
Put the first layer of sponge in the same pan you used to bake it, pour 1/2 the coffee covering the whole surface ; spread 1/2 the cream, add the second layer of cake, pour the leftover coffee, spread the other 1/2 of the cream and coat with cacao using a little colander.
Let it set in the fridge for at least 4 hours – but I strongly suggest to let it there for 24 hours before serving!