Let's start with a bit of framing. Once upon a time…I'm kidding, but yes, we need some basic knowledge here.
We don't have a car. When we used to live in Mountain View we had 2 bikes and they were great to go to the Farmers' Market on Sunday or to the Caltrain Station. But here in Berkeley to get to the Markets or to the Bart Station the route is not the best – kinda uphill – and after the theft of Lorenzo's second bike in less than one year, we gave up, so mine has become a rusted sculpture in our garden and we simply walk everywhere (don't worry, he catches a bus at 30 seconds from our door to go to work every day).
Our apartment lays half-way between a Whole Foods and a Natural Grocery Store. The prices are similar, they both have pros and cons and I can find some products only in the second one – kabocha that's often missing at WF, goat yogurt, goat feta – but I generally used to buy all my produce at Whole Foods. And you know how expensive it can be, especially if you eat a lot of veggies and fruit. So at the end of 2016, I decided to try Imperfect Produce. I already told you about it, but you can find all the information about it here. It's been 3 months now and I'm enjoying so much this service! I can choose what I want and how much of it and I'll have my box delivered on Saturday morning. Being a foodie, I love that they don't only have "basic" items, but sometimes they also offer interesting vegetables I have never tried before. As this spigarello.
I checked on google and I discovered, as the name made me presume, that it's native to southern Italy but its seeds have recently been imported to Southern California, where it has adapted really well. From the Food Republic "The vegetable is long-stemmed with curled green leaves. When mature, it can produce edible flowers, but never florets like regular broccoli. The flavor is mild, grassy and sweet, without the characteristic bitterness of many of its cruciferous cousins. The greens can be used in a similar way to kale, so if you get your hands on this hot new variety, toss it in salads, soups, and sautees." I've already ordered it three times and I ate it in a really simple way, just sauté with some cubed stale sourdough – you may have seen my ugly bowls of this kind on Ig stories – but I wanted to try it in a slightly more exciting way, to do justice to this amazing ingredient.
I used to buy so many things "in case", you know? A handful of cashews if I want to make a cheesecake, a jar of applesauce if I want to make a cake that needs some, a box of dates if I want to make some raw bars – which btw I can't, since I don't have a food processor – or a package of noodles because I may crave a bowl of ramen. So I bought this package of soba months ago and I hadn't still use it. I always feel the duty toward foreign ingredients that I have to respect their origin. I mean, I have to cook soba with a miso soup or black beans with tacos. But hey, every damn country use pasta and gnocchi in the most terrible ways – I love you anyway, don't worry – so why can't I use soba noodles as they were spaghetti?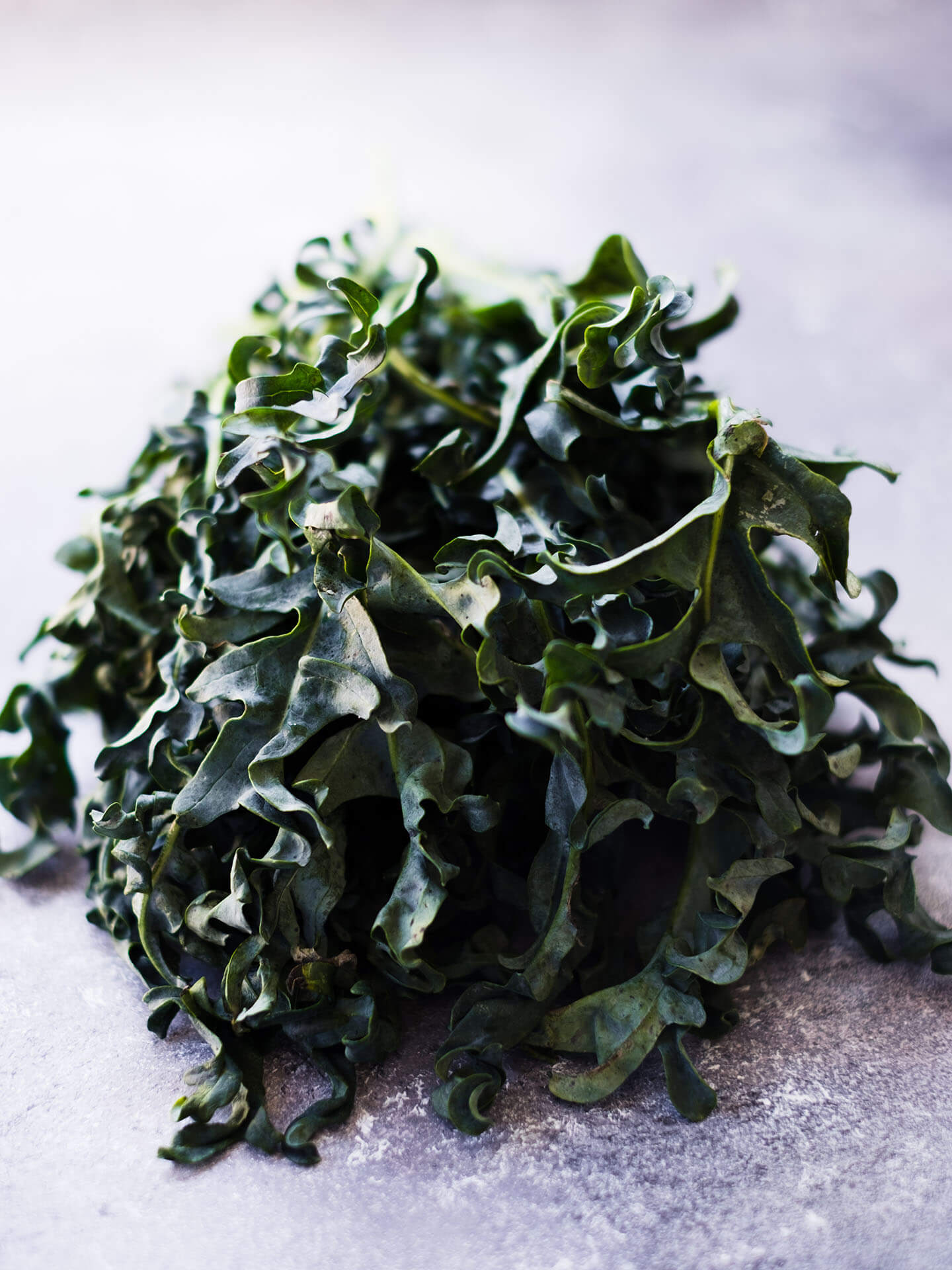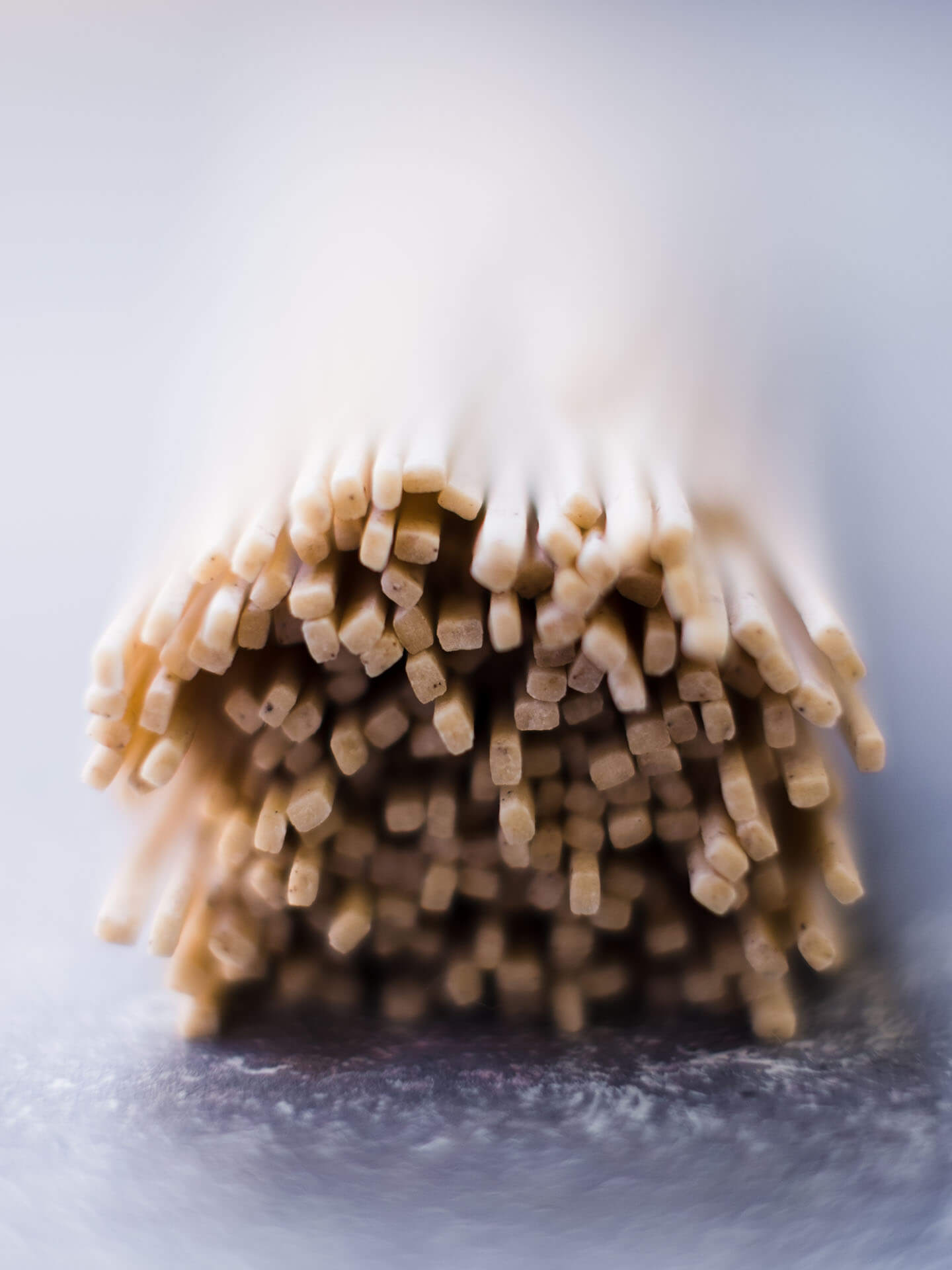 THE RECIPE
I never time my recipes because I always need a lot of time scaling my ingredients, adding them to my food diary, writing down the amounts, taking photos, etc – and my days last weeks since I can't work, so if I can spend 3 hours for a simple recipe, it's even better – but you can really make this fulfilling salad in 15 minutes.
If you can't find spigarello, feel free to use any other slim and long green leaf, like dandelion, arugula, spinach, or even Asian greens.
Use a salty aged almond ricotta instead of feta to make the recipe vegan/dairy-free.
[ for 2 servings ]
1 + 1/2 tbsp extra virgin olive oil
1-2 garlic cloves
300 g spigarello
2 tbsp pine nuts
2 tbsp goat feta
150 g soba
freshly ground black pepper
Bring to boil a pot of water.
In the meantime, pour half the oil in a wok, add the grated garlic cloves and heat on medium flame. As soon as the garlic starts sizzling, add the washed spigarello, a pinch of salt, cover and let cook on a low-medium flame, stirring every now and then. Add the pine nuts during the last 4 minutes.
When the green leaves are tender, boil the soba as indicated on the package – 4 minutes for me – drain and rinse under cool water and place them into the wok. Give it a good mix, crumble the feta with your fingers and grind a pinch of black pepper directly into the wok, and serve immediately.