Beet is one of those sweet veggies that works sooo good in a dessert. This purple-reddish root is amazing paired with chocolate, the final taste is incredible.
I have seen beet cakes for months or maybe years on the web: butter or olive oil, less oil or more oil, chocolate or only cocoa, eggs or eggless, raw grated or pureed cooked beets. I spent half-an-hour searching a "perfect" recipe, but my last decision was to make my own. How? Attempting. And finger crossed. And the result has been amazing! A moist cake with a rich and peculiar taste.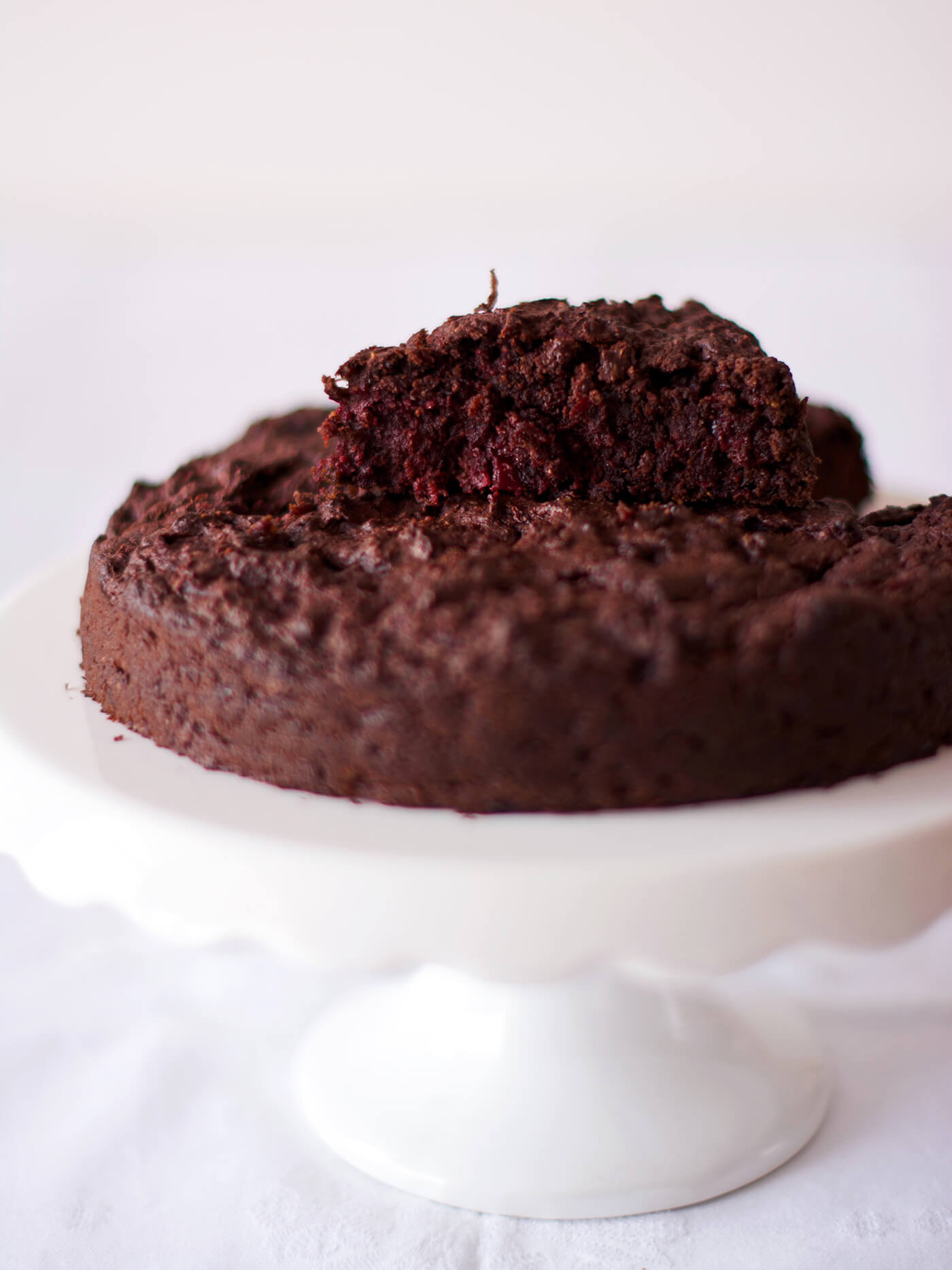 THE RECIPE
Buy gluten-free certificated oat flakes for a gluten-free recipe. If you don't have cacao powder – the raw kind – feel free to use cocoa powder.
[for 10 servings; a 7 inch / 18 cm round cake pan]
1 tbsp / 11 g chia seeds + 3 tbsp water
1 1/2 cup / 155 g oat flakes
1/4 cup / 20 g cacao powder
1 tbsp baking powder
a pinch of (himalayan) salt
2 raw peeled beets – mines were 218 g
50 g dark chocolate – mine was raw homemade
1/3 cup / 80 ml extra virgin olive oil
1/3 cup / 100 g coconut flower syrup – or another liquid sweetener
100 g applesauce – about 1/4 cup + 1 tbsp
Preheat oven to 350° F / 175° C. Mix chia seeds with water and set aside.
In a high-speed blender or a mill reduce oats into a flour. Add it to a bowl along with cacao, baking powder, and salt. Grate beets and add them to the bowl and stir.
In a saucepan melt chocolate with oil, add coconut flower syrup, applesauce, soaked chia seeds and stir until smooth. Add this liquid to the bowl and stir well. Pour the batter into the greased cake pan and bake for about 30 minutes.