I almost hate cooking shows. Master chef (how stressful), Hell's Kitchen (more stressful and humiliating), other Italian fake chefs tv shows – it makes no difference. But there is one tv chef I really love. His cuisine isn't vegan but he loves using vegetables, herbs and spices and his recipes are always simple but inspiring. He has a healthy foundation in his cooking style and he tries to spread a good nutritional awareness where he can.
I saw these BBQ baked beans twice on tv. I changed some ingredients – no carrots, bbq sauce substituted by molasses and other few things. This could appear like a winter dish, but evenings here are still less or crisper and it can anyway be served at room temperature. Just add a fresh salad for a vitamin dose and you'll have a perfect spring meal!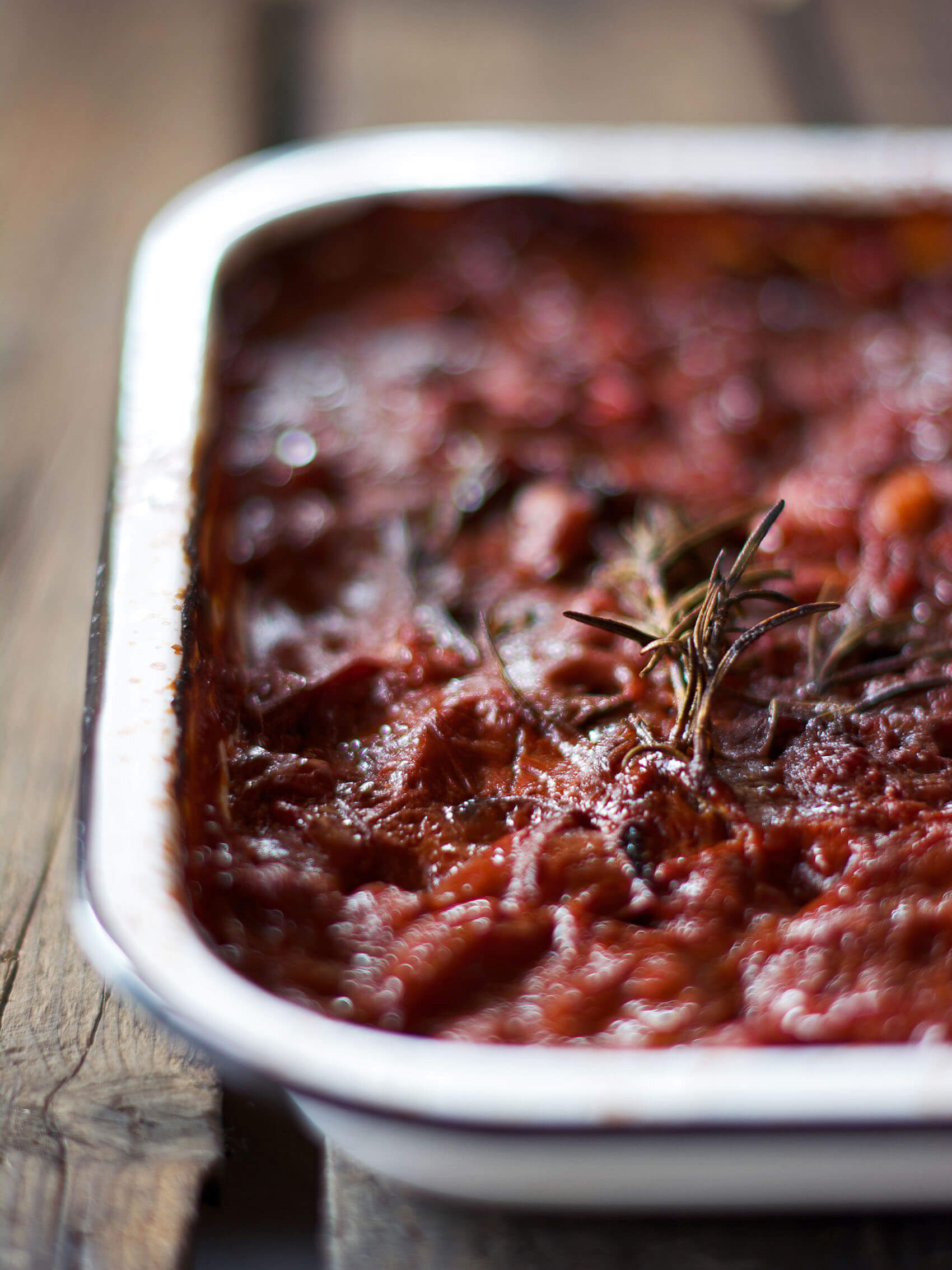 THE RECIPE
You can prepare everything one day ahead and just rewarm it in the oven before serving; use a different plant-based yogurt if you avoid soy.
[for 4 servings]
for the beans
1 onion / 120 g
1-2 garlic cloves
1/2 or 1 fresh red chili – depending on your taste
1 heaping tsp smoked paprika
1 tsp cumin seeds
1 + 1/2 tsp olive oil
1 x 400 g can kidney beans
1 x 400 g can cannellini beans
2 x 400 g cans whole canned tomatoes with their sauce – crushed with a fork
1 tbsp / 27 g molasses
1 tsp / 3.5 g coconut sugar
1 + 1/2 tsp brown rice vinegar
salt and pepper
a few springs of rosemary – brushed with oil
Preheat oven to 350° F / 180° C.
Finely slice onion, garlic and chili, add them in a wide baking pan with olive oil, cumin seeds, and paprika and stir well. Bake for 5-10 minutes, until everything is tender.
Add beans with their water, prepared tomatoes, molasses, coconut sugar, vinegar, salt and pepper and stir. Add rosemary and bake for 1 hour. You may need a longer baking if your baking dish isn't wide enough.
to serve
4 sweet potatoes – about 720 g
some olive oil
200 g yogurt – I used soy
While the beans are baking, add sweet potatoes brushes with some oil on the oven grill over beans, so they will become more tender thanks to beans' steam. Set them aside when tender.
Add sweet potatoes to the baking pan, squash them a bit, add some yogurt and bring to the table, leaving your stablemates to serve by themselves. More convivial and less formal.