I love bowl food – oh yeah, what a news, I wrote a cookbook about bowls – and to be honest I eat almost everything in bowls just because I like the fact the food stays warm for a longer time. And yes, pizza doesn't fit in a bowl, so that's one of the main reasons not to eat it. Sorry.
Anyway, serve me anything soft and in a bowl, preferably with a spoon, and I'll eat it. I pinned this recipe from Renee's blog as soon as it was published, but, as I always do, I waited months before trying it. I finally decided to make it as a complement to some stewed apples. Both the preparations are so easy and it's such a good bowl for these still cold winter mornings. I'm surely going to try a savory version of this porridge since I still have some teff flour in my pantry.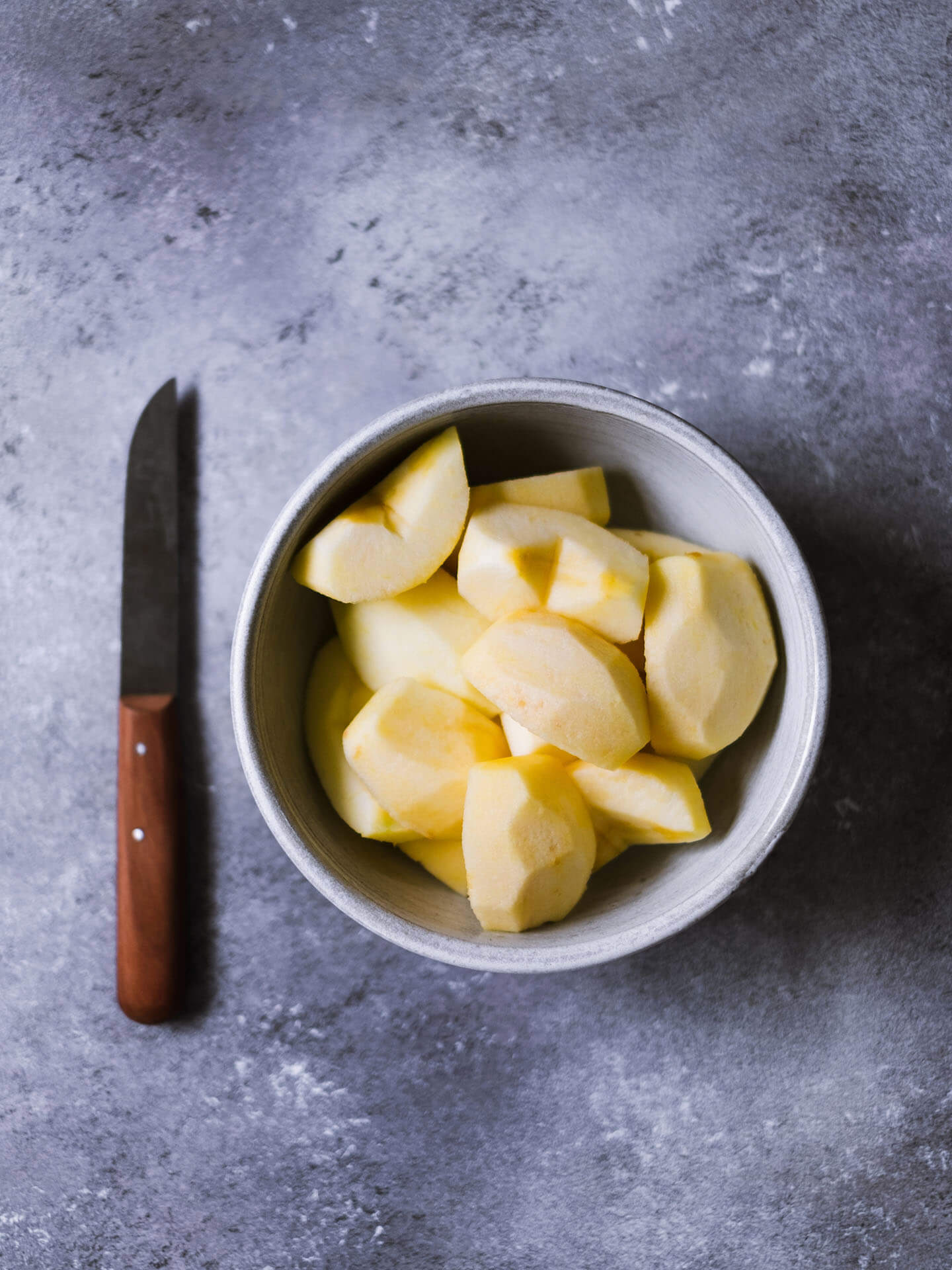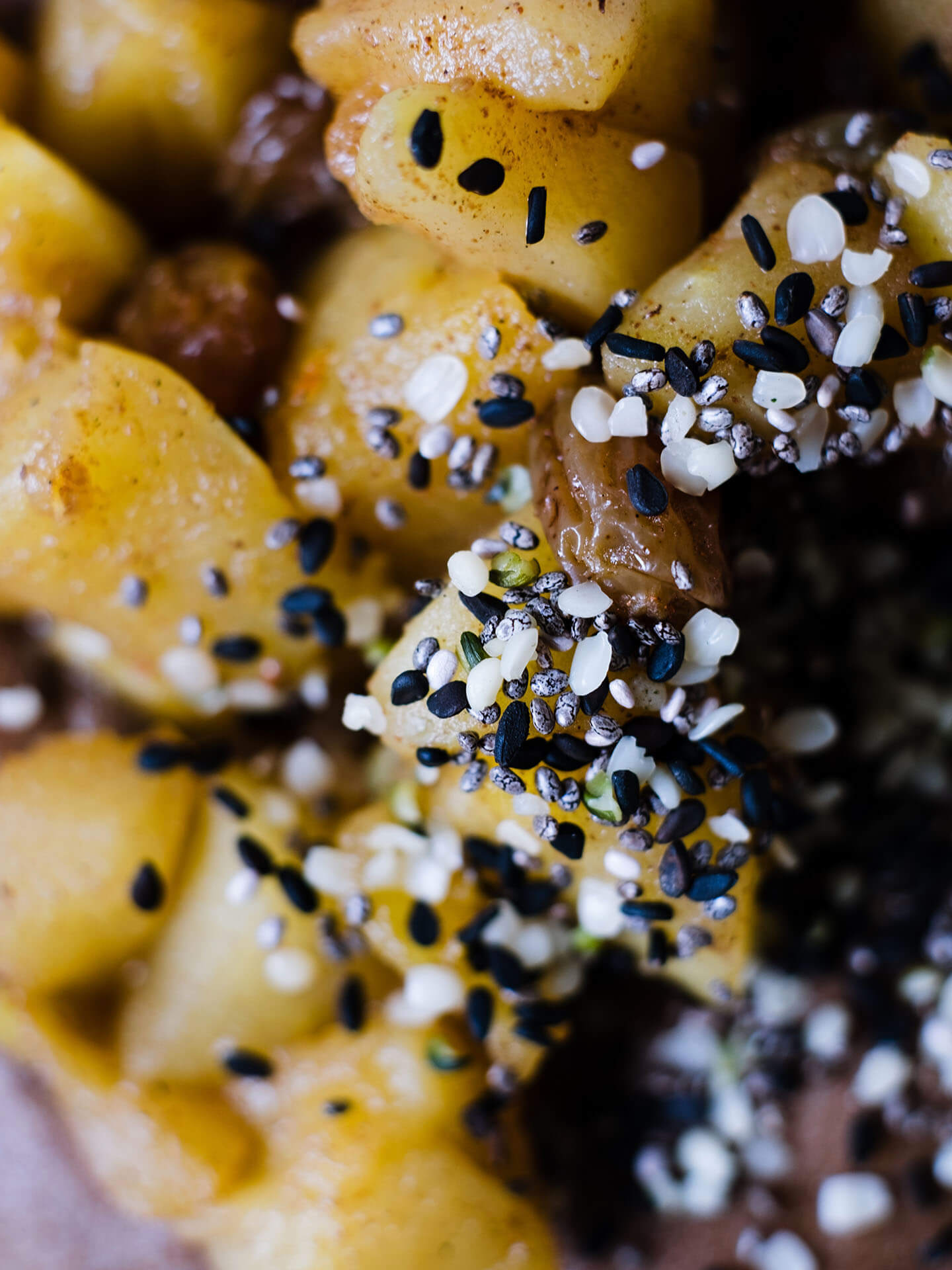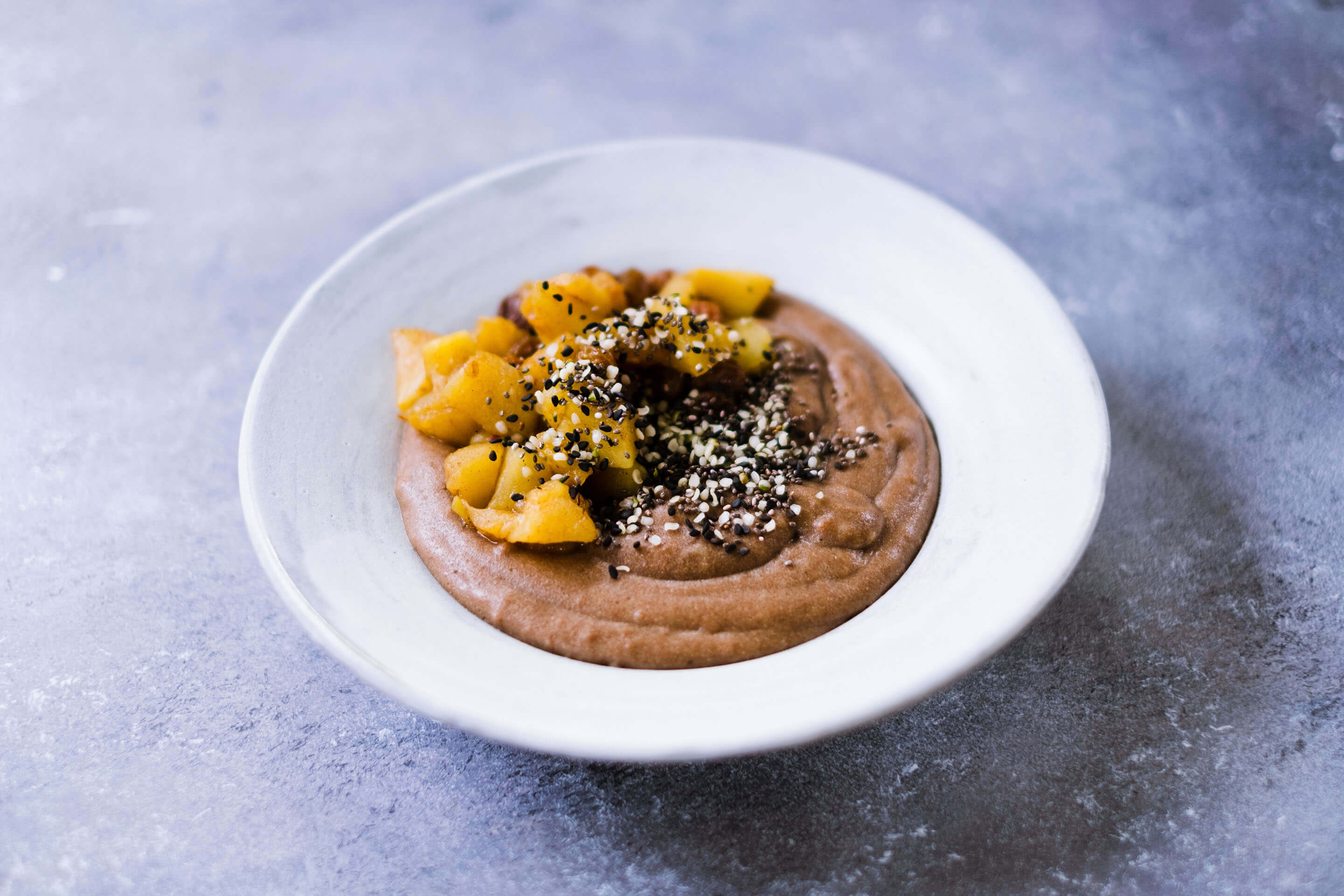 Have you ever tried teff flour porridge? Both the technique and the liquid/flour ratio is the same of polenta: 1 part of teff flour for 4 parts of liquid. In this case, I used water and milk but feel free to use 1 + 1/3 cup of milk instead.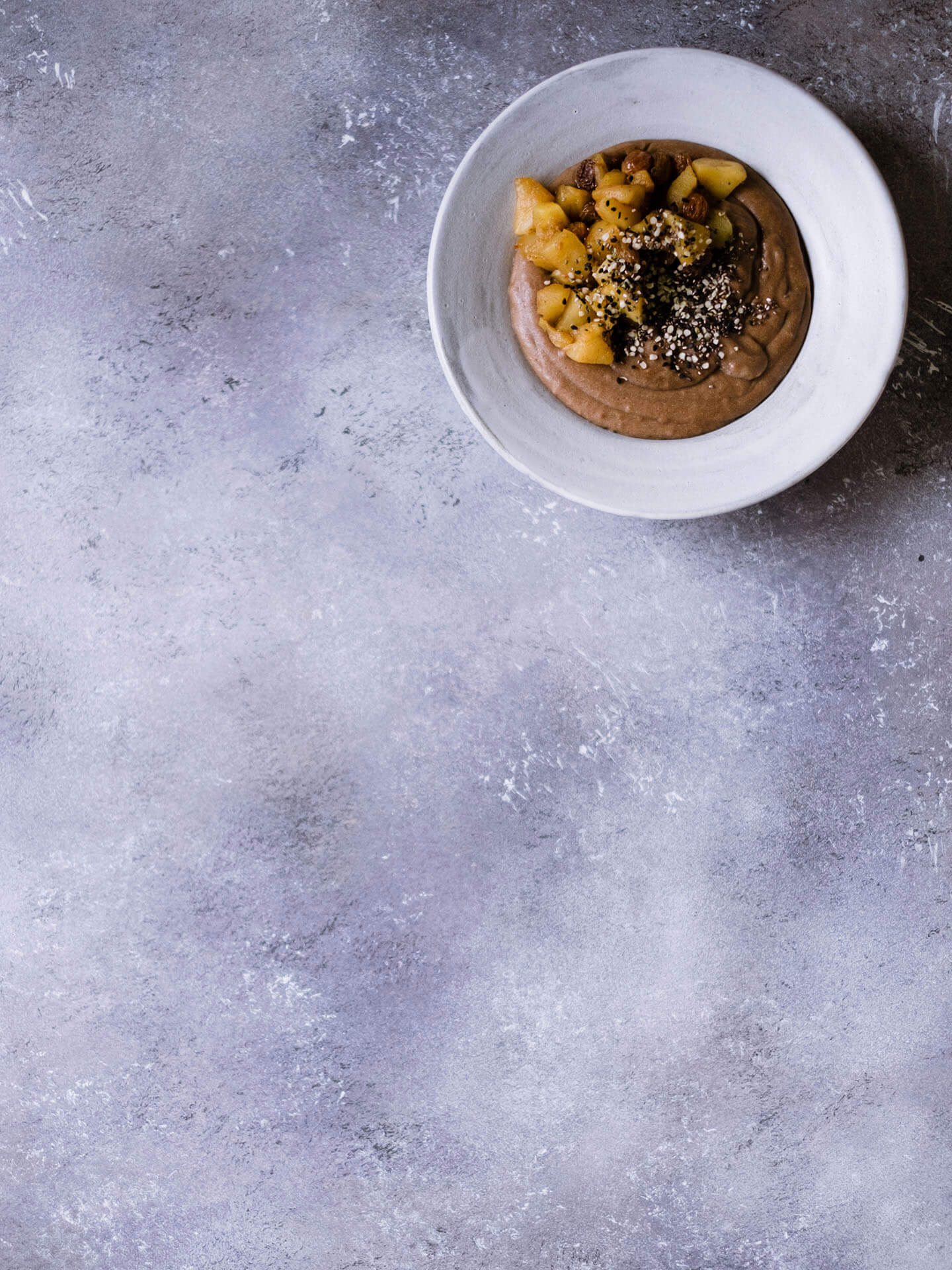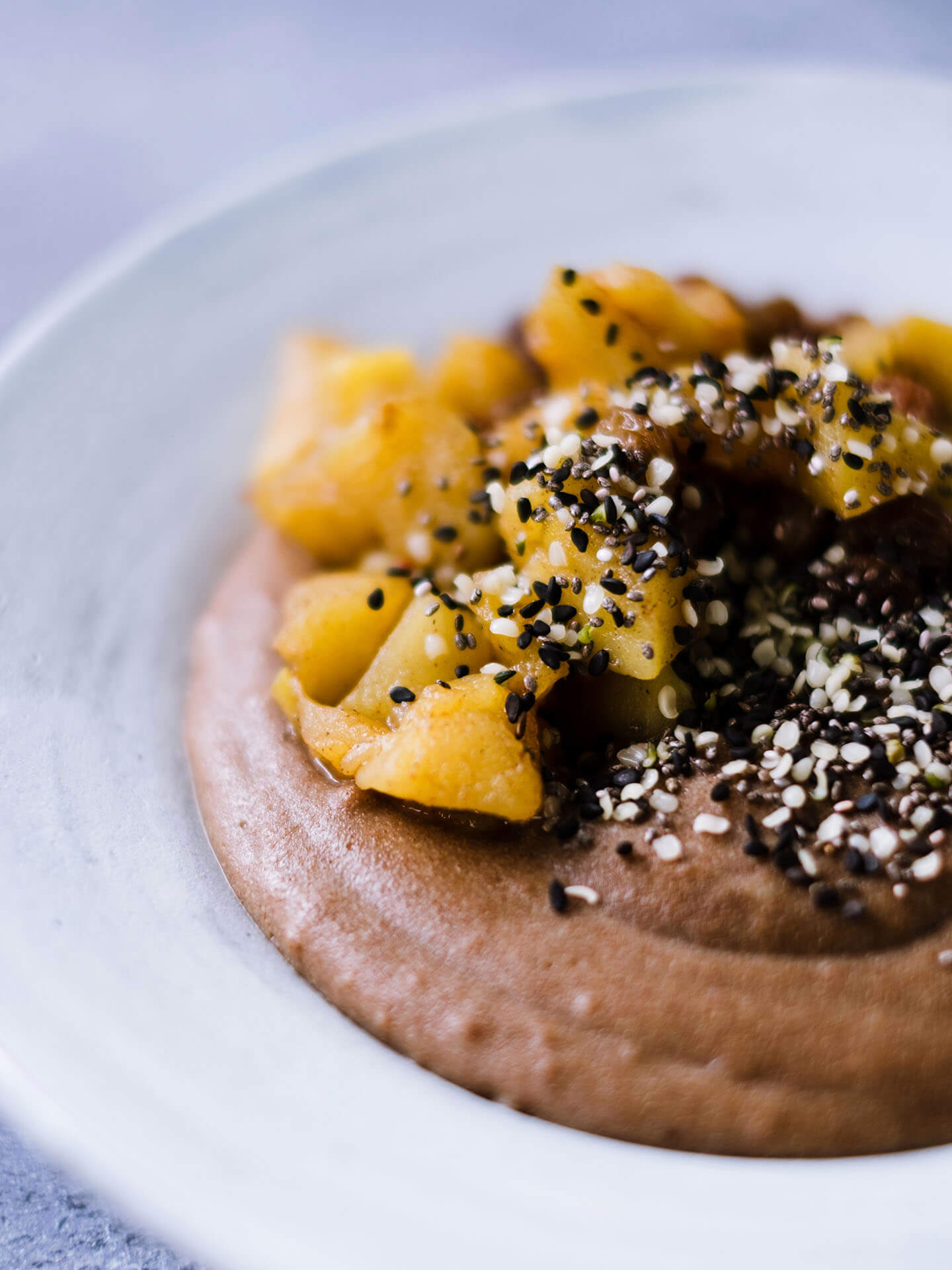 THE RECIPE
I used only 1/3 the portion of apples and I reserved the leftover in the fridge. They're amazing as topping for a yogurt (I just found my favorite vegan one, yay) or a simple oatmeal.
Inspired by Will Frolic For Food.
[ for 1 + apples leftover ]
for the stewed apples
a few dying apples – peeled and quartered (360 g)
2 handfuls golden raisins (55 g)
1/4 tsp cinnamon powder
1 pinch freshly grated nutmeg
a few strands of saffron
1 little meyer lemon
Chop the apples and put them in a pan*. Add raisins and spices, squeeze the lemon and switch on the flame on low. Cover with a lid and cook until apples are tender but not mushy.
for the porridge
1/2 cup almond milk
1/2 + 1/3 cup water
1/3 cup teff flour (58 g)
2 tsp coconut sugar
1 pinch himalayan salt
1/4 tsp black sesame seeds
1/4 tsp chia seeds
1/4 tsp hemp seeds
Mix milk and water in a saucepan, teff flour with coconut sugar and salt in a little bowl.
Bring to boil the mixture milk-water, lower the flame and slowly add teff flour (in Italian we say "a pioggia", meaning like rain) quickly whisking to prevent lumps. Simmer for a couple of minutes until it thickens.
Serve in a bowl, top with some stewed apples and sesame, chia, and hemp seeds. Enjoy!
* I used a cast-iron pan. Do you know that cooking with a cast iron, especially if it's acid food as here, is like taking an iron supplement? As a matter of fact, the acidity of the apples and the lemon juice pulls out the iron from the pan going into the food you're going to eat. Don't worry, it doesn't affect the taste!