Lorenzo and I got married last November 14th and since we live 6000 miles far from our families and we don't really have a group of friends here, we were alone – of course, there was a photographer as a witness with her second photographer, in fact, – so it was, in fact, an elopement! We organized everything in a month – during which Lorenzo left for work for 20 days – and I learned enough to be able to give you some suggestions if you're planning or dreaming to elope too. Are you ready?
LICENSE AND CEREMONY
Starting from the beginning, the first thing you need is a marriage license. For the San Francisco City Hall, you can take an appointment on the website for both the license and the ceremony paying the needed fees. It's pretty easy and quick.
The public ceremony is the cheapest way to get married and even if it's so quickly – seriously, we have the video of our whole ceremony and it lasted less than 4 minutes – it can be intimate and moving. The location is amazing, the ceremonies have place at the Rotunda, at the top of the big staircase. If you're not for an outdoor shooting – or it rains – the City Hall is also a really stunning location with a lot of space and light.
Cost: licence $108 + ceremony $81 = $189
FLOWERS
During my wedding, I realized one thing: the bouquet is probably more important than the dress! I saw so many brides wearing white, large, and precious dresses, holding horrible and tiny bouquets in their hands. If you're going to wear a colored sheath dress as mine, the bouquet has to be even more amazing, you'll look like a bridesmaid or a guest to a dinner party otherwise.
For the florist, I followed the photographer's suggestion and I had my flowers from Farmgirl Flowers. I went for a medium bridal bouquet and a groom boutonniere for Lorenzo. We talked about the type of flowers I like and dislike, the color palette of our elopement and since the delivery was quite expensive, we went there to pick them right before the ceremony! Honestly, I'd like to get married again to have a new beautiful and bigger bouquet.
Cost: medium bouquet $149 + boutonniere $25 = $174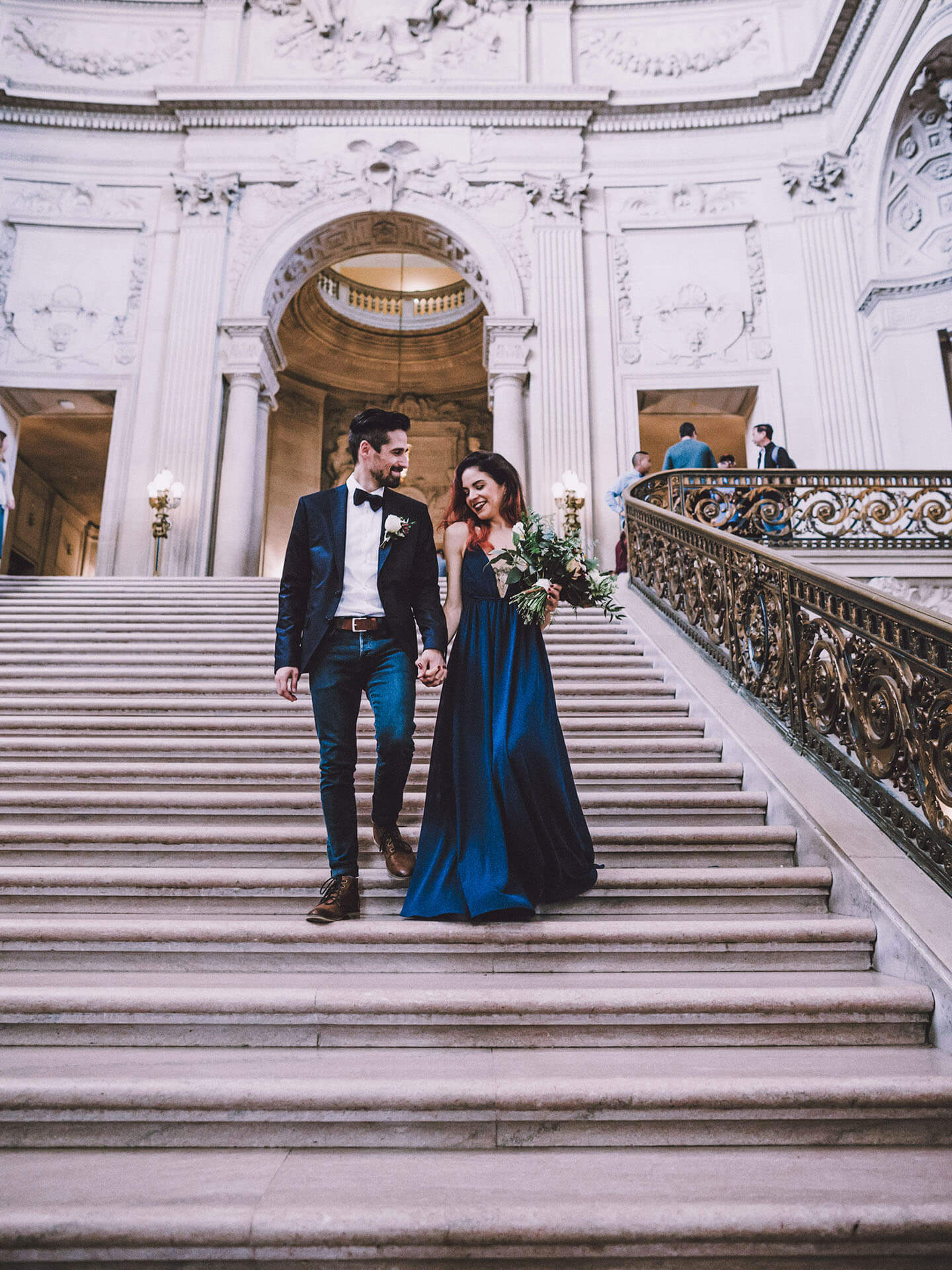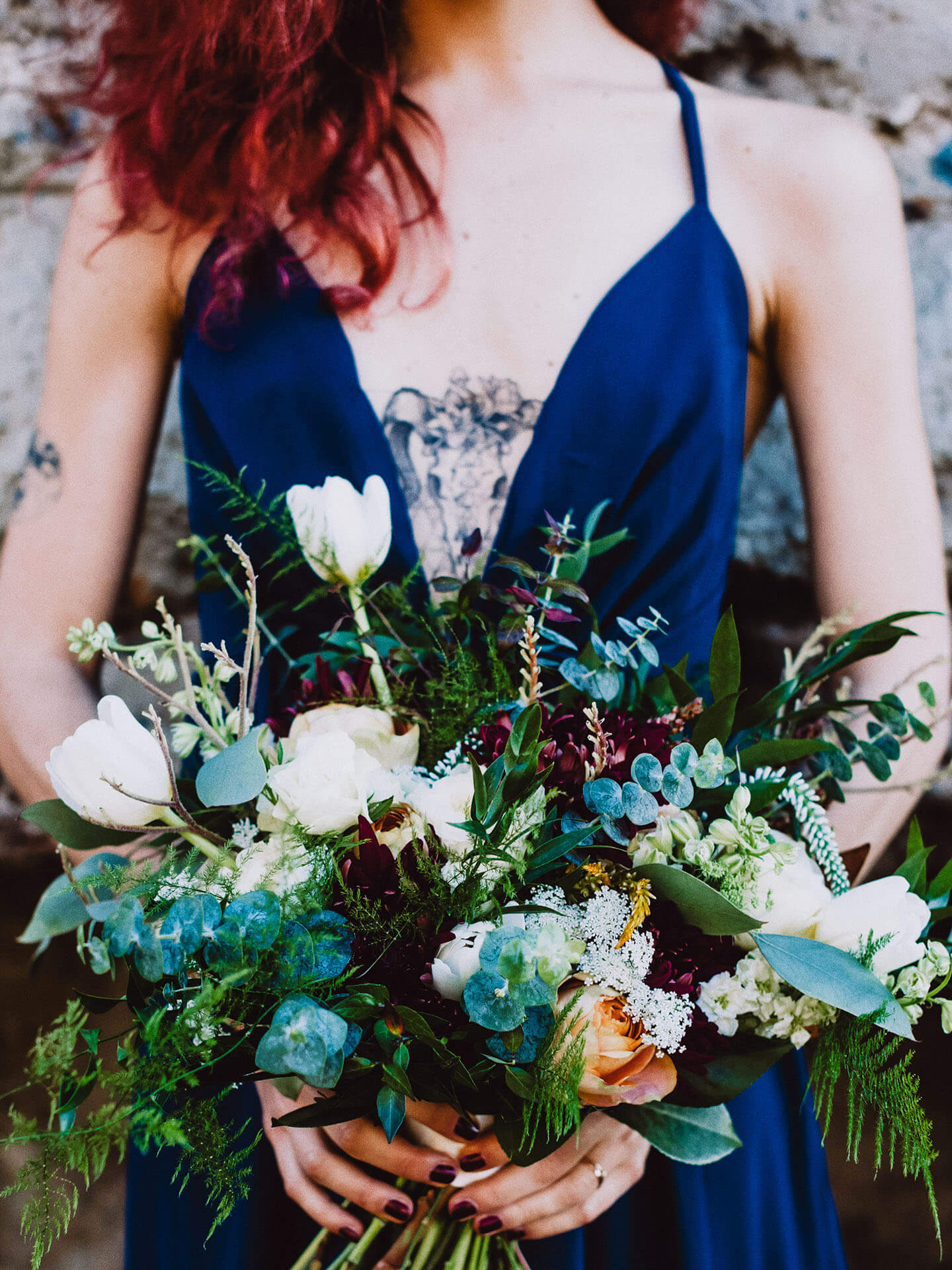 DRESS
Let's be honest girls, we all want a stunning dress for our wedding, don't we? It can be a classic Vera Wang, a sexy Galia Lahav, a lacey Grace Loves Lace, a bohemian Rue De Seine or a fairy Claire Pettibone. But the truth is that when you have a little budget and no time – to look for a used one and make it tailored to perfectly fit your figure – you have to think different.
My first discovery was that white dresses, especially if supposed to be for a wedding, are more expensive. So, my first rule, if you're comfortable with the idea of wearing a colored dress, go for it! My first choice was Reformation. They have stunning dresses, amazing colors, and the service is great – those boxes, with the dress perfectly folded in a dress bag, make the whole purchase experience so luxury – but I realized after the second order that it's not the best brand for petite girls. The dresses were so long, not only the skirt but the whole proportion and even the sleeves. It would have been too much tailoring. And it would have exceeded the budget. I started looking somewhere else. And I ended up to Lulus.
I already knew the website since I bought a couple of vegan shoes from them last summer, but I hadn't browsed the clothes section yet. They have a ton of wonderful long dresses. And a ton of reviews for almost every item! So I ordered a bunch of dresses and I found the perfect one. I only had to change the size because I wanted to be a bit more comfortable and I simply had to bring it to a tailor to have the hem shortened – only in the front to leave a little train on the back. I felt so well in my dress, so much myself.
Lorenzo wore jeans and a white shirt, a blue jacket and a blue bow tie, items he purchased last year for a friend's wedding. The cost for him was then zero.
Cost: $92.45 + tailor $35 = $127.45
ACCESSORIES
Since it was November I needed something to keep warm. I bought a black fake leather jacket from Zara that I wanted anyway – but I forgot to wear it during the shooting, ahem – and a big plaid scarf from Anthropologie, that was a bit more expensive than my budget, but I wear it almost every day now. As jewelry, I decided to buy an ear cuff; I found the perfect one made by an Israelian artist who owns a little boutique in the old city of Tel Aviv. I don't know if I'll ever be able to wear it again because it's so painful to my ear – the ear cuff itself is totally ok, but my ear apparently has a weird shape and doesn't make ear cuffs stay in place unless I close them really much – but I think it looked perfect with the whole style. As for shoes, I knew I wanted to be comfortable since we were going to have the shooting in the park and on the beach, so I bought a pair of black Converse chuck II high top which was on sale and I'm wearing every fu**ing day now. Of course, you can use items you already own, but I missed them all – moving from Italy to Usa means leaving a lot of stuff.
Cost: jacket $53 + scarf around $74  + ear cuff $78.85 + shoes $59 = $264.85
RINGS
So, funny story made short: the engagement ring Lorenzo bought was not the one. What do I mean? He looked on Etsy for a "diamond engagement ring", but to an inexpert of the field as he is, like many other men, the description can be cryptic. So he ended up with a Herkimer quartz mounted on a super wide rose gold filled ring. The ring is beautiful, but not bright as a real diamond of course, and when we brought it to a jeweler to have it resized, we had the bad news: they can't work with such material. So we ordered a new engagement ring for me together from the same store of my wedding band and I now wear the "original" on my index finger when I go out – and I love it so much, even if I always get stuck in my hair/sweater/scarf with it.
Lorenzo is not the kind of guy who wears jewelry – he's only passionate about watches – therefore he was really picky with his wedding band. He finally decided to buy a wonderful one made of wood. The photos on the website were beautiful and the ring looked perfect for him. The package arrived while he was in Tel Aviv for work – we eloped after 4 days of his return – so I opened it. And I knew he wouldn't have been happy. The ring looked totally different: shiny in place of matte, the color was completely varied. He decided to return it – he received the money back after 1 month and a half, worst customer service ever – and he finally bought a 10k white gold 4mm brushed band.
Cost: my set $298.50 + Lorenzo's band $115 = $413.5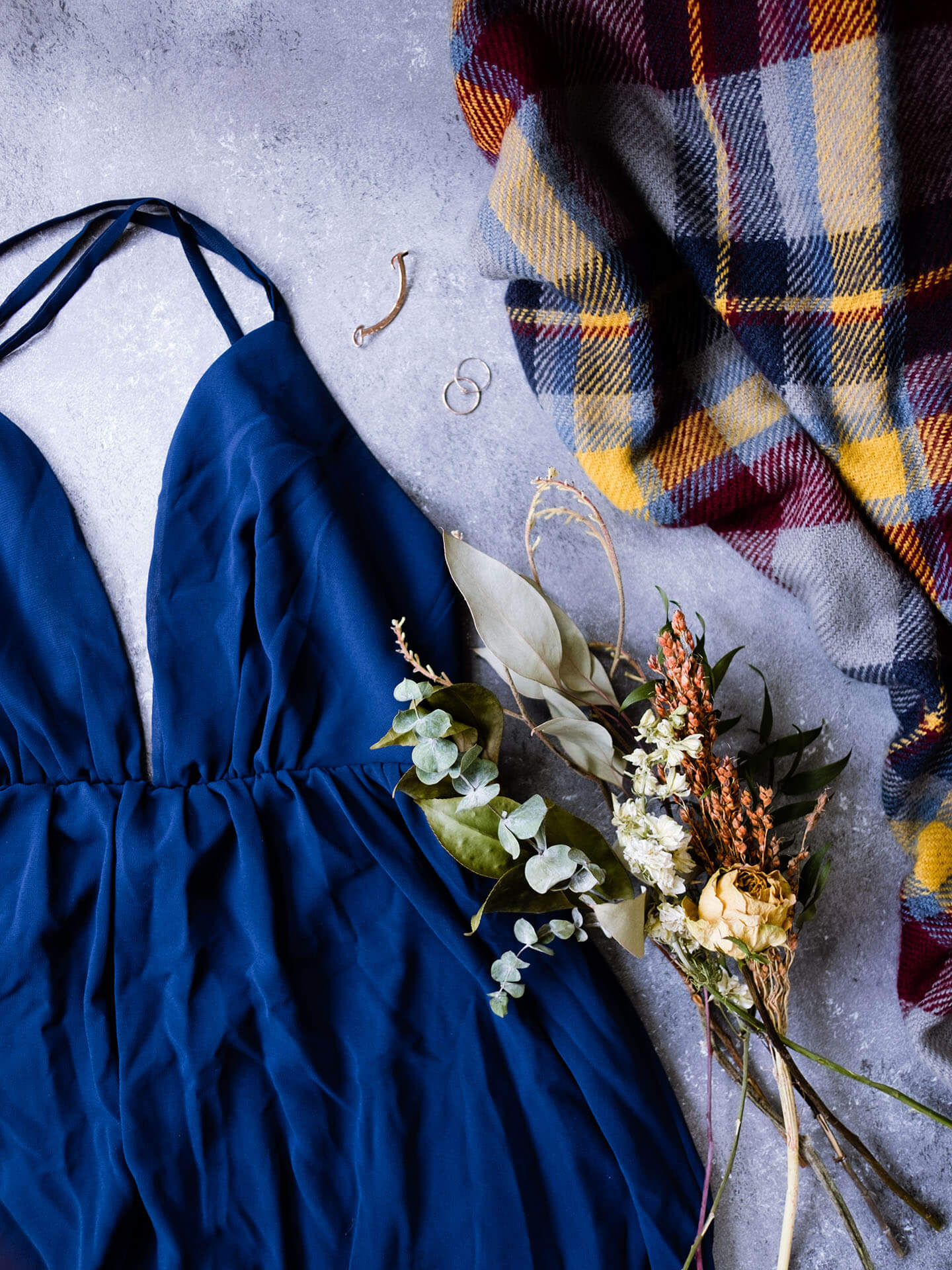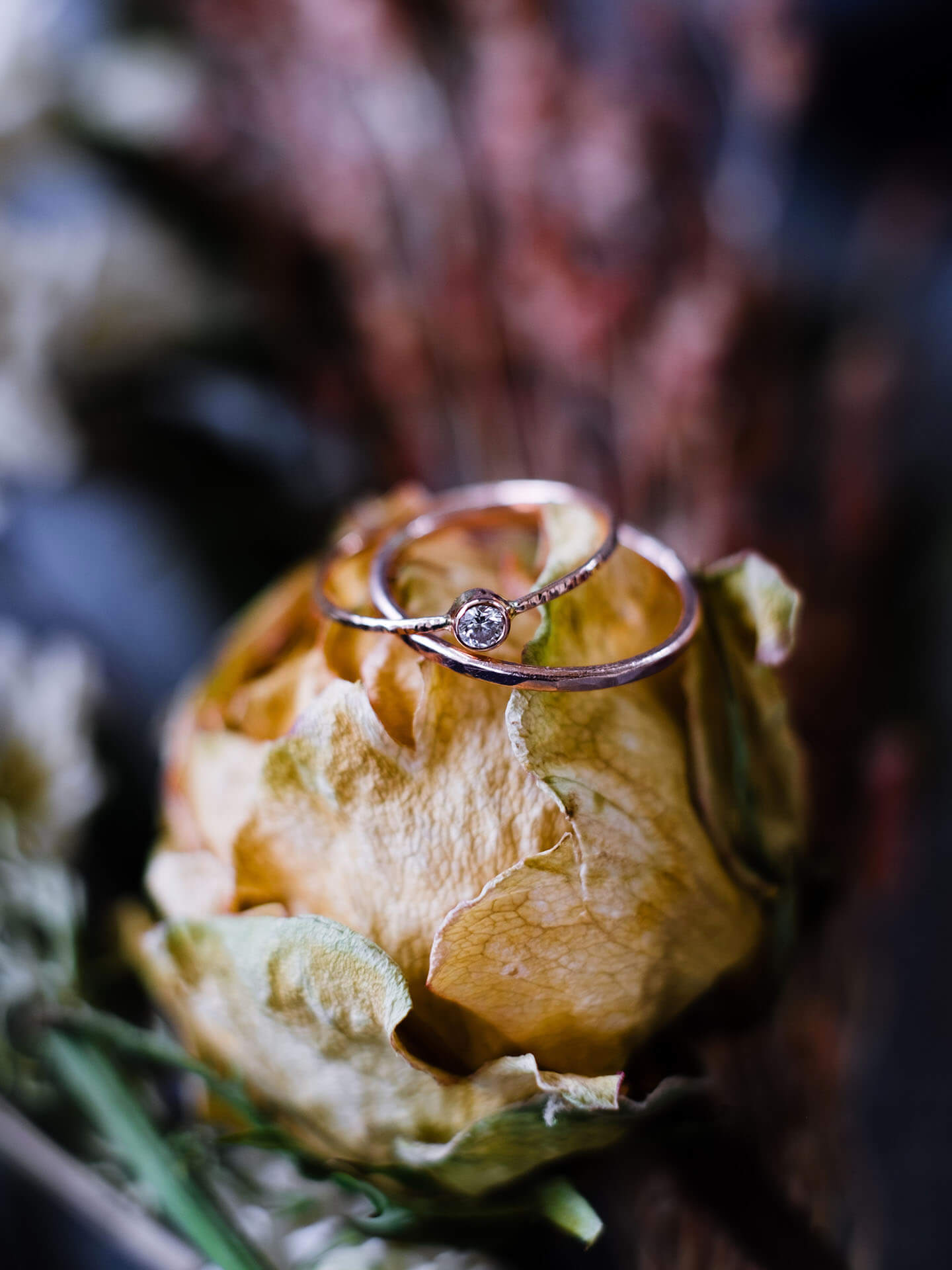 HAIR AND MAKEUP
My makeup routine has always been pretty basic and my haircare pretty terrible. I started taking care of my body only right before the wedding and my knowledge – of which products are good for me and which aren't – is much better now. So yes, my hair kind of sucked that day, but if you want a foggy and moody shooting, that's what you obtain. Anyway, I strongly suggest doing your own hair that day: look for products that help you obtain the result you're looking for. Try the style more than once during the previous weeks so you'll be sure to rock that day!
For the makeup, I chose to go to Mac and have a lesson. With $90 they can teach you a makeup that you can repeat for your wedding and you also obtain a 20% discount on the purchases, you'll make in the following 30 days – not bad if you're running out of some products or you need some specific eyeshadows and a lipstick for that occasion. I bought a lot of things that I'm still using and I needed anyway – my makeup bag was really a disaster – but if you already have some good basics, you may end up spending a little, and if you're already pretty comfortable with makeup, you can find a ton of youtube videos of bridal makeup.
Cost: $0-150 (if you need to follow a lesson or/and purchase a lot of products, but they'll last for a lot after the wedding)
PHOTOGRAPHER
I'm the luckiest bride ever, I know. But it's not my fault if my dearest friend here is a wedding photographer and offered us the shooting as a wedding gift! Anyway, I can give you some suggestions. If you want a really good photographer shooting your elopement you'll end up spending a starting rate of $2000. It's not really ideal for those who have a tiny budget.
In my opinion, the best option is to renounce to having the ceremony shot and invest the money in an engagement/couple style shooting session. Choose a place you love, a time that's perfect for the photos – late afternoon and sunset are the best – and ask a photographer you really love and works in the area to have a 1-2 hour shooting after the ceremony. The rate should be around $500-800. If you have a friend who's really good with the camera and you have total confidence in him/her, well, try and ask, he/she may be happy to shoot your wedding!
Ps: if you're getting married at the City Hall in San Francisco in 2017, I can come and shoot your wedding for free – seriously, I need to practice and a free photographer is better than nothing, right?
Cost: $0-800
I hope this post can be helpful and why not inspiring!