I think I've never worked on a post so quickly in the last months. And I totally feel it. Omg. I had something scheduled for this week, but I've been pretty busy lately – hi, the third turn of guests in 2 months – so my plans completely fu**ed off. So this recipe has two purposes: being posted here and serving as ready dinner for one of the next days, when we'll be back late from Big Sur – today – or from a long promenade in town – Ocean beach + Sutro Baths + Presidio. I'll be short since the time is running too fast and I still have to make too many things.
I worked in a totally different way shooting this post. My style is usually more minimalistic, but since I don't have a decent background, I have to use more props to cover that reflective baking sheet. But being honest, I kind of like it!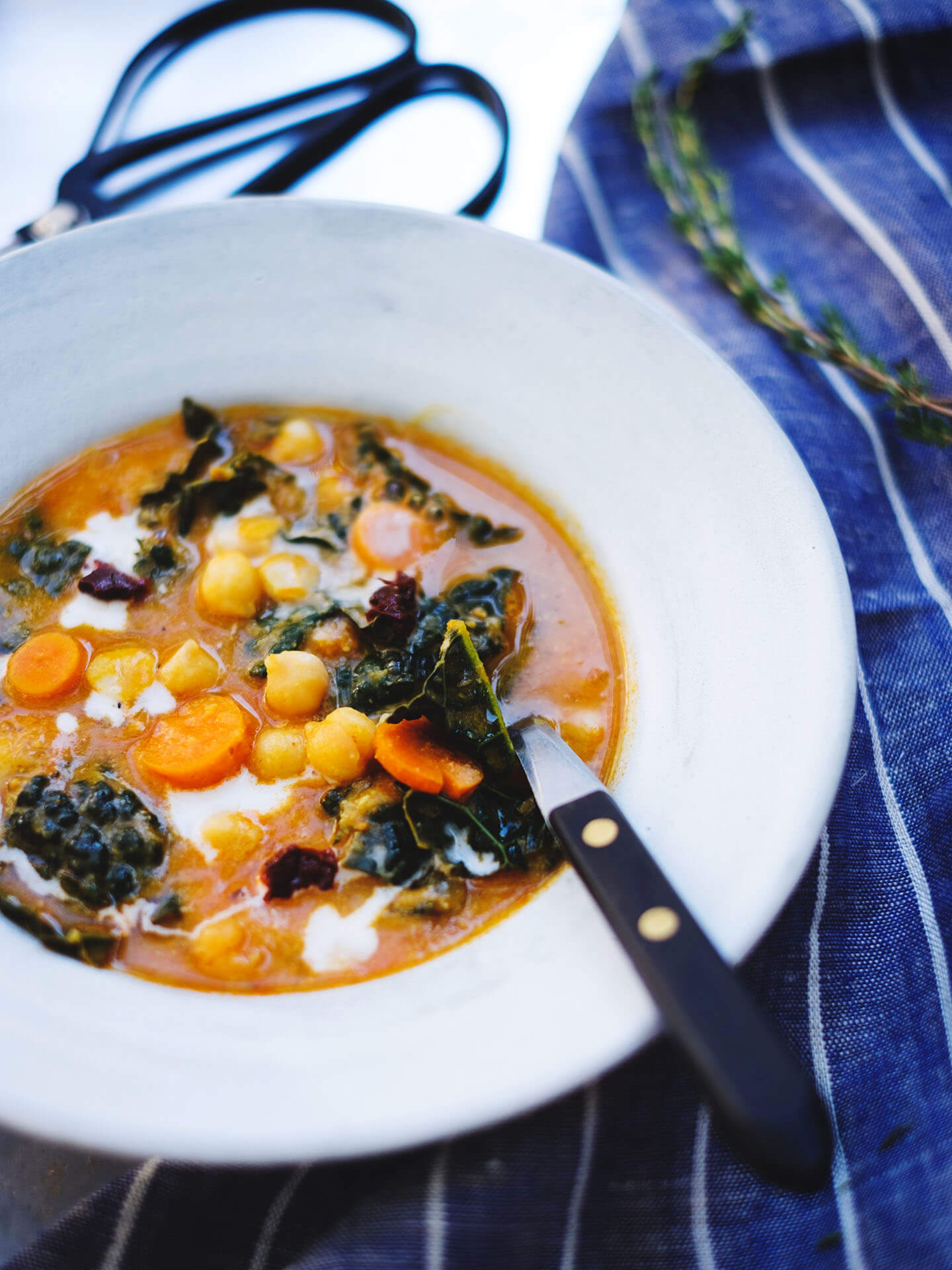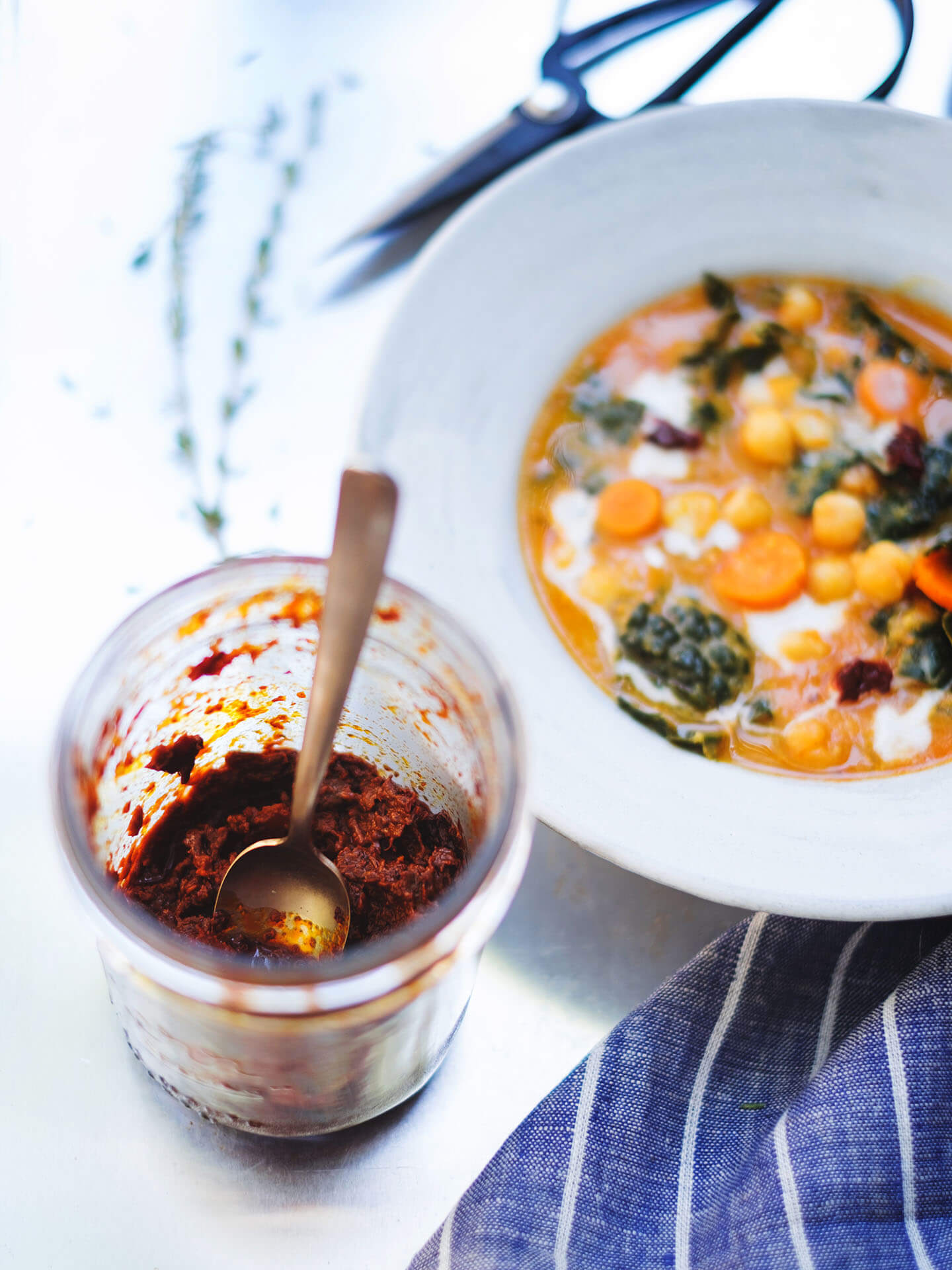 THE RECIPE
I totally suggest to prepare it in this amount, since it's kind of demanding and it freezes pretty well.
Slightly adapted from Gjelina.
[ for 4-6 servings ]
for the chickpeas 
1 lb (455 g) dried chickpeas/garbanzo
1/2 yellow onion – use 1 if little – in big chunks
1 carrot, in big chunks
2 garlic cloves, smashed
1 bay leaf
Himalayan salt
Soak the chickpeas for 12-24 hours.
Wash and drain well. Add them into a big pot with all other ingredients, cover with water and bring to boil. Let simmer for 45 minutes and let the chickpeas cool in their water. Drain and remove all the unwanted ingredients – carrots, onion, garlic and bay leaf.
for the soup
1/2 tsp cumin seeds
1 tsp coriander seeds
1 tsp fennel seeds
1/4 cup extra virgin olive oil
3-4 carrots, sliced – in half moon if broad
1/2 yellow onion – use 1 if little – roughly chopped
3 garlic cloves, minced
Himalayan salt
black pepper
1 tsp smoked paprika
1/4 tsp turmeric
3 fresh thyme springs
1 bay leaf
2 tbsp tomato paste
1 cup dry white wine – I used a cheap Pinot grigio 
4 cups vegetable broth
1 bunch Tuscan/dino/black kale – about 225 g stemmed and chopped
some lite coconut milk
some harissa
In a little skillet toast cumin, coriander and fennel seeds. Let cool and grind them.
Heat the oil in the same big pot – wiped – where you cook the chickpeas in, add onion, carrots and garlic, sprinkle with a pinch of salt and a good pinch of pepper. Let them cook for about 5 minutes or until the onion looks translucent.
Add smoked paprika, turmeric, thyme and bay leaf to the ground spices and add this mixture into the pot. Let sauté for 3-5 minutes. Add the tomato paste and stir to combine. After a few minutes add the wine, bring to boil and let the sauce reduce until you can't more smell the alcohol. Add the vegetable broth and stir.
Blend 1 cup of the soup with 2 cups of the boiled chickpeas until smooth and add this paste to the pot, stirring to combine. Add the chopped kale and let the soup cook until it's tender. Let cool for 10 minutes.
Serve topping with some coconut milk and some harissa "drops" if appreciated.