When Arianna sent me the diet – if you don't know anything about that, you can read this and this post – I almost immediately realized that I would have been able to make my probably favorite pasta recipe ever, or at least a very decent version. I have to admit that I hadn't had a real carbonara in ages. I started avoiding that kind of dishes as a teenager when I started gaining a little too much weight to feel comfortable in ballet class. At the age of 17, I started completely avoiding pasta, pizza, and bread; at the age of 20 I was suffering from anorexia and I remember that time I ate 60 g of pasta I found in the apartment I was living in Florence – where I was following a ballet program which I got a scholarship for – and I started telling about that to everybody with a big smile on my face (because I knew I was sick and it was the first time I had won against that bi*ch), but let's not talk about adding eggs and cheese to it; a little later I became vegan, so again, no carbonara for me.
With my new diet, I can have a couple of eggs, 30 g of aged cheese or some meat or fish at lunch, but why not mix them? One egg and 15 g of pecorino romano make an amazing carbonara! This dish would require another animal protein source in form of pancetta, but I use something different: cremini mushrooms, with a good dose of liquid smoke. The result is AMAZING.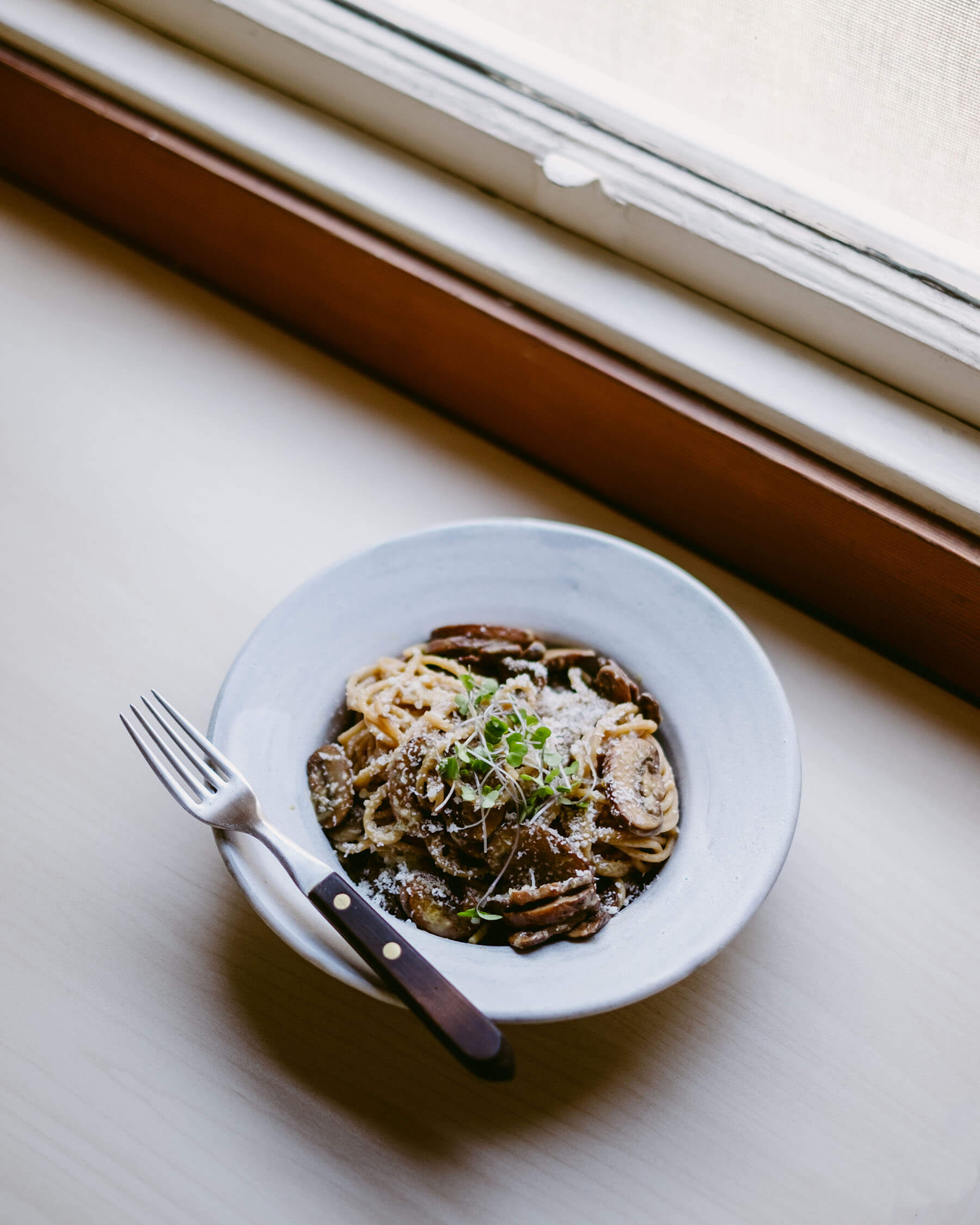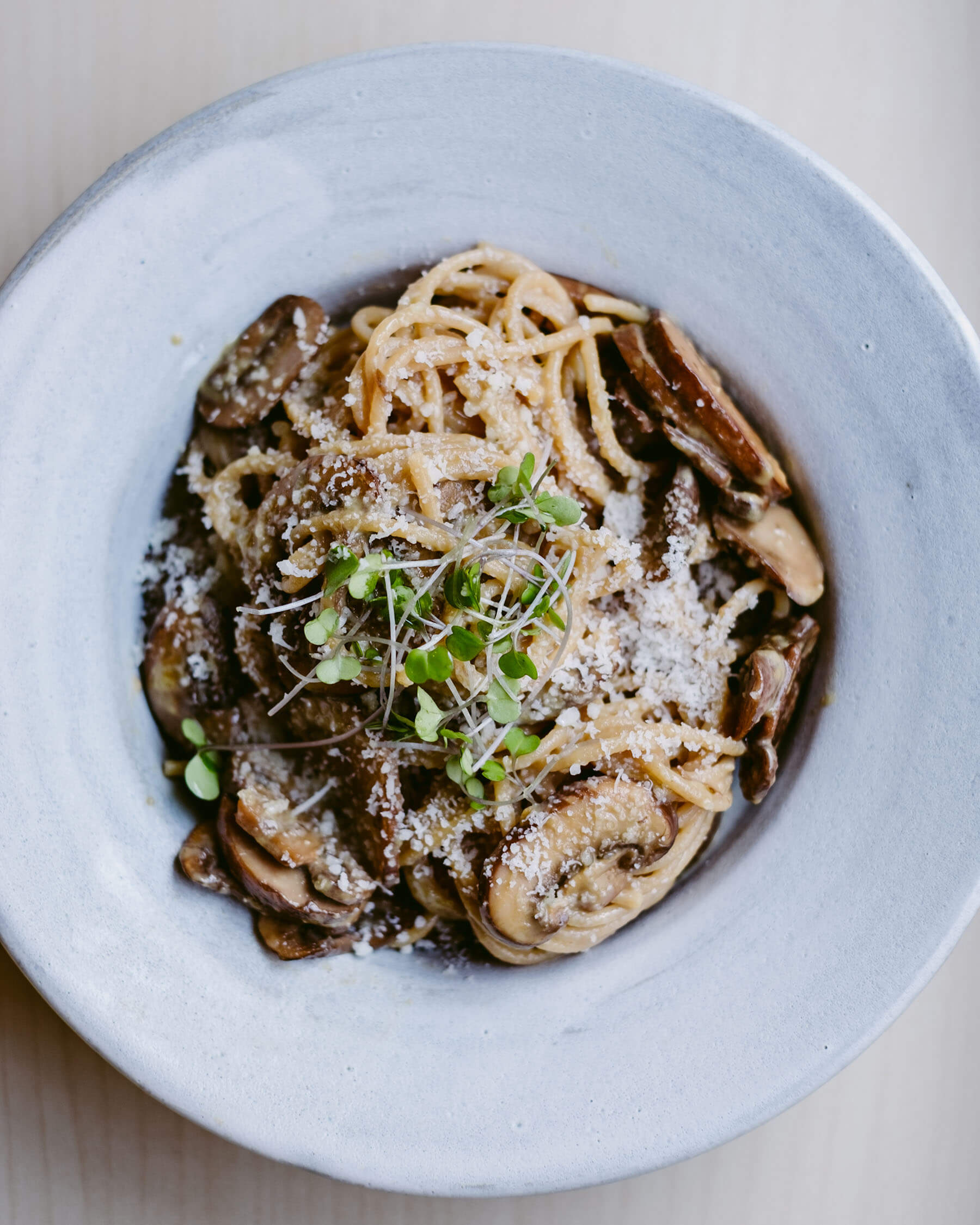 THE RECIPE
I use avocado oil to sauté since olive oil loses its health quality when heated. I add one tbsp of evoo on top before serving – we say "a crudo" – as a healthy source of fat and vitamin E, recommended for fertility. The ratio mushrooms/pasta depends on your liking or your diet (I eat 2oz of pasta and 8oz of mushrooms…it's basically a mushroom carbonara with some pasta). If you want to eat more than 100 g of pasta, I'd say to add another egg (or just a yolk) and some more pecorino.
1 tbsp of avocado oil
5-8 oz cremini mushrooms (60-85g)
1 pinch salt
1-2 tbsp liquid smoke
2-3 oz whole wheat spaghetti (60-85)
1 egg
15 g pecorino romano
Heat the oil in a wok or a pan and put a pot of water on the flame.
Add the sliced mushrooms to the wok, add a pinch of salt and sauté them for a few minutes. Add the liquid smoke and go on cooking on low-medium flame until there's no more liquid.
In the meantime, add salt to the water, drop the spaghetti and let them cook for 9 minutes or as indicated on the packaging. While the pasta is cooking, whisk the egg with almost all the grated pecorino in a bowl.
One minute before the end of the cooking time, reheat the mushrooms. Drain the spaghetti very well, add them to the wok and switch off the flame. Pour the egg mixture and stir quickly until the sauce becomes creamy and thick. If it doesn't, switch on the flame on low again and go on stirring.
Serve into a bowl and top with the leftover pecorino and enjoy hot!