That's what happens when I find berries on sale at Whole Foods. I saw these beautiful raspberries and blackberries and the first idea was "L. will be happy, he loves berries", but after 2 steps I started thinking "…or I could make something with them". Arrived at home I added some apples to the fruit basket and I noticed a really ripe pear (aka = ready to kill itself if not used asap). The idea of a pear + berries dessert jumped to my mind. But I wasn't really in the mood of "patisserie", following rules, strict measurements and perfect balance of ingredients. I wanted to improvise. No stress. Just grab some ingredients from my pantry and let my heart follow its wishes.
I started picking spices and sweeteners and putting them on my counter. I took my bonsai scissors, I went in the walkway of my cottage where a big rosemary bush lies – it's higher than me, even if it's not so strange being only 5'2″ – and I cut two little springs. And step by step the dessert-for-breakfast started taking shape. A pinch of that, a tablespoon of this. And then L. came home before his usual and he saw the crisp ready for the oven. "Hai fatto la sbrisolona?!" ("Have you done the sbrisolona?!" = a typical crumbly cake of our native region, usually soaked with grappa by the adults and enjoyed with the hands by the kids). No, honey, it's not sbrisolona. "Ah che buona la sbrisolona" ("Oh, sbrisolona is so delicious"). Perfect. Well done Valentina. You never satisfy your boyfriend cravings and even when you do something he likes "Can I pour some maple syrup on this?".
Back to my crisp. After 30 minutes in the oven is going to be bubbling like hell. Like a wonderful and scented and dark lava puddle. The topping is going to be still soft, like cookies, that become crispy only when completely cooled. Take it out of the oven, it'll be perfect. It wasn't even my intention to share it on the blog, I just took some shots for Instagram, but it tastes so good, that it was a shame not to publish it. So let's go in the kitchen and celebrate fall with me and this easy and delicious crisp!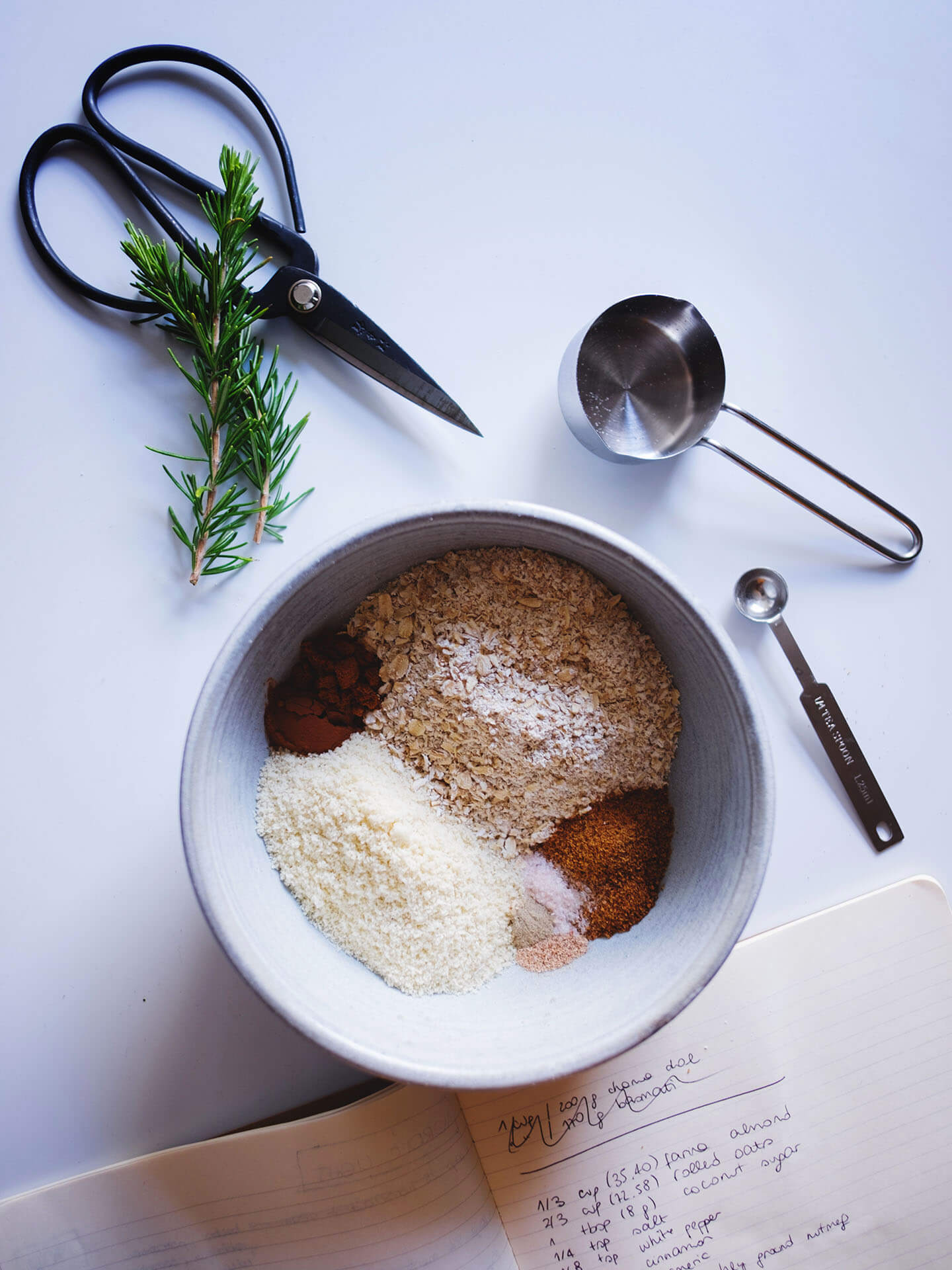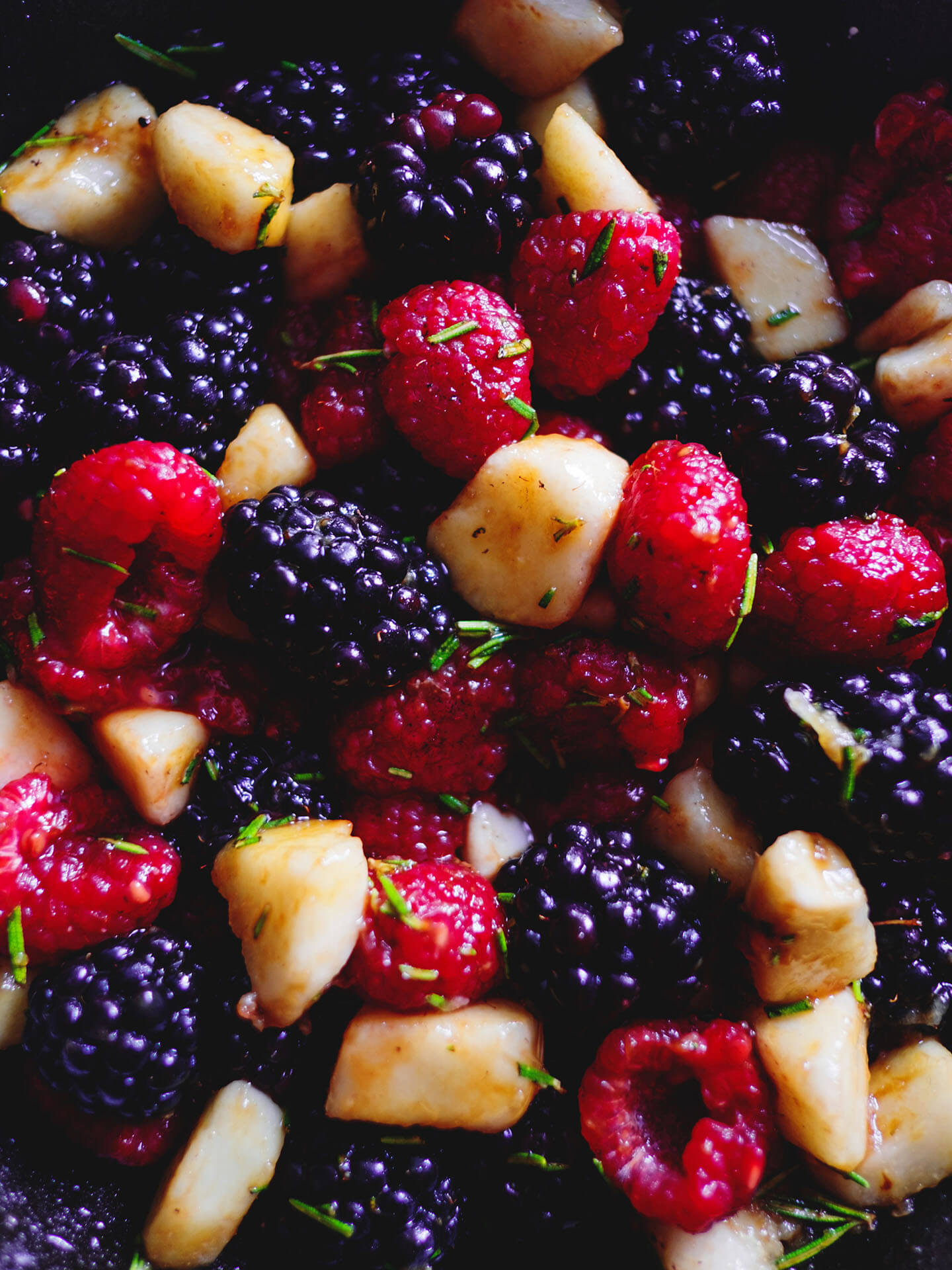 THE RECIPE
The smell and the bubbling fruit will make you craving a piece of crisp immediately after it's out of the oven, but the crisp won't be crunchy yet. It's up to you: eat it while hot and with a tender topping, or let it cool completely and enjoy the amazing crumbly texture.
To make it vegan use firm coconut oil instead of ghee ; to make it gluten-free use gluten-free certified rolled oat or buckwheat flakes.
[ for 6 servings | a 8″ pan ]
for the crisp
2/3 cup (75 g) rolled oats
1/3 cup (35 g) almond meal
1 tbsp (8 g) coconut sugar
1/4 tsp Himalayan salt
1 tsp cinnamon
1/2 tsp turmeric
1/8 tsp white pepper
1 fat pinch freshly ground nutmeg
1/3 cup (60 g) ghee
Preheat oven to 350°F / 175°C.
Quickly process rolled oats in a food processor or a blender to obtain a mixture of chopped flakes and rough flour. Add it into a mixing bowl.
In the same bowl add almond meal, sugar, salt, cinnamon, turmeric, white pepper and nutmeg and stir. Add ghee finely chopped and combine with your fingertips until a crumbly dought is obtained. Set aside.
for the fruit
1 ripe pear, cored, peeled, and chopped (160 g)
1 box raspberries (170 g)
1 box blackberries (170 g) 
1 tbsp (15 ml) molasses
1 tbsp (15 ml) coconut nectar
2 little rosemary springs
1 tbsp (7 g) arrowroot
1 tsp (5 ml) vanilla extract
In a cast-iron pan or a greased cake pan mix all the ingredients.
Spread the crumbles of dough on the fruit to completely cover the underneath layer. Bake for 30 minutes and let cool before eating if you want the topping being really crunchy. I served it for breakfast with some goat yogurt sprinkled with bee pollen.