I started writing this post last Thursday, when my mind was filled with quite sad and messy thoughts – about the future, about me, about these 2 months far away from him, etc. But then on Friday, I got the most wonderful delivery a food blogger can receive. Handling my first cookbook is exciting beyond words. Seeing the outcome of months of work, printed on paper – and with my face on the cover! – makes me insane. Browsing its pages, watching the photos I used to see on a screen, the photos I shot and all the recipes I did in the last months, is so weird guys. I'm full of excitement. So the book delivery wiped out all the bad thoughts and filled my soul with pure happiness!
When the courier buzzed I was shooting this tart, the first dessert I baked in weeks, following no recipe at all and using my mum's oven, of which I really don't remember the behavior. At the same time L. was waking up, so I told him to FaceTime me to open the box and see the first book together. It was simply amazing sharing this moment with him, even at 6200 miles / 10000 km of distance. After that, I totally forgot the tart. The next day I sliced it, shot, and finally tasted it. Hurray, it's really good!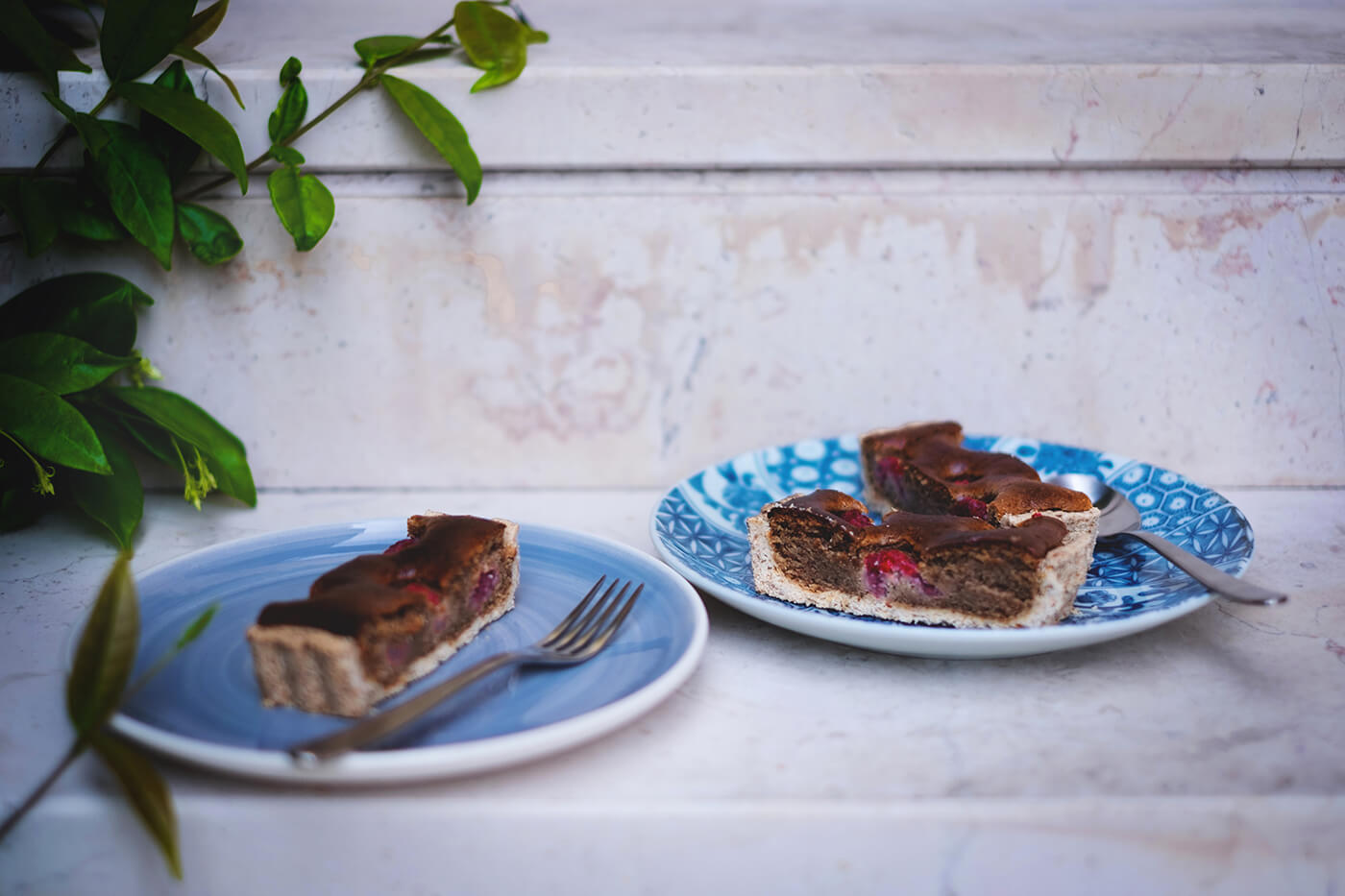 THE RECIPE
The frangipane filling is not so sweet, but I prefer maintaining the sugar intake rather low. If you have a picky sweet-tooth, increase a bit its amount.
[8-10 servings]
for the crust
1 1/2 cup / 165 g rolled oats (gluten-free if needed)
1/2 cup / 75 g brown rice flour
2 tbsp / 18 g coconut sugar
1 pinch himalayan salt
1/3 cup / 60 g coconut oil, firm
In a high-speed blender, grind rolled oats to flour, put it in a bowl with all other ingredients and mix until a smooth smooth dough is obtained. Roll and use it to cover the bottom and the sides of a tart pan – mine was rectangular, 13.5" length – and set aside.
Preheat oven to 350°F / 180°C.
for the filling
1 1/2 cup / 195 g almonds
1/4 cup / 30 g arrowroot 
1/2 cup / 65 g coconut sugar
1 tsp baking powder 
1 organic lemon
1 tsp vanilla (extract or powder)
2 tbsp / 30 ml extra virgin olive oil
2/3 cup / 160 g soy or coconut yogurt
125 g raspberries
In a high-speed blender or a food processor add almonds, arrowroot, coconut sugar and baking powder and process until a rough flour is obtained. Pour the mixture into a mixing bowl, add grated lemon zest, vanilla, oil, and yogurt and stir with a whip. Pour the batter on the crust, plunge raspberries into it and bake for 30-40 minutes, checking color and smell of your tart – I discovered my mum's oven really burns everything, so I have to be extra careful. The tart is ready when the crust starts to golden and the surface of the filling is no softer.
For an extra treat, serve warm with some ice-cream!