I love DIY projects, especially when it concerns pantry and fridge staples. I'd love to brew kombucha and feed a gluten-free sourdough, but since my life is a bit I-don't-know-where-we're-going-to-live-next, I prefer waiting for a more easygoing period for such demanding ingredients. Meanwhile, I enjoy making my own jungle peanut butter, preserved lemons, harissa – ingredients I use in some recipes in my cookbook – and black tahini. Since I love curries but I find the store-bought pastes too hot for me, I decided to make my own jar to be used as a base for Thai curries or simply to make a sauce to top a grain + veggies bowl.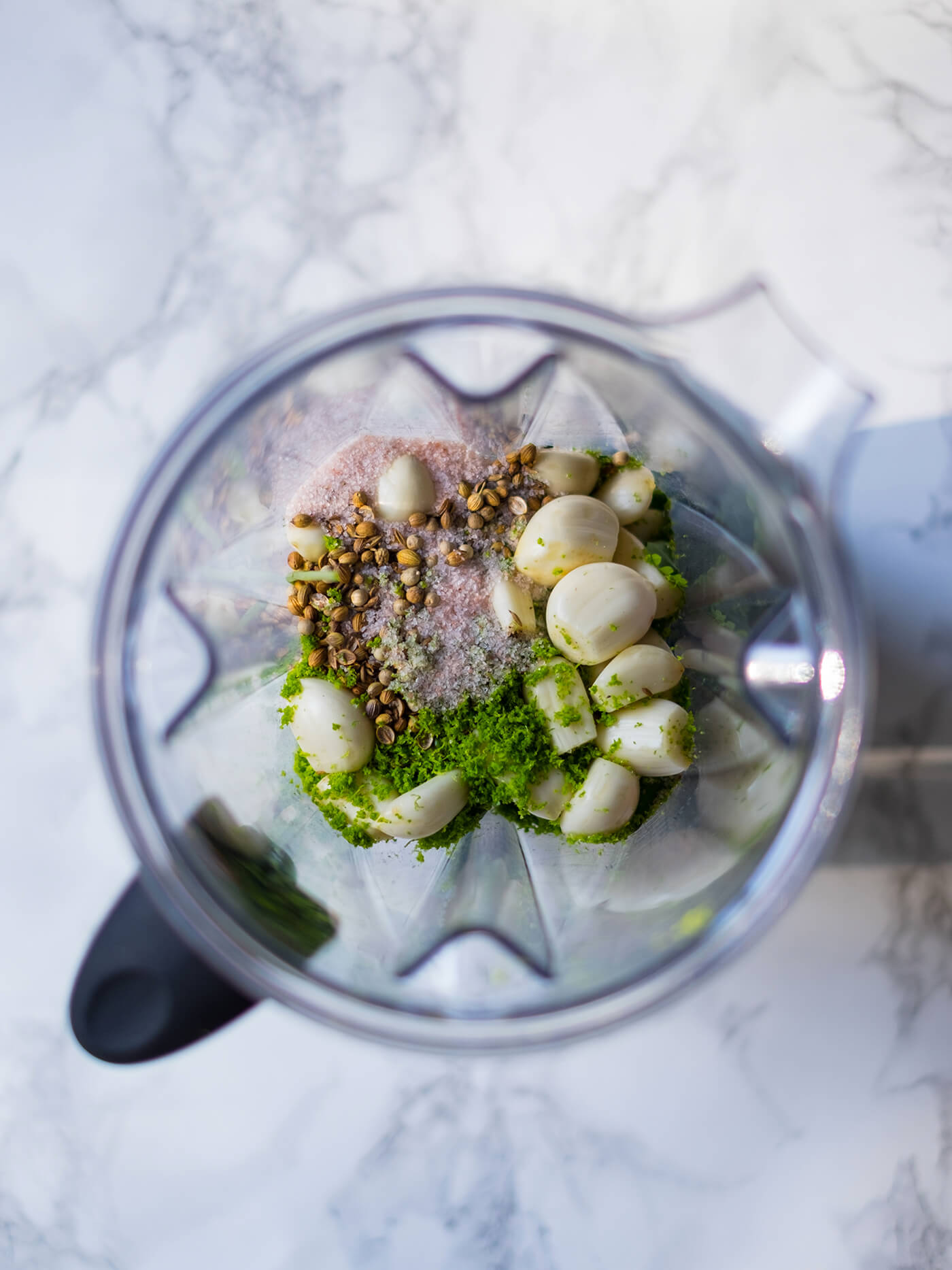 THE RECIPE
I decided to adapt the recipes I found on the web to ingredients are easier to find – considering my Italian readers – e.g. ginger for galangal, limes for kaffir lime leaves, cilantro for coriander root.
[for 1 16oz jar]
for the green curry paste 
2 tbsp coriander seeds
1 tbsp cumin seeds
1 tbsp white peppercorns
6-10 green chiles, deseeded 
3-4 shallots
1 bunch cilantro, leaves, and stems
1/4 cup peeled and chopped fresh ginger root
3 tbsp peeled and chopped fresh turmeric root
2 stalk lemongrass, the white part chopped
zest of 3 limes
2 garlic heads, peeled cloves
1 tsp himalayan salt
In a dry skillet toast lightly coriander, cumin, and peppercorn and let them cool completely.
Add all the ingredients in a high-speed blender or a food processor and reduce in a paste. Reserve in a jar in the fridge.
Use it : for curries heat 1 tbsp of coconut oil in a pan, add some teaspoons of paste, let it sizzle, add your veggies – and tofu, if you like it – and some coconut milk after few minutes ; to flavor some simple grain + veggies bowl, stir 1 or more teaspoon in some coconut milk or cream and pour it over the other ingredients before serving.