It's been less than a week since we left Kauai and here it is: my travel guide! Lorenzo just started working on the hundreds of videos he took, I hope I'll be able to share the final result before the end of the year. Anyway, I'm pretty sure these pics are more than enough to make you fall in love with the island!
Let's start by mentioning our Airbnb, which was located in Kapaa. It was the perfect location since the main road draws a big C along the perimeter of the island (the west coast is partially occupied by a military base) and Kapaa is kinda at the middle point of the two extremities, so it makes easy and convenient to drive in both directions. The managers at the apartment were super nice, they even rented us a car at a really good price and were always available for any question or doubt.
If you're not aware, Kauai was hit by a hurricane in 1992 and a big chicken farm was blown away. Hens and roosters live wild and free since then, so no need to set your iPhone alarm, they'll wake you at dawn singing on your doorstep!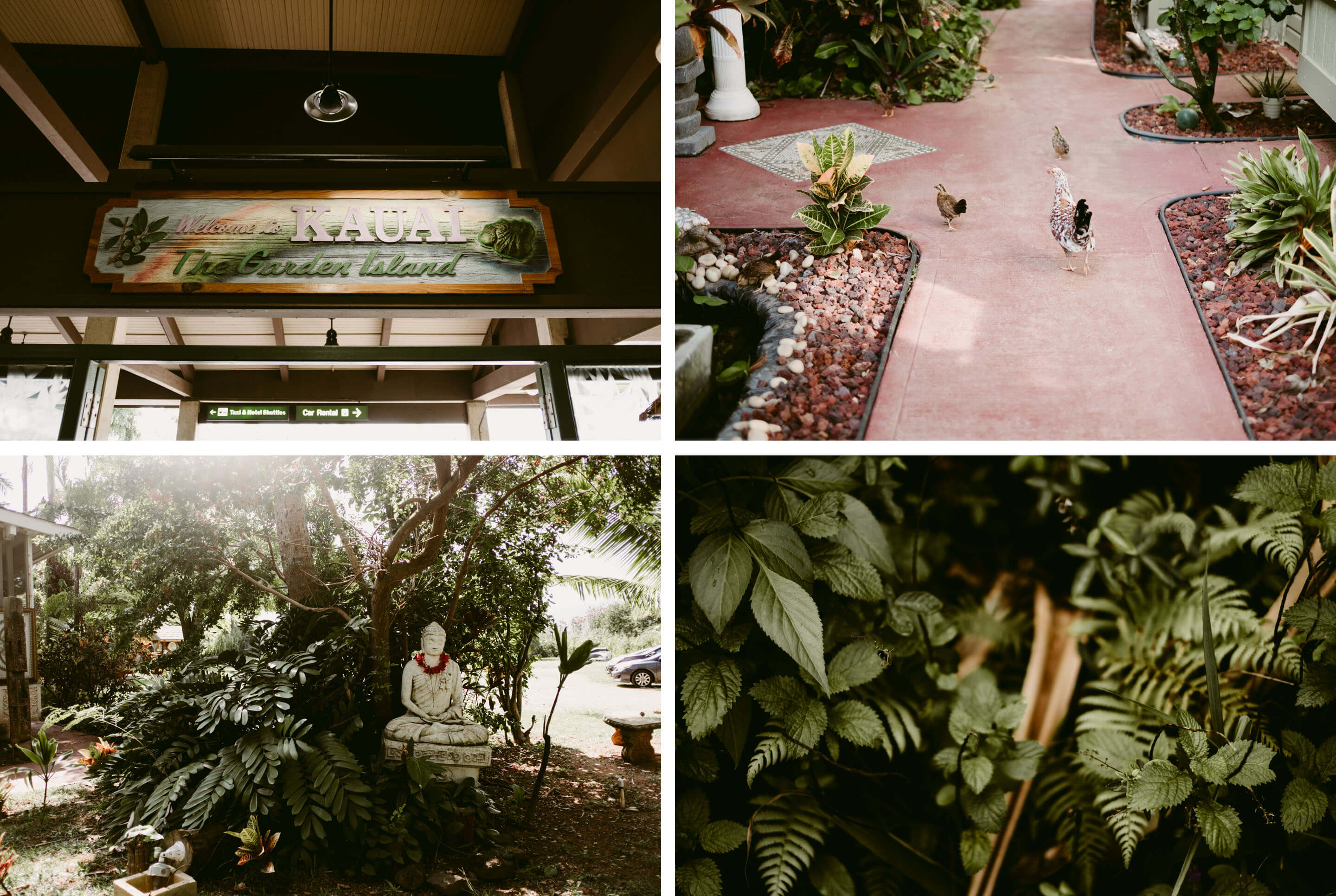 FOOD
Sam's Ocean View
4-1546 Kuhio HWY, Kapaa, HI – 96746
I had #1 and 3# on my top foods in Kauai in this restaurant. The first time I got the Wild Boar Sausage (gf) with Warm Roasted Potato Salad, Pickles & Grainy Mustard. I usually hate pickled cucumber but those one were so amazing, not vinegary and with a delicate aroma that I fell in love with. The dish was served in a hot cast-iron pan, such a pleasure after 1 day and a half of rain!
The second time – the last dinner on the island – it was really hard to pick an item from the menu, I didn't want to eat fish since I already had some for lunch, but I ended up ordering the Ahi Poke Nachos with Avocado, Wasabi & Sriracha Aioli and Wonton Chips. Thank god I picked that because it probably was the most delicious thing I have ever eaten in my whole life! The raw fish was the freshest and the tastiest, the sauces and ingredients were perfectly balanced, creating a perfect harmony of flavors and textures. Absolutely recommended! That last night I also had the dessert – and then I paid it, my stomach didn't like the amount of food paired with the promenade back home with the fresh breeze. I picked the (warm) Maui Gold Pineapple Upside Down Cake with Lapperts Coconut Sorbet. Just perfect. And the view from the terrace on the beach under the moonlight was the cherry on top of the evening.
Verde
4-1101 Kuhio Hwy, A-3, Kapa'a, HI 96746
We had this place at 2 minutes by walk from our Airbnb so we went there twice, the first time to take-away our first dinner of our vacation and the second to enjoy the meal right there. I had two variations of the same dish: the Crispy Taco Salad. The first time I had the naked (with no taco shell) with the grass-fed Makaweli Kaua'i beef* while the second I got it with shell and fish.
Both Lorenzo and I loved this place! Their motto is EAT CLEAN (100% grass-fed Kaua'i beef, antibiotic & hormone-free chicken & pork, fresh, local produce, Vegetarian & Gluten-Free Available) and it's not the typical heavy Mexican food you can usually find in the mainland – I usually despise it here in San Francisco.
*I've always seen only grass-fed and local beef on every restaurant's menu and it's easy to see huge pastures where these beautiful animals enjoy the thriving nature of the island.
Paco's Tacos
4505 Puolo Rd, Hanapepe, HI 96716
This was #2 in my top food! We ended up at this food truck almost by mistake. We were looking for another place, parked the car, saw this good-looking place with an over-50 couple having a late lunch – it was around 3 pm – and the male customer realized we were trying to decide if it was worth to stop or go on and find the place we were looking for, when he shouted "It's good! We always come here". And he was definitely right! Lorenzo loved his burrito and I had the best fish taco salad I'll ever eat. We went back the last day to take-away the same taco salad for me and something different for him and have lunch on the beach since we didn't have the time in the days before. I really recommend having lunch sitting on the sand under a palm tree if you can!
Wailua Shave Ice
4-1306 Kuhio Hwy, Kapaa, HI 96746
I read about this shave ice in every "the Best Food in Kauai" web article and post, but I wasn't impressed. I mean, shaved ice?
Then I saw an incredible amount of people walking from the Wailua truck with these amazing bowls and I decided to try it. OMG. Lorenzo tried mine and immediately went back buying one for himself. It was that good! I had the Coconut x Coconut x Coconut and Lorenzo the Almond Joy, but I strongly recommend to add some Haupia Foam to anyone you'll choose.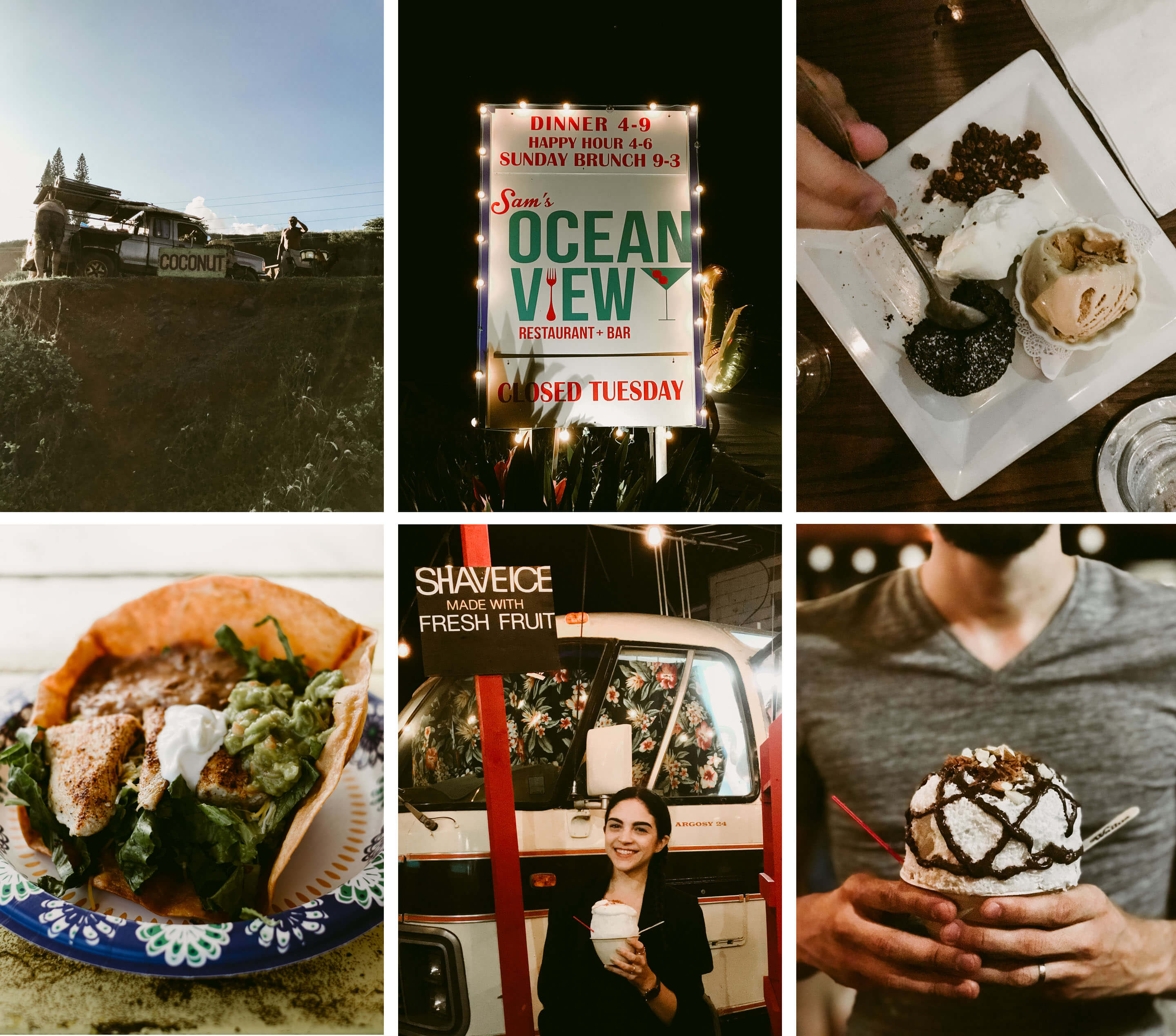 Worth mentioning: Pono Market
4-1300 Kuhio Hwy, Kapaa, HI 96746
I bought my last lunch right before driving to the airport to fly back to the Bay Area. I had the #1 meal of my vacation the night before which was almost the same thing I was going to order here, but more traditional. I strongly suggest getting there when you have already learned enough about Hawaiian cuisine and terms because it's kinda difficult to understand what is what and the food wasn't even so identifiable due to the condensation on the glass. And also, try to avoid the crowd if possible, so you'll have the time to ask for some help to the servers! I bought some simple sesame poke, brown rice, seaweed salad and a little serving of poi (taro puree), which was really bland – I don't know if it's supposed to be like that. It's a good place if you want to try something really traditional, I've never seen poi anywhere on the island and poke is not easy to find as you thought (especially if you travel with a vegetarian whom can't be brought to a fish market for lunch!).
ACTIVITIES
Expensive? A lot, but it's 100% worth it. We picked this tour operator for 2 reasons: first, the amazing reviews and the longer tour (60 minutes instead of 50ish) and second, the opportunity to pick the DOORLESS helicopter!! We flew with a couple of guys and one of them did the same tour with another company and told me that the longer amount of time and the absence of doors made the experience way, way better. I took the best pic of the whole trip during the tour and we even saw a beautiful circular rainbow. Lorenzo, who hates heights and was sitting on the side of the helicopter (they decide who sits where for weight reasons, so I, the lighter one, was squeezed between him and the pilot) was quite scared but loved it anyway. If you suffer from car sickness, I strongly suggest bringing something to prevent it on the helicopter! They provide paper bags just in case, so that's fine, but I spent 30 minutes with terrible nausea – turbulence was really strong – that forced me to stop taking pics for a while.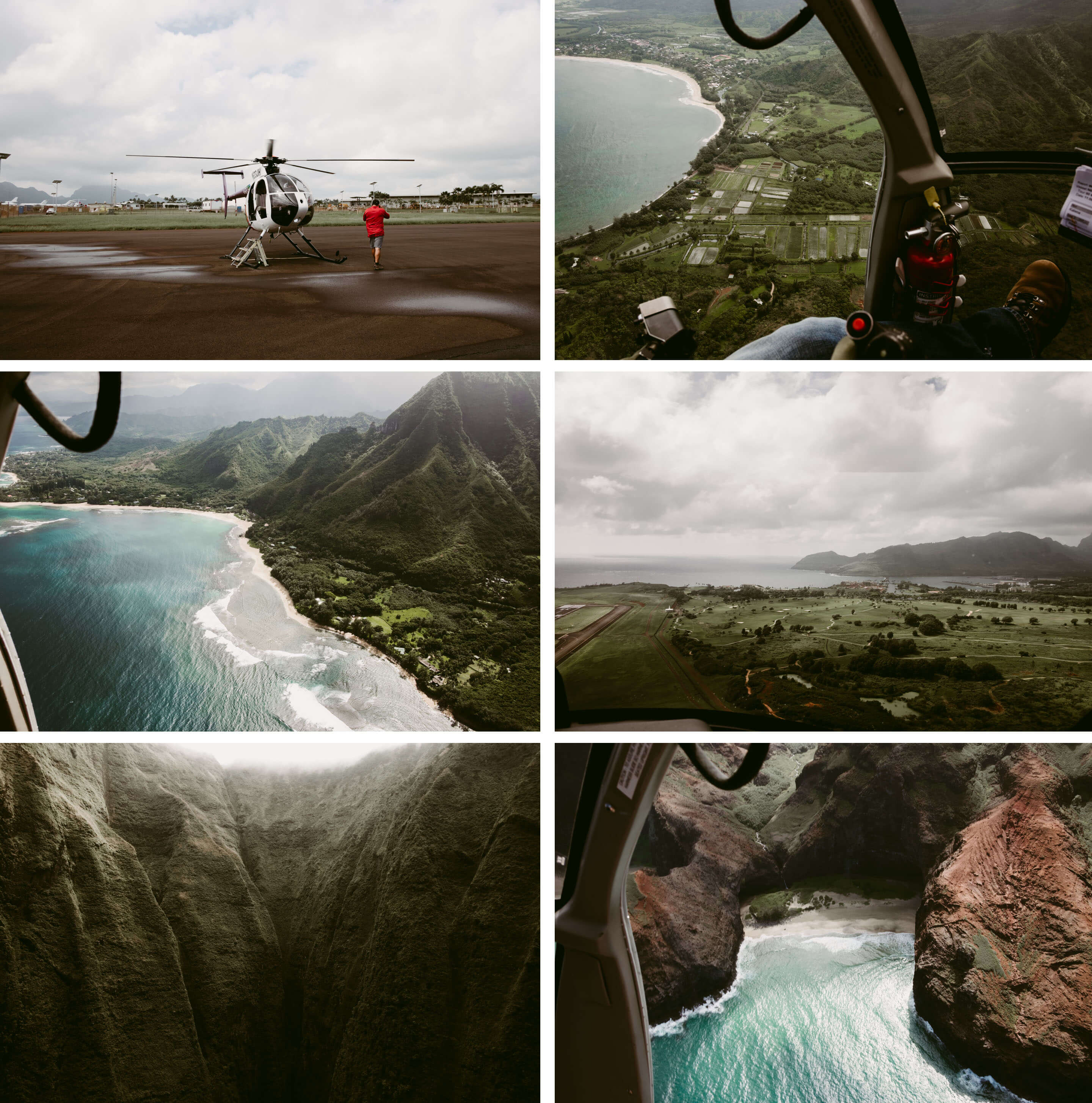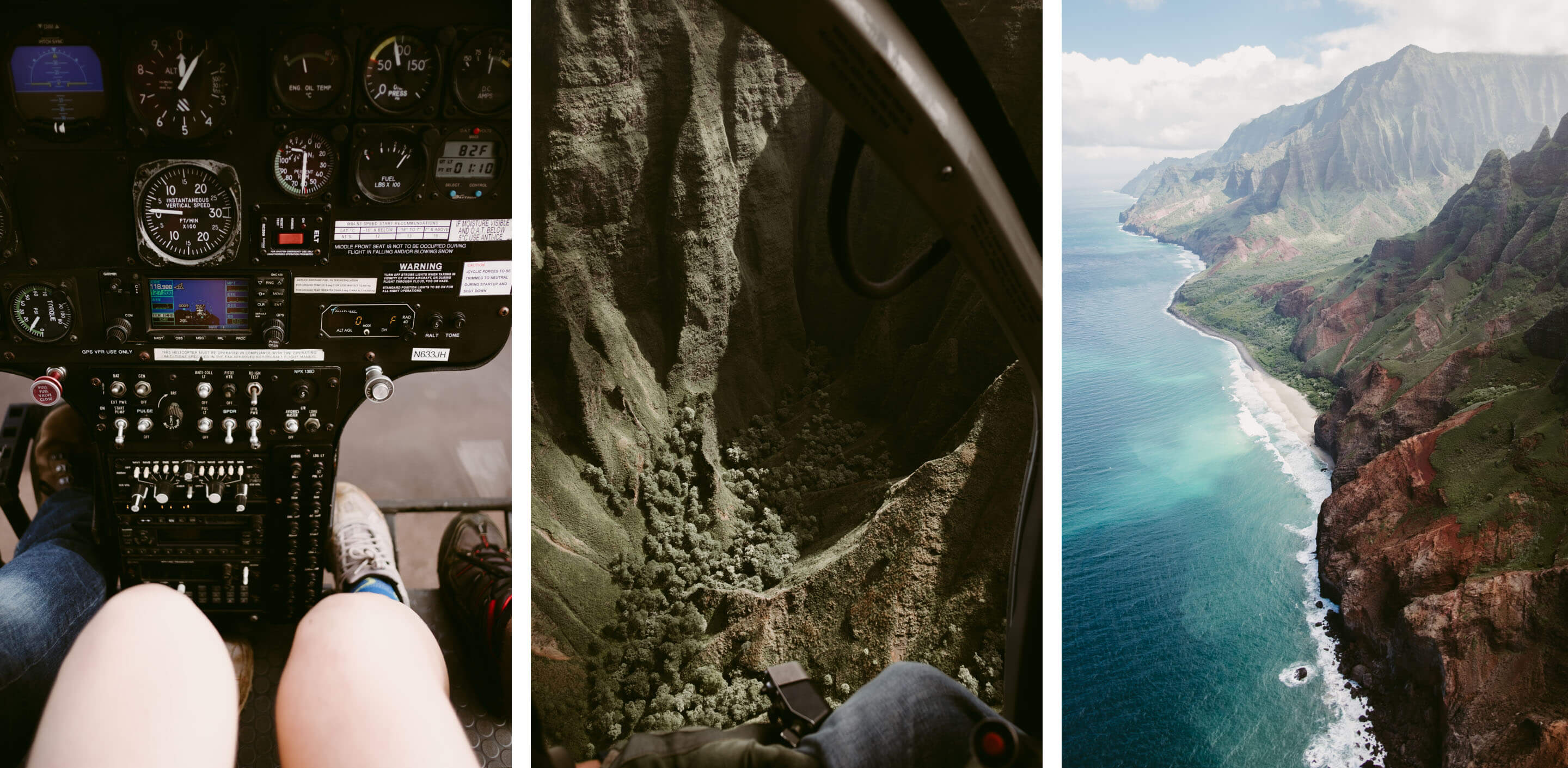 Napali hike – Kalalau trail (Hanakapi'ai Beach)
The Kalalau trail is a long, really long, and hard hike, so our plan was to turn towards the Hanakapi'ai Falls instead. We then realized it was pretty hard to reach them too. After 2 miles of slippery, muddy, and tortuous path, we arrived at the beach, ate some energy bars and bananas and hiked back to the starting point. The entire round trip took about 4 hours, with a lot of stops to take pics and videos – Lorenzo's gonna take a lifetime to edit the whole thing, he filmed so much! – but I was also incredibly scared to die (yes, seriously, I'm terrified by cliffs) that I was super cautious and therefore slow. Bring a lot of water and some really good hiking shoes. You're gonna love it.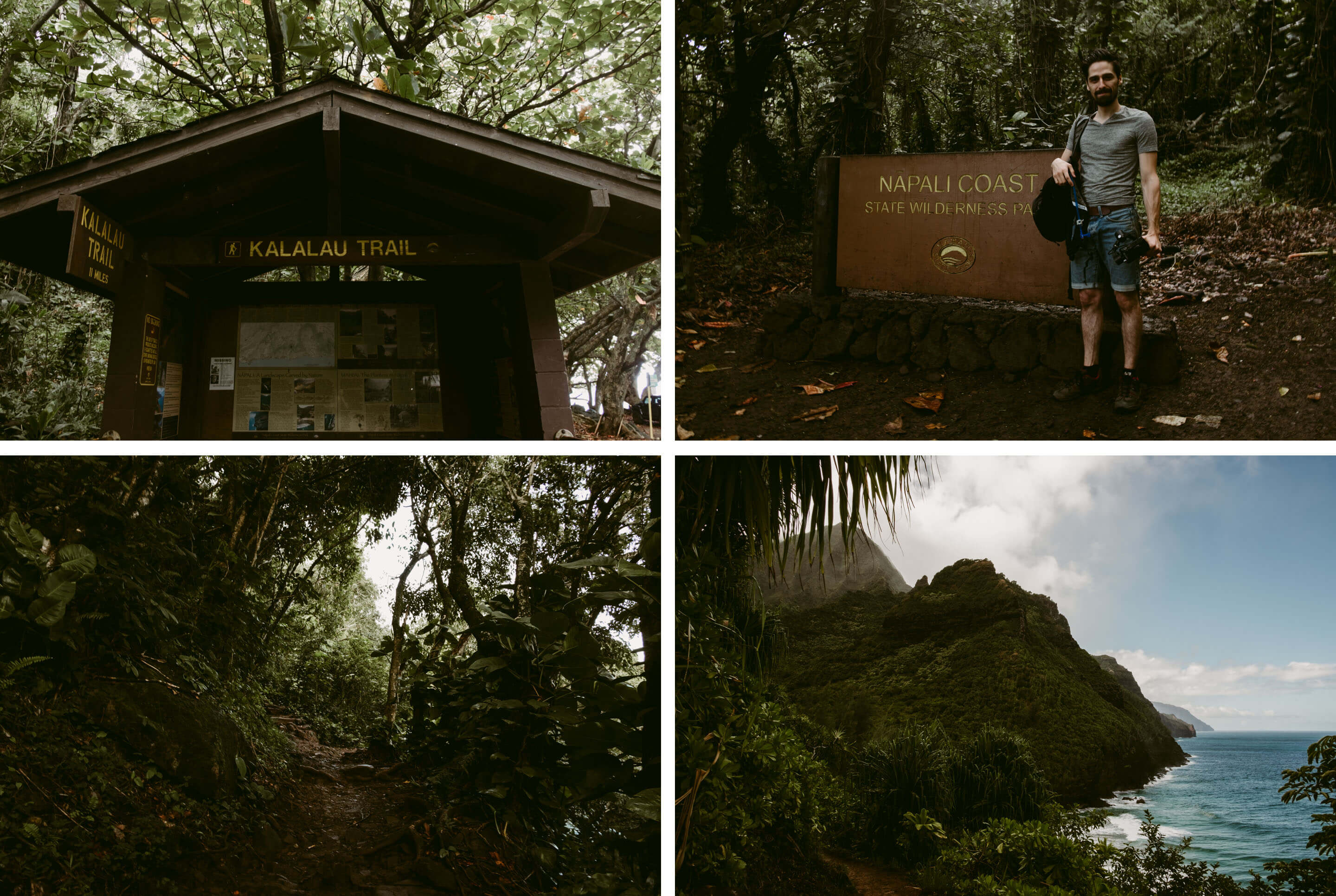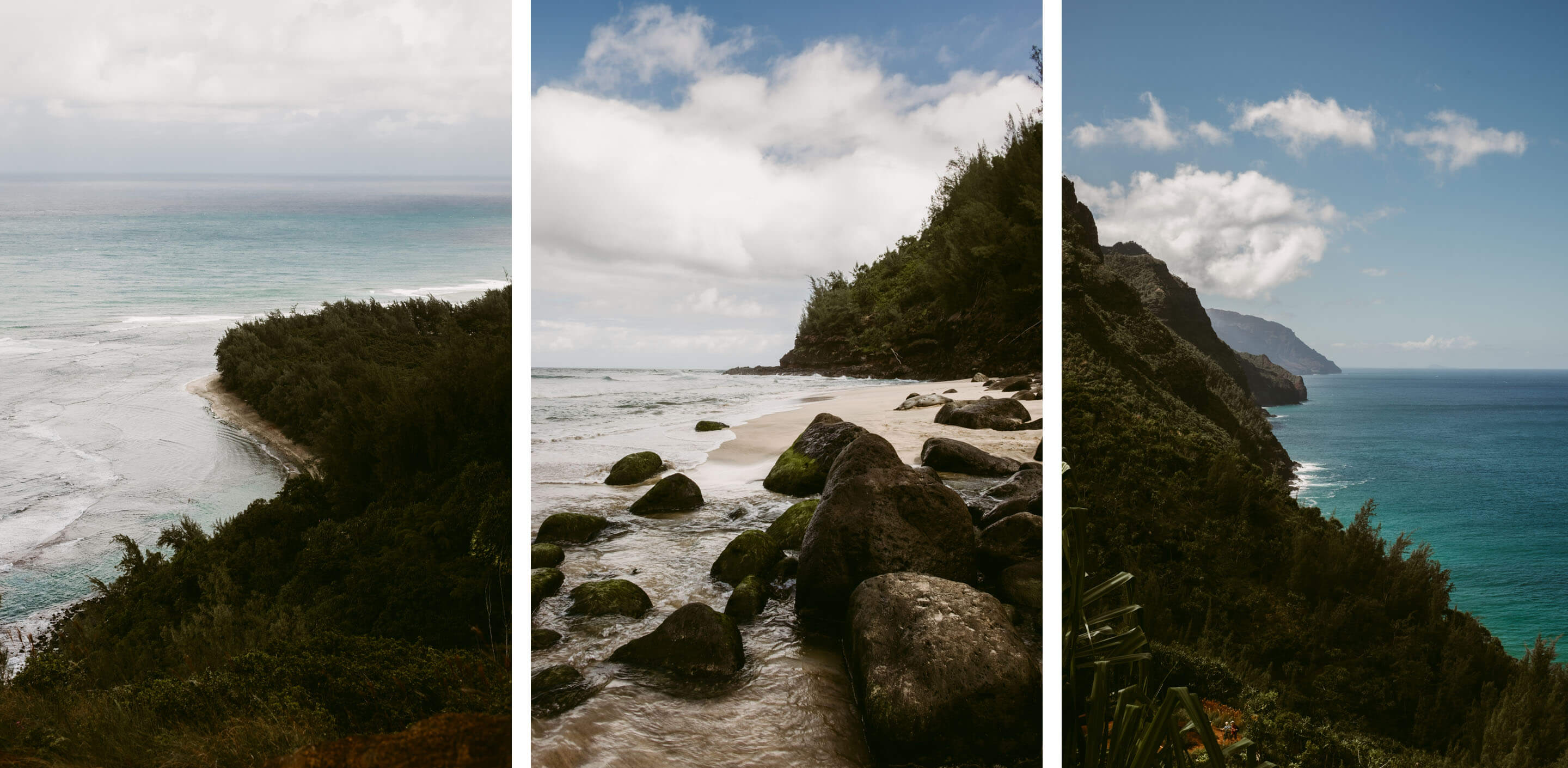 Waimea Canyon and Pihea trail
The canyon is easily reachable by car and there are a few lookouts with big parking areas. We reached the Pu'u O Kila Lookout where an easy – not slippery! – and enjoyable trail brings you to some beautiful views of the Napali coast and valley. Trekking shoes always recommended, don't be the improvised tourist that tries really hard to twist his/her ankles wearing flip-flops during hikes. Just saying. Beautiful sceneries, especially if you plan to skip the Napali trails.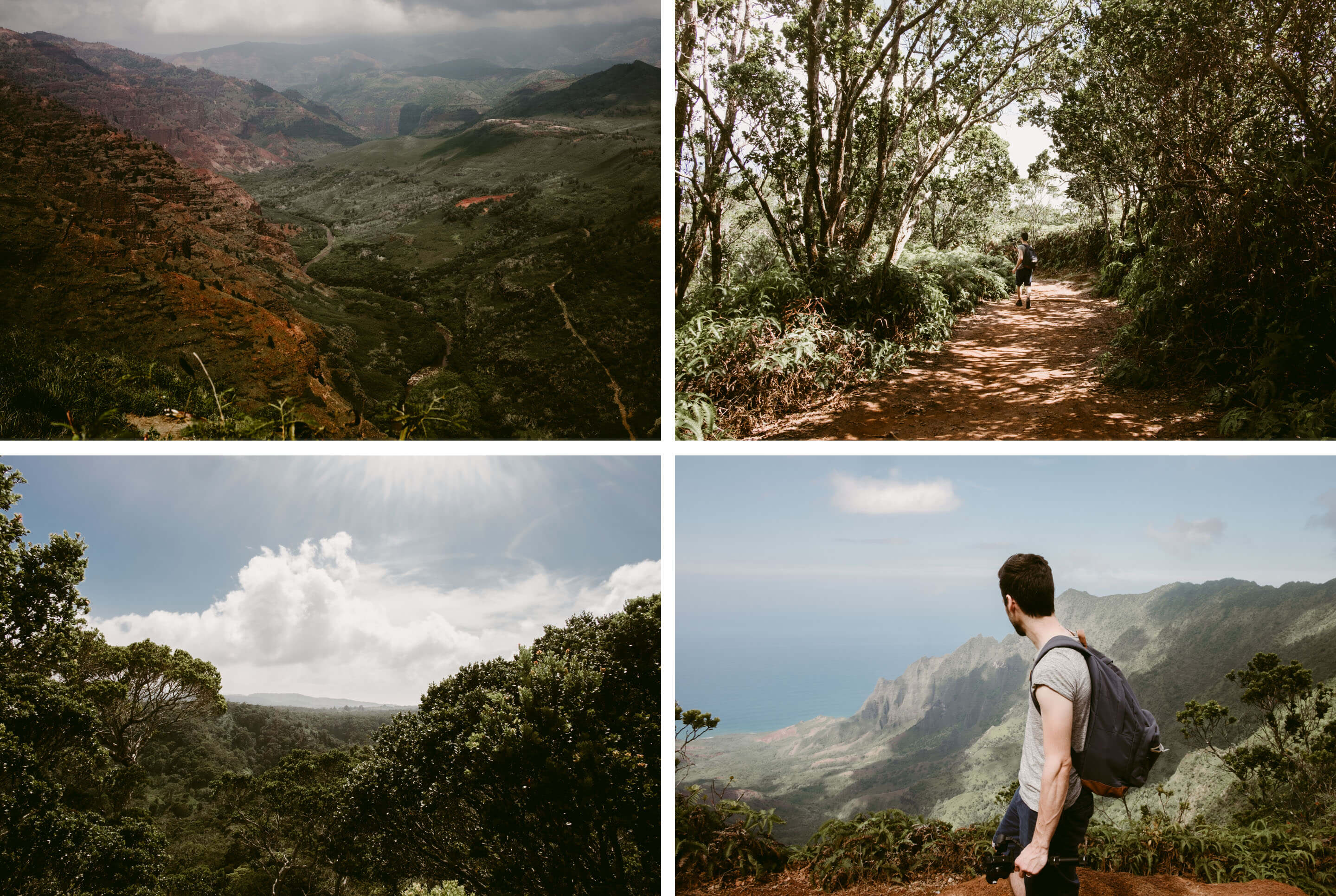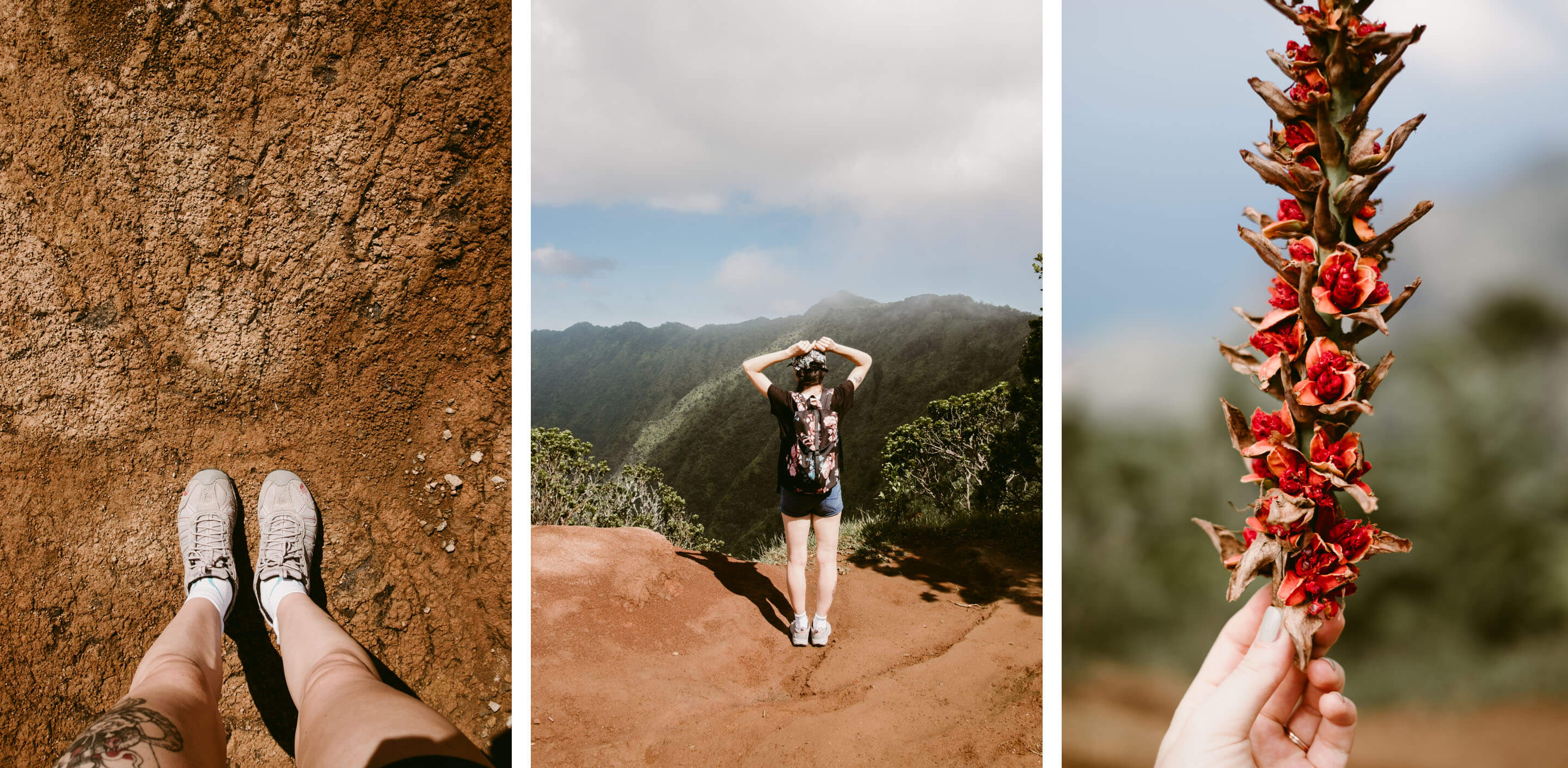 Kauai Farmacy
4731G Kuawa Rd, Kilauea HI 96754
If you dream to have a garden where you can grow ginger, turmeric, tulsi, cacao, and other medicinal herbs and use them to heal your body and soul, you're gonna fall in love with the Farmacy. They also make their own salves, teas, and superfood powders and they taste amazing. Everything is grown in the garden, dried using a 100% natural (non-electric) system and processed by hand. I spent 2 hours dreaming to be part of their beautiful group and spend my life working in the garden, drying herbs and mixing powders – and, why not, cooking with them.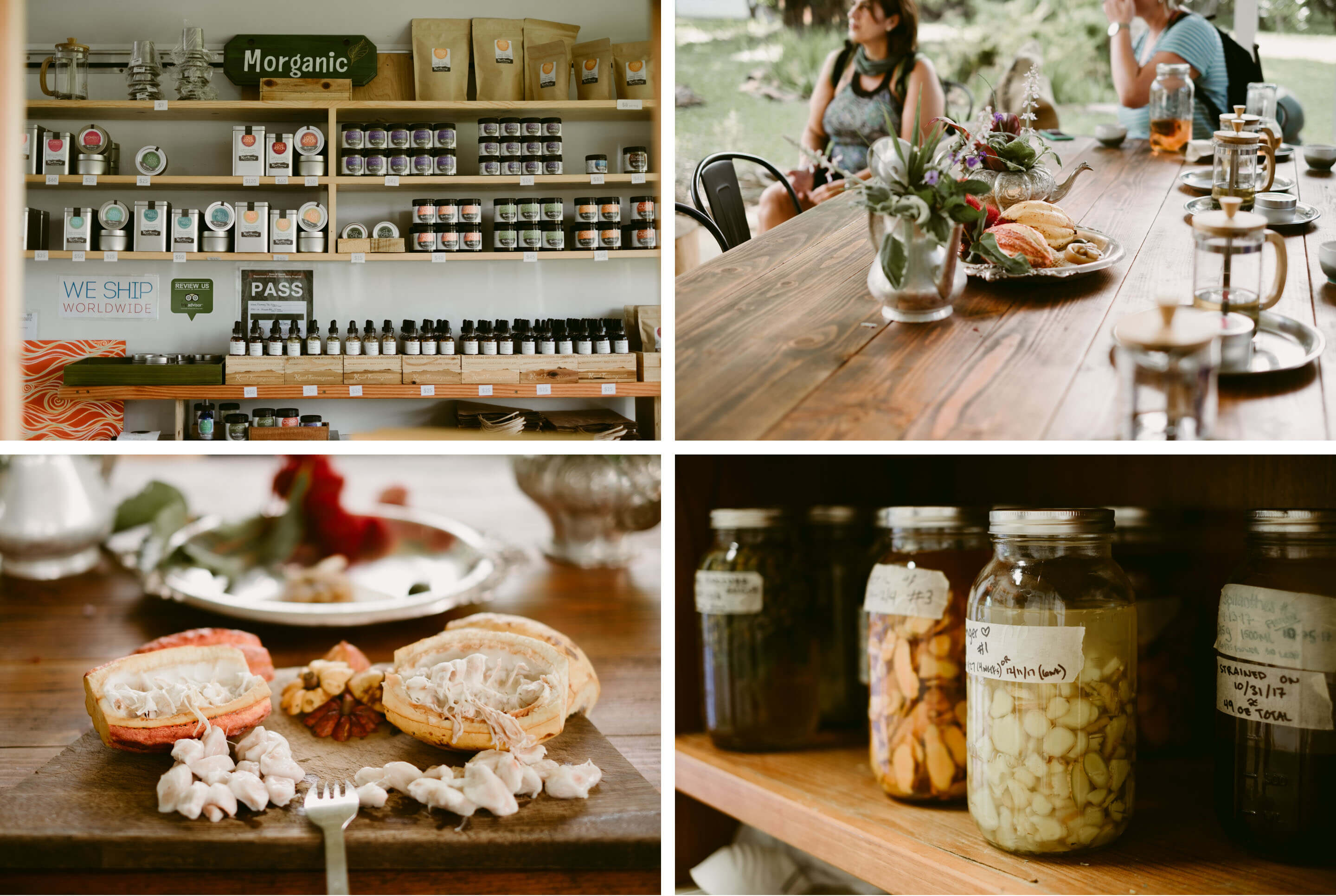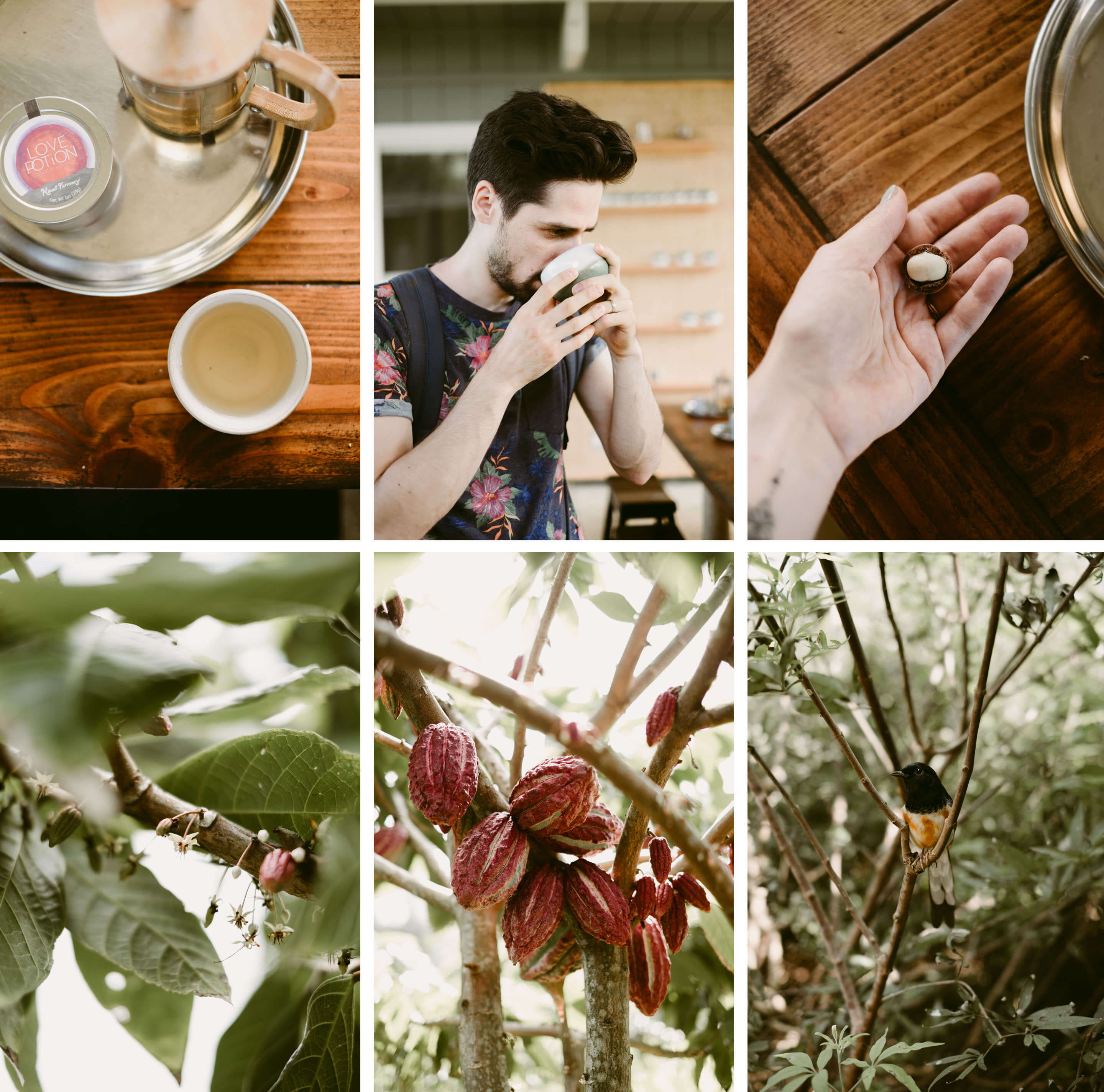 BEACHES
I didn't take a lot of pics on the beach, I really enjoyed them without the stress of the lens change and stuff. We visited quite a lot of them, even if only for a few hours in total, and my primary purpose was to find the best snorkeling around. Preliminary remarks: when I was a teenager I was so lucky to travel in some exotic and beautiful countries and to snorkel in some of the most stunning seas in the world – let's mention Maldives, Red Sea, Thailand islands and so on. That said, it wasn't easy to find a beach where I was astonished by the amount and beauty of corals and fish, but I had the best session the last day in Kiahuna Beach! Perfectly doable for beginners too, no strong currents or high waves, warm and clean water. I also recorded my snorkel experiences with our new GoPro but I still have to check what the hell I was able to film! I'll show you the result asap. Anyway, here you can find a map of all the interesting beaches (and also everything else). You're welcome!
A mention is needed to Queen's bath. It's not a beach, but a beautiful rocky pond which requires a few things: 1. good trekking shoes 2. a good half hour to get there from the parking spot 3. the right tide (the lowest, the better). We went there before the Kauai Farmacy visit because I thought it was easy to reach, but we just had the time to arrive there and hike back. I'll need to go back to the island to have a bath in that crystal clear water!
Talking about Polihale, you need a jeep to get there, the road is crazy and, usually, rentals advise against driving there (aka, if you broke the car there, they don't come rescue you). We only tried to drive for a few feet and realized it was a pain driving so slowly and for 5 bumpy miles.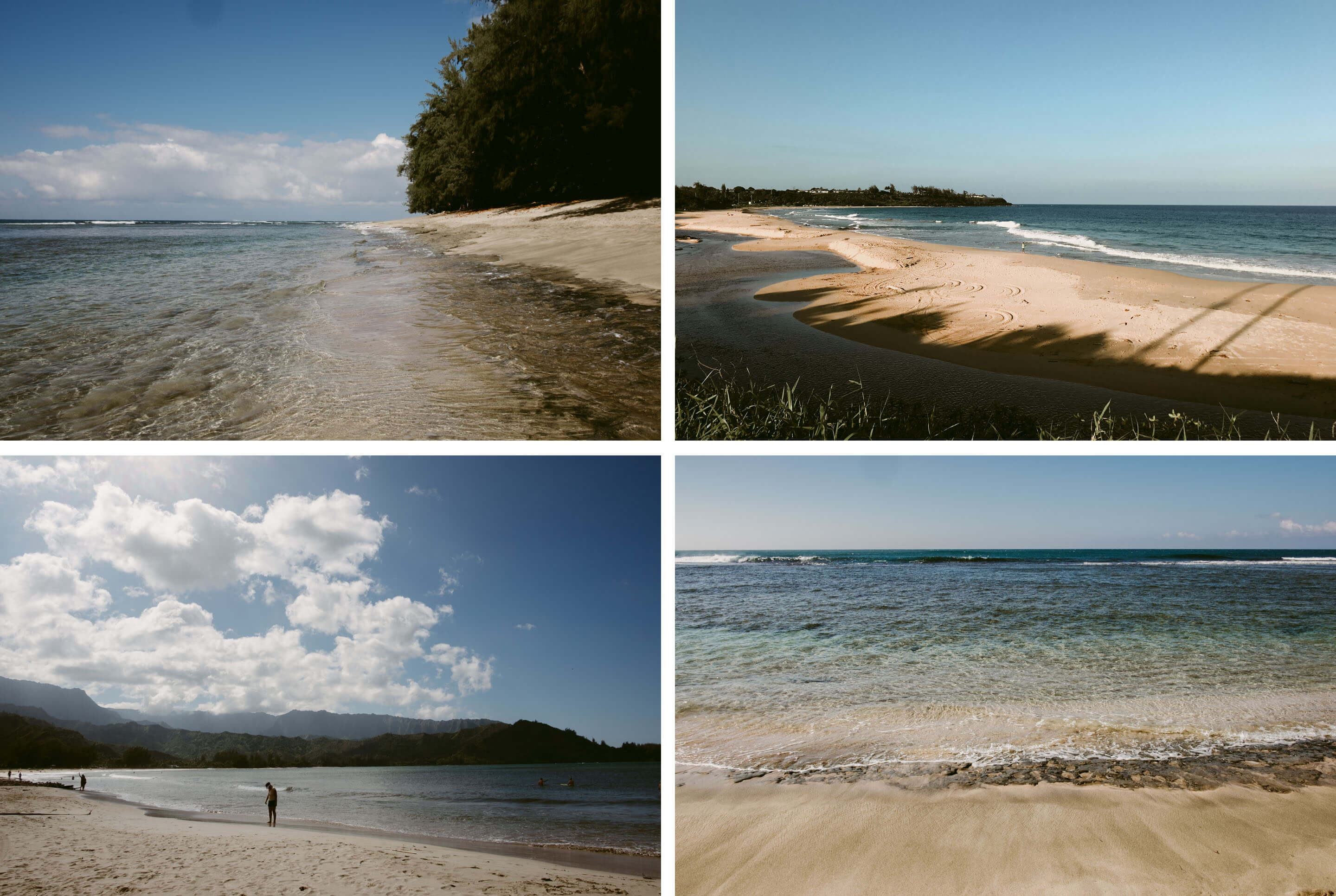 I hope this guide is gonna help you planning your trip – or maybe you just decided to book a flight after seeing the beauty of this island. I already miss it and wish I could fly there now!
Pin and save for later!