After showing you a little bit of my meal prep in my vlogs I realized it would have been more helpful and comprehensible if I wrote a detailed and more complete post, that you can pin and read whenever you need to.
There are basically two different approaches to meal prep, and this is mine: I don't cook entire meals or recipes that force me to eat the same thing for 2-3 days in a row. I basically prepare my basics and I mix them in a meal every time I need to. So, how do I do it?
First, I start planning my week using a simple Numbers file (you can download the one I created here if you want; in the second sheet you can see my meal plan of the week). I'm also trying to follow a better and more nutritional diet than my usual that often consisted of 3 pounds of sautéed zucchini with some canned beans, and that also contains proteins with a higher biological value, that means more fish and eggs mainly. So I start by writing down my protein source. I basically have a 6-days rotation going on, that's what the number on the left in my own tab stays for, and I decided to leave the "day n." column in the blank tab in case you want to follow a food rotation too. I could even simplify it into a 3-days one since the only change is the kind of fish, but it works the best for me in this way. I complete the tab only after the meal prep, trying to approximately schedule what to eat in which days, rotating food items as much as possible – so I avoid eating rice 3 days in a row for instance – and recreating my favorite pairings – like pasta with mushrooms or salmon rice salad (you can read more about these below).
After writing down the protein sources of my week, I check what I still have in my pantry and fridge and write down a grocery list. I know how many veggies and fruit I need from Monday to Sunday by now, so I usually have nothing from the previous meal prep hanging around in the fridge, but I may need yogurt or eggs or gf bread. Basically, I think about the ingredients or items I need by macronutrient. I show you what I mean down here, linking my current favorites too.
CARBOHYDRATES
Happy Campers bread
Brown rice or other gf grains
Banza pasta
Potatoes
Granola for breakfast – homemade
As potatoes, you can pick sweet ones, but I realized that I have ginormous glycemic issues every time I eat some, so I decided to completely skip them. If I find them, I buy purple fingerling or small potatoes, since the more intense the color, the higher amount of antioxidants they contain – you already know that, right? So purple cabbage is better than the green one, ok?
PROTEIN
Wild Alaskan salmon
Canned wild sardines
High-quality eggs – possibly hand pickled from cage-free and happy hens
Goat/sheep (homemade) feta
Lentils/chickpeas/other legumes
Yogurt for breakfast (goat or homemade soy)
I usually buy about 1.5lb of fresh salmon at Whole Foods at the beginning of the month and then I divide into 5-6 servings that I freeze and they last me a whole month. About feta, since it's quite expensive, especially when high-quality, I decided to make my own – it's also way more satisfying! I use goat and sheep milk and, as for salmon, I make a quite large batch of it so it lasts for 4 weeks. I'm going to show you the entire process for my homemade feta in a video before the end of October. Legumes, I buy them organic and dry from the bulk session of the grocery store and cook them in my Instant Pot (not the lentils, they don't need to).
VEGETABLES
You can pick whatever is in season and you like, these are my recurrent picks at the moment:
Zucchini
Arugula
Mixed microgreens
Kabocha squash
Green beans
Cremini or shiitake mushrooms
After shopping, I wash arugula and microgreens and mix them in a covered bowl, I trim and boil the green beans, I chop, steam and freeze a couple of zucchini if I plan to make some smoothies, I panfry and roast the mushrooms and I roast sliced zucchini (and potatoes, from the carb category).
You can and I encourage you to buy and eat cruciferous – kale, broccoli, cauliflower, garden cress, bok choy, brussels sprouts and similar green leafy vegetables – but my I have to avoid all of them for digestive issues.
FATS
If I can find some decent avocados, I buy a couple, and if I miss some nuts for my homemade milk or some seeds, I write them down on my shopping list.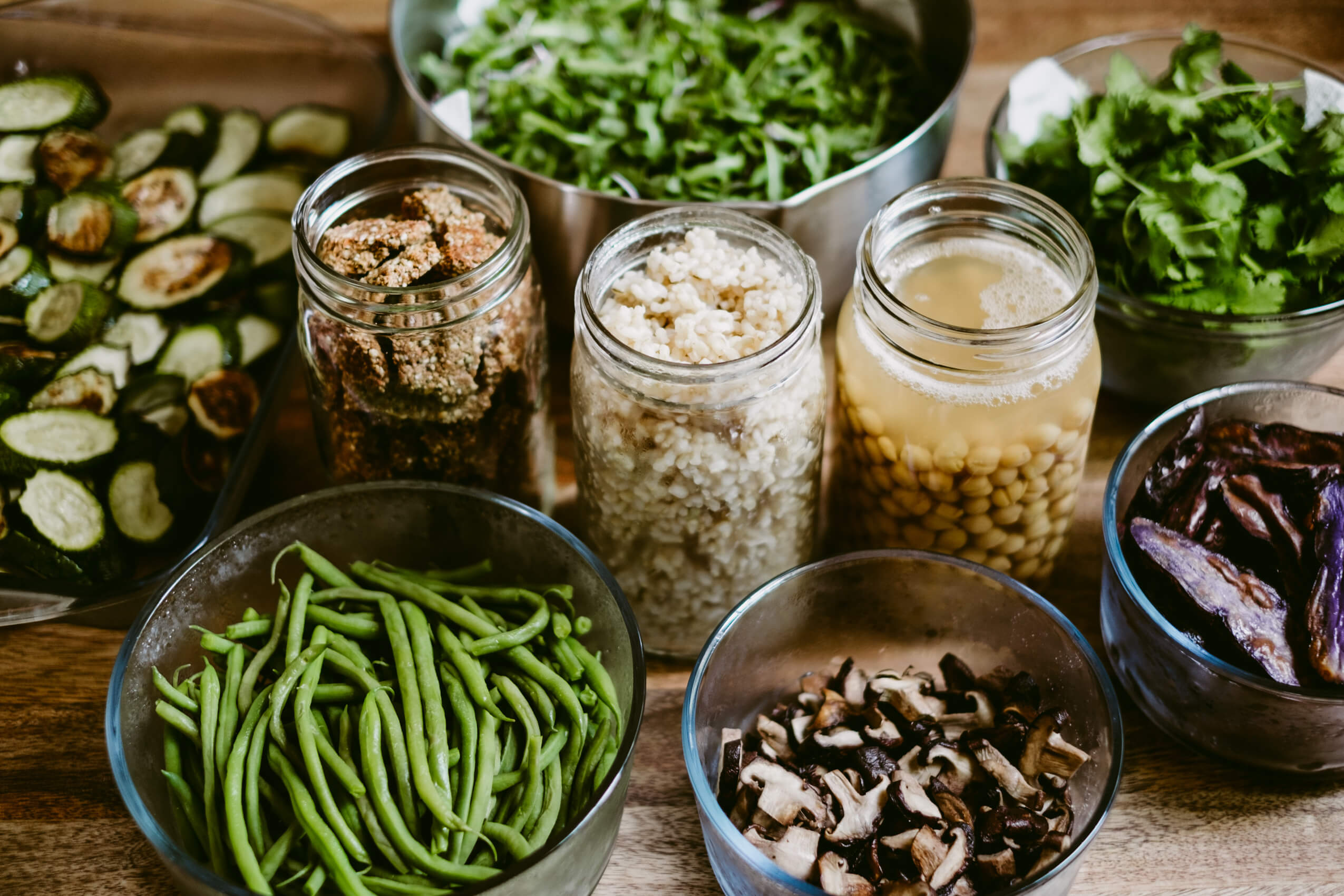 RECIPES FROM THIS WEEK MEAL PREP

Brown rice 
I put 2 cups of washed and drain short grain brown rice in my IP (Instant Pot), add a little more than 3 cups of hot filtered water and a fat pinch of salt. Pressure cooking for 22 minutes + 5 minutes of natural release. I let it cool and reserve it in a couple of big jars in my fridge.
Chickpeas
I soak 1 cup of chickpeas for about 24h, then I rinse, drain and put them in the IP, add water to generously cover them, pressure cook for 22 minutes, natural release (I let it rest until the valve drop in its unpressurized place), remove the lid, add a big pinch of salt, stir and let them cool. I then put them into a jar covered with their cooking water and reserve it in the fridge.
Green beans
I simply bring to boil a big pot of water after I trim and wash them, I add a pinch of salt and boil them until they're tender but not too soft. I usually fry them in the wok with some ghee or olive oil and add them to rice or salads.
Zucchini
I preheat the oven to 450°F and I keep it going for every food item I roast. I wash, trim, slice and arrange them on a baking sheet covered with parchment paper. I spray them with avocado oil and sprinkle with some green salt. I roast them for about 40 minutes, let them cool and reserve in a glass container. These are the ones I chose. Plastic is not an option for me anymore – it's bad for you, for your family, and for the environment. Plexiglass is a great material too but it's not recyclable, so I opted for the more sustainable glass.
Potatoes
I wash them with a vegetable brush, cut them into halves or quarters removing eventual bad looking spots, put them into a pot, cover them with tap water and bring to boil. I add some salt, let them simmer for 3-5 minutes, and strain them. I arrange them on a baking sheet covered with parchment paper, spray them with avocado oil and sprinkle with some salt and other spices – smoked paprika or old bay seasoning. I roast them for about 30-35 minutes, let them cool and reserve in a glass container.
Mushrooms
I wash well – usually mushrooms are better cleaned with a brush and they say that they can't touch the water, but cremini and shiitake don't seem to have this issue to me – and slice them. I melt some ghee in a cast iron pan, add the sliced mushrooms, some green salt and let them cook for about 10 minutes. If I still have liquid in the pan, I increase the flame and let it evaporate completely. I then move the pan into the oven where something else is already cooking and I let the mushrooms roast for 8-15 minutes – I just check every now and then, removing them when they look good.
Granola
Our granola jar was empty, so I needed to bake a new batch. The recipe for the one I made this week is gonna be on the next blog post.
Arugula + mixed microgreens and cilantro
Simply washed, drained and reserved in two bowls covered with paper towels, that helps to prevent too much humidity. If you have another more sustainable method to keep salads fresh for days, let me know!
HOW I COOK PROTEINS
I usually cook eggs in a cast iron pan using no fats, removing them when the white is solid and the yolk is still running.
I thaw the serving of salmon I need a few hours before, then I put it on an aluminum foil and broil it for 10-20 minutes, depending on how thick the slice is.
I eat feta and vegetable protein in the same meal, that's usually kabocha squash – a ton of it – roasted to 450° F for 40-45 minutes to which I add, after 30 minutes in the oven, my chickpeas/lentils, crumbled feta, some fresh cilantro and a spray of avocado oil.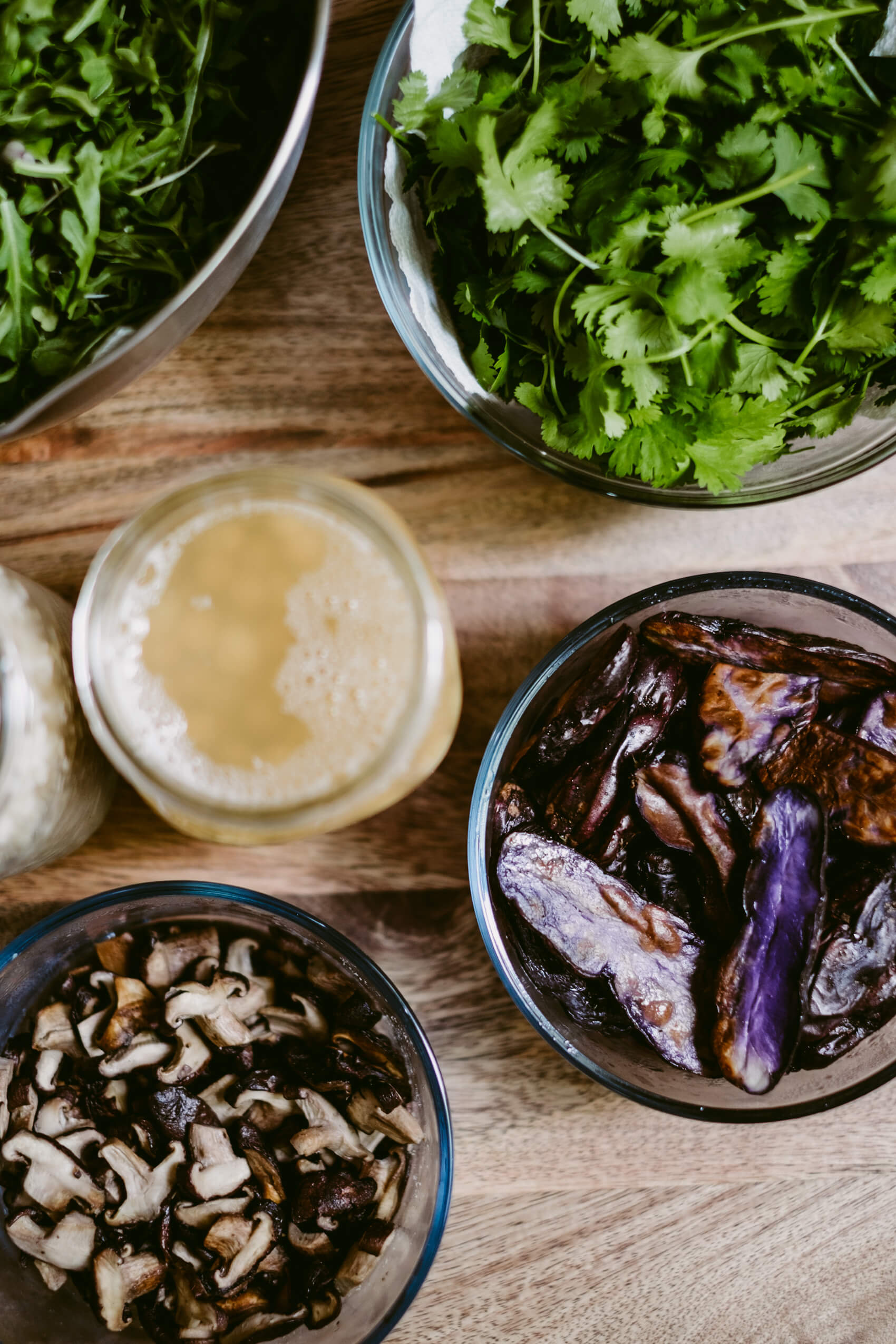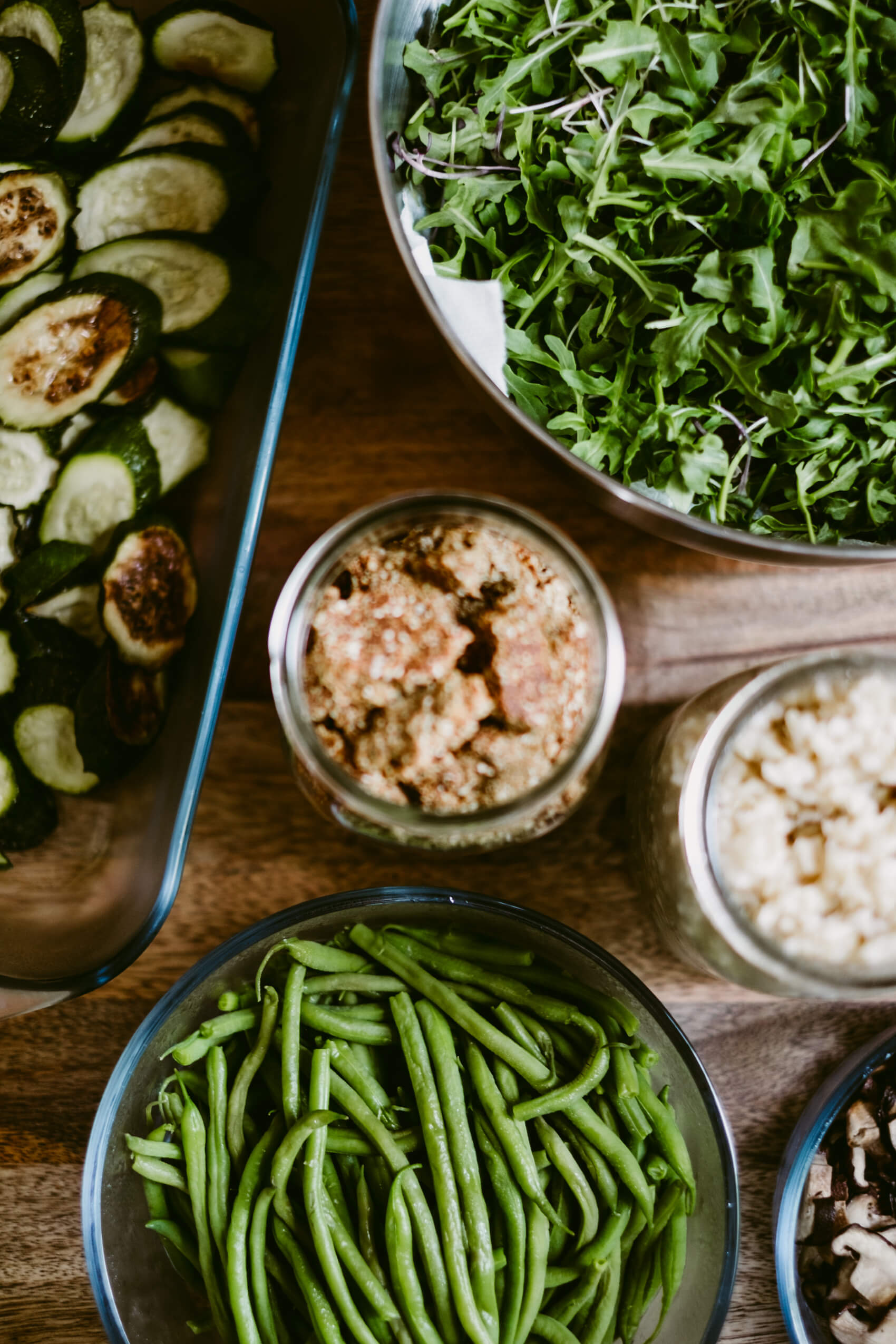 MEAL IDEAS
Pasta ai funghi : bring to boil some water in the boiler, add some unsoaked raw cashews in the Vitamix with some salt and nutritional yeast, add the warm water and blend until smooth. Add some roasted mushrooms in a wok, some uncooked pasta, cover with the sauce and cook until al dente adding more pasta if needed. Serve topping with some parsley or cilantro.
Salmon salad: while the salmon is broiling, mix some arugula with microgreens, rice, salt, and extra virgin olive oil, add half avocado and the salmon on the side when ready to serve.
Egg toast: toast 2-3 slices of bread (I use a cast iron pan on the stovetop), fry 2 eggs and serve them with some arugula-microgreens combo or some roasted zucchini.
Sardines taco salad: that's something I make to use up the crumby leftovers of the unsalted corn chips Lorenzo loves. I fry some green beans in the wok with olive oil, add the chips-crumbs, remove from the heat, mix in some arugula-microgreens, the forked-chopped sardines and call it a supper!
Egg for breakfast: if I'm not in the mood for a toast, I heat some roasted potatoes in a….cast iron pan and then I add an egg on top, letting it cook until the white is thickened.
These are only a few ideas, but you can really eat every day a different meal when you have all your basics ready for you in the fridge! I hope you find it helpful.